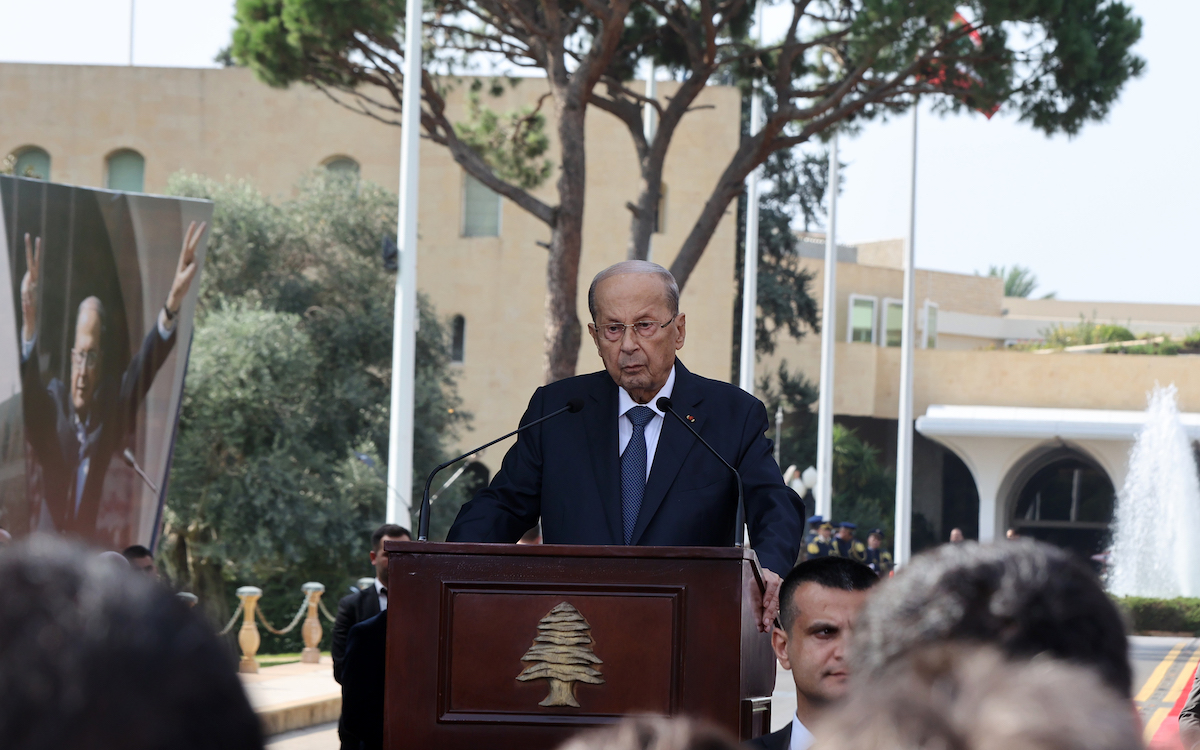 Lebanon's outgoing President Michel Aoun delivers a speech to mark the end of his mandate, outside the presidential palace in Baabda, east of the capital Beirut, on October 30, 2022. Photo: Anwar Amro, AFP
Five years have passed since journalist Fidaa Itani last stepped foot in Lebanon. He was sentenced in absentia in 2018 for criticizing Lebanese Foreign Minister Gebran Bassil in a Facebook post. He was sentenced to four months in prison and fined 10 million Lebanese pounds (valued at $6,550 at the time).
The journalist's investigative reports and critical blog posts against members of the ruling class would result in a series of online and offline threats that forced him to leave for England and never return.
According to Itani, he was the subject of 13 lawsuits. The President of the Republic Michel Aoun, the senior Hezbollah official Wafik Safa, and businessman and politician Nader Hariri have each filed one lawsuit. Bassil, the president's son-in-law, filed nine. In 2017, he was detained and interrogated for accusing a Lebanese Army's intelligence branch of torturing and killing refugees under interrogation.
"2017 was a difficult year for press freedoms," Itani told NOW. "The arrival of Aoun to the presidency in 2016 marked a turning point in the security threats for journalists."
Itani was one of the estimated 801 violations against media and cultural freedoms during Aoun's term that the SKeyes Center for Media and Cultural Freedom at the Samir Kassir Foundation documented in its latest report. Speaking to NOW, experts said that Aoun's term allowed the ruling class to exercise control over free speech, especially online. Nonetheless, various factors including social media campaigns and street mobilizations stood in the way of the politicians' tyranny.
"Prior to 2016, we used to document around 50 cultural and media violations. The numbers began to double soon after Aoun became president and peaked at 234 in 2019" Widad Jarbouh, freedom of expression research coordinator and author of the report at SKeyes, told NOW.
How bad was Aoun's term?
According to the report, the world press freedom rating for Lebanon has dropped 32 places to 130 out of 180 countries in 2022, down from 98 in 2016.
Among the violations against journalists that the report highlights were assassinations, armed attacks against media properties, journalists and activists by both official and unofficial groups, summonings and interrogations of journalists and activists by competent and non-competent courts  – including the military court – threats and bullying, lawsuits, censorship of works and activities, in addition to jail time. 
Additionally, demonstrators, photographers and journalists were subjected to excessive force and unwarranted violence.
If journalists want to exercise their work freely and remain outspoken against corruption, they must either be under the protection of a strong institution or live outside Lebanon.
Even social media posts by journalists, activists and ordinary citizens have led to detentions, arrests and questions.
"We concluded from our findings that this era was an oppressive one that peaked in its tyranny during the October 17 revolution in 2019," Jarbouh said.
SKeyes documented 75 violations against media professionals within three months of the revolution in 2019. The numbers kept climbing as violence by government and non-government agents rose against protestors and media workers.
In 2020, Human Rights Watch stated that over 4,000 people were interrogated under the claims of the defamation law under the Press Law of 1962, used as the primary means to detain and imprison journalists.
In SKeyes's report, Aoun's presidency is compared with that of Michel Suleiman, who ruled from 2008 to 2014 but does not go further back. Jarbouh justified the decision by saying that one of the factors taken into consideration was "the role social media played and the prevalence of the internet that was not present preceding Emile Lahoud's presidency from 1998 to 2007."
The researcher notes, however, that several parties fought the oppression. For instance, the 1962 Press Law, which prevents the media from publishing anything "that endangers national security […] national unity […] or that insults high-ranking Lebanese officials […] or a foreign head of State," is being refuted by activists and journalists, in addition to street and online mobilization that pressured officials for the release of detainees and a group of lawyers have been representing Lebanese anti-government protesters pro bono since 2015.
Online Surveillance
Itani says that if he returns to Lebanon, he might face the same fate as Lokman Slim, a prominent Hezbollah critic who was gunned down in February 2021 in Southern Lebanon.
"If journalists want to exercise their work freely and remain outspoken against corruption, they must either be under the protection of a strong institution or live outside Lebanon," the journalist said.
Wadih Al Asmar, President of the Lebanese Center for Human Rights, explains that the ruling class exploited the ISF Cybercrime Bureau extensively in recent years.
Politicians can easily target ordinary citizens without social media followings to demonstrate their power and provoke fear among those who dare to speak.
Though the bureau provides significant online protection services such as; protection against blackmailing, sextortion and online child abuse, it also became a vehicle of intimidation and surveillance of online content, Al Asmar notes.
"The bureau does not have a legal obligation to compel people to remove their social media posts under any circumstances. "They [the bureau workers] should not follow up with these requests because only the judiciary can resolve these legalities, not a security body" Al Asmar explained. 
In Lebanon, the judiciary is controlled by oligarchical politicians who directly influence its activities and hinder its effectiveness, and no laws ensuring its independence have passed in parity yet. 
As all Lebanese, judges also suffered the consequences of the 2019 financial collapse, which devalued the Lebanese Lira by over 90 percent and made access to fresh dollars challenging.
Al Asmar notes that the judiciary, in its current form, does not protect media employees, instead, it impedes their work.
"Politicians can easily target ordinary citizens without social media followings to demonstrate their power and provoke fear among those who dare to speak," he said.
In spite of this, he does not believe that the ruling has succeeded in suppressing free speech or restricting the free press – to the extent they would have liked – since people still use their online platforms to express themselves.
For activists and journalists, Jarbouh notes that the atmosphere of intimidation may cause self-censorship, thus restricting their freedom of expression, albeit indirectly.
However, Jarbouh asserts the entire ruling class contributed to the rise in oppression, not just former president Aoun. As for Itani, the journalist says he does not have high hopes for the next president when it comes to improving freedoms. Meanwhile, Lebanon faces an unprecedented power vacuum, with neither a head of state nor a competent cabinet, as well as the collapse of the judiciary and security agencies, the path to financial recovery seems nebulous and the right to free speech and free press continues to be imperiled. 
Dana Hourany is a multimedia journalist with @NOW_leb. She is on Instagram @danahourany and Twitter @danahourany.