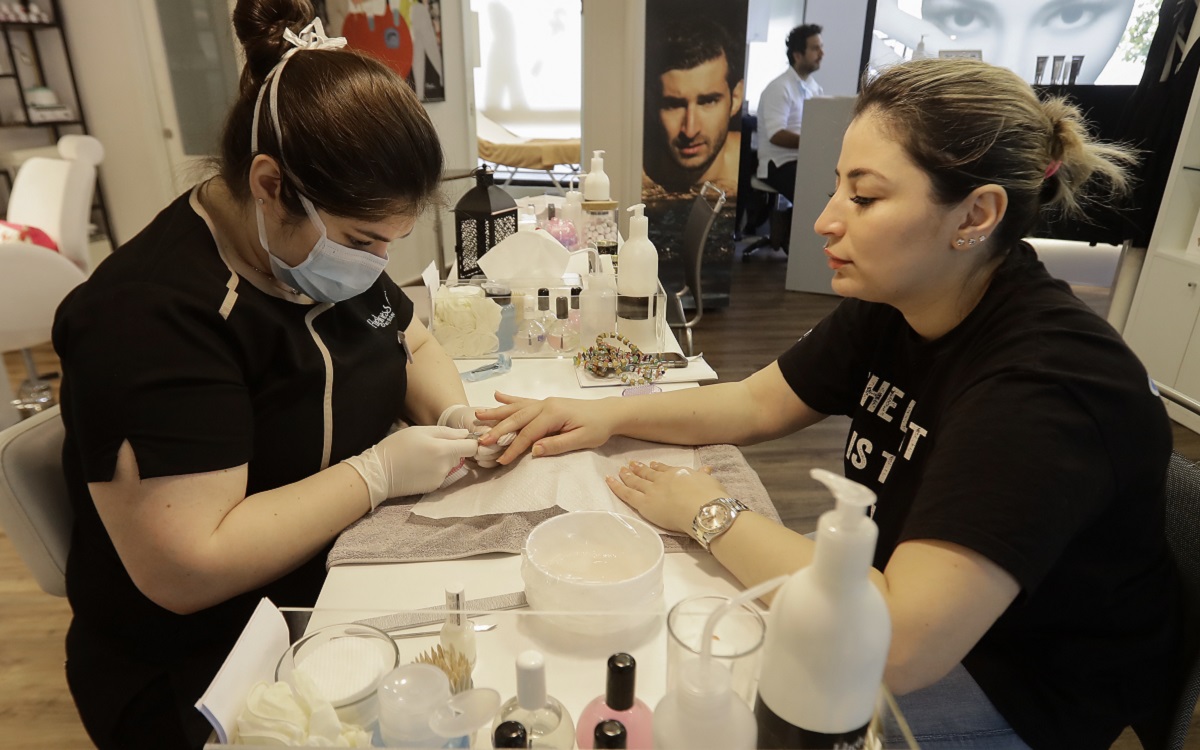 A woman gets her nails done at a salon in Beirut as Lebanon gradually was easing its lockdown measures against the spread of COVID-19 coronavirus. Photo: Joseph Eid, AFP.
The beauty salon is a resounding fixture in the Lebanese conscience, a bedazzled pocket in its frayed social fabric that has stood the test of time and conflict. 
A rite of passage for young girls coming into themselves, the first weekend spent ridding their bodies of excess hair or skin bonds the daughter to her mother, signifying a grand entrance into the public eye. 
This is the mother's service: protecting her girl from whispers and snares, she eagerly imparts what she has had to learn herself. The girl, having caught on to social cues throughout her childhood, already appreciates that her outward appearance carries the weight of irretrievable first impressions. 
It is in this collective ritual that the Lebanese girl, or woman, earns the respect of her contemporaries. 
Her beauty maintenance belies greater functions. Her polished nails symbolize self-control; her bare arms and legs, waxed raw, are equated with her hygiene; her coiffed hair, professionally styled by a hairdresser, indicates that she means business; and the cream above her upper lip where sparse hair had grown lines a bright smile. 
She walks out of the parlor, back straight and neck long, feeling revived and energized: she feels good and she looks good, that's all that matters.  
This vanity, however, has not come at the expense of Lebanese women's intellect and success—on the contrary, it is bound by it, a vision of the woman who can have it all. 
Time and money may be wasted, but it is the price of the image she wants to project, even if not the truth: a woman that has her shit together. 
In documentaries and PhD theses, salon customers and managers will posit that beauty, in Lebanon, is perseverance. 
Some may say it's empowering, in this male-dominated world, to take pride in your femininity. Others will tell you it's how Lebanese women reconcile the unpredictability and uncertainty of their lives under politically contingent circumstances. 
These explanations help provide meaning for what others may deem an otherwise vapid necessity.
Spaces of social convergence
As popular dialogue on gender and identity gains traction amongst Lebanon's youth and its ardent feminists, the seams around these tightly knit lies spun about beauty and womanhood have begun to unravel.
Underneath the clouds of agency and control exercised by ambitious women is the thick smog of unbridled patriarchy that hovers above the country's palaces and homes. 
Time and the 1960s may have successfully reclaimed the salon as the assertion of power through choice, but, like Foucault's ironclad panopticon, the walls lined with Essie and OPI bottles are merely another cell surveilled by male prison guards. 
For whatever we may tell ourselves about pain endured is beauty gained, this exaggerated performance is ultimately for men.
This is how the beauty salon exists as a shared private space, where women nod in unspoken acknowledgment and understanding, the only room where they can take their shoes off, toes bare, uncut, unpolished, unseemly. 
Inside these backrooms, they kick back and let loose, concerned only with whether they've chosen the right shade for their complexion. Male hairdressers may wade through the nail bar, heads down, averting their eyes and pretending they cannot see these women at their most human. 
In documentaries and PhD theses, salon customers and managers will posit that beauty, in Lebanon, is perseverance.
In high-end salons, one would rub shoulders with female university students and professors, doctors, lawyers, or NGO workers. For many of these women, their relationships with their technicians and estheticians are their closest, and most intimate, contacts with women from the foreign labor workforce and lower economic classes. 
It is these women, existing in the peripheries of the urban elite, who have seen their clients at their most vulnerable and insanitary, comfortable with their secretions and well-versed in their bodies. 
This is not always a mutually exclusive exchange as their clients may even know about their families, the names of their children, where they live and what part of the country or the region that they're from. 
Therefore, the salon's privacy can also double as one of the country's few public spaces, where the professional meets the proletariat, service workers engage with academics, and men and women can exist equally through the reciprocal transaction between the buyer and the service provider. 
A reinforced inequality
Before Lebanon's staggering hyperinflation and economic collapse, salons democratized beauty, making its services readily available through cheap labor or local products. 
A manicure and pedicure would set you back 50,000 LBP (approximately $30), whereas now the cost ranges between 120,000 to 160,000 LBP ($6-8 at the black-market rate). Although cheaper against the dollar, these services are now enveloped into the widening gulf between those who have and those who do not. 
Locals have parted ways in favor of tourists with 'fresh dollars,' whilst some salons have had to shut down due to the extortionate costs of keeping up with product supply, fuel for generators, and declining clientele unable to reach their appointments without a car. Once accessible to all, these salons are now reserved for special occasions: darkening roots, an urgent bikini wax, or an untimely wedding. 
Inside beauty salons across the country, there is an eerie silence in place of the bolstering sounds of women wholly and unapologetically living. Hollowed out from the inside, beauty is now a feature of abundance in a country that must ration its food and its fuel. 
After cutting back on my own salon appointments, I couldn't resist its plush chairs, where I hide inside its walls and soak my feet into soapy water, forgetting momentarily that I exist at the intersection of a global pandemic and a withering homeland. 
To my right, there is a woman carrying her Pomeranian poodle whilst the technician paints neon green French tips on each of her acrylic nails. To my left, there are two university students exchanging excitement about their first year of medical school. Outside, a Range Rover halts, revving the asphalt as two women step out, missing a pothole by mere inches, and enter the salon. 
I pay 145,000 LBP at the register, aware that is now nearly a fourth of the cashier's full-time wages, leaving before I piece together why I am where I am—and what that says about me.
The time has come, then, to reconsider and reimagine what it means to be Lebanese, and more specifically, a Lebanese woman, dolling up for men whilst cleaning after their spills and spoils.
Some women persist, searching for the escapism these salons once offered, waiting for their polished appearance to turns inwards, wiping out the unrest and hopelessness that has seeped into their bones through their pores.
During the strict lockdown imposed by the government to ward off an impending COVID-19 tsunami, women shared jokes on Twitter and TikTok about their slanted nails and knotted hair. 
Recipes for home sukkar, or sugar waxing, went viral and many took to YouTube to learn the intricacies of facial threading. Many complained about the strict quarantine rules, which limited the number of individuals in a household and required a certified reason to be outside, but also admitted that they wouldn't want to be seen in their untamed state. 
It was perhaps the first time that Lebanese women were barred from the safety and exclusion of their beloved salon. It was therefore clear that going mobile would be profitable as many nail technicians carried boxes replete with instruments and colors, some even expanding their services to include depilation, hailing services to the privacy of their clients' homes.
Samah, a nail technician who had left her previous job at a salon to start her own at-home business, noted that Lebanese women were "growing desperate" and "going crazy": some of her customers had even taken to cutting their own hair and picking at their own cuticles. 
Confronted with an ugliness—humanness—that they had compulsively dodged since their prickly teenage years, the pockmarks from their hormonal acne and the scars from razor knicks begin to rise to the surface. 
Lebanese women forcibly surrendered, for the first time, to the unassailable forces of health and disease.  
Some women persist, searching for the escapism these salons once offered, waiting for their polished appearance to turns inwards, wiping out the unrest and hopelessness that has seeped into their bones through their pores.
Others will have to gaze at their unkempt hair and dark circles through the mirrors that meet them everywhere, in their cars, on the streets, or inside their bathrooms. 
Without beauty's veil, they will wonder if perseverance or resurrection can truly be found in manicures and pedicures and a blow dry and underarm waxing and eyebrow threading and bikini lasers, or if it's been bullshit this entire time.
Tracy Jeff Jawad is a political researcher and writer who has worked at the United Nations in New York City and the Carnegie Middle East Center in Beirut.