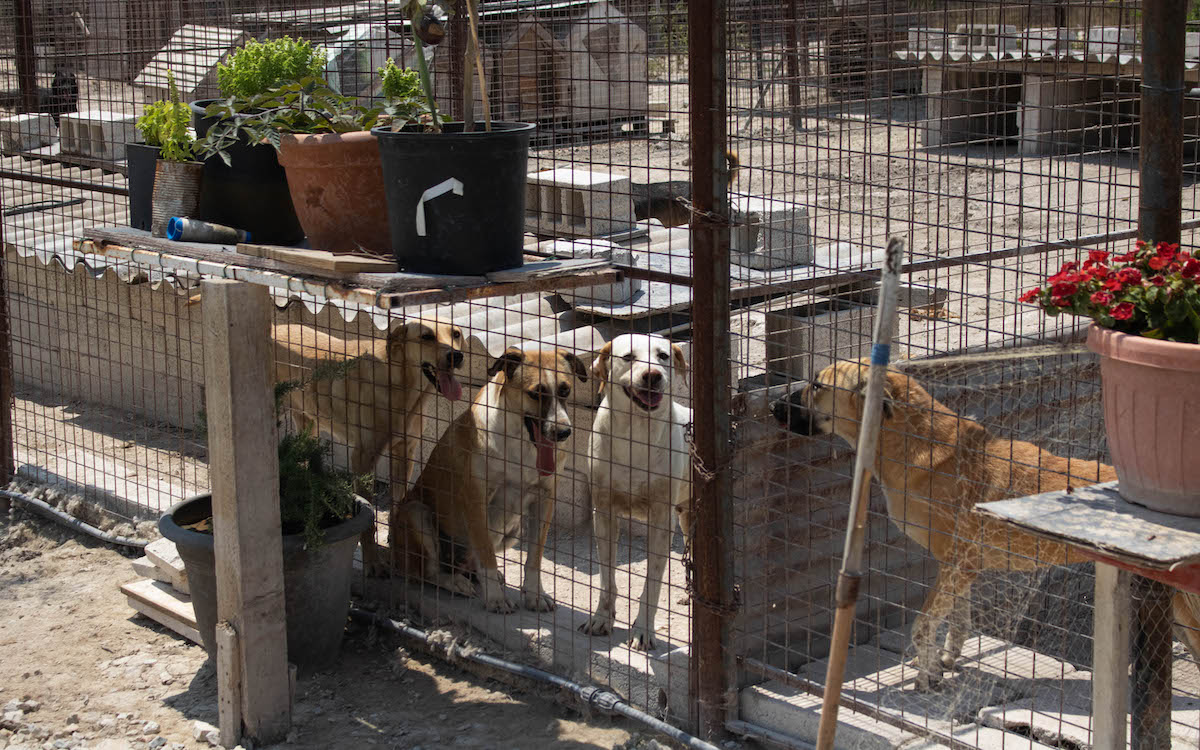 Dogs look for attention at the Refq animal shelter in north Lebanon. Photo: Nicholas Frakes, NOW
During this year, Ghina Nahfawi has faced two summonses from the cybercrime bureau. This time, it's regarding her reports on environmental violations. The case involves Abou Gaby,  a Lebanese restaurant allegedly operating without a license from the Ministry of Agriculture. Nahfawi made the claim that the eatery has been involved in hunting crimes and deliberately showcased a deceased gazelle. Despite three complaints being filed over the course of three years, it was the lawsuit brought forward by the owner of Abou Gaby that was deemed significant, resulting in Nahfawi being called in for questioning as well.
After she was summoned, a significant number of people came forward to show their support for her, particularly given the challenging circumstances of fighting for animal rights in a failed state where politicians often overlook the welfare of animals as one of their least priorities.
WHY THIS IS IMPORTANT,  reports of animal abuse are rampant on social media, with hardly a day going by without evidence of violence against these creatures. 
On Tuesday morning at 10 AM, Ghina Nahfawi directed herself to the cybercrime bureau after a complaint was spurred by her tweet which pointed out environmental violations against animals that were suspected to be committed at Khalil Khairallah's restaurant in Bhamdoun. This included a deer that had been caged for five years, only to be subsequently killed, "crucified" and displayed publicly with the intention of preservation through taxidermy methods.
Ever since she was young, Ghina has had an immense love for animals. A strong advocate for their rights, she is constantly on the lookout for any kind of mistreatment. Whether it's a street, house, restaurant or zoo – she stays up-to-date on news from all corners, spreading awareness and helping out wherever she can.

Using Twitter as a platform, she has become one of the most renowned wildlife defenders. Not only is she well-known for spreading awareness about violations against animals via social media, but she also has compiled an extensive collection of information that she makes readily available to the public. 
"I arrived today at 10 am and stayed until 1 pm. The situation was fine, and the officers treated me well. I disclosed every detail and was honest about the post's reasons," Nahfawi told NOW.
"I insisted on not removing the post, and Judge Nazek Al Khatib ruled justly. I wasn't asked to delete the post entirely; instead, she requested I edit the word 'Zribe,'(pig stock) and I complied," she continued, emphasizing that the ruling is a positive step for the fight against against environmental and animal abuse, and that the judge's actions did not disrupt it – but instead encouraged it.
According to her, the judge affirmed the crucial nature of the activists' work through her ruling.
"I'm content with the outcome, and I consider the complaint an attempt to scare me away from my work," Nafhawi said. "But it has only strengthened my resolve to continue helping these vulnerable animals, who cannot express their pain. Fulfilling this duty is of utmost importance to me."
THEREFORE, despite the summons, Ghina revealed her determination to keep reporting on illegal activities. Recently, she highlighted a violation concerning wild boars that occurred during the breeding season and out of hunting season.
She remained strong in her will to fight for creatures that do not possess the ability to fight for themselves. 
Animal rights in Lebanon are often neglected, despite the tremendous effort of various NGOs and activists striving to end animal cruelty. Unfortunately, these individuals are frequently prevented from achieving their goals due to an overall lack of support. 
However, former President Michel Aoun took a major step forward in protecting animals when he signed the nation's first animal welfare bill into law in 2017.
On August 16, legislation was passed by parliament that outlines regulations and requirements pertaining to domestic pets as well as zoos and pet shops. Consequences for failing to adhere to these laws include jail sentences and financial punishments.
The ownership of wild or endangered animals is strictly prohibited, and mistreating pets in any way is against the law.
IN CONCLUSION, despite increasing laws in the protection of animals and the environment, Lebanon still has a long way to go.  Nonetheless, folks like Ghina have become integral and remarkable because of their willingness to go above and beyond for the protection of struggling animal and plant life.
Dana Hourany is a multimedia journalist with @NOW_leb. She is on Instagram @danahourany and Twitter @danahourany.