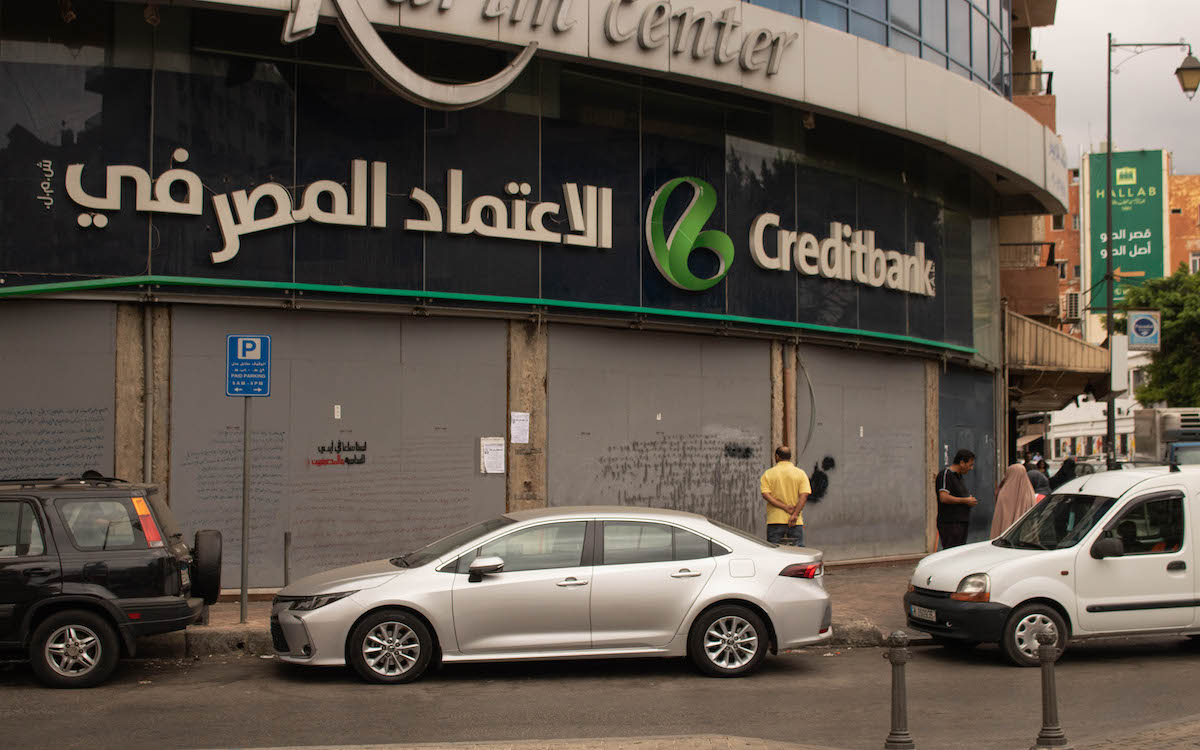 After a series of bank heists, Lebanon's banks announced an indefinite strike on October 7, 2022. Photo: Nicholas Frakes, NOW
At Bankmed's Clemenceau branch, Layla Hamdan, 45, stood in a long line. The mother of two hoped to withdraw only $40 from her fresh dollar account. 
Banks in Lebanon began an open-ended strike last week, although ATMs remained functional. However, they have since threatened to shut down their ATM services as well.
In the ensuing panic, people rushed to banks to withdraw whatever money they had left.
"Why leave any cent to these thieves," Hamdan told NOW. "I could buy groceries with this $40 instead of losing it completely."
As Hamdan waited in line for an hour to withdraw her cash, more people joined her as patience began to wane.
"We can't trust these banks and no one knows what they will do. A total closure might seem extreme, but they don't care about depositors," a man in his 60s said.
The Association of Banks will decide on ATM services on Wednesday, and operations should return to normal on Thursday. The possibility of a complete closure, however, is ruled out by experts since it would wreak havoc on the already disgruntled population.
What is happening?
Mahassen Morsel, a financial journalist, says banks are reacting to the latest circular, number 662, issued by Lebanon's Central Bank (BDL). In the circular, banks are prohibited from directly or indirectly purchasing and selling checks and bank accounts in foreign currencies or Lebanese pounds.
Furthermore, the circular prohibits the issuance of foreign currency or Lebanese pound bank checks in the name of other banks without the beneficiary's name, if the beneficiary's account is to be credited with the check value.
According to Morsel, this is also their way of demanding capital control legislation.
"The capital control law absolves them of any judiciary responsibility, so lawsuits won't affect them," the journalist added.
"Bank administrations are committed to protecting the interests of depositors and citizens at this delicate stage." Fadi Khalaf, secretary-general of the Association of Banks, said.
"Banks insist on taking all necessary measures to prevent abuses that harm the depositor and the economy."
Nevertheless, Morsel points out that depositors will suffer the most if banks fail to resolve this issue by the end of this month, as they won't be able to receive their salaries.
"The public and private sectors rely on banks to withdraw salaries, in addition to Sayrafa, the platform for exchanging lira for dollars that closed down in January," she added.
What now?
The head of Lebanon's Depositors Association, Hassan Moghnieh, says banks are relying on the judiciary – and thus pressing the government – to find a solution.
The banks' role will also shrink even more, thus strengthening the role of money transfer companies, which people have been gravitating toward.
The decision follows the verdict by Mount Lebanon Public Prosecutor Judge Ghada Aoun to prosecute Bank Audi, Bank Audi Group CEO Samir Hanna, and Deputy Group CEO Tamer Ghazaleh for money laundering.
"The future seems bleak," Moghnieh told NOW. "What is the solution to a completely closed banking sector? I don't personally know of a solution, although one needs to be found immediately."
If banks were to close completely, the expert anticipates civil unrest, such as riots, arson, and break-ins into banks.
"Moreover, not all banks adhered to the strikes, some branches are open and their employees are there, so I don't believe they will go for a total closure," he said.
Banks versus a cash economy
Walid Marrouch, a professor of economics at the Lebanese American University, told NOW that it's not in the banks' interests to close down completely.
Also, the banks' added fees are a significant source of income for them. For instance, they extract a hefty sum whenever someone wires money from abroad.
"The banks' role will also shrink even more, thus strengthening the role of money transfer companies, which people have been gravitating toward," Marrouch said. 
The professor believes it is too late to enact a capital control bill. Rather, he expects Lebanese to seek alternatives outside of banks, especially for those with small deposits.
According to Moghnieh, an economy that depends on wiring companies and everything outside of the banking sector is bound to become a "disaster." 
"Without banks, the situation will worsen. As a result, everything from money laundering to fraud will be more permissible."
As for Marrouch, he also expects the banks to re-open as he asserts that "there is no functional economy in the 21st century that is integrated with the global economy, that is, without a banking sector." 
Experts believe that a fully cash-based economy will leave Lebanon in a precarious and uncertain position, as the lira hits a record low of 77,000 L.L to $1, leading to a rise in poverty rates.
Dana Hourany is a multimedia journalist with @NOW_leb. She is on Instagram @danahourany and Twitter @danahourany.