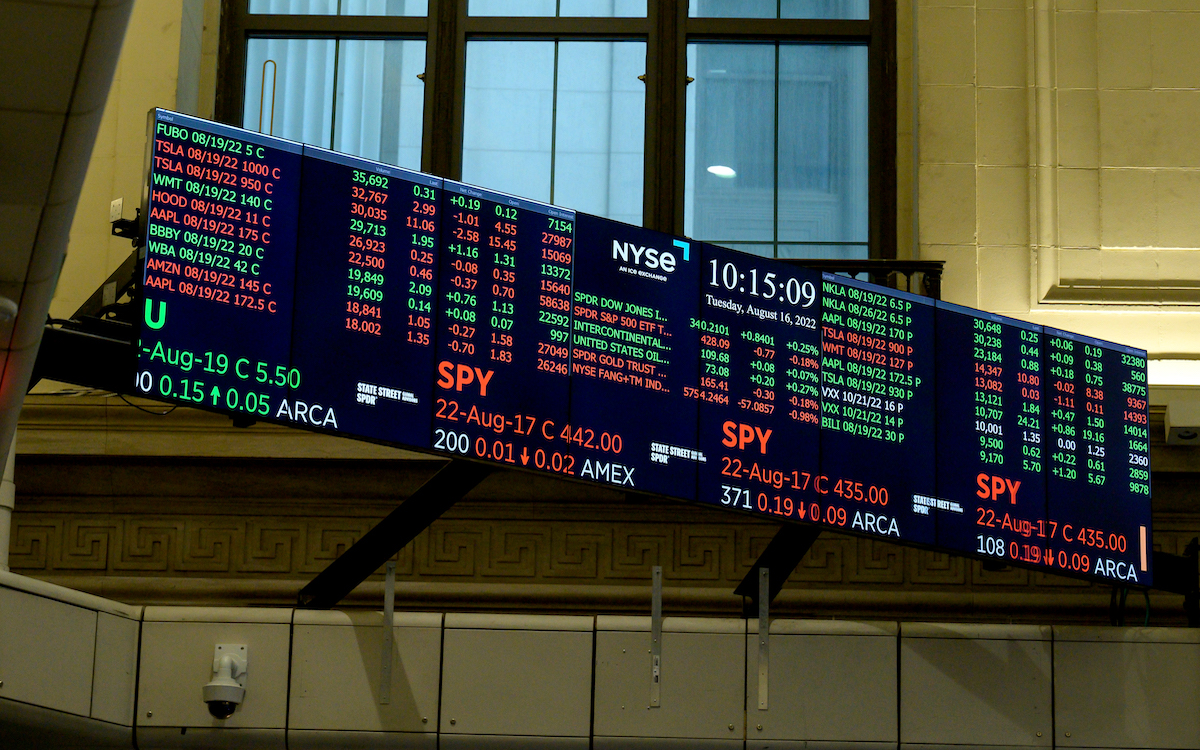 Monitors are displayed during the opening bell at the New York Stock Exchange (NYSE) on Wall Street in New York City on August 16, 2022. Wall Street stocks were mostly lower early Tuesday following lackluster housing data and as Walmart results highlighted how inflation is altering consumer behavior. Photo: Angela Weiss, AFP.
In the past three years, people worldwide have experienced hardship and heavy income loss. One might think that the best way to overcome these financial crises is to hold on to whatever funds one has and remain financially conservative until the economy finds its feet again.
Thus, during a global pandemic, followed by years of political and economic uncertainty and inflation, it is generally not considered the best time to launch a new investment fund.
However, a three-year-old investment firm did just that, and managed to weather many storms and deliver impressive returns. How were they able to do this? And what lessons can we learn from them?
Burak Alici's QVIDTVM (pronounced "Quid Tum") was launched in 2019, and it was done simply by betting on boring businesses.
In an era where younger investors give in to the allure of easy gains through unproven startups and crypto, it can be hard to swim against the current, especially when the crowd is getting filthy rich with paper returns. But money easily gained is easily lost, as bitcoin's tumble from nearly $70,000 to $20,000 shows.
This American company has thrived under challenging circumstances by investing in traditional businesses — such as elevators, train brakes, pest control, and auto lubricants. This philosophy was learned at Warren Buffett's alma mater, Columbia Business School, which teaches a style of investing known as "value investing."  Using this philosophy, Alici and his QVIDTVM team have delivered a 124.4% return to investors since the firm's inception. He has proven that investors do not need to chase new, crowded business ideas to get rich; Slow and steady can win the race.
The team comes from Morgan Stanley's investment management division, which backed early investments in companies like Dropbox Inc., Facebook, Blue Bottle Coffee, and Palantir Technologies. Now, this team is managing around $500 million and deciding whether to take on additional outside capital.
Mr. Alici has taken what I call the "boring road," and not followed the day-to-day public market crowd.
While the market favored high-flying technology stocks, Alici invested in more traditional businesses, like Progressive Insurance, Wabtec, Otis Elevator, Valvoline, and Terminix.
QVIDTVM also likes to avoid crowds when investing in private markets. The firm has eschewed late-stage private rounds favored by most hybrid funds. Instead, the firm sources its own private company investments and invests in earlier-stage companies at more attractive valuations. An earlier investment in Nexxiot, a Swiss-based rail technology company, was noticed by rail giant Knorr-Bremse who recently became a strategic client and investor.
Another private investment in a British skincare company, Haeckels, saw a strategic investment from skincare multinational corporation Estee Lauder.
While boring has worked, the firm retains flexibility and is not constrained by a specific style, geography, or market cap. While many want to get rich quickly, some investors focus on getting rich slowly.  This may mean forgoing investments into speculative assets like non-fungible tokens (NFTs) and initial coin offerings (ICOs), but, in the long-term, QVIDTVM and others are betting on boring as being a recipe for success.
Dalia Al-Aqidi is a senior fellow at the Center for Security Policy. Find her on Twitter here.
The opinions expressed are those of the author only and do not necessarily reflect the views of NOW.