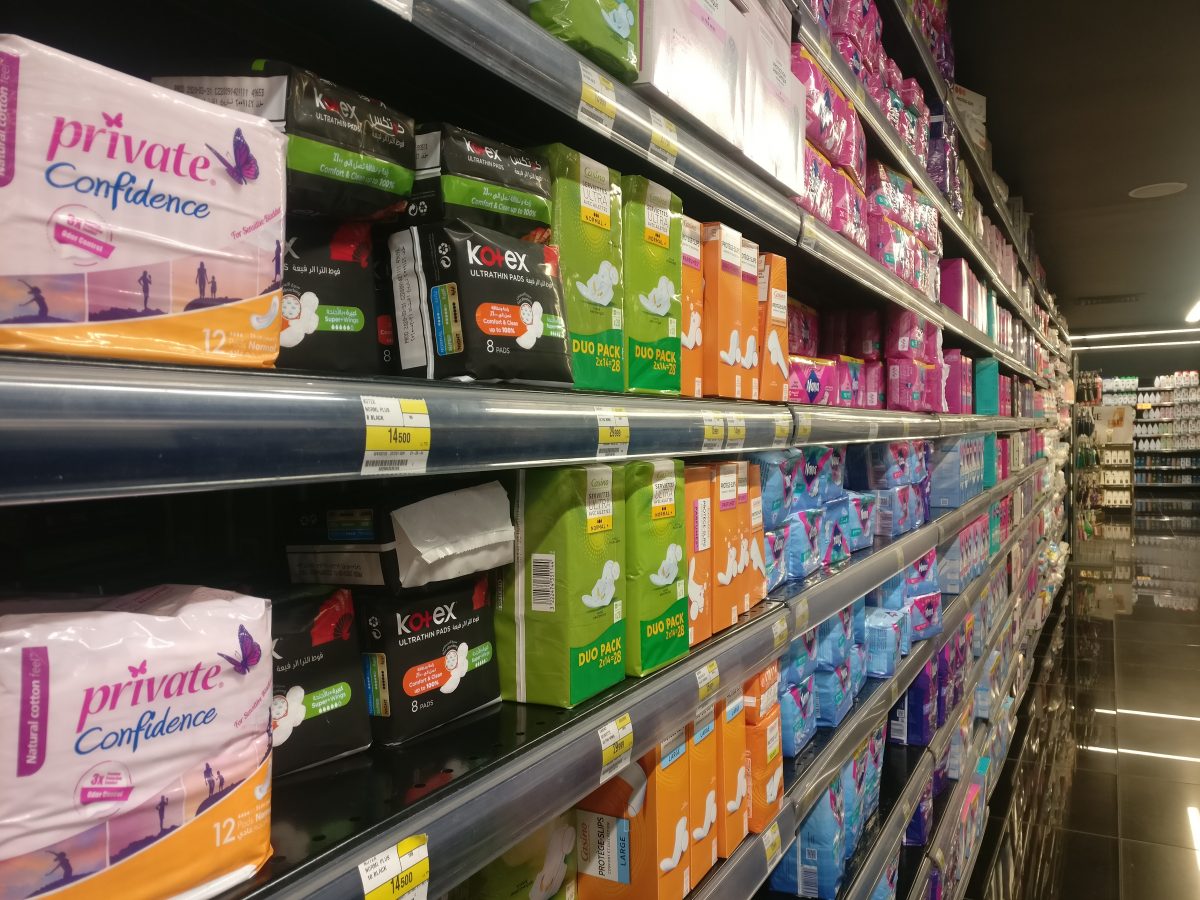 Pads and tampons turned political in Lebanon in 2020 when the Ministry of Economy introduced a list of subsidized items that included razors and coffee creamer, but not sanitary pads for women. Photo: NOW.
The culture of shame attached to menstruation, lack of serious health education and the current economic crisis throw many Lebanese women into period poverty.
Nour, a 17-year-old high school student from Beirut, misses a few days of school every month because she has no sanitary pads to use during her period.
Her family could not afford to buy them, so her mother taught her how to use pieces of cloth instead.
"It didn't seem a problem to me because I grew up seeing my mom using pieces of cloth during her menstruation," she told NOW.
Like many girls in Lebanon, Nour faces a stark choice when menstruating: risk her health or risk her education.
"Cultural constraints, lack of access to accurate information, lack of facilities, and unsuitable sanitation in schools and homes can restrict menstruating women and girls from participating fully in society," Abir Chebaro, gender expert, feminist activist, and former Advisor to Ministry of Women's Affairs told NOW.
"The fear of leaking through their school uniform and the shame that comes from a period stain paralyzes them and affects their class participation if they decide to go when on their periods. Consequently, from the moment they start menstruating, the academic performance of most girls declines," Chebaro added.
Pads and tampons have turned political in Lebanon in 2020. In June, the Ministry of Economy introduced a list of subsidized items to regulate the sky-rocketing prices of basic necessities. Among these items were razors and coffee creamer, but not sanitary pads for women. The move has drawn uproar from women's rights activists, who accuse the government of throwing a large portion of Lebanon's female population into period poverty.
However, activists and experts alike say that the problem might have deeper structural causes in society and countering them might require more than one piece of legislation. Women's "monthly shame" needs to be normalized as basic hygiene and pads need to cease to be only a girl's problem, they point out.
Growing prices, lack of care
According to "Fe-Male," a local women's rights organization, the cost of period products has increased by 500% in a year, limiting 66% of young women and girls living in Lebanon from buying them. The numbers are expected to rise even more in the coming months as the economic crisis seems far from the end.
An average period lasting about five days now costs up to 15,000 LBP a month for tampons and pads, which is 3.7 percent of the national minimum wage.
This crisis is a heavy burden on vulnerable women in Lebanon, many of whom resort to "improvised" alternatives.
"Usually, women use sticks, tissues, towels, or simply nothing at all. They might also use pads but not change them for a very long time," Doctor Gaelle Abou Ghannam, a specialist in Obstetrics and Gynaecology, told NOW. "All of these methods increase the risk of infection and irritation."
While lawmakers in other countries are discussing legislation to ensure free and universal access to menstrual products, including tampons and pads, Lebanon's cabinet paid no attention to the matter, despite several organizations requesting action.
The reason might be that the committee who put together the list of subsidized products was made of 7 male ministers, activists say. Upon receiving the backlash, former Finance Minister Raoul Nehme noted that the government is working on subsidizing the raw materials to produce pads locally in July. But few of the assurances made that day have come to pass.
"Isn't this issue a bit too pressing to wait for a feminine hygiene industry to boom in Lebanon suddenly?" Laudy Issa, activist and Managing Editor of "Beirut Today," tweeted.
A persisting taboo
"Periods, in my village, are treated as a taboo and are often surrounded by mystery," said Sima, a university student in the Bekaa Valley. She says that sanitary pads in her village shops are usually wrapped in opaque paper instead of transparent bags like other products. Her 14 year-old sister shies away from the conversation.
"It's hard for me even to say the word 'period'," she explained.
The menstruation stigma is deeply entrenched in Lebanese culture and many generations of women have carried the burden, activists say.
"Women can be kept away from family members and shunned from offering prayers during what is sheepishly referred to as 'that time of the month", Sally Farhat, Founder and Editor-in-Chief of NAYA, the first women's column in the Arab region that challenges the representation of women, told NOW.
An assessment conducted in 2013 that studied the beliefs and practices relating to adolescent girls' menstrual hygiene in Lebanon suggested that appropriate strategies must be developed to increase awareness and address some of the issues raised, thus empowering teenage girls with the necessary tools to ensure a healthy lifestyle. At the community level, mothers of adolescent girls should be provided with educational resources about menstrual and pubertal hygiene.
Many women NOW spoke to said they feel somewhat uncomfortable when discussing the topic of menstruation.
A shy interviewee who preferred to stay anonymous told NOW that she was embarrassed to talk about her period during her early teenage years because everyone had used the terms "dirty and gross" to describe it. It made her feel ashamed.
"On top of that, whenever one of my friends had their period at school, they would hide their pads and tampons and go to the bathroom," she said, "It was a very discreet practice. I think we all learn to behave like that."
Menstrual education in health classes is hardly taken seriously in Lebanese schools, Farhat explained. She said her own childhood experience in health and hygiene class was a letdown. Teachers cover only the very basics or avoid the subject altogether.
"This is scary," she said. "Not knowing how the human body works is unthinkable but true for so many of us."
Hayat Mirshad, co-founder of Fe-male and head of the Lebanese Women Democratic Gathering, explained that the root cause is that both boys and girls are taught that period is a "girls' problem".
"It is a recurring theme that women are pulled aside to learn about menstruation, often leaving men entirely naïve of the topic."
According to Merchad, this, along with other social, cultural, and religious factors, contribute to the fact that menstruation is widely considered taboo across Lebanese and other societies.
Mira Matar, an activist who campaigns against period poverty agrees.
"Many women feel or they are accustomed to feeling as though their period is something to be whispered about and endured quietly with no discussion, especially with male peers and male family members," Matar told NOW.

"Menstruators should raise their voices about what it is like to need to miss out on school or work because of their periods and why more awareness would improve their well-being."
Relying on charity is not enough
Line Tabet Masri and Rana Haddad founded Dawrati at the beginning of 2020 to help girls and women, mostly from marginalized and refugee communities, get access to menstrual hygiene products and become more familiar with their periods through awareness sessions.
But they rely exclusively on donations to sustain the organization.
"The lack of concern around the subject under the weight of the pandemic and the economic crisis probed us to create Dawrati," Masri told NOW.
"But while distributing period products is the first step to addressing period poverty, the stigma, taboos and myths surrounding menstruation and period products should also be addressed," Masri explained.
Fe-Male, another women's rights organization in Lebanon, organized two pad distribution events after the August 4 explosion. Volunteers went from door to door and gave out more than 430 hygiene and protection kits in Karantina-Beirut.
Activists behind such initiatives agreed that providing a box of pads and tampons is not enough to tackle the 'toxic trio' of period poverty: shame, economic inequality, and lack of education.
"The need grows every day, but we are not a long-term solution to period poverty. We should not, as a society, be relying on voluntary initiatives like ours and the kindness of strangers to deliver this support in schools," Mirshad added.
She said that training sessions need to be delivered in flexible, creative ways within this context. The workshops can also highlight these products and how to access affordable options, as they are often seen as too expensive, hard to find, or difficult to use..
A long fight against shame
Nour, the highschool student who chooses to stay home during her period, believes that this is far better than facing the humiliation of being among her schoolmates without anything to control her menstrual flow. She too relies on charity.
"Sometimes my teacher buys me pads, and this makes me happy because it allows me to go to school freely," she says. "When I was 15, I used to share used pads with my classmates before our teacher warned against it because it is unhygienic."
For some activists, the first step would be for the Lebanese government to acknowledge that women need care and come up with the proper policies to address those needs, the way they address the need for razors as a male hygiene product.
"Why is our government not like other respectful countries [towards women]? The government should consider a policy to make them pads affordable for everyone," Nour told NOW.
But the perpetuating stigma surrounding menstruation, the culture of shame and the lack of proper sexual and health education, all contribute to a culture of ignorance around period poverty, and a lack of government concern for the issue. Activists and educators alike have long years of work ahead to change mentalities as well as legislation. .
"Aside from addressing accessibility, we need to continue to push for the normalization of discussing periods," activist Mirshad told NOW. "This will require more than legislation to abolish."
Tala Ramadan is a multimedia journalist and head of social media at @NOW_leb. She tweets @TalaRamadan.