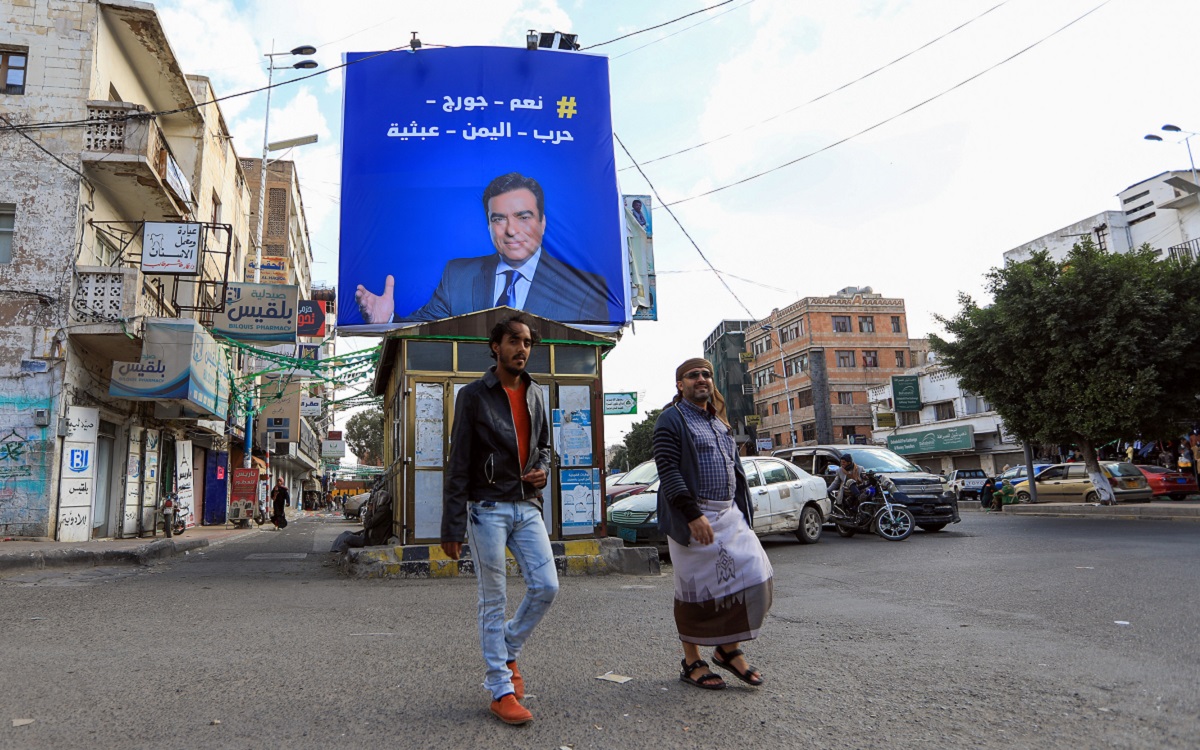 A portrait of Lebanese Information Minister George Kordahi is displayed on a billboard in the Yemeni capital Sanaa on October 31, 2021. Yemen's Huthi rebels on Sunday put up posters in support of Kordahi whose criticism of the Saudi-led war in Yemen sparked a diplomatic row between Lebanon and Gulf states. Photo: Mohammed Huwais, AFP.
People have been used as cannon fodder since time immemorial. Whether in battles, or metaphorically, in politics, sacrificing people, sometimes entire countries, has been a norm.
Sometimes, rulers have chosen to sacrifice the few to save the many. Those are the good rulers. Other times, they chose to sacrifice people to fulfill their dreams of power, and these are most rulers. 
Cannon fodder is what many Lebanese feel like and have felt for a long time. Caught in regional proxy wars and political conflicts by proxy, in local political skirmishes between factions and leaders, those who do not compromise don't make it. 
When Lebanon lost its banking system and the appearance of economic prosperity, it also lost its soft power in the region. If Westerners are still charmed by Lebanon – some for the country's rich history and culture and others for its "war-torn" reputation, be they victims of orientalism or connected to the country in some way- the usual regional allies seem to have turned their back on Lebanon. 
But the honest truth is that no one, except maybe a few dreamers, is thinking about human security in the Middle East, including in Lebanon, and this has been the case for centuries. It is all about regional political rivalries, proxies – be they armed groups, politicians, charity organizations. But never about people struggling in poverty, wars and the complete absence of justice. They are only tools for political deals.
People are valuable as community, not as individuals. One human life, even 200 human lives, mean nothing in the face of being able to move large groups of gunmen or voters. or both. Justice is the first to fall victim to this manner of political thinking. 
A minister's opinions
In August, television star George Kordahi and presenter of the Arab offshoot of "Who Wants to be a Millionaire" aired by Saudi MBC, spoke to Al Jazeera in an interview about….stuff. He told the Qatari channel that he found the Saudi led coalition war on Yemen's Iran-backed Houthis unjust. 
In September, he became Lebanon's Minister of Information, the de facto spokesman of the newly formed government led by Najib Mikati, at the proposal of the Christian Marada Movement, an ally of Hezbollah. 
The interview aired last Monday, raising outrage from Saudi Arabia and the Gulf members of the anti-Houthi coalition. 
Despite calls for Kordahi's resignation, his supporters dismissed the possibility,  saying he had made the statement before he became a minister. 
It didn't matter much for Saudi Arabia, Bahrain, the UAE and Kuwait. After KSA announced on Friday that they would cut diplomatic ties with Beirut and halt all imports, the other three GCC members followed suit, 
UAE repatriating citizens: The UAE on Sunday called on its citizens in Lebanon to immediately return home.
Pointless: "There is a crisis in Lebanon with the dominance of Iranian proxies over the scene," Saudi Prince Faisal bin Farhan told Saudi Arabia's Al-Arabiya television in an interview on Sunday.
"This is what worries us and makes dealing with Lebanon pointless for the kingdom and for, I think, Gulf countries."
Out of the question: Kordahi said he wouldn't resign. The former host of the Arab version of "Who Wants to Be a Millionaire" said that he is aware that the current row goes beyond his statements in an interview. He is also in a very tight spot: if he resigns, Hezbollah and Amal ministers also leave the cabinet that took 13 months to put together.

The Houthis' hero:  Kordahi has gained some popularity in Yemen's rebel-held Sanaa, with the Huthis on Sunday putting up posters in support of the Lebanese minister. "Yes George, the Yemen war is absurd," said posters bearing his image. 
The heart of the matter: As far as Lebanese politicians were concerned, Saudi Arabia's green flag should have a dollar sign as country logo. Since 1991, Saudi Arabia's government has given Lebanon 1,333,491,713 dollars in loans and grants (mostly grants). That is only the official figure because the Kingdom has also funded many political interests and charities.  Unlike Iran, whose money strictly financed its proxy, Hezbollah, Saudi money has contributed in keeping the Lebanese economy afloat for years. 
However, currently, Riyadh doesn't seem to have any interest in paying the bill for Lebanon's economic troubles, despite many efforts from Beirut to warm up ties.
But as far as the Saudi crown is concerned, the Lebanese government is very much Hezbollah controlled, and it has failed to seriously curb drug smuggling to the kingdom, which is basically in the middle of a war against drugs. So far, there hasn't been solid proof that Hezbollah affiliated groups are smuggling the captagon, but there is some circumstantial evidence – like the Lebanese Army busting some factories in Hezbollah controlled territory, despite not making any arrests and only seizing equipment. Nonetheless, Riyadh has pointed fingers at Hezbollah for the drug smuggling operations.
Beyond political finger-pointing and despite reassurances by politicians and diplomats that Lebanese citizens working and residing in the Gulf states will not be affected by the severing of ties and imports, it's kind of obvious that there is no way they won't be. It's a sort of Brexit. It will turn into a huge mess. 
Calling the US for help:  Lebanese Foreign Minister Abdallah Bou Habib told journalists on Saturday after a meeting of the ministerial committee on the diplomatic crisis with Saudi Arabia that he has contacted the US Embassy to participate in the crisis cell, An Nahar reported. US Deputy Chief of Mission Richard Michaels attended the meeting at the Ministry of Foreign Affairs in Beirut. 
Not many solutions: Lebanon either curbs Iranian influence in state affairs through Hezbollah, or it faces the possibility of isolation. The country's main economic asset has been its good relations with the Gulf, where an estimated half a million Lebanese reside and work, sending remittances home. 
Iran, whose economy is also in shambles due to international sanctions, cannot replace Saudi Arabia and the other Gulf states as the main regional ally. It cannot open its economy to hundreds of thousands of Lebanese seeking jobs abroad, because it doesn't have an economy to open. 
Luckily for Lebanon: The US diplomats in Beirut, as well as other countries' diplomats, seem to be very attached to Lebanon and are willing to help it stay afloat – be it negotiating electricity deals or pressuring for fair investigations to continue. (That's Lebanon's silver lining for the moment – foreign diplomats apparently love this country more than its politicians actually do.)
But the administration in Washington just imposed sanctions on several Lebanese businessmen, and may need convincing that it is worth saving Lebanon in the current conditions. 
A probe for a probe
On the one hand, there is the Beirut blast investigation. We have covered its twists and turns heavily since we've launched, and the trouble continues, with the head of the investigation, judge Tarek Bitar, trying to pull through many attempts at obstructing his work by various politicians he summoned for questioning. 
Suspended once more: Bitar had called former PM Hassan Diab for investigation on October 29, but has had to suspend the summons after Diab filed a lawsuit against him claiming he has no authority to question him. 
Nothing much had the chance to happen in that probe the past week. 
But, on the other hand, there is the Tayyouneh clashes investigation. 
Charged with murder: Some 68 people were charged with murder and sedition after the October 14 Tayyouneh clashes, which left 7 dead and 32 wounded after anti-Bitar protests by Hezbollah and Amal turned into armed clashes with the Lebanese Army and Christian supporters of Lebanese Forces residing in the area
Another politician misses questioning: Lebanese Forces leader Samir Geagea was called in for questioning at the Ministry of Defense, after Amal and Hezbollah accused him of planning the attack on protesters on October 14. He missed his appointment last Wednesday. 
Two probes: Many of the Beirut port blast victims' families, some of the most vocal ones too, are Christians from Ashrafieh. Some of them are Lebanese Forces supporters from middle class Lebanese neighborhoods. 
Two of the politicians summoned for investigation by judge Bitar are Amal MPs Ghazi Zeaiter and Ali Hassan Khalil. 
In the Tayyouneh clashes, the "martyrs" are Shiite supporters and members of Amal and Hezbollah. The summoned politician is Samir Geagea, leader of the Christian Lebanese Forces. 
An attempt at a barter: It was Maronite Patriarch Bechara al Rahi who mentioned "the solution" first, saying that everyone had agreed on it in order to put an end to the government deadlock of the Beirut blast investigation. 
The "solution" was for former dignitaries to not be investigated by Bitar, but submit to the parliament elected Supreme Council for the Trail of Presidents and Ministers. Yes, Lebanon has had one since March 2019, as part of an initiative by Parliament Speaker Nabih Berri, who has been at his post since, to curb graft. 
Lebanon +:
The happy side: While most in Lebanon were worrying about the impact of the deteriorating Saudi-Lebanese relations, supporters of Iran and its Lebanese arm Hezbollah celebrated the chaos. 
Saudi Arabia is such a defeated entity that they had to invest in Twitter bots to counter any kind of criticism against them. truly pathetic.

— aya (@political_aya_) October 30, 2021
كل الذي دفعه ابن سلمان لتحسين صورته.. صار هباء بسبب الغباء..

— الشيخ مالك وهبي (@chmalek_) October 31, 2021
The supporters cheered on as Saudi Arabia and other Gulf countries cut off relations with Lebanon, likely over the belief that it would leave Iran as the main patron for Lebanon. 
who's gon tell Kuwait that their embassy in Lebanon is literally a parking for vanet l jnoob

— arabella (@lahyalayan) October 30, 2021
Following Saudi Foreign Minister Prince Faisal bin Farhan al-Saud's interview with CNBC's Hadley Gamble, where the prince said that part of the reason that this break in relations is occurring because of Hezbollah's expanding influence, the pro-Iran and Hezbollah crowd saw this as another victory as Hezbollah continues to consolidate power in Lebanon.
Podcasts:
Sarde after Dinner hosted last night Sarah Kaddoura, Palestinian feminist activist based in Lebanon, creator and host of @HakiNasawi. They talked Islamic feminism, Islamic revisionism and possible renaissance, the #metoo movement and honor killings.

Agenda:
On Monday, the UN Special Rapporteur on extreme poverty and human rights, Olivier De Schutter, undertakes a fact-finding mission to Lebanon. He is scheduled to stay until November 12 to examine the government's efforts to alleviate poverty in the country.
Lebanese PM Najib Mikati is in Glasgow at COP26 not to discuss global warming – Lebanon has zero policies and concern for that topic – but to talk about how to save the country from the abyss it's fallen into. 
Until next week, make sure to follow us on Twitter, Instagram, Facebook, or LinkedIn. We are here, if you have a tip, a concern, an idea or some feedback.