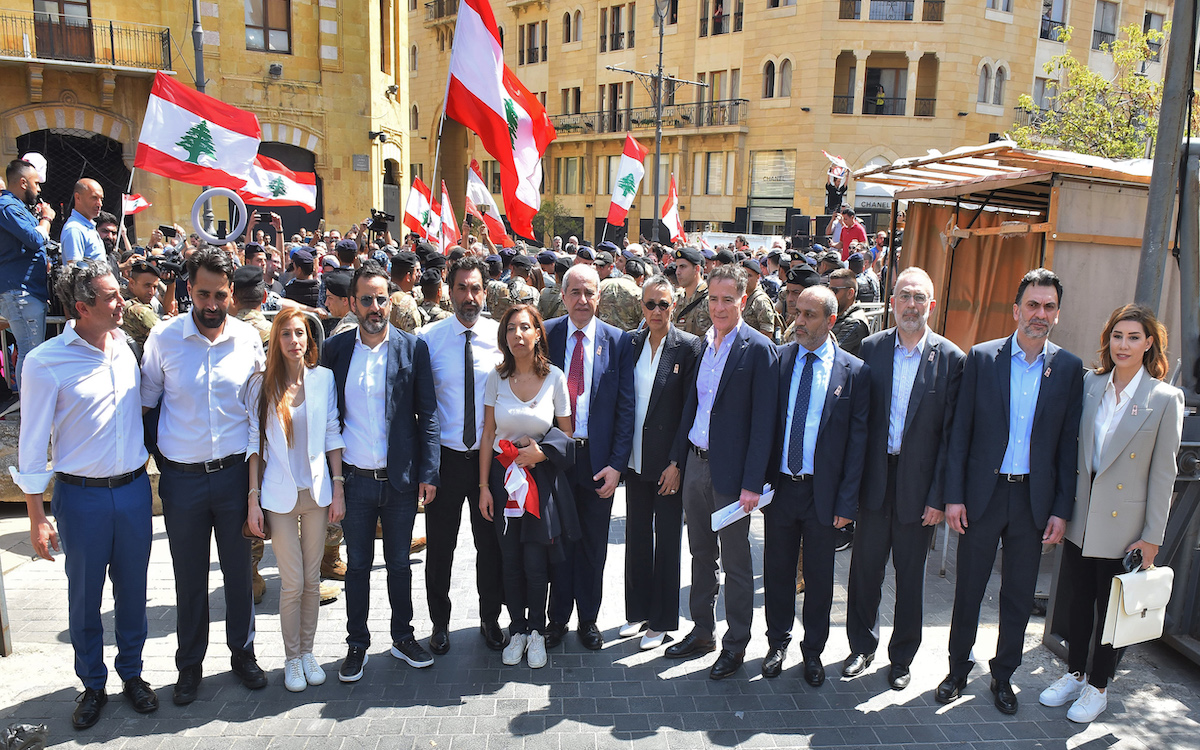 Newly elected Lebanese opposition members of parliament (L-R) Marc Daou, Firas Hamdan, Cynthia Zarazir, Michel Douaihy, Waddah Sadek, Halima Kaakour, Melhem Khalaf, Najat Saliba, Elias Jradeh, Yassin Yassin, Rami Finge, Ibrahim Mneimneh and Paula Yacoubian pose for a picture near the parliament headquarters in the capital Beirut on May 31, 2022, after a march with relatives of the Beirut port blast victims and supporters from the port site. Photo: AFP
A session of Parliament is set to elect a new president on Wednesday, June 14, but no consensus has been reached regarding who might be elected and end the presidential vacuum at last.
Since Michel Aoun's term ended in October, Lebanon has remained without a head of state.
Since then, Michel Moawad, member of the Renewal Bloc in the Lebanese Parliament representing the Zgharta District, and Suleiman Franghieh, an MP supported by Hezbollah, have been the most talked about candidates.
However, Moawad withdrew his candidacy earlier this month, and ex-finance minister and former Director of the Middle East and Central Asia Department at the International Monetary Fund, Jihad Azour, has been named as the opposition's newest candidate.
Why this matters, The election of a new head of state in Lebanon has been long overdue, as none of the eleven previous presidential sessions held between September 2022 and January 2023 resulted in any significant progress. With the country having been without a president for almost six months now, political tensions have reached an all-time high.
In this context, various opposition parties and the Free Patriotic Movement (FPM) recently gave their support to Azour's candidacy – an act that was seen by some factions within Hezbollah, who are backing Frangieh's candidacy, as a challenge to their own power.
According to Azour, he is only concerned with bringing prosperity to Lebanon through reforms that will provide a future for the younger generations rather than the "despair" that has sparked "one of the most dangerous migration waves the country has ever seen."
He has argued that he is not "the descendant of an old political family," – unlike the majority of high-ranking  Lebanese politicians – and is working to make Lebanon "sovereign, free, independent and prosperous."
However, despite the fact that Jihad Azour's candidacy has the endorsement of both the Lebanese Forces (LF) and the Free Patriotic Movement (FPM), as well as Michel Moawad's Renewal bloc, the opposition MPs have shown less decisiveness and have yet to agree on a consensus candidate. Thus, the country may remain in a political impasse.
As of now, only Mark Daou, Waddah Sadek, and Najat Saliba are anticipated to support Azour, while Cynthia Zarazir and Halime Kaakour have already indicated that they will not support the new candidate.
In a tweet, Kaakour stated, "Our place is not in sectarian polarizations that fragment the national project. As we have stated from the outset, we reject both the imposed candidate Suleiman Frangieh as well as the consensus candidate Jihad Azour."
The statement added that will only elect a president whose political vision and path are known, and who does not compromise on the country's sovereignty and the rule of law. Furthermore, their financial vision should prioritize overcoming the financial crisis while safeguarding the interests of society, rather than prioritizing the banks and those in power."
In a similar fashion, Mneimneh said that they "will not allow Hezbollah to impose its candidate on us, as we operate within a democratic context. Playing for time, relying on security messages, and waiting for external powers will not benefit us. What is required is to agree on a political agenda that serves the Lebanese people."
Mneimneh commented on the MPs who have already decided to support Azour, saying, "In my opinion, this consensus is fragile and will not lead to favorable outcomes."
Eventually, in the evening of June 13, the MP begrudgingly announced that he would vote for Azour during the electoral session.
"We will drink the poison of Jihad Azour tomorrow and we will have other words later," he stated.
Critics noted Azour's previous experience as finance minister, as well as his connections to the political establishment, which are in conflict with the values of the October 17 revolution of 2019. Others criticized his role in the economic policies of the early 2000s, which contributed greatly to the current economic downturn.
Some, on the other hand, consider his past experience and background to be a positive asset that will help the country in its future endeavors.
In conclusion, Azour attempts to portray himself as a unifying candidate, but he has been unsuccessful in gaining support from all factions. Rather than fostering unity, his candidacy seems to be polarizing and causing further divisions. As a result, it is uncertain whether any progress will be made, and the country will likely remain without a president for an extended period.
Dana Hourany is a multimedia journalist with @NOW_leb. She is on Instagram @danahourany and Twitter @danahourany.