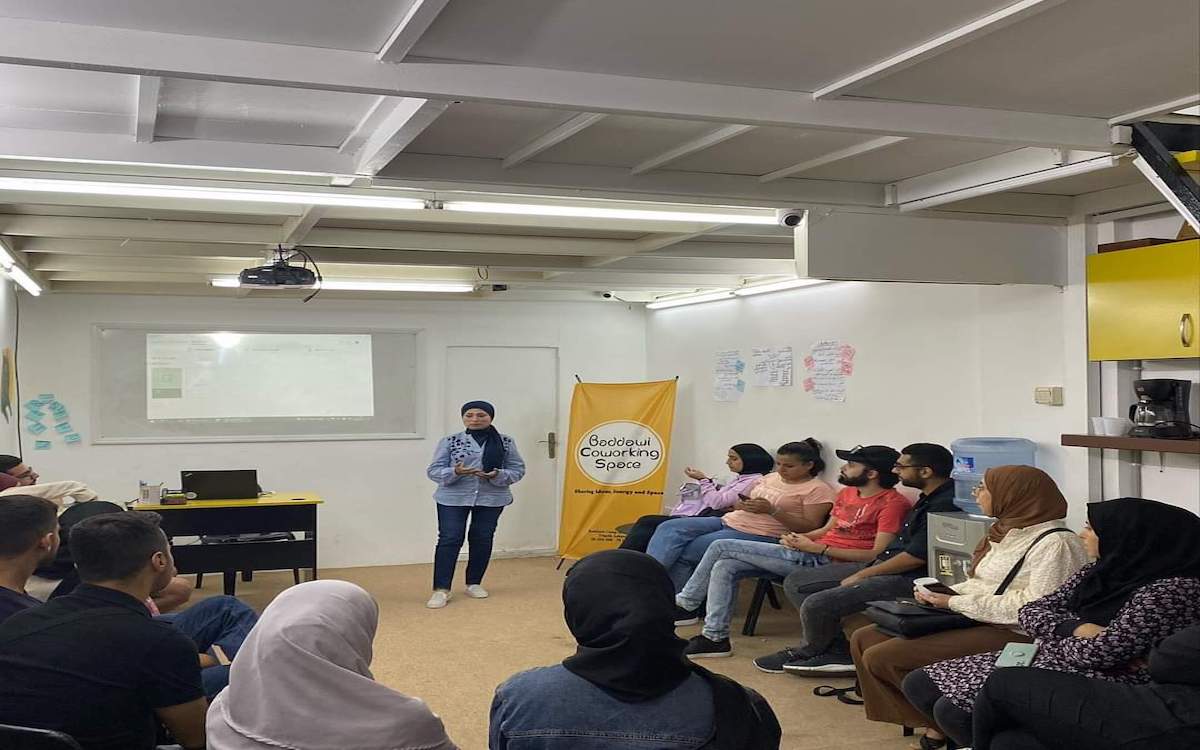 Baddawi co-working space. Photo: Facebook
Despite overwhelming challenges and daily struggles brought about by the current economic crisis, Lebanese companies, professionals, and freelancers continue to innovate, and coworking spaces help maintain resilience in a rapidly globalizing and digitizing world.
Rasha Abdel-Khalek,  co-founder of an interior design company, expressed to NOW that coworking spaces, which involves sharing offices, resources, ideas, and skills, have provided an opportunity for employees to cultivate innovative thinking and strengthen the brand's presence online. 
"The energetic and healthy work environment has been instrumental in boosting productivity, creativity, and overall growth," Abdel-Khalek told NOW. 
A reprieve for businesses 
Businesses are turning to co-working spaces in order to navigate the myriad financial and practical challenges. s. The country's currency devaluation, banking issues, and shortage of essential resources have resulted in surging rent prices, costly and undependable power generators, and expensive transportation, complexly impacting the day-to-day operations and overall performance of most businesses. Co-working spaces are proving to be effective in encouraging businesses to think innovatively, increase their agility, and establish robust networks to enhance overall performance and achieve optimal solutions.
NOW spoke with co-working space Beirut Digital District's Senior Community Manager, Kim Mouawad, who said that the space has remained consistently at 98 percent capacity throughout the year.
The need for dependable internet and electricity has led to an increase in demand for private offices and co-working spaces, as stated by Mouawad. These co-working spaces have proven beneficial to Lebanese businesses, startups, freelancers, and entrepreneurs as they aid in job preservation and generate income in fresh dollars, which is crucial for Lebanon's economic growth. 
Mouawad further emphasized that receiving fresh dollars will improve the purchasing power of the Lebanese people and enable them to invest in the country, thereby enhancing the economy.
Staying connected
Many businesses have also turned to co-working spaces to broaden their customer base and reach out to other countries in the region. This strategy has enabled them to cater to international clients Foreign companies have also utilized co-working spaces in Lebanon by renting private offices for their local staff members. These private offices have also served as a workspace for Lebanon-based employees of foreign enterprises.
NGOs and advocacy groups also have the option to utilize private offices for their workshops and conferences.
Working for international companies across different time zones necessitates having access to co-working spaces; therefore, having 24-hour electricity and internet is a must.
According to Ellie Msallem, Manager of Park Innovation, a co-working space in Semqanieh, Mount Lebanon, tech companies from other countries hire Lebanese workers and utilize resources from co-working spaces.
By monitoring their employees and leveraging the skills found in Lebanon, the company can reap numerous benefits. In addition to providing stable employment opportunities and financial security to members of the community, it can also help sustain thriving co-working spaces. 
Mssallem mentioned that the space is utilized by a diverse range of companies including graphic design, software building, web development, and digital HR companies.
The co-working space offices are created to promote collaboration, facilitate interaction, and provide opportunities to connect with potential service providers in the community.
Workspaces also play a crucial role in promoting economic growth by offering a platform for social entrepreneurship. Individuals with expertise, knowledge, and experience can connect with valuable opportunities through these spaces.
Baddawi, a co-working space in Tripoli, brings together individuals from diverse backgrounds, including Lebanese, Syrians and Palestinians, who coexist in harmony. Despite the prevalent issues of unemployment, social instability, and financial hardship in the area, the space strives to assist the community.
In an interview with NOW, Hussein Zeid, the manager of Baddawi co-working space, emphasized the pressing need for additional workspaces in Tripoli due to the current resource 
Zeid reports that the youth in Tripoli are utilizing the studio to create visual content and engage in collaborations with international companies. They leverage their social media platforms for promotional purposes.
A boost of inspiration
Some Lebanese companies have found that working in co-working spaces boosts their creativity, productivity, and networking opportunities.
According to Reine Hassanieh, an online pediatric nutritionist, co-working spaces provide her with an energetic and inspiring atmosphere that helps her focus. She finds them convenient, cost-effective, and beneficial for conducting workshops and collaborating with other professionals in the country.
Hassanieh has not only found support within her local community, but has also connected with experienced professionals who have assisted her on-site. For instance, a talented graphic designer has helped to create a logo and design-specific online feed, and a skilled social media professional has managed her online presence.
Some co-working spaces in the country also empower and foster employment through business support for young entrepreneurs in Lebanon. 
Berytech is a Lebanese-based organization that aims to foster a dynamic environment for freelancers, entrepreneurs, and business people who are always on the move. The Berytech coworking space offers a stress-free atmosphere where individuals can effectively grow their businesses while interacting and exchanging expertise and concepts with other professionals within the larger Berytech community. 
The demand for coworking spaces is increasing, leading to their replication throughout the country. These spaces offer cost-saving benefits to companies through cheaper rent and reliable access to electricity and the Internet.
Rodayna Raydan is a Lebanese-British journalist. You can follow her on Twitter @Rodayna_462.