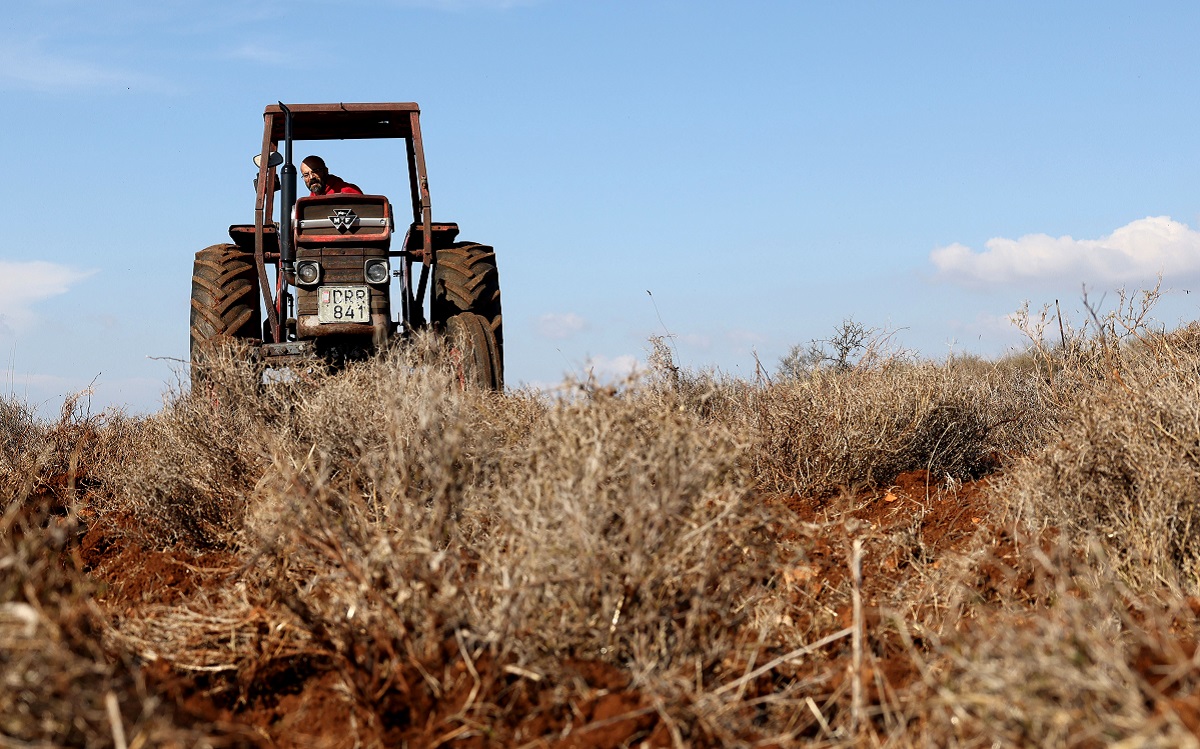 Hasan Trad ploughs a field with his tractor as he prepares it to be planted in the town of Kfartebnit, south of Beirut on November 22, 2021. Many residents are ditching the urban grind for ancestral towns and villages, where they can cut on living costs and forge new connections to a long-forgotten agricultural inheritance. Photo: Joseph Eid, AFP.
Both Aunt Nicole's sons are now jobless, despite their studying graphic design and engineering. Therefore, they both moved to their northern village and they work in the garden – planting vegetables, picking fruits and olives, filling jars with pickles and jams. 
They're now self-sufficient: they eat from their own garden, what remains they sell and exchange for other necessities. They also barter with family scattered throughout Lebanon. Everyone has something to offer: some make olive oil, others make wine or arak, figs, and quince for jam, pickles and keshek, loz and joz, and homemade olive oil soap. 
Their countryside gardens have become a network that provides relief, a support network where the supermarket has become rather useless or only serves as a place to buy shampoo and, still, laundry detergent. 
Some may call autarky, or self-sufficieny,  primitive – although it's not. It functions amidst collapse. Some might see it as somewhat romantic. It isn't when you're in need. 
People move to the countryside to survive on agriculture, start knitting and sewing to make their own clothes, they make their own soap and invent various small trades to get extra income. They also sell their old family memorabilia for extra cash. 
Most Lebanese, 80 percent, according to the most recent statistics live now in poverty. Most of them are new poor – former middle-class families who this holiday season are celebrating their second, possibly third, Christmas and New Year wondering how they are going to survive the next day.
Many families end up sacrificing the future of their eldest son, who drops out of school and starts working to be able to raise his younger siblings. That sacrifice is almost never enough: the family still struggles. Working children don't get paid decent salaries to help their families. 
A generation of children will bear the consequences of the sacrifice they were forced to make, and, together with that generation, the country itself will pay the price. 
But this is clearly not a priority for the Lebanese government. Politicians have been busy bickering over anything but the fate of millions of Lebanese who are managing to survive only by making incredible sacrifices. 
Regional seas and a ship "en derive"
Kordahi out: The Lebanese Minister of Information, George Kordahi, who triggered a diplomatic crisis between Beirut and several Gulf countries, finally resigned on Friday after over a month of negotiations. The whole story ended with pompous statements over who's more important, the country or the minister. 
Most analysts say the former television anchor who held a rather useless portfolio in the Lebanese government was hardly the main problem on the map of a regional conflict where Lebanon is trying hard to remain strategic. 
Marada's leader says they will not name a replacement. 
The main reason for discord remains: Kordahi has little importance in the whole political equation both in Lebanon and in the region. 
The main issue preventing the Lebanese government from actually working is the Beirut blast investigation and Hezbollah's rejection of the probe lead judge Tarek Bitar. Sixteen months after the tragedy that killed 227 people and wounded over 7,000, the probe is still blocked by politicians who are afraid that they will pay the high price for a whole group of corrupt, incompetent politicians and security officials. 
Sixteen months: The families of the Beirut port blast victims gathered on Saturday to commemorate yet another month since the tragedy. 
Saudi Arabia back in: Saudi Arabia and France stressed in a joint statement issued after talks between French President Emmanuel Macron and Saudi Crown Prince Mohammed bin Salman on Saturday that the Lebanese government needs to "carry out comprehensive reforms", but also that weapons should only be held by the Lebanese state, exclusively. 
Tennis ball: "The Lebanese crisis is not just an internal conflict between rival factions or enemies. It is, above all, a crisis of the State as a moral body, as a body politic surrounded by close boundaries, regulated by uncontested representative political power, governed by law that guarantees the rights and obligations of all, but especially the State defended by armed forces that hold the exclusive right to use violence to defend rights and law," Antoine Courban writes for Ici Beyrouth. 
Lebanon as a State has long perished, he says. On the regional table, it has nothing to offer to a possible protector. The question is, indeed, what deal has France mediated between Riyadh and Tehran, especially with the fate of the region being negotiated in Vienna, where diplomats have been trying to revive a deal with Iran on its nuclear program. 
Hezbollah keeps Lebanon as one of the bullet points left in limbo on that negotiation table. 
As close as it gets: Pope Francis visited Cyprus last week to the relief of a small, but always growing (especially during the past year), Maronite community on the divided island. He said he was concerned for Lebanon. 
A week before the visit he met with Lebanese PM Najib Mikati at the Vatican. His visit to Lebanon – although he said he would land in Beirut after the formation of a government – is still pretty far-fetched. Francis, a man with rather leftist ideas in terms of social justice, is unlikely to be inclined to give credit to sectarian Christian factions before the Lebanese elections. 
New COVID-19 regulations: Lebanon has initially issued regulations for travellers arriving on the International Airport of Beirut starting January 1, 2022. However, the government realized that a rise from roughly 500 cases a day to roughly 1500 a day, is a reason for concern, on top of the new Omicron variant that has led to restrictions across the globe. Therefore, starting December 15, all travelers arriving in Beirut have to prove that they are either vaccinated or present a PCR text with a negative result when they board for Lebanon. Also, they have to register on the Ministry of Health platform and undergo a PCR test on arrival, regardless their vaccination status.
Ration cards: Following months of delays, and with only some of the funding secured, Lebanon opened registration on December 1 for two cash assistance programs to help 700,000 vulnerable families after lifting subsidies. 
Lebanon+:
Elections and patriarchy:
Noone has really written about what happened to public policy expert, economist and Kulluna Irada managing director Diana Menhem on Sar el Wa2et (It's about time), seasoned talk show anchor Marcel Ghanem's program on MTV Lebanon (it has a paywall if you're watching from abroad).
#ديانا_منعم لـ #صار_الوقت : @dianamenhem @kullunairada مطلبنا الاساسي سيادي ولن نحيد عنه pic.twitter.com/bUsrDQ5gbK

— صار الوقت (@sarelwa2et) December 2, 2021
Her looks were most definitely discussed, because she's a woman, clearly, and the other guests also interrupted her numerous – and some counted over 20 – times to  mansplain one thing or another. She was also accused of being a "crypto-marxist" because she spoke about accessible healthcare and education. 
It was embarrassing, obviously for the male politicians who did what they did, as Menhem not only stood her ground, but also gained a lot of support. 
For a real and hearty conversation with Diana Menhem, without misogynist comments, mansplaining and interruptions, watch Ronnie Chatah's interview with on his podcast The Beirut Banyan. 
His hero:
View this post on Instagram
Podcasts: 
Sarde after Dinner hosted Kawkab Zuhal (Saturn), drag artist, comedian and astrologer. 
Jad Ghosn spoke to Elias Saba, economist and twice Minister of Finance. 
Agenda:
The Parliament is set to convene on Tuesday, December 7. It was set to discuss a new bill on Capital Control, which was requested by the International Monetary Fund. However, the draft was rejected by the joint committees and it should not reach the plenary session. The MPs are also set to discuss the delayed $246 million ESSN project by the World Bank meant to provide aid to Lebanese families in need. 
The Road Transport Unions have announced a strike starting with Thursday. 
Till next week, keep safe. Follow NOW Lebanon on Twitter, Instagram, Facebook, and LinkedIn, and subscribe to our weekly newsletter.