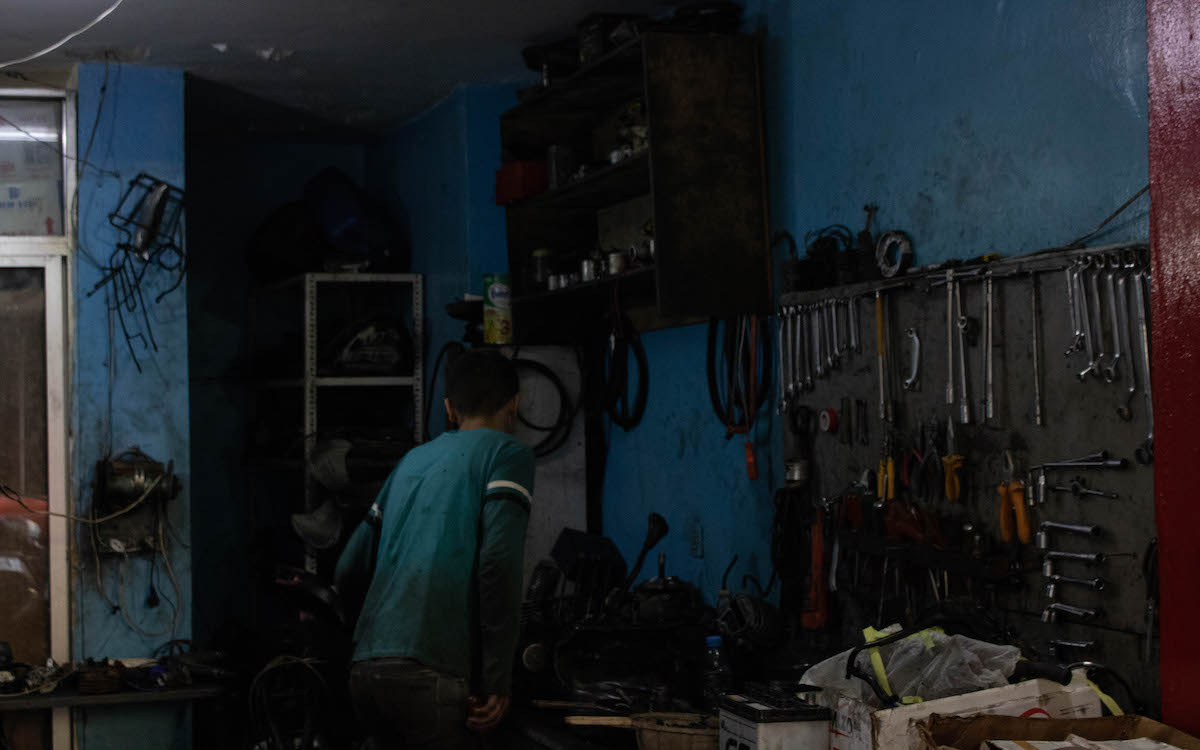 16-year-old Rifaat Mouwas left school a year ago and now is working as a mechanic so that his family can have a second income since his father's job as a fruit and vegetable salesman is no longer enough. Photo: Nicholas Frakes, NOW.
Rifaat Mouwas, 16, bent down to examine the motorbike, his grease-covered hands feeling the gears as he searched to see what the problem was.
"These all need to be replaced," he stated. 
About a year ago the teenager stopped going to school because his family could not afford it anymore. Instead, he got the job at a mechanic shop in his neighborhood, Bab al Tabbaneh, in Tripoli. It's not that he was ever passionate about motorbikes or dreamed of being a mechanic. But a job was a job. 
The oldest of seven children, he felt it was his duty to help provide for the family since his father's job selling fruits and vegetables was no longer enough. 
"​​Our financial situation is really difficult," Mouwas told NOW solemnly. "I'm just learning [the work] and working in order to provide for my family nothing more or less," he stated.
Making this hard choice has become more and more common in Lebanon as the economic situation in the country continues to deteriorate. Many parents have been forced to make the impossible choice of pulling their eldest children out of school so the family can have another source of income and save money on school fees.
According to a November 2021 report by UNICEF, the situation in Lebanon has had an increasingly worsening impact on children in the country.
"The devastating crisis has increased children's vulnerability and exacerbated inequality. Many children have no other choice but to work, find themselves on the street or faced with other serious risks, including child marriage, trafficking and sexual exploitation," the report said.
The report estimates that around 440,000 refugee children and an "unprecedented" 260,000 Lebanese children may never go back to school, rather opting to find work to provide a secondary income for their families.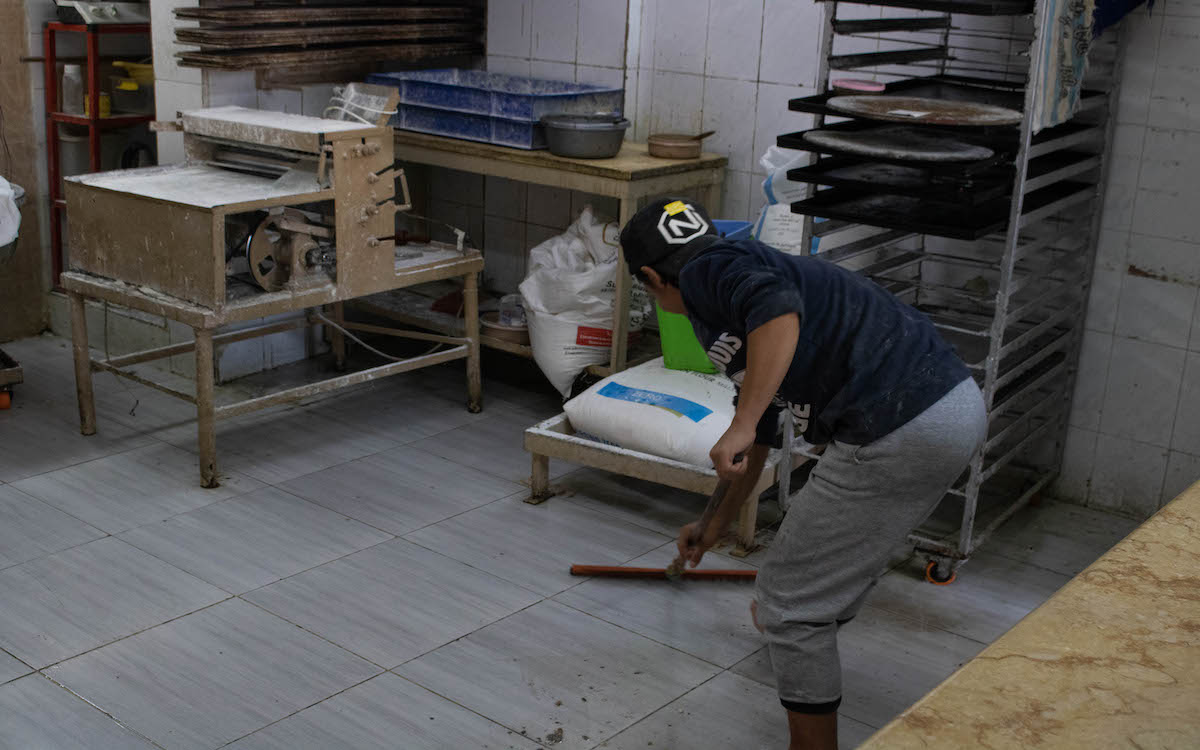 The eldest drops out
"I would [return to school] if I can, but what is important is to provide for my family. I work weekly, with a salary that ranges between 100,000 Lebanese lira to 110,000 lira," Mouwas said. "A person cannot go to school, or even work in good conditions, and do anything. The person just tries to manage several jobs in order to provide for his family."
Despite his sacrifice, two of his siblings also had to drop out of school because the family can't afford the expenses. Only his youngest brother attends a school in Ebbeh. 
Mouwas knows he is not the only one in this situation and doesn't complain. He knows many other boys like him who were forced to drop out and work.
Just like Mouwas, Taha Sabagh, 17, dropped out three years ago, figuring that getting to work at a younger age would help him get a bit ahead in life. He now works at a small bakery where he helps with the cleaning while he learns how to make pastries, like manouche. His father, Omar, is a carpenter and works in a small workshop right next to the bakery in the Zahrieh neighborhood of Tripoli. 
When Taha first decided to not attend high school, his father was staunchly opposed to it and urged him to reconsider.
But while Omar Sabagh, 51, would like his son to return to school, he says he has to admit that Taha's work helps bring a steady income for the family. Carpentry is a dying trade and the father is able to find work only every couple of months.
"Taha gets paid in dollars, $25 which is good," Omar explained. "Life has become really difficult. I don't know what to say. Now, the owner of the carpentry shop is thinking of selling it, which will make me jobless."
"The situation is really bad. It's zero. We say 'Thank God' that we are working, but this doesn't negate the fact that it's difficult," he explained. 
The importance of his work is not lost on Taha who is only too aware of how challenging the current situation is.
"It's really bad," the younger Sabagh told NOW. "Not just our family but any family in Lebanon. The rent is expensive, generator for electricity is also expensive. Everything."
Omar has two other children, aged 10 and 11, who are able to go to school but only because they attend a government-funded school so he does not have to pay any fees. Otherwise, they would not be able to attend any school.
Other parents are also struggling to keep their children in school.
Mohammad al-Hajj, 31, owns the garage where Mouwas works.
The mechanic has two daughters, aged four and two, with the four-year-old going to a private school. However, al-Hajj is quick to mention that it is not a good private school and is just one that he can afford since he only has to pay the equivalent of $100 a year in fees.
"Any more than that and I wouldn't be able to pay," al-Hajj told NOW. "The school takes care of the books. It's part of the $100 payment."
Should the situation continue to worsen and with his youngest daughter reaching school-age soon, it is uncertain whether or not both, or even one of them, will be able to attend a school. 
For now, both al-Hajj and Sabagh say they are just struggling to put food on the table and even that has become uncertain.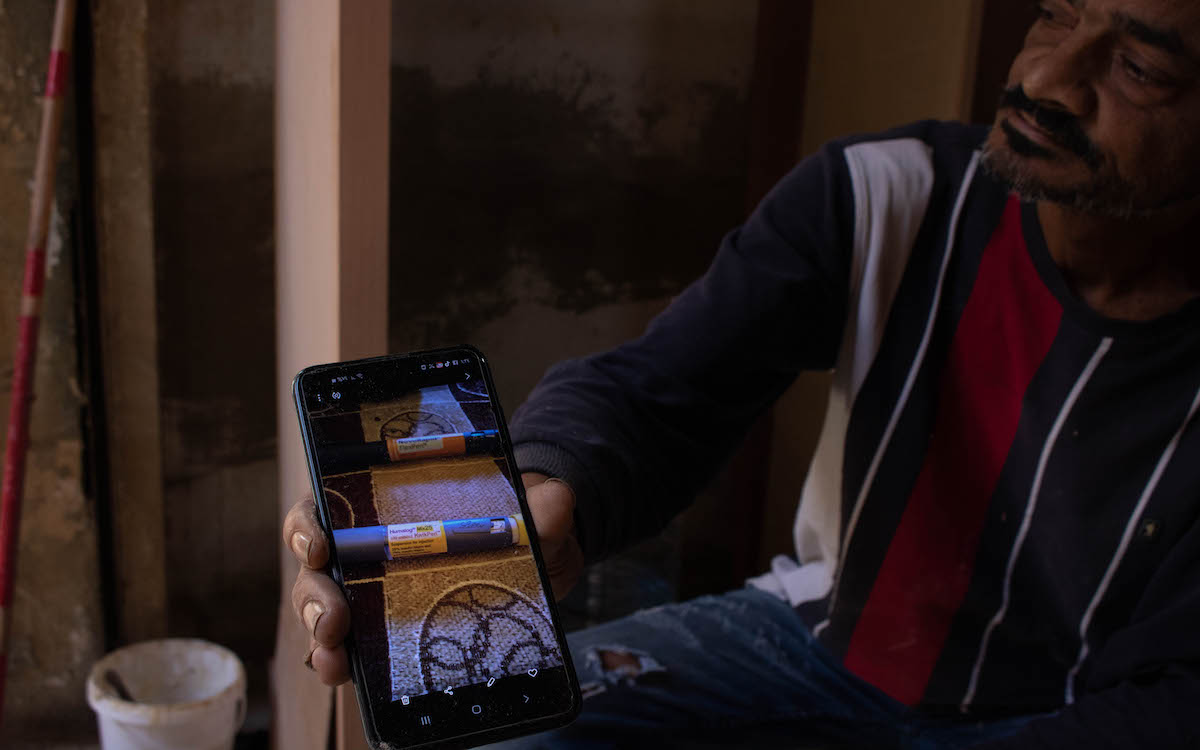 Empty plates
In the UNICEF report, which conducted a survey in April 2021 and followed up in October 2021, the percentage of children who are forced to skip meals has gone up significantly in only six months between the two studies. It found that 53 percent of families had at least one child who skipped a meal in October 2021, as compared with 37 percent in April. 
Sabagh and al-Hajj try their best to ensure that their families are able to eat something each day. But the quality and quantity of food have dropped drastically as prices have skyrocketed in Lebanon. 
"We can eat a little bit," al-Hajj said. "We'll eat things like rice, yogurt, maybe some kibbe one day and cabbage another, eggplant."
It is not until the end of the month that they eat any sort of meat, if they can afford it.
Due to the ongoing fuel and electricity crises that have seen Lebanon experience increased power cuts, with the government providing one to two hours of electricity a day. Private diesel-based generators provide anywhere from six or more hours, but that also depends on how much a family can afford, as fuel prices have also increased. 
In addition to this, families are constantly worrying about healthcare needs as the cost of medicine has skyrocketed and, in dire situations. If they needed to go to a hospital, they "cannot even afford to open the door", Al-Hajj explained.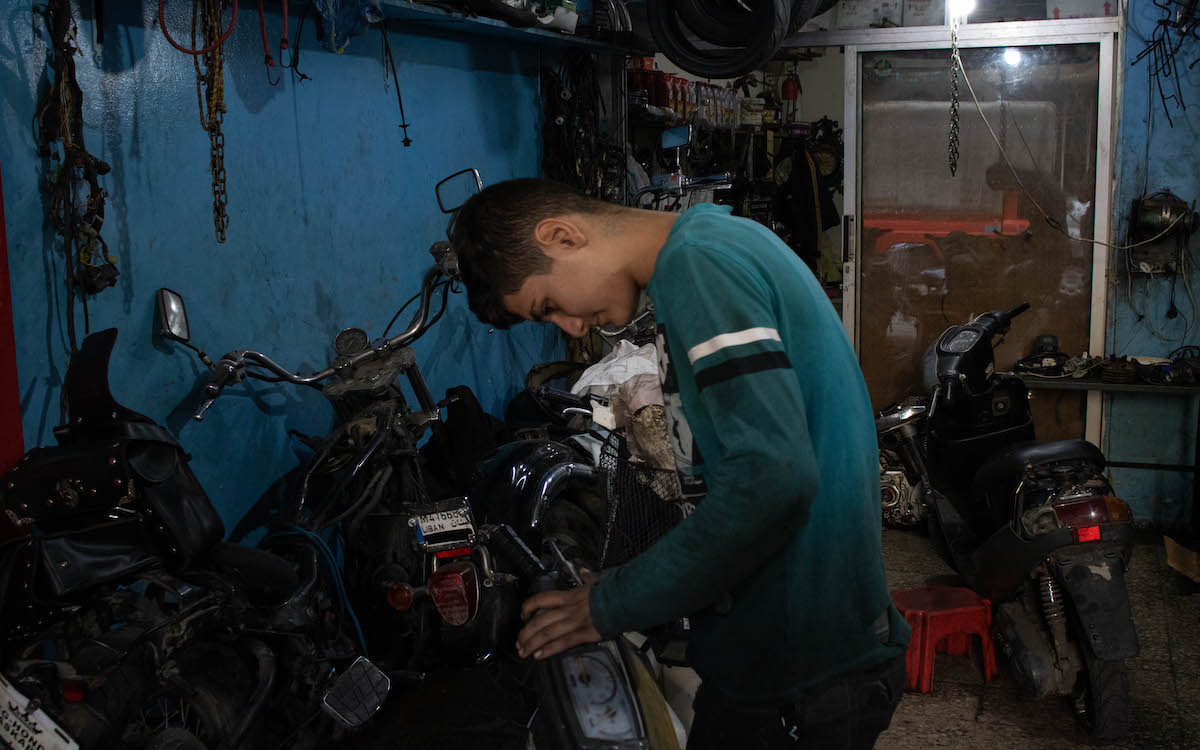 Caretakers
Taha's father, Omar Sabagh is diabetic and needs insulin injections. 
"I am diabetic and cannot find my medications," he exclaimed, holding up a syringe." I got a needle for insulin, it was expired but I took it anyway. It now costs 100,000 Lebanese lira!"
Since he cannot find the medication that he so desperately needs, his fingers and toes have become infected. His wife also received a medical procedure for her stomach and needs antibiotics.
This makes the little money that he receives from his work and the income that Taha brings home hardly enough.
Taha says he left school so that he could build a future for himself and become a baker's apprentice. But with the economic crisis, he has no choice but to work as a janitor so that his family can survive.
"I am learning this profession, in order to get married in the future," he said. "In order to provide for my family, and let them live a better life than I have lived. But unfortunately, in Lebanon, I feel it's not possible to do so. The situation is really difficult."
Any aspirations that Mouwas had a year ago of finishing school and going to university are long gone, he says. He now worries about making enough money to buy what his family needs. School is no longer part of his life or plans for the future, and he doesn't even mention it anymore. He only worries that his wages will not be enough to help his family. 
"I cannot get anything," he stated as he looked down hopelessly at the motorbike parts in front of him. "Everything is expensive and one does not have the money for it. The financial situation is zero and people cannot afford anything. You need to work hard in order to provide just the minimum for your family."
Rayanne Tawil contributed reporting.
Nicholas Frakes is a multimedia journalist with @NOW_leb. He tweets @nicfrakesjourno.