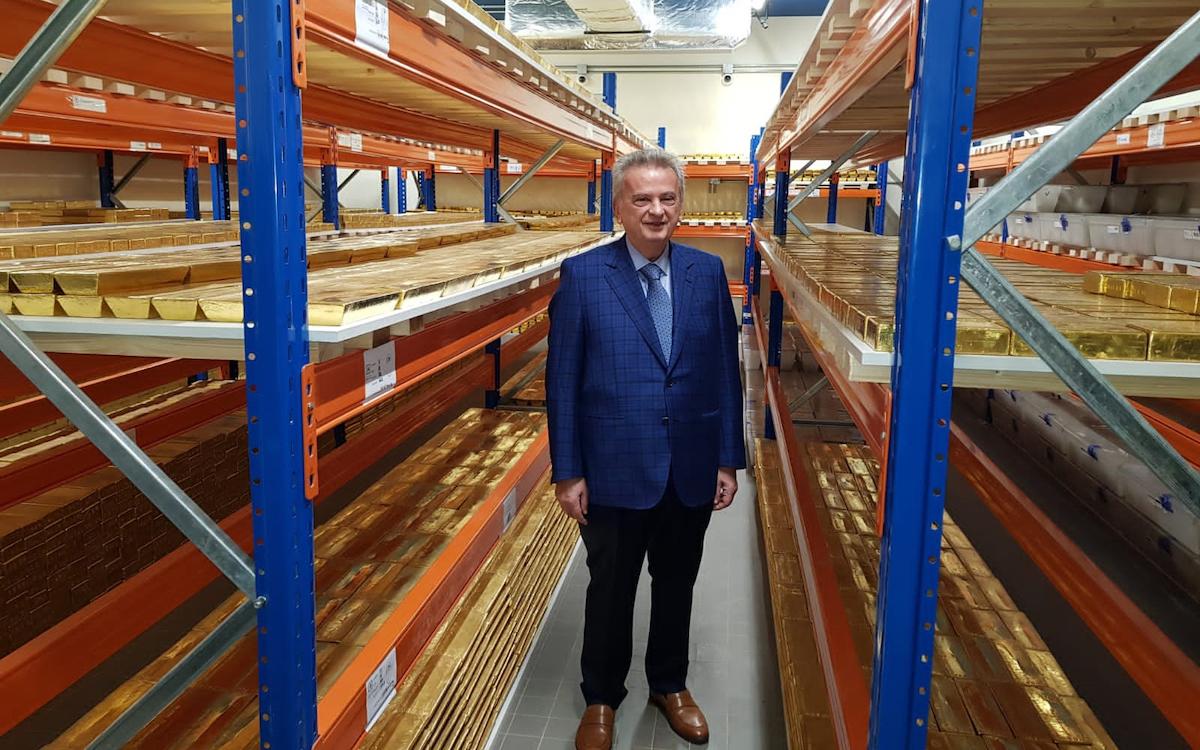 In this handout picture released by Lebanon's Central Bank on November 24, 2022, the governor of the Central Bank Riad Salameh stands next to stacks of gold bars on shelves at the bank's headquarters in the Lebanese capital Beirut. Photo: Central Bank of Lebanon, AFP
A French judge has issued an arrest warrant for Lebanon's Central Bank (BDL) governor, Riad Salameh, after he refused to attend a hearing in Paris this month.
Salameh is facing an ongoing investigation into his wealth, with French authorities accusing him of financial-related crimes such as embezzlement.
What happened: Salameh was summoned to attend a hearing in France on the morning of May 16 as part of an ongoing investigation by French authorities into the BDL governor's wealth.
It was expected that prosecutors would press preliminary charges against the BDL head.
Rather than traveling to Paris to attend the hearing and maintain his innocence, Salameh said that he would not be going.
In response to his refusal to cooperate, a French judge issued an arrest warrant for Salameh.
While it was initially believed that an international arrest warrant was issued for Salameh, a Lebanese prosecutor has said that at this time, only a French warrant has been issued.
Salameh responds: Once the warrant was announced, Salameh was quick to strike back.
In a statement, he lambasted the French judge and continued to argue his innocence.
Salameh accused the judge of making the decision on "presumptuous ideas" and "based on double standards."
The BDL head's lawyer in France also said that the judge had failed to follow the rules in regard to summoning Salameh, as he was supposedly notified less than 10 days before the hearing was supposed to take place.
Reportedly, this was because Lebanon's judiciary had been unable to deliver the summons to him as the address listed on the summons for Salameh was at the Central Bank, and he was unable to receive it.
Salameh is also expected to appeal the judicial decision.
He has been repeatedly uncooperative with the European investigations.
What next: Salameh is accused of a multitude of financial-related crimes in Lebanon, France, Germany, Luxembourg and Switzerland, with charges filed against him in Lebanon.
With the French investigation being the most public and furthest along, it is unclear where the other European investigations are headed.
Salameh has worked to slow down and obstruct the Lebanese investigation.
There has also been speculation that the United States may impose sanctions on Salameh due to his alleged connections to Hezbollah and alleged Hezbollah financier Hassan Moukallad, rather than because of corruption. 
These supposed sanctions have not been confirmed yet. 
On the way out: Salameh is also soon set to leave his role as head of BDL, whichhe has held since the 90s. 
While no names have been confirmed to replace Salameh, some believe that his deputy Wissam Mansouri could temporarily take the helm until a new president and government are selected, as the caretaker government does not have the legal authority to make appointments. 
Nicholas Frakes is a senior reporter with @NOW_leb. He tweets  @nicfrakesjourno.