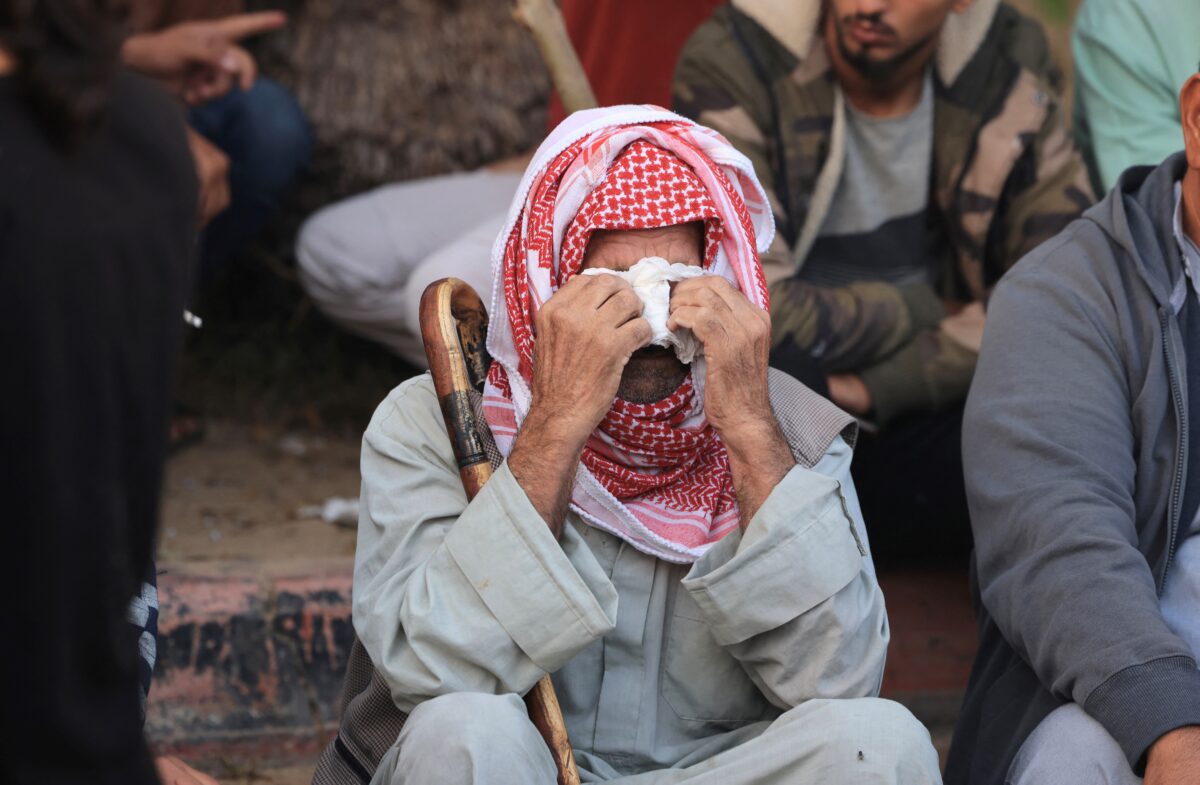 A Palestinian man from the Abu Taim family wipes his tears as bodies are collected for burial from the Nasser hospital in Khan Yunis in the southern Gaza Strip on November 9, 2023, amid the ongoing battles between Israel and the Palestinian group Hamas. Israeli air strikes pounded Gaza City on November 9, as soldiers battled street-by-street with Hamas militants, and tens of thousands of Palestinians desperate for safety fled their homes southwards in the besieged territory. Israeli Defence Minister Yoav Gallant said on November 8, his forces were "tightening the stranglehold" around Gaza City, as they pressed an offensive launched in response to the Hamas attacks on October 7 that killed 1,400 people in Israel, mainly civilians. (Photo by MAHMUD HAMS / AFP)
As Israeli military forces continue to drive deeper into the Gaza Strip, doctors and nurses on the ground are struggling to treat the sick and wounded with rapidly dwindling resources, under constant threat. Without a ceasefire, Gaza faces an imminent and catastrophic failure of its medical services.
Palestinian hospitals and medical facilities are facing a complete systemic collapse in Gaza as the Israeli Defence Force (IDF) continues operations against Hamas.
According to World Health Organization (WHO) reports, more than 30 health facilities – including over 20 hospitals – in Gaza have been damaged by Israeli attacks since October 7. There is a severe shortage of supplies and power, made worse by the constant and relentless conflict.
"The world cannot stand silent while hospitals, which should be safe havens, are transformed into scenes of death, devastation and despair," said WHO chief Tedros Adhanom Ghebreyesus in a statement.
Al-Shifa hospital in Gaza City, the largest hospital in the area, is no longer able to function as a hospital, a situation the WHO referred to as 'dire and perilous'. Critical infrastructure – including the oxygen station, water tanks, the cardiovascular facility and the maternity ward – has also been damaged by bombings and fighting in the area.
"We are still alive, but the situation on the ground in reality is a battlefield," Jamil, a Doctors Without Borders (MSF) staff member, told NOW Lebanon from Gaza. He did not wish to give his last name.
"We are staying in our office, close to Al-Shifa hospital. We do not have access to water [or] even food. We have women and children [who] need basic life needs. The sound of bullets firing [is constant] around us. The military tanks are attacking everywhere here, and Al-Shifa hospital is running out completely; [they have] no medical supplies."
The Gaza Health Ministry, part of the Hamas government, stated that there are over 2,300 people still trapped inside of Al-Shifa hospital, including around 650 patients, between 200 and 500 staff members, and at least 1,500 Palestinian civilians, many of whom are children and infants. As of Monday, six babies have died at Al-Shifa.
On Saturday, the IDF's chief spokesperson, Rear Admiral Daniel Hagari, made a statement saying that Israel would provide assistance evacuating vulnerable infants to a 'safer hospital'. At time of reporting, this has yet to happen.
Speaking on the same day, the IDF's Colonel Moshe Tetro said that, while there were 'clashes' taking place close to Al-Shifa hospital, anyone wishing to leave could do so as the IDF were not targeting the hospital. He insisted that to say otherwise was a lie.
However, Staff also claim that it is impossible for them to leave. If they go outside, they will be shot.
"[They are telling us that] the hospital is surrounded by high-rise buildings, and these are being used [by the IDF] as sniper positions," explained Abir Bawarshi, Board Member of Taawon Lebanon, an NGO for Palestinian refugees. "Any movement inside the hospital is targeted."
"There is a clear attempt at destroying the healthcare system in Gaza," she continued. "[There are] no blood banks in the hospitals; they were destroyed. Patients that need transfusions are dying after operations. ICU patients have died. Babies that were in the NICU [are being] gathered together to keep them warm, because their incubators ran out of electricity."
Hospital staff have reported that any attempt at safely relocating the infants would need sophisticated equipment that they do not possess, and that there is no 'safer hospital' inside of Gaza.
Hospitals across Gaza are all facing the same dire situation. Al-Quds hospital, Gaza's second largest after Al-Shifa, is also no longer functional, with the Palestinian Red Crescent reporting teams trapped inside, alongside 500 patients and around 14,000 displaced people, mostly women and children.
In the north of Gaza, Al-Nasr hospital and the nearby Rantisi Specialized Hospital for Children – which contained the only pediatric cancer ward in Gaza – were evacuated on Friday. Patients in the worst condition were sent to Al-Shifa.
The United Nations Office for the Coordination of Humanitarian Affairs (OCHA) reported over the weekend that the Swedish clinic in Ash Shati camp, west of Gaza city, had been destroyed by an airstrike. Around 500 displaced people were sheltering there.
Another airstrike hit Al-Mahdi hospital in Gaza city, killing two doctors and injuring others.
Communication with those inside Gaza has become increasingly sporadic and unreliable due to widespread power blackouts and lack of fuel, making it difficult to maintain a clear picture of what is happening or organize relief efforts.
"We are seeking coordination to move safely to the south," said Jamil, "or even have water and food. The situation is catastrophic."
While humanitarian aid is now making its way into Gaza, the reality is that it is simply not enough to meet the needs of those trapped by the conflict.
"It's like a drop in the sea; it's nothing," said Bawarshi. "They have nothing to disinfect with. There is nothing to sedate [patients] with. They're completely out, [but] the thing they need the most of is fuel. Without electricity and water, hospitals cannot run, even if we give them the best high-tech equipment."
Despite mounting pressure, Israeli Prime Minister Benjamin Netanyahu has so far rejected international calls to implement a ceasefire in Gaza, insisting that any such agreement must include the immediate release of all hostages taken by Hamas in the October 7 attack.
Israel has vowed to eliminate Hamas completely, removing their government from Gaza and destroying its military capabilities. Netanyahu stated that Israel is bringing its 'full force' to the war, and that the plight of the 2.3 million Palestinians caught in the crossfire is Hamas' responsibility.
Persistent claims of a Hamas 'headquarters' located beneath Al-Shifa hospital – reiterated most prominently by Israeli President Isaac Herzog – have also not been verified, and are widely disputed by both Palestinian authorities and their supporters.
Even if a ceasefire can be enacted, the situation in Gaza will be far from resolved.
"There is not much that can be done now," Bawarshi lamented, echoing comments by Dr Ghassan Abu Sitta, a reconstructive plastic surgeon currently based in Gaza who has become the face of the Medical community trying to offer the people of Gaza basic medical care. "What needs to be focused on is what will happen after the ceasefire is called. A lot will be needed in the medical field, especially [for the wounded] because these injuries will need long-term rehabilitation. This is not something that will be finished in a year or two. These are life-altering injuries."
As casualties continue to mount in Gaza, it seems the world can only watch as the situation continues to go from bad to worse.