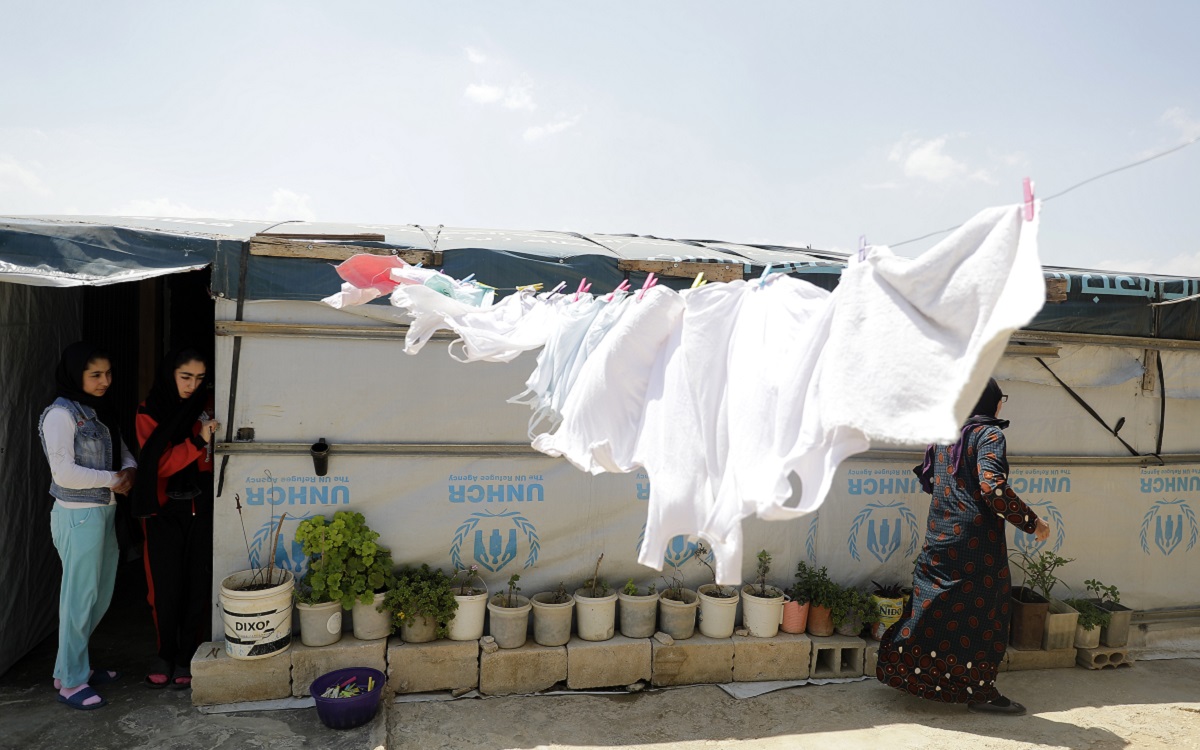 Refugees stand at the entrance of their family's tent at a refugees camp in the area of Tebrol in Lebanon's eastern Bekaa valley on April 26, 2021. Photo: Joseph Eid, AFP.
A report released by the Human Rights Watch (HRW) on Wednesday unveils compelling evidence suggesting Syria is not safe for Syrian refugees, the world's largest refugee population, to return. 
The organization found that many of the Syrians who chose to return to their country faced arbitrary arrests, unlawful detention, torture, extra-judicial killings, and kidnappings. 
The international human rights watchdog urged all countries hosting Syrian asylum seekers to acknowledge that Syria is unsafe and to cease all forced returns to the war-torn country.  The report revealed that Syrian refugees who voluntarily returned to Syria between 2017 and 2021 from Lebanon and Jordan encountered grave threats to their lives and freedom, egregious human rights abuses and persecution.
The evidence in the 70-page report titled "'Our Lives Are Like Death': Syrian Refugee Returns from Lebanon and Jordan," is based on interviews conducted with 65 Syrian returnees and their family members. 
Among those 65 interviewed, HRW documented 21 cases of arrest and arbitrary detention, 13 alleged they were subjected to torture, and the fate of 17 forcibly disappeared returnees remains in the dark, according to the in-depth report. 
The report also discloses five cases of extrajudicial killings, three kidnappings and one case of alleged sexual violence.
"The harrowing accounts of torture, enforced disappearance, and abuse that refugees who went back to Syria endured should make it patently clear that Syria is not safe for returns," Nadia Hardman, refugee and migrant rights researcher, told journalists during a press conference. 
"Widespread property rights violations and other economic hardships also make a sustainable return impossible for many," she added.
HRW's findings align with those of other human rights organizations such as Amnesty International, which also released a report last month citing five deaths in custody and 17 forced disappearances of returnees.
"The Syrian government security apparatus has not been dismounted. The multiple agencies that prey on Syrians are still running," Kenneth Roth, the executive director of HRW, said in a press conference on Wednesday. "These agencies have been responsible for their detention, torture, and execution on a massive and unthinkable scale, all with impunity."
Despite the records of encroachments on former Syrian refugees' rights, freedoms, and physical integrity, authorities in Syria's neighboring countries, Lebanon and Jordan, who host the highest refugees proportion per capita compared to other countries in the world, have promoted "a narrative of post-conflict returns" and compounded restrictions and pressure on Syrians forcing them to return to their home country, HRW said.  
"In Lebanon, the government continues to pursue policies designed to coerce Syrian refugees to leave, and the acute economic crisis and staggering inflation have made it exceedingly difficult for refugees to afford the most basic necessities," the report states.
Syrian refugees in Lebanon have faced a range of barriers and abusive measures, from discriminatory curfews, forced evictions, arrests, demolition of refugee shelters, and other restrictions on legal residency, according to the report.
"No country should be forcing refugees to return to Syria, so long as the Syrian government commits widespread human rights abuses," Hardman said. "A decade on, returning refugees are still at risk of persecution from the same government they fled."
Syrian refugees in Lebanon also reel from the country's detrimental economic and financial crises, intensified by the COVID-19 outbreak. 90 percent of Syrian refugees residing in Lebanon live in extreme poverty with limited access to education and medical facilities.
Denmark was the leading European country to strip Syrians of the "temporary protection" status, which allows them to legally settle in Denmark, impelling them to either reside in return centers or go back to Syria, the report stated.
The rights group declared in the report that deportation and forced returns of Syrian refugees to Syria is tantamount to a violation of nonrefoulement obligations. 
Coercing Syrian refugees to return to Syria while their government's security agencies continue to transgress is a blatant breach of the International Refugee Law and international actors need to keep this central to their policies, Roth said.
He urged international donors to make sure their aid does not assist in the Syrian government's "crimes" and "oppression".
In a recent tweet, Commissioner of the United Nations High Commissioner for Refugees (UNHCR), Filippo Grandi, expressed intent to cooperate with the Syrian government to send Syrian refugees back to Syria.
I have discussed with the Syrian Government ways to strengthen coordination as we address internal displacement, and to cooperate in removing obstacles to the return of refugees.

Finding solutions for uprooted Syrians requires efforts by all — Syria, host countries and donors.

— Filippo Grandi (@FilippoGrandi) October 17, 2021
"UNHCR should not allow itself to be used to send refugees to such a dangerous and uncertain fate and should provide updated and ongoing information about the brutal conditions in Syria to any refugee who might be contemplating return," Roth stated.
Meanwhile, as Arab countries alarmingly renormalize relations with the Syrian government, Syrian refugees residing in those countries face further threats to their lives and safety, and the question of whether or not this normalization essentially leads to the facilitation of premature forced returns becomes a major concern.
"Forcing people back through severe deprivation is no different from forcing them back at the barrel of a gun," Roth said.
Sally Abou AlJoud is a multimedia journalist with @NOW_Leb. She is on Twitter @JoudSally.