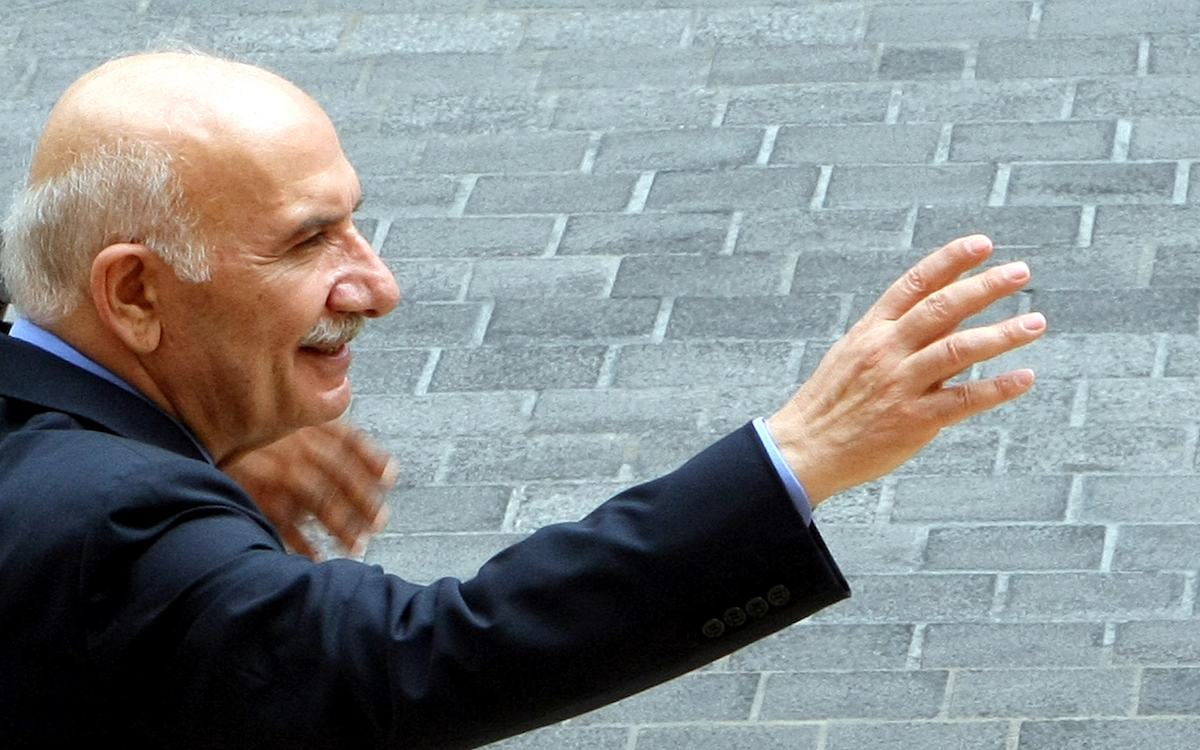 In this file photo taken on August 12, 2008, Lebanon's veteran independent MP and former parliament speaker, Hussein Husseini, waves as he leaves the parliament building after resigning during a confidence vote in Beirut. Husseini passed away in the Lebanese capital at the age of 86 on January 11, 2023. Photo: Anwar Amro, AFP
Former Lebanese Speaker of Parliament Hussein al-Husseini died Wednesday morning at the age of 86 in the hospital after suffering from health problems.
Three days of mourning and flags to be flown at half-mast were called for following news of the former speaker's death.
Al-Husseini served as the head of the Amal Movement, of which he was a co-founder, from 1978 until 1980 after the disappearance of the group's founder Mousa al-Sadr, but stepped down after he refused to allow Amal to fight with the Palestinian Liberation Organization or any other factions in Lebanon. Soon after his departure, Amal entered Lebanon's bloody civil war.
He also served, briefly, as the country's parliamentary speaker from 1984 until 1992 when he was replaced by Nabih Berri as he refused to pass a law that would allow Rafik Hariri and Solidere to develop Downtown Beirut at the cost of evicting people from their homes and only being compensated with shares in the company that amounted to a measly 15 percent of their properties value.
However, al-Husseini is more widely known as being the "godfather of the Taif Agreement" as he helped to orchestrate and back the negotiations in the Saudi Arabian city of Taif while he was serving as Lebanon's parliamentary speaker.
Even after passing on the speaker's gavel to Berri, al-Husseini remained in politics until 2008 when he announced his resignation from Parliament, condemning how the constitution was being treated by the country's politicians.
Al-Husseini remained a staunch supporter of democracy after he left Parliament, being a founder of the Civil Center for National Initiative, a Lebanese think tank, along with journalist Ghassan Tueni and the poet Ali Ahmad Said Esber, better known by his pen name Adonis.
The Civil Center for National Initiative was able to convince the Ministry of Interior to allow Lebanese citizens to remove their sectarian affiliations from their civil records if they wished in 2009.
Following news of al-Husseini's death, various Lebanese political leaders, old and current, expressed their condolences for the former speaker.
"With his departure and his journey to the side of his Lord, we lose, and Lebanon loses, an irreplaceable human, legislative, and militant value," Berri said.
"Today, Lebanon has lost an authentic national and constitutional stature, which is President Hussein al-Husseini. In his absence, a bright page in the history of the ancient political and parliamentary work will be turned," caretaker Prime Minister Najib Mikati stated.
1/4 صدر عن رئيس الحكومة نجيب ميقاتي الاتي:

فقد لبنان اليوم قامة وطنية ودستورية أصيلة هو دولة الرئيس حسين الحسيني. وبغيابه تطوى صفحة مشرقة من تاريخ العمل السياسي والبرلماني العريق.

لقد شكل حضور الرئيس حسين الحسيني علامة فارقة في تاريخ العمل النيابي في لبنان، …#مجلس_الوزراء

— رئاسة مجلس الوزراء 🇱🇧 (@grandserail) January 11, 2023
"May God have mercy on President Hussein Al-Husseini, with his death he Lebanon will have lost a great man from the men of Taif, moderation has always been his beacon, dialogue is his way, the constitution is his book, and renewal of national reconciliation is his goal," former Prime Minister Saad Hariri said. "I ask God to bless him with the abundance of his mercy and to inspire his family patience and solace."
رحم الله الرئيس حسين الحسيني ، بوفاته يكون #لبنان قد خسر رجلاً كبيراً من رجال الطائف لطالما شكل الاعتدال نبراسه ، والحوار طريقه والدستور كتابه ، وتجديد الوفاق الوطني هدفه.
اسأل الله ان يتغمده بواسع رحمته وان يلهم عائلته الصبر والسلوان.

— Saad Hariri (@saadhariri) January 11, 2023
Newly elected MP for Tripoli Ashraf Rifi also issued a statement on al-Husseini's death.
"With the departure of President Hussein Al-Husseini, Lebanon loses a long-standing national parliamentary figure, a man who was the guarantee for Lebanon of coexistence, and a first-class statesman who believes in institutional work and preserves the constitution," he stated. "Today we bid farewell to Mr. Hussein, who will leave a void in our national life that will be difficult to fill. Mercy for his pure soul and condolences to his family."
برحيل الرئيس حسين الحسيني يفقد لبنان قامة وطنية برلمانية عريقة ورجلاً كان الضمانة للبنان العيش المشترك، ورجل دولة من الطراز الأول مؤمناً بالعمل المؤسساتي ومحافظاً على الدستور.
نودع اليوم السيد حسين الذي سيترك فراغاً بحياتنا الوطنية يصعب ملؤه.
الرحمة لروحه الطاهرة والعزاء لعائلته pic.twitter.com/HXWZswCHAK

— General Ashraf Rifi (@Ashraf_Rifi) January 11, 2023
In response to his predecessor's death, Berri announced that the parliamentary session to elect a new president that was scheduled for Thursday, January 12, will be postponed until the following week on January 19.
Nicholas Frakes is a senior reporter with @NOW_leb. He tweets  @nicfrakesjourno.