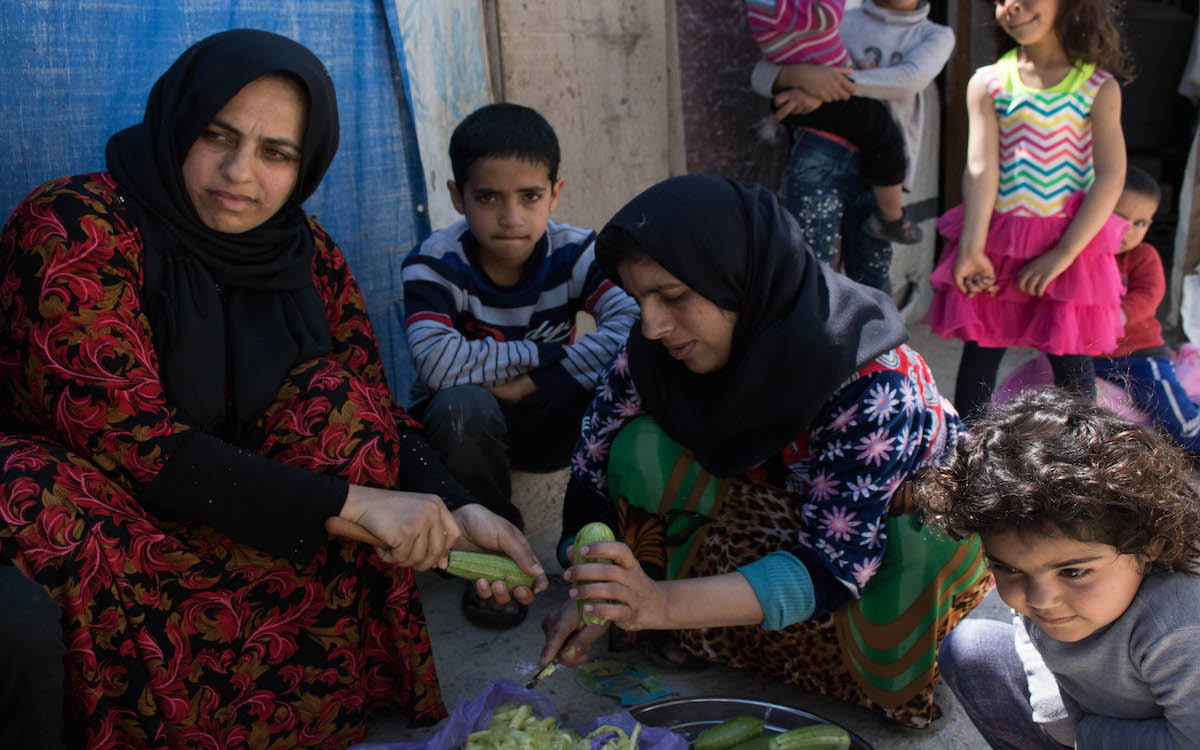 Syrian refugees hollow out zucchini at a refugee camp in the Bekaa. Photo: Nicholas Frakes, NOW
Obstacles to the voluntary return of Syrian refugees will progressively "be removed," UN's High Commissioner for Refugees, Filippo Grandi, said on Thursday during a meeting with Lebanon's caretaker PM, Najib Mikati. The latter added that returning refugees to Syria is Lebanon's "priority".
Thank you for reading this post, don't forget to subscribe!
Why this matters: The UN's willingness to facilitate repatriations is a first. Surprisingly, Grandi announced the UNHCR would be "working with Syria to overcome the serious obstacles" in the way of repatriations. 
Lebanon has launched a campaign to "voluntarily" return up to 15,000 Syrian refugees every month, as Minister of the Displaced, Issam Saharfeddine, declared in July. But only 750 displaced signed up for the bus ride across the border during two trips in October, and no further round of repatriation was undertaken in November. 
Now, the process could start again and lead to an increase in forced and voluntary returns.
This campaign has been denounced by human rights organizations amidst fears of detention, torture and forced draft into army service awaiting those who return to Syria. There is no way to prove that the returns actually are voluntary and not pressured deportations, Wadih el Asmar, the president of the Lebanese Center for Human Rights, told NOW.
Published today, a new report claims that 106 Syrian returnees had been arrested by the Syrian regime in November alone.
The context: Lebanon is entering its fourth year of the worst economic crisis that the world has seen in 150 years, and refugees are often blamed for weighing down the economy, as both Mikati and Grandi stated. Sending Syrians back has been a frequent political promise of many Lebanese politicians, as 1.5 million Syrians have fled to Lebanon since the Syrian civil war started in 2011 – but, until now, no UN official had taken up this rhetoric.
While 82 percent of Lebanese and 99 percent of Syrians in Lebanon live in poverty, the latter are often blocked from leaving for a third country, thus having no choice other than to return to Syria to escape Lebanon's disastrous crisis. So far, just over 70,000 have returned, and only 0.7 percent intend to do so in the near future.
At the same time, the Lebanese army raided multiple refugee camps in the Bekaa valley to confiscate satellite dishes and telecom devices, thus adding pressure on Syrians to leave the country.
These raids added to the multiple issues that Syrian refugees face in Lebanon, along with daily discrimination, racism, and precariousness. Syrians are not allowed to work in most fields, 70 percent receive no humanitarian aid, and the UN has slashed its cash support.
Kidnappings, torture, and hatred: Recent times have witnessed multiple cases of kidnappings and torture. One Syrian national even died at the hands of his Lebanese kidnapper-torturer two months ago. 
Last week, two Syrian boys were kidnapped and taken to Syria by a group of Lebanese, who demanded a ransom of $350,000. 
At the same time, a Lebanese boy's kidnapping and murder by two Syrian nationals in Aqtanit, a village close to Saida, has shocked and angered residents, who signed a petition to expel the refugees in the vicinity – and have even taken on the task by themselves. This event might fuel hatred across the country and lead to the burning of more camps, like what happened in Bebnine in December 2021.
What comes next: Nothing is certain, but voluntary return campaigns and deportations might continue at an increased rate. Meanwhile, the UNHCR has yet to set up a monitoring plan to protect refugees and follow up once they have arrived in Syria
The UN has been criticized for corruption and for working with Bashar al-Assad's regime, thus casting doubt on what "lifting barriers" to voluntary returns really means: increasing supervision and protection of Syrian returnees, or simply covering the regime's efforts? 
Indeed, the Syrian government is vying to convince neighboring countries to send refugees back, probably in order to enlist young men in the war or the reconstruction efforts… and to paint itself as a secure country, el Asmar criticized.
The consequences: Syrian refugees might face increasing pressure to leave, as well as deportations. This puts many at risk of detention and forced re-enlisting in the army. Those remaining will likely experience increased rates of violence and racism, in a context of strong xenophobia. 
But it remains unclear what efforts Lebanon can even undertake, as its army and police are severely affected by the crisis and might not have the capacity to actually send thousands of refugees back every month. The same goes for the UNHCR, which has only received a fraction of the funds it appealed for in 2022.
In all cases, the sky is grey for Syrian refugees in Lebanon: as winter arrives, many might think twice about staying in fragile tents and dilapidated houses. Torture, kidnappings and deportations will continue as they remain stuck in Lebanon.
Philippe Pernot is a journalist and photographer with NOW Lebanon. He studied political science in France and Germany, and he focuses his work on social movements such as feminism, ecology and anarchism, as well as on minority rights and discrimination. Follow him on Instagram.