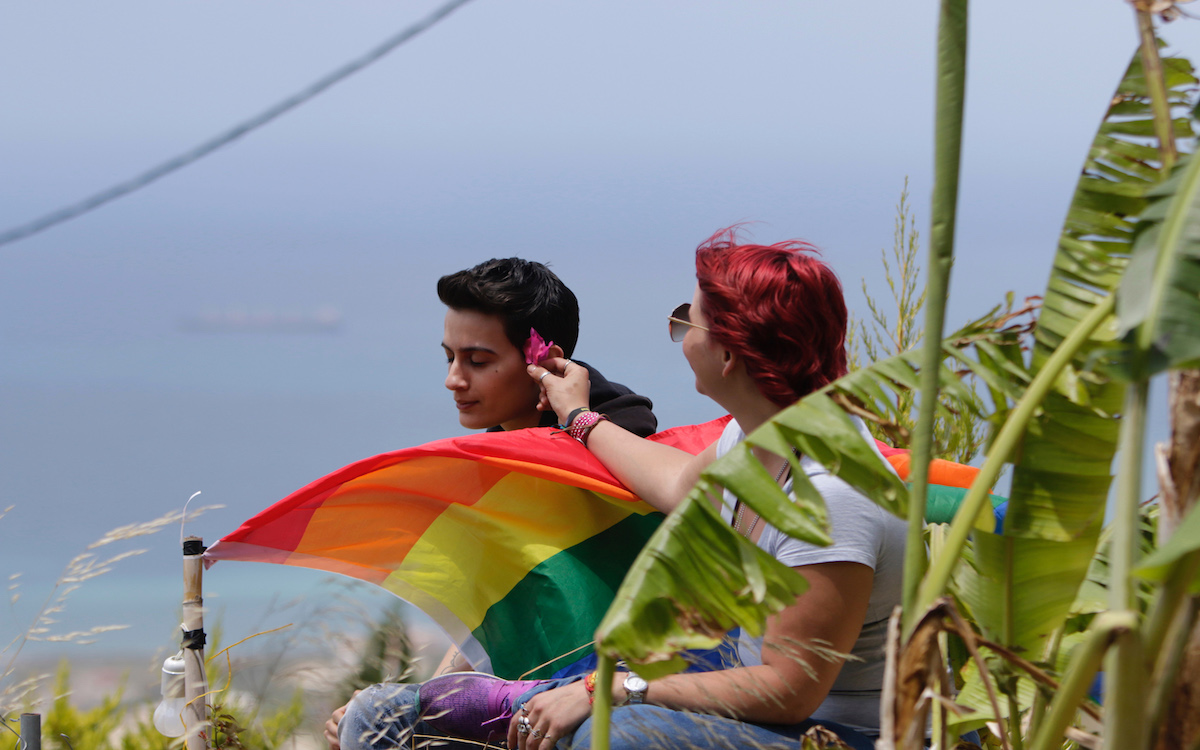 Members of Lebanon's LGBTQ community attend a picnic in the coastal city of Batroun, north of Beirut, on May 21, 2017, as part of the Beirut Pride Week aimed at raising awareness about the rights of the community. Photo: Ibrahim Chalhoub, AFP
Yesterday marked a significant day for Lebanon as the country continues to face a decline in social freedoms. The day commenced with the Minister of Education and Higher Education, Abbas Halabi, making the decision to ban the snakes and ladder board game as an activity in summer schools on account of the presence of a rainbow on the board.
Subsequently, students in the suburbs south of Beirut encountered suppression from Hezbollah's forces as they were prevented from distributing flyers that opposed the proposed increase in registration fees at the Lebanese University. The day concluded with an incident involving the extremist Christian group "Jnoud el Rab" (Soldiers of God), who stormed a bar in the Mar Mikhael neighborhood of Beirut, claiming it as a "place of Satan," and threatened attendees during a drag show performance.
The current situation appears to be on a path towards greater animosity and trepidation. Lately, the leader of Hezbollah, Sayyed Hassan Nasrallah has been more vocal in his criticism of LGBTQ+ people, not only in Lebanon, but also across the Middle East.
"We are not making up battles, nor are we making up dangers. This is a real danger that is imminent and has begun," Nasrallah said in a televised speech. He then added that gay individuals, " are to be killed."
Although Lebanon has been an example of religious diversity and liberal social values in the Middle East, the LGBTQ community is still compelled to battle against systematic social, economic, and legal discrimination. Despite a reignition of strictures imposed on bars, nightclubs, and community centers they frequent, members of the LGBTQ movement have remained vocal and visible.
A 2023 report by Human Rights Watch revealed the damaging effects of online targeting on LGBTQ people, including blackmail and being outed against their will, physical abuse from family members, and unjust arrests at the hands of Lebanon's Internal Security Forces.
An individual living in Beirut's Hezbollah stronghold, Dahiyeh, revealed to Human Rights Watch that, after the speech of Nasrallah, he had been sent an intimidating message on Grindr, which read "We will find you and expose you one by one. We have your pictures, chats, and numbers. We have been monitoring this platform and all the data is ready. The zero hour is here."
A 2023 report by Human Rights Watch revealed the damaging effects of online targeting on LGBT people, including blackmail and being outed against their will, physical abuse from family members, and unjust arrests at the hands of Lebanon's Internal Security Forces.
Meanwhile, Mohammad Mortada, Minister of Culture, has used Twitter to express negative sentiment towards members of the LGBTQ+ community. Throughout his posts, he portrays the marginalized group as a menace that poses a serious threat on society. 
The recent onslaught of verbal messages were recently translated into action with the attack by Jnoud El Rab on Om Bar in Mar Mikhael. During the incident, the newly formed Christian group associated with SGBL banker Antoine Sahnoui verbally and physically abused the customers, with unverified reports suggesting that some individuals might have sustained injuries.
Social media videos of the Wednesday incident show the attackers shouting, "This is Satan's place, it's promoting homosexuality… on the land of the lord this is prohibited … now we are only having a conversation with you … we have warned you 100 times … this is only the beginning."
On that very night, Sheikh Hassan Merheb of the Dar al-Fatwa religious authority voiced his approval of the attack. Being a prominent senior Sunni Muslim cleric, his endorsement received favorable reactions. Several other individuals also took to social media to express their support for the attack, encouraging and rallying behind Jnoud El Rab.
Witnesses have reported that security forces were present during the incident but did not intervene to prevent the attack, instead remaining as observers.
Doumit Azzi, a queer activist, confirmed on Twitter that law enforcement seemed inclined to build a case against the cafe and its patrons. Members of Parliament, namely Firas Hamdan, Ibrahim Mneimneh, and Michel Douaihy condemned the violence while voicing solidarity with those affected. However, this incident has propagated concerns throughout Lebanese society, particularly in regards to the future of freedoms, which seems to be waning day by day.
However, the LGBTQ+ community has made it clear that they are not backing down from their fight.
George Wardini, a board member of Proud NGO, told NOW that the recent attack serves as an ominous indication of the challenges ahead. He suggests that the already diminished safe spaces within the community, owing to the impact of COVID-19, the economic crisis, and the August 4 explosion, might face further erosion in the future.
Wardini further underscores the significance of allies raising their voices in support.
"A substantial number of MPs, journalists, politicians, and influential figures must break their silence," Wardini said. "No one should remain neutral at a time like this. Silence is tantamount to siding with the aggressors and encourages further escalation."
The danger in this situation, Wardini highlights, is that it encourages extremist groups to impose their values and concepts on the local area.
"Today, they encroach upon the freedoms of the LGBTQ+ community; tomorrow, they might ban celebrations in the south and prohibit alcohol in the north. Where do we draw the boundaries?" Wardini noted. 
For drag queen Narcissa, every person who is not speaking against these extremist groups is responsible for the attack that happened yesterday, and for any upcoming assaults our community will face.
She adds that the government's silence is compounding the situation, placing people from the community at high risk.
"We need to use every tool we can muster to defend ourselves against these crimes. 
After the 4th of August explosion, we expect everything to happen. The level of danger is escalating day after day. And with no protective measures taken," Narcissa told NOW. 
Narcissa adds that with the prevailing circumstances demanding attention, the call to action is stronger than ever. She says that the time has come to assert LGBTQ+ rights, stand up against adversity, and exhibit unwavering pride. Central to their beliefs are the principles of diversity and the freedom to simply exist.
Wardini underscores the necessity of staging a public protest, asserting that simply staying in the shadows for protection is no longer sufficient. He believes it's time to take proactive steps.
"Street protests must encompass not only the advocacy for LGBTQ+ rights but also the safeguarding of fundamental freedoms. Mobilizing on the streets serves as a display of strength. We can't confine our efforts to the online realm while these physical attacks persist," he emphasized.
Due to their active and lively engagement within Lebanon's nightlife and across diverse social media platforms, Narcissa asserted that the recent attacks will not overshadow their online presence. They firmly stated that attempts to silence them would prove futile, as they are adamant about continuing to express themselves without inhibition.
She adds that the community's anger is poised to ignite a powerful resistance.
"We are driven by a positive outlook, fueled by love and kindness. The acts of terrorism directed towards us by bigots are entirely undeserved," Narcissa said.
The future of freedoms in Lebanon appears increasingly concerning and fraught with unpredictability, as the nation navigates a tumultuous course marked by aggression and profound uncertainty. This trajectory seems to be fueled by extremist religious rhetoric, which has the potential to transform Lebanon into a shadow of its former self.
Dana Hourany is a multimedia journalist with @NOW_leb. She is on Instagram @danahourany and Twitter @danahourany.