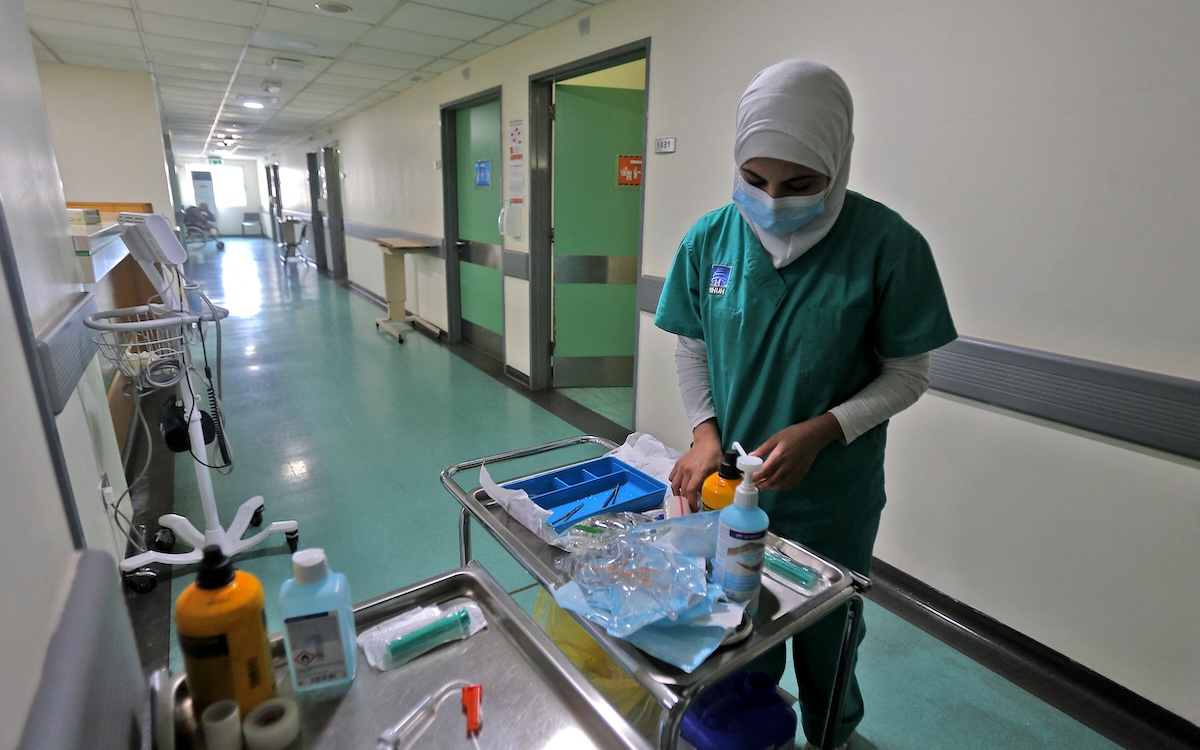 A nurse works at a ward of the Rafic Hariri University Hospital (RHUH) in Lebanon's capital Beirut on July 23, 2021. Photo: AFP
Exchanges of fire between the Israeli Defense Force and Iran-backed Hezbollah continue across the border between Lebanon and Israel, intensifying in frequency since the Hamas surprise attack on October 7.
The last major conflict in Lebanon was in 2006 when Israel invaded in retaliation against Hezbollah militants abducting two IDF soldiers in order to hold them as hostages. The month-long war killed 1600 Lebanese civilians, along with 165 Israelis.
Should Israeli forces cross the border into Lebanon again – as part of an escalation of the current conflict in Gaza – the south of Lebanon will likely see a mass exodus of people trying to escape to the relative safety of Beirut. These will inevitably include those who require chronic and acute medications, stretching the resources of hospitals long before the fighting reaches the capital.
The reality is that the situation in Lebanon has changed significantly in the intervening two decades. In 2006, Lebanon's hospitals were both fully stocked and properly staffed, neither of which remains the case due to the ongoing economic crisis. Around 3,500 doctors had left the country.
However, according to the Lebanese Order of Physicians (LOP), about 30 percent of those doctors have now returned to Lebanon, replenishing much-needed skills and knowledge across a wide range of specialized medical fields.
"We are able today – in particular in Beirut, at the bigger hospitals – to offer all types of services and surgeries, from heart surgery to brain surgery," said Dr. Charaf Abou Charaf, President of the LOP. "Our system is functioning as normal. If we are to face this situation, I take the example of August 4, where we were able to treat 7000 people in 12 hours."
Lebanon has also taken in a large population of Syrian refugees fleeing from the Syrian Civil War – an estimated 1.5 million people – increasing the potential burden on hospitals in the event of mass casualties.
"The situation is not ideal," said Dr. Firas Abiad, Minister of Public Health of Lebanon. "However, there are a lot of capacities and capabilities in the country, whether in the public sector, within NGOs or the private sector. The plan of the Ministry of Public Health is to coordinate [between] all of these different actors within the health sector and bring these resources together."
"We're assessing the medical supplies that are available [and] looking at methods of communication and transportation," he continued. " We are learning from the way the aggression is being conducted in Gaza. We are also looking at specific scenarios; for example, we have noted that Israelis are using white phosphorus in some of their attacks."
Ultimately, the ability of Lebanon's medical services to respond to hostilities will largely depend on the intensity and duration of the conflict, how widespread hostilities are across the country, and what avenues are available for the delivery of supplemental humanitarian aid.
In 2006, Rafic Hariri Airport was targeted by the IDF, cutting off the supply of medical support by air. As the country's only official airport, it remains a significant vulnerability that could easily be exploited again. 
Lebanon's relations with other Gulf nations – formerly close allies – have also waned in recent years due to political disagreements and the perceived influence of Iran and its proxies within the Lebanese government. This leaves Lebanon with potentially few close friends to draw upon.
"Will the world stand by, watching as another population is put under siege and another humanitarian crisis is being concocted?" agreed Abiad. "Our strategy is we know what we have on the ground, and how [to] utilize it best. If you look at all of the crises that the health sector has had to face – whether COVID, weathering the financial crisis, the Beirut blast or others – they were all forced on us, but we were able to cope. 
The Ministry of Public Health has emphasized the importance of public safety by listening to information provided by the government. This will help citizens to stay safe and minimize the dangers they may otherwise face. The Ministry will also continue to issue first aid advice, which could prove vital in stabilizing the condition of any wounded. 
Citizens are also advised not to hoard medications or supplies. Although common and expected in a crisis situation, it compounds the challenges and deficiencies that Lebanon's medical institutions currently face. For this reason, the Ministry is working hard with all of its partners – most notably importers – to control the distribution of medical supplies and prevent avoidable shortages.
Practice drills are being run across all major medical institutions and university hospitals to prepare staff for mass casualty emergencies, although concerns remain about the resilience of individual facilities, especially in the south of Lebanon.
"The best way to address conflict is to avoid it," said Abiad. "Unfortunately – observing what is happening in Gaza – it is clear that there is no respect for international law. I hope that we won't have to actually implement any of these things [we are doing]. If this unfortunately turns out to be a true crisis that we will have to face, the health sector has shown its resiliency."
"The different parties are watching each other and – I think – will shift the situation to a political solution," agreed Charaf. "As we all know, war is not the right solution."
For now, Lebanon remains in a precarious balance. There may be little appetite to add further complication to the country's many troubles, but history shows that – amid heightened tensions – a single miscalculation can provoke rapid, far-reaching and ultimately deadly consequences. With multiple regional powers calling for de-escalation and ceasefire in Gaza, the people of Lebanon are hoping and praying for peace.
Robert McKelvey is a multimedia journalist with @NOW_leb. He tweets @RCMcKelvey.