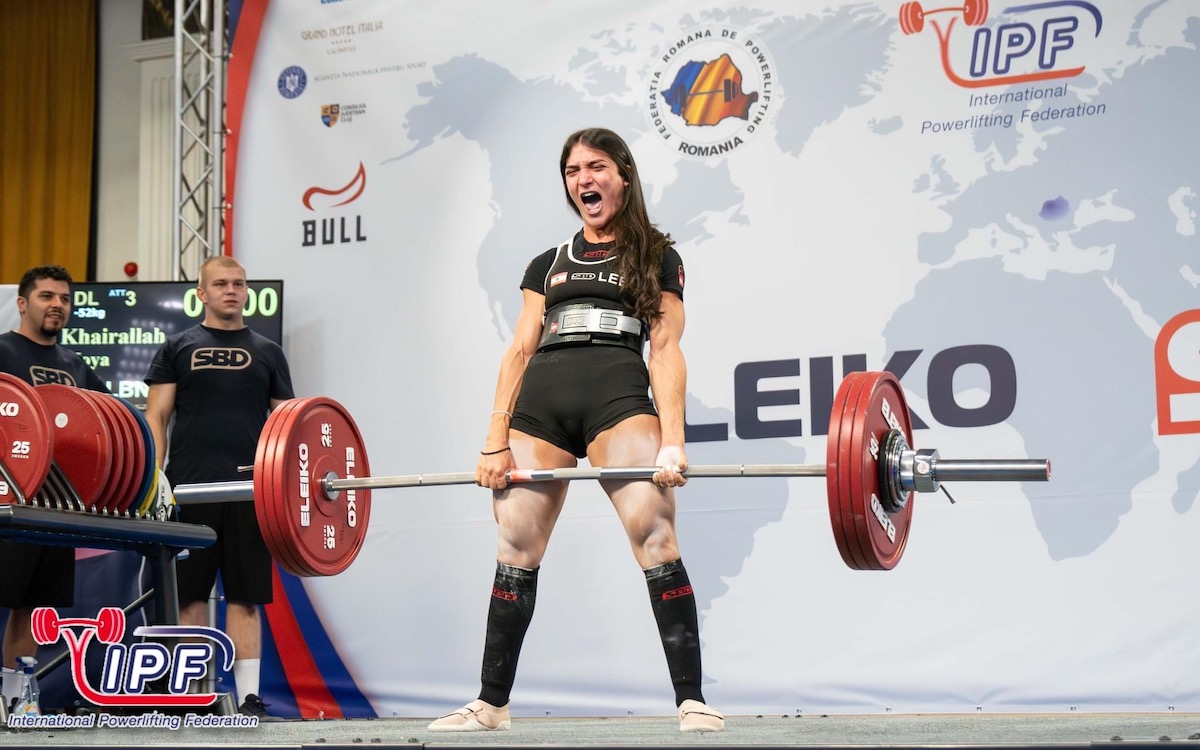 Joya Khairallah competes at the IPF World Junior Championships. Photo: IPF
In a roster of accomplished Lebanese women making headlines through their sports achievements, Joya Khairallah stands out as the latest sensation.
Despite facing personal and physical challenges, the determined 22-year-old recently etched her name into history at the International Powerlifting Federation (IPF) World Junior Championships. On a late summer's day in Cluj-Napoca, Romania, Khairallah achieved a groundbreaking feat that had never been accomplished in her category. She triumphantly executed the "deadlift," one of powerlifting's three core lifts, hoisting a hefty bar from ground level up to her hips.
As she neared the pinnacle of her lift, shattering a world record in the process, she let out a celebratory shout before she descended to the ground.
Amid a field of elite competitors, Khairallah fearlessly embraced the challenge in the raw division of the 52-kilogram weight class. Her mission was clear: to distinguish herself from the rest and demonstrate her mettle as an exceptional athlete.
Khairallah's journey to success was far from smooth. In order to break the record, she had to attempt 183.5 kilograms (404.5 pounds). Her achievements needed extreme discipline and perseverance, resulting in a life that is not typical for a 22-year-old.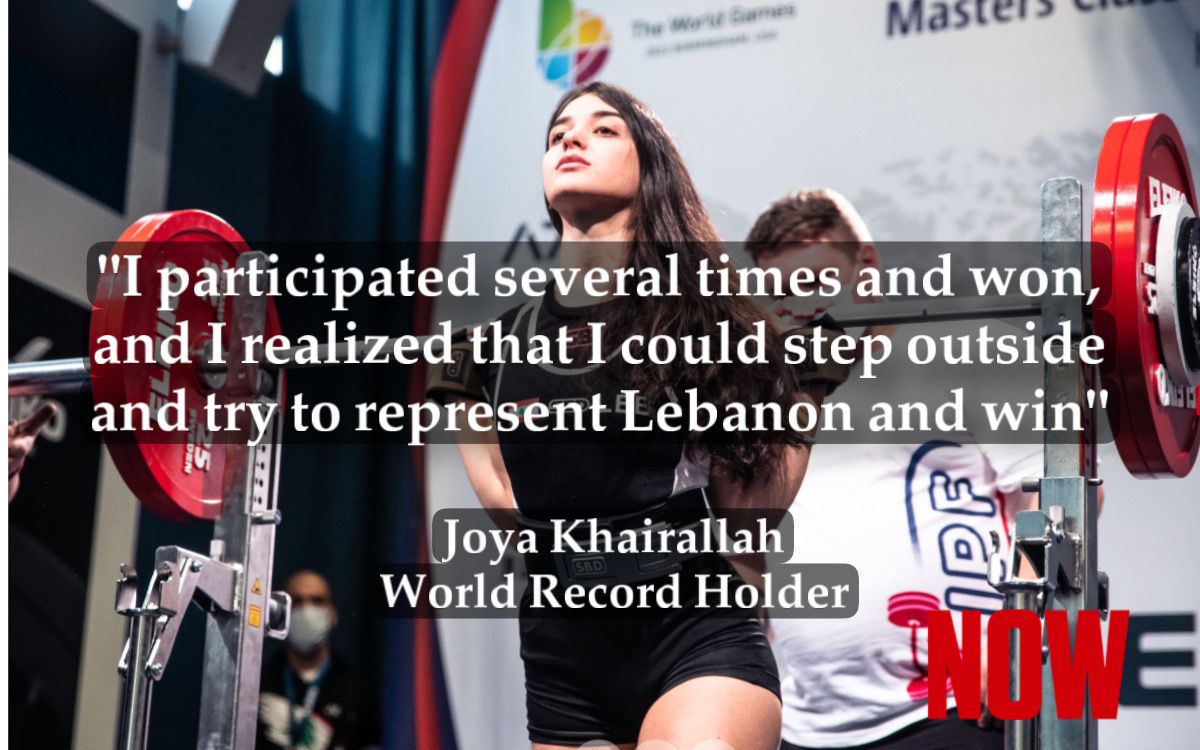 The beginning
Khairallah embarked on her fitness journey at the age of 17, initially not giving much thought to powerlifting. Her love for the gym was undeniable, but it was a scene of her friends engaging in a small competition that ignited her interest.
"I liked the atmosphere of competition but also of friendliness and how helpful and supportive everyone was of each other," Khairallah told NOW.
This marked the beginning of Khairallah's remarkable journey. Recognizing her innate talent, with the help of her coach, she delved into competing in small gym competitions, where she consistently emerged victorious. This early success propelled her to compete at the national level.
"I participated several times and won, and I realized that I could step outside and try to represent Lebanon and win," Khairallah said.
Together with her coach, Jad Al Maleh, she embarked on an intensive training regimen for international competition. Khairallah's daily routine underwent a drastic transformation.
Her rigorous training program demands six days a week, strict dietary control, and a disciplined sleep schedule. It involves three hours of training, including a one-hour warm-up, heavy lifting for squats and deadlifts, and additional exercises with lighter weights and higher reps to build muscle.
As competition draws nearer, her focus shifts towards the main lifts, requiring less volume and honing her strength for the heavier weights.
Adapting her body to meet specific weight requirements was one of the most challenging aspects of her journey. At one point, Khairallah had to drop from 58 kg to 51.6 kg. Those were demanding months when she meticulously monitored her macro consumption, ensuring sufficient protein intake.
During this period, she had to forgo indulgences like carbs, oils, starches, or extra protein. Every aspect of her diet had to be precisely calculated to reach the exact weight required.
"This was a challenging period for sure, as I couldn't go out with friends and eat as freely as I wished or live a normal life. But I knew I had to be disciplined for something significant," Khairallah reflected.
Worth the sacrifice
Among the international competitions Joya Khairallah has participated in, she proudly states that she has consistently secured the top spot, with just two exceptions.

Yet, being an athlete in Lebanon comes with its unique set of challenges, primarily due to the severe lack of funding and underdevelopment in the sports industry. There are limited developmental programs, and little attention is given by both local and international sponsors.
This means that athletes, for the most part, must bear their own financial burdens, and competitions often do not offer financial rewards. For Khairallah, securing a sponsor for her last competition was a significant milestone. However, the expenses associated with her sport are still substantial. Items like specialized shoes, costing up to $300, waist belts at $300, and knee pads around $180 are just some of the financial demands. Additionally, managing expenses for visas, hotel accommodations, and plane tickets falls squarely on Khairallah's shoulders.
"In order to find a sponsor, you must actively seek them out, which can be quite exhausting, honestly. But I am glad I was able to find one this time around," shared the 22-year-old athlete.
Another challenge she faces is the ongoing electricity problems in Lebanon. Frequent power outages have forced her to train without air conditioning, which at times leaves her feeling lightheaded between reps and disrupts her training flow.
Visa-related issues also weigh heavily on Khairallah, as Lebanese citizens are often required to obtain visas for travel to most countries. For the Romanian competition, she had to navigate a complex process to secure her visa just a day before her departure.
"I was dragging myself to the gym for training while I was in tears, believing all my hard work had gone to waste and that I wouldn't get the visa," she recounted. However, she ultimately managed to fly, compete and clinch the first-place title.
Acknowledging the sacrifices she has had to make, including missing out on social outings, indulgent foods, and the freedom and flexibility typical of someone in their early twenties, Khairallah firmly believes it's all worth it. She has witnessed the fruits of her dedication and aims to make powerlifting her full-time career for the foreseeable future. Even if she steps back from competition, the gym will remain one of her favorite places, a space she eagerly anticipates visiting.
Like many women venturing into lesser-known sports in Lebanon, Khairallah initially faced challenges and criticism from family members. However, they have since become her staunch supporters, proud of her remarkable achievements.
Khairallah serves as a shining example that despite the years of political paralysis, financial turmoil, and shortages of basic goods, the Lebanese crisis has not extinguished the spirit of individuals like her. Such individuals demonstrate that despite governmental neglect and corruption, Lebanon remains a source of national pride and a beacon of hope for a better future that should never be underestimated.
Dana Hourany is a multimedia journalist with @NOW_leb. She is on Instagram @danahourany and Twitter @danahourany.