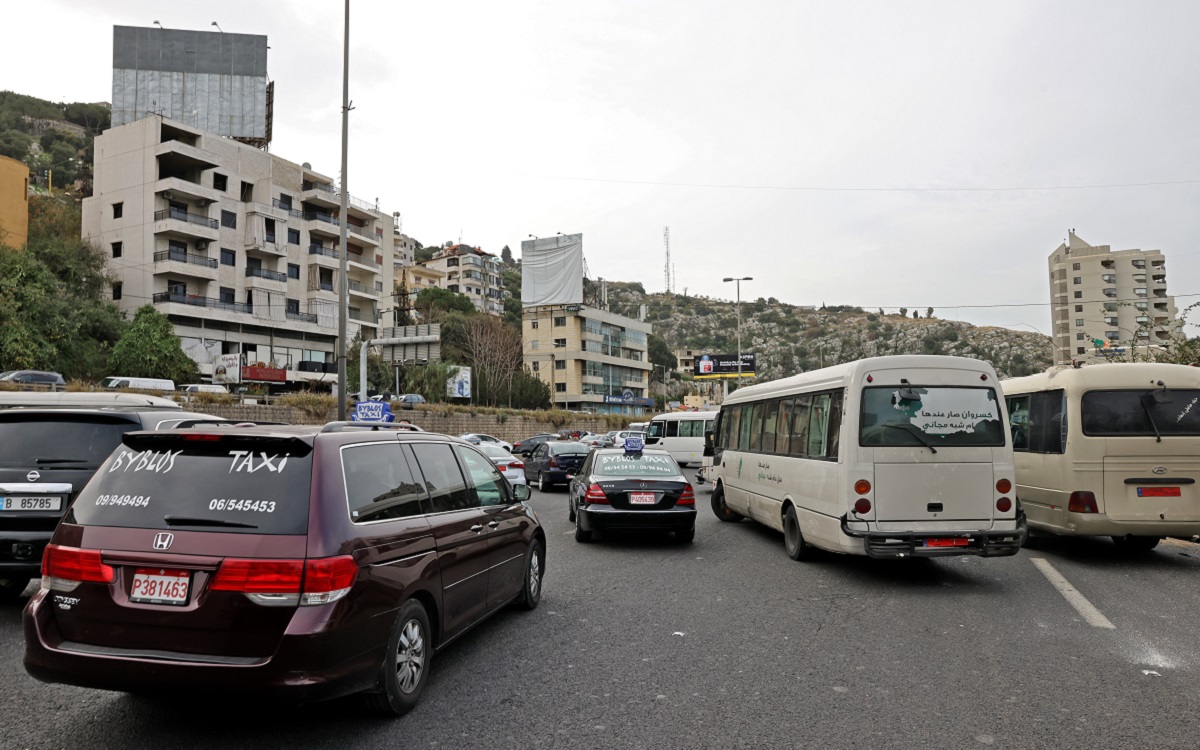 Buses block a main road in Lebanon's capital Beirut during a general strike by public transport and workers unions over the country's economic crisis, on January 13, 2022. Lebanon is in the throes of an economic meltdown dubbed by the World Bank as among the planet's worst since the 1850s. It is widely blamed on nepotism and corruption among the country's ruling class. Around 80 percent of Lebanon's population is now estimated to be living under the poverty line. Photo: Joseph Eid, AFP.
Beirut was at a standstill on Thursday, as public transportation workers, backed by the General Confederation of Workers in Lebanon, began a general strike to demand better working conditions amid another hike in fuel prices triggered by the continuous devaluation of the local currency.
The Lebanese pound, which lost over 90 percent of its value within the past two years since a financial crash has crippled the entire economy, reached 33,700 to the dollar on January 11, a new low, as experts expected a continuous fall.
On Thursday morning, fuel prices increased for the second time in one week. The gasoline 95 octane cost 377,800 LBP per gallon, Diesel oil was 410,000 LBP, and gas canister was 359,500 LBP.
Schools, universities, and banks, as well as shops were closed, as drivers blocked roads in the capital of Beirut and several regions across the country in protests against the deteriorating living conditions. The Syndicate of the Oil Importers also announced that they would stop the delivery of fuel to gas stations throughout the day.
The head of the Transport Union Bassam Tleis called on Wednesday for a "day of anger". Protests are expected to last between 5am and 5pm, with roadblocks in key roundabouts across Beirut, as well several other regions, including North Lebanon and Bekaa Valley.
The protests have been seen as a political move by Parliament speaker Nabih Berri to stand against President Michel Aoun after a series of harsh statements from Free Patriotic Movement leadership, Al Diyar wrote on Thursday. Tleis, as well as the head of the Labor Union, Bechara al-Asmar, are seen as close to the Parliament Speaker, the daily reported. 
The "Thursday of rage" comes as Aoun is scheduled to announce the result of the consultations on organizing a new session of the National Dialogue, a tool the Lebanese Presidency has used after 2005 to gather sectarian party leaders and approach spiky problems in current affairs. Although it made some decisions in the past, the Dialogue has been criticized for failing to address fundamental issues and reasons for political divisions, including Hezbollah's weapons. Aoun announced his initiative to revive the Dialogue on December 28, after almost three months of cabinet deadlock over Hezbollah and Amal rejecting an investigation into the Beirut port blast.
Follow NOW Lebanon on Twitter, Instagram, Facebook, and LinkedIn, and subscribe to our weekly newsletter.