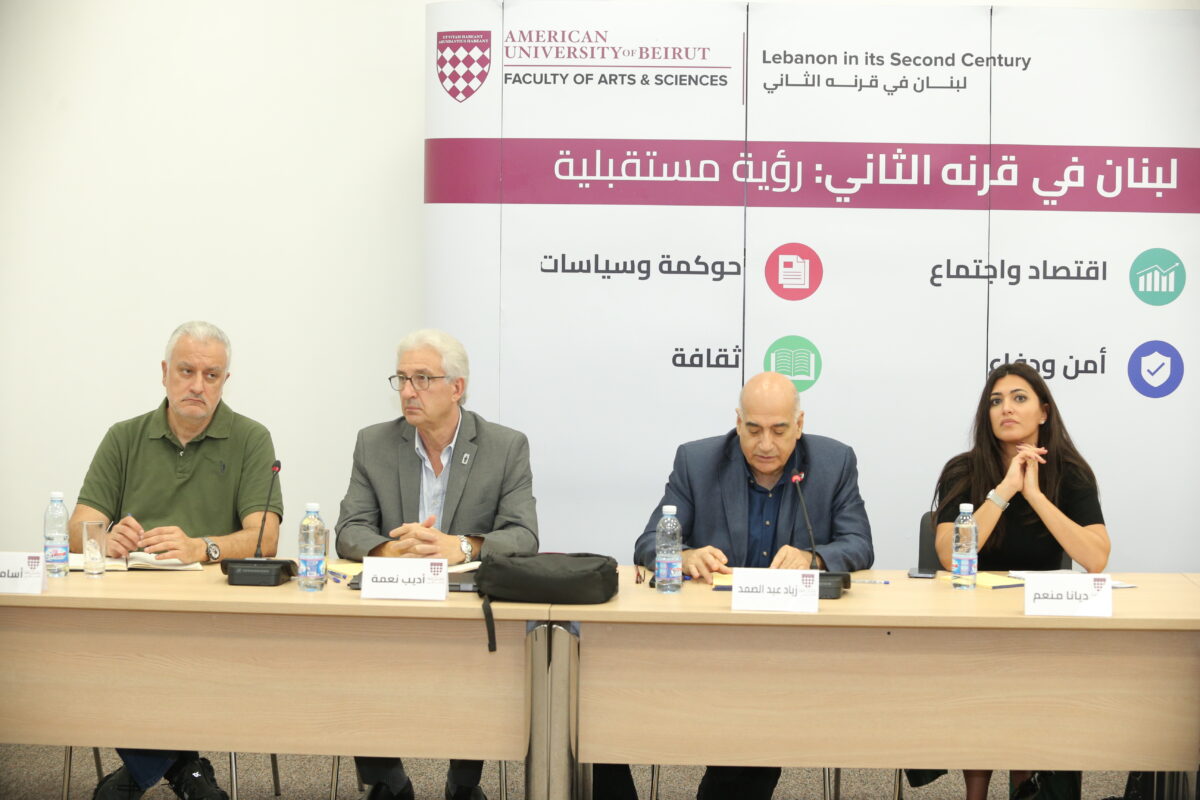 Lebanon in its Second Century: A Vision for the Future, panel focused on economic justice and socio-economic policies. by NOWLEBANON
Justice and development take center stage at "AUB's vision of the future"
"Lebanon in its Second Century: A Vision for the Future" seminar series commenced on September 9 with a panel focused on economic justice and socio-economic policies. The inaugural session featured two presentations. The first, titled "The Future Vision for the Lebanese Economy: What Economy Do We Envision for Lebanon in its Second Century," was delivered by Diana Menhem, the Executive Director of Koullouna Irada, and dissected by Hassan Cheri, an Economics professor at the Lebanese American University and an expert in the Arab Non-Governmental Organizations Development Network.
The second presentation, named "Social Policies in Lebanon for Social Justice and Equality," was given by Adib Neemeh, a development expert and consultant in the Arab Non-Governmental Organizations Development Network. The discourse involved Osama Safa, the Senior Social Policy Expert at the Economic and Social Commission for Western Asia (ESCWA). Ziad Abdel Samad, the Executive Director of the Arab Non-Governmental Organizations Development Network and a lecturer at the Lebanese American University and Saint Joseph University, moderated the panel.
"Lebanon in its Second Century: A Vision for the Future" was initiated last month through a collaboration between the American University of Beirut, the Faculty of Arts and Sciences, and the Department of History and Archaeology. The panel discussions are scheduled to continue until March 2023.
This ambitious program entails the organization of 12 workshops and roundtable discussions over the next six months, encompassing topics such as political, security, economic, social, and cultural affairs. The objective of these discussions goes beyond diagnosing the chronic crises and problems facing Lebanon; it also aims to propose strategies and resolutions for a forthcoming roadmap for the country. Each session will introduce a proposal for scrutiny and examination, with the purpose of developing practical and comprehensive plans for the implementation of each suggestion.
Themes discussed in the workshops centered on the following questions: Can the second millennium usher in a new form of governance that ensures social justice for everyone? How can the scale and scope of Lebanon's intentional downturn, leading to the disintegration of key pillars in its post-civil war political economy, be reversed? Can a second millennium strategy specifically address the challenges manifested by the collapse of essential public services, ongoing and crippling internal political discord, and a significant brain drain? Additionally, how can the issues of social justice be tackled, and how can a robust safety net be established?
Free economy and the first millennium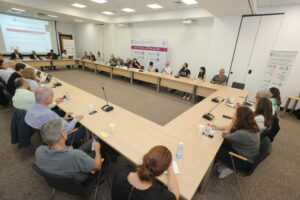 Lebanon, by all indications, has effectively become a failed state. Its government is plagued by corruption and incapable of providing for its people, who endure persistent and crushing poverty resulting from economic mismanagement and a collapsed banking system, as Abdel Samad highlighted in his overview. The first millennium of Lebanon did not yield a state capable of expanding its sovereignty or economy, thus failing to deliver social justice for all citizens and avenues for financial prosperity for those marginalized in the economy, he added.
A key focus of the discussions is whether Lebanon fell short of achieving a viable concept of a modern state with a free market in the first millennium. Determining whether we have learned anything from our initial millennium and assessing if economic policies contributed to sustainable growth is challenging. However, what remains true is that Lebanon's currency has lost 98 percent of its value, the banking system has collapsed, the public sector is nearly vacant, inflation has surged to an all-time high of 280 percent, and 80 percent of Lebanese now live in poverty. There is a severe lack of robust social protection mechanisms, leaving Lebanon without any safety nets—a system that protects the rich while leaving poor families to fend for themselves.
Made in Lebanon
Debating whether Lebanon qualifies as a failed state, Diana Menhem's intervention highlighted the positives within the system. Despite arguments suggesting Lebanon's challenges, she emphasized the numerous strengths that can be leveraged for development. These include the rich human potential, a diaspora capable of forming an innovative pressure group, and the potential of a "Made in Lebanon" brand. Menhem pointed to these factors as potential stimuli for the second millennium. She stated, "Lebanon can bet on its beauty illuminated by its geography and many natural resources. These attributes can attract investment and be effectively utilized for transformative and green energy initiatives."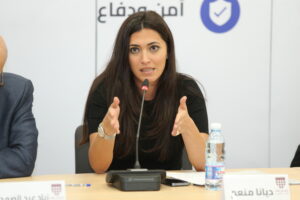 Traditionally, Lebanon has maintained a free and open trade regime, with efforts towards trade liberalization focusing on the European Union (EU), the WTO, and the Arab world. Menhem, however, expressed the view that these policies should have leaned towards greater protectionism rather than an open import-export free tariff approach, which she believes has pushed Lebanon's industry to the brink.
Menhem proposed that Lebanon could use its diplomacy to promote its brands and industries, citing the failure in the first millennium to establish a viable industrial policy. She advocated for a more serious consideration of protectionism and the promotion of a social contract with the private sector to drive growth and position Lebanon effectively.
"Lebanon can make use of its diplomacy to promote its brands and industries," Menhem believes. "In the first millennium Lebanon fell short to promote a viable industrial policy. There should have been a more serious alternative for protectionism and promoting a social contract with the private sector to propel growth and position Lebanon in its milieu," she added. "A second millennium transformative policy would have to start here."
"Being a small country, Lebanon doesn't require a vast amount of resources to kickstart its economic wheel. What is needed is the effective utilization of the existing resources, with a focus on exporting value-added products and services. This includes industries, artistic and cultural products, design, technology services, as well as tourism and related services. To be realistic, an economy cannot thrive without a stable government and security, both of which are unfortunately lacking," she said. Accordingly, It is essential to address immediate economic challenges before dreaming of a future economy. Regrettably, however, the current indicators are not encouraging.
The assessment of whether Lebanon's policies failed to promote itself in the first millennium is a contentious topic, as highlighted by Hassan Cherri. He categorized the first millennium into four distinct periods. In the first quarter (1920-1945), Lebanon was a vibrant market, succeeded in the second quarter (1945-1975) by a boycott with Syria. During this period, the banking secrecy law was enacted, marking a new form of state interference. The third quarter (1975-1990) witnessed the destructive Lebanese civil war, followed by a fourth quarter (1991-2023) characterized by the floating of the Lebanese pound and a fragile peace.
"There is an urgent need today to deal with the debacle of the monetary system and declare the banking sector bankrupt to be able start with new policies in the financial sector which will give a new value for the Lebanese pound," Cherri argued. However, addressing the multifaceted challenges goes beyond the financial sector. It is crucial to reverse the downward spiral of the currency, mitigate the devastation of the economy, and take measures to prevent the erosion of people's lifetime savings, ultimately preventing the population from plunging further into poverty.
Despite these urgent needs, Lebanon has been awaiting the implementation of reform laws for four years, amid high controversy within its political junta. The question remains: Is this more than wishful thinking, considering the critical factors at play in restoring the lost confidence of the population and the financial sector?
Social policies and social justice
The second cluster of the workshop centered on "Social Policies in Lebanon for Social Justice and Equality," with Adib Nehmeh as a main speaker.
Nehmeh proposed stimulating the Lebanese socioeconomic model with the Copenhagen Declaration on Social Development and its Programme of Action 1995. The Declaration represented a unique consensus on four key objectives of social development – namely, eradicating poverty, promoting full and productive employment, and fostering social inclusion, while setting out a holistic approach to achieve them. He recognized that social development cannot be achieved by the social sectors alone, nor through piecemeal initiatives. The approach requires an orientation of values, objectives and priorities towards advancing social progress and a better quality of life and well-being for all. He claimed it aspired to "place people at the center of development by ensuring full participation by all."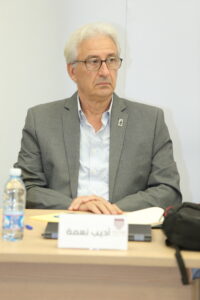 According to Nehmeh, Lebanon did not formulate its social policy in the first millennium; rather, it adopted the main pillars from international globalization policy headlines. "It is high time to conquer poverty, the goal of full employment and the fostering of social integration overriding objectives of development," he said. "In the second millennium, Lebanon requires policies to create jobs, along with an emphasis on equal distribution of capital and a reevaluation of its wages and taxation policies," he added.
If the Copenhagen 1995 declaration is to serve as a roadmap for Lebanon's second millennium, accountable governance and administration in all sectors of society become indispensable foundations for realizing social and people-centered sustainable development. Nehmeh highlighted that, in practical terms, social development and social justice are prerequisites for any development, along with respect for all human rights and fundamental freedoms. He underscored that broad-based and sustained economic growth, within the context of sustainable development, is essential to maintain social development and social justice. "These need a unified understanding of the role of the state among all". Nehmeh concluded by saying that "a transformative policy for the second millennium should start here."
"Lebanon needs a new social contract, and this contract is impossible to establish without a societal reconciliation that effectively addresses all the remnants of the past and all the obstacles preventing society from moving forward," Usama Safa emphasized. "A social contract cannot be built on sustainable and clear foundations without bridging the fundamental gap within Lebanese society between its various components, which has been exacerbated by polarizations, sorting, and divisions influenced fundamentally by the political situation. It is also necessary to rehabilitate the state institutions and their capabilities to play their role in this social contract. Therefore, we are facing multiple collapses today that must be addressed before reaching a sustainable social contract that achieves citizenship, justice, and social equality," he concluded.
Maan Barazy is an economist and founder and president of the National Council of Entrepreneurship and Innovation. He tweets @maanbarazy.