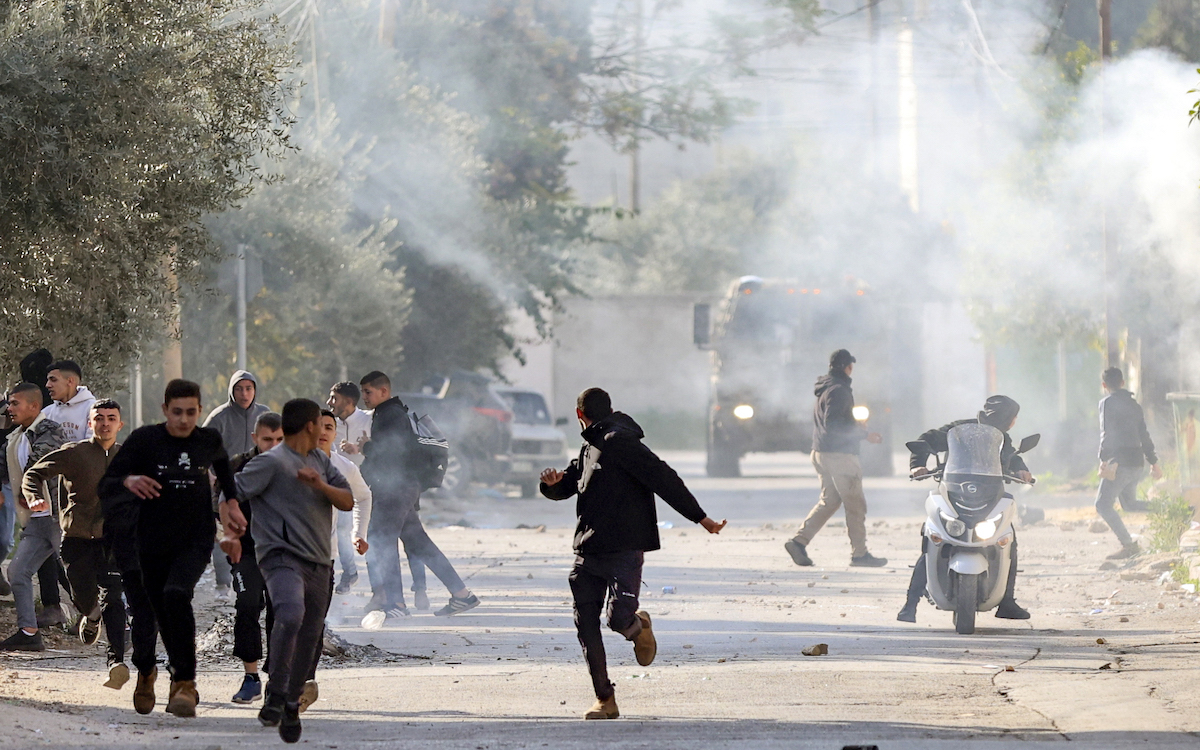 Palestinians run for cover during confrontations with Israeli forces in the occupied West Bank city of Jenin, on January 26, 2023. An Israeli raid on the West Bank's Jenin refugee camp today killed 8 Palestinians including an elderly woman, Palestinian officials said, also accusing the army of using tear gas inside a hospital. Israel's army declined to comment when asked by AFP about the health minister's tear gas allegation. Photo: Zain Jaafar, AFP
Antony Blinken, the US Secretary of State, began a Middle East trip that kicked off in Egypt on Monday. Blinken's second stop was in Israel and the West Bank amidst the rising tensions between Israelis and Palestinians.
During his visit, the top US diplomat called on both Israel and the Palestinians to "calm tensions" instead of inflaming them. Blinken's visit follows an upsurge in violence between Palestinians and Israelis.
The number of Palestinians killed in January has risen to over 30, homes have been raided, closed off, and demolished, and fears of further violence are rife.
Why this matters, The visit marks the first since the new far-right government in Israel won elections. A few days prior to the visit, Israeli forces raided the Jenin refugee camp, killing 10 Palestinians, including a 61-year-old woman.
During the second Intifada, or uprising, in 2002, similar scenes played out in the Occupied Territories.
Blinken's visit was meant to coordinate US relations with Benjamin Netanyahu, the newly re-elected Israeli Prime Minister, which was of concern to US officials.
Among the topics discussed were Iran's quest for a nuclear weapon, Israel's peace talks with Saudi Arabia and judicial reforms that would weaken the current Israeli Supreme Court.
Further complicating matters is Netanyahu's far-right cabinet's push for expanding settlements in the West Bank, which could further destabilize the situation.
However, Blinken's statement on Monday was vague and offered little more than the usual call for peace.
"We're urging all sides now to take urgent steps to restore calm, to de-escalate. We want to make sure that there's an environment in which we can, I hope at some point, create conditions where we can start to restore a sense of security for Israelis and Palestinians alike, which of course is sorely lacking."
He added that the United States would continue to support Israel.
"In the context of this attack and escalating violence, it's important that the government and people of Israel know America's commitment to their security remains ironclad. That commitment is backed up by nearly 75 years of U.S. support. America's commitment has never wavered, and never will."
Furthemore, Blinken announced $50 million would go to the United Nations Relief and Works Agency, and that the US would "continue to work" to reopen the consulate in Jerusalem, something strenuously opposed by Netanyahu and his government, following a meeting with Palestinian President Mahmoud Abbas.
Palestinian authorities have already stated that they will cease security coordination with Israel following the raid on Jenin.
The US responded with a statement clarifying that ending security cooperation would not be "the right step to take at this moment."
In conclusion, Blinken's visit was intended to discuss Israel-Palestinian relations, political reforms, and further strengthening the US relationship with Palestinians.
However, any type of reconciliation – or even the discussion of restarting talks -is highly unlikely with the worsening violence, as Israeli forces continue their almost daily raids on Palestinian homes, the government increasingly infringes on Palestinian rights, Palestinians take part in lone-wolf attacks against Israelis, and violence perpetrated by Israeli settlers rises, widening the divide between Palestinians and Israelis and ensuring that peace of any kind remains a long way off. 
Dana Hourany is a multimedia journalist with @NOW_leb. She is on Instagram @danahourany and Twitter @danahourany.