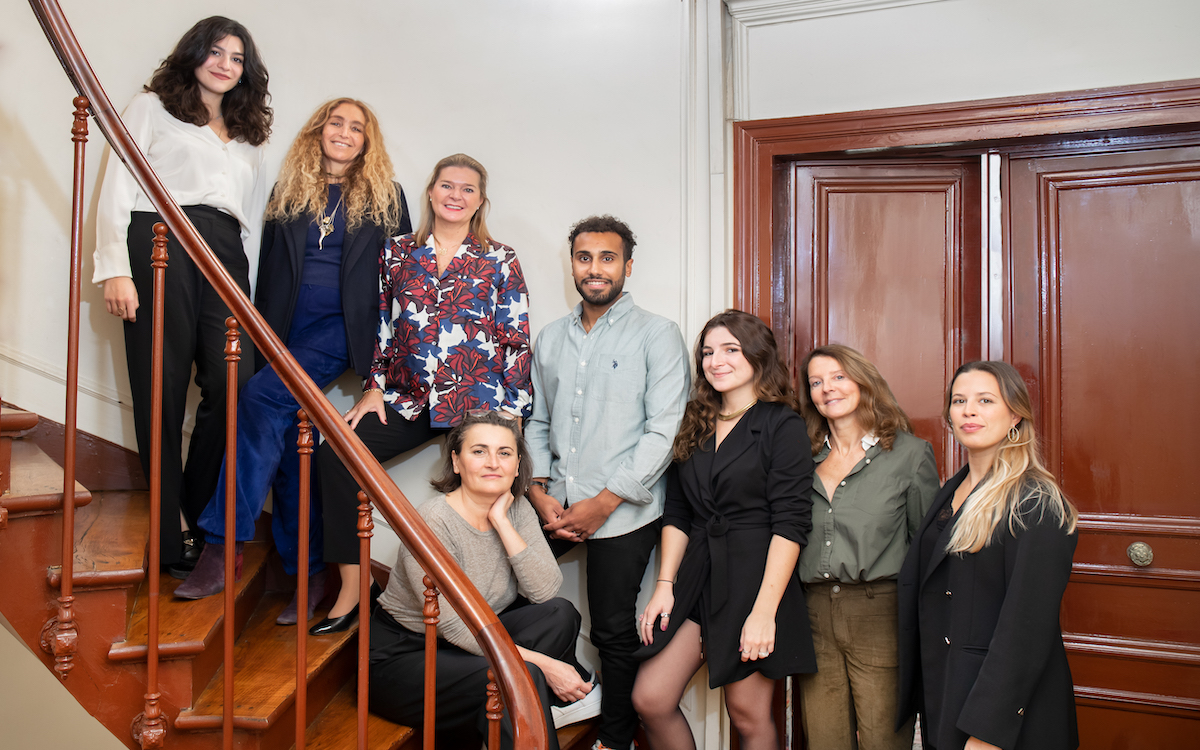 The MENART Fair team that help to put together the third edition of the event.
This month, MENART Fair brought together the diverse skills and talents of the MENA region. Hosted by the Boghossian Foundation at the opulent Villa Empain in Brussels, 24 galleries from 13 countries gathered in the Belgian capital to present a collection of over 250 works from more than 80 artists.
This event represents the third edition of the MENART Fair, and the first to be held in Brussels. The two previous editions were held in Paris, but the fair's director and creator Laure d'Hauteville is eager to expand the scope of her latest project.
"We are in the capital of Europe," d'Hauteville told NOW Lebanon. "Diplomatically, it's really important. We have many people [visiting, and] it's important for them to see this is what's happening."
D'Hauteville created MENART Fair in 2021 with a view towards bringing creatives from the Middle East and North Africa into the international spotlight. Previously, she oversaw the operation of the Beirut Art Fair in Lebanon, bringing the global art community into the country for ten years, until the economic crisis forced organizers to place the popular event on indefinite hiatus.
"In Lebanon, you can say what you want [and] do what you want; it's very liberal," d'Hauteville reminisced. "[At the] last edition of the Beirut Art Fair, in 2019, I had 36,000 visitors in five days. Even [for a show] in Europe, that's a lot of people."
"If I bring [international] galleries and I say to them come and exhibit, how will they sell [in Lebanon]?" she lamented. "I don't want to give this image. This is why I came back to Paris and created the first edition of MENART Fair. MENART Fair is the baby of Beirut Art Fair."
Many MENA artists – including the majority of those exhibiting with MENART Fair – are often overshadowed by those from Europe or the United States. Despite rising to prominence in their own countries, most remain largely unknown outside the region.
Rather than emulate the practices of its grander predecessor, MENART Fair has adopted the approach of a 'boutique' exhibition.  As the only such event in Europe devoted entirely to MENA region art, the intent is to educate potential patrons about the various cultures and practices represented at the fair, as well as promote sales of MENA works.
Lebanon's creative industries have been severely affected by recent events, including the ongoing liquidity crisis, the COVID-19 pandemic and the 2020 Beirut Port explosion. Many galleries and artists have been forced to slow down or stop their operations.
My inspiration comes from Lebanon; it's the only place that I actually can do these things. There are so many obstacles when it comes to living in Lebanon – electricity; prices raging up and downs; all these things are a factor – but I don't think I'd be anywhere else.
Despite this, Lebanon's artistic scene remains vibrant and vital to its national – and international – identity.
"Lebanese artists are the last part of the chain that should present the cosmopolitan values of Lebanon," said Embassy Secretary and European Commission Affairs Officer for the Embassy of Lebanon in Brussels Ralph Matar. "Our nation-state is not a classical nation-state founded on an ethnoreligious approach. It was supposed to evolve into a more liberal state, with a social cohesion that would allow the individual to disengage from their belonging to [sectarian] communities."
"Unfortunately, this did not happen," he continued. "Many ideological frameworks in the region are more focused on this ethnoreligious approach [but] the ideas of cosmopolitan values are fundamental in Lebanon's approach. It's up to [our] artists to always promote this version of Lebanon, because other actors do not always promote this kind of philosophy."
Veteran Lebanese painter and sculptor Ghassan Zard lives and works in Beirut. Exhibiting with Galerie Tanit, his cast brass pieces in "On a Shore" evoke a child-like sense of adventure and nostalgia, conjuring images of fantastical treasures and faraway places found only in story books, contrasting starkly with the somber reality facing his home country.
"It's about a young boy sitting in front of the sea, dreaming about hidden treasure," said Zard. "With time, it evolves to include corals, islands and – as a background – the dilemmas of Lebanon's issues."
"MENART is a very important salon for the [Lebanese] artists, as it helps us to get exposure for our works in Europe," he added. "This is important as – for a lot of us – it's very hard to have access to an international audience."
Fashion photographer and mixed media artist Yasmina Hilal – also from Lebanon, exhibiting her own solo photo collage showcase with Zalfa Halabi Art Gallery – is one of the youngest participants to be featured at this edition of MENART Fair.
Despite the difficulties she faces as an emerging artist in Lebanon, she remains determined that she is exactly where she needs to be and hopes to continue building her craft.
"I don't think I can produce [my art] anywhere else," explained Hilal. "My inspiration comes from Lebanon; it's the only place that I actually can do these things. There are so many obstacles when it comes to living in Lebanon – electricity; prices raging up and downs; all these things are a factor – but I don't think I'd be anywhere else."
Although not deliberately sought by the organizers, 46 percent of the artists exhibiting at this edition of MENART are women, reflecting an organic shift within the MENA art community towards greater equality between the sexes.
"It's quite encouraging to see how many [female] artists are expressing themselves through their work," said MENART Fair Curator and Artistic Director Joanna Chevalier. "It's very interesting to see all these works which talk about femininity, women [and] their ways of resisting. It's never frontal. It's never brutal. It's very often poetical, melancholic images."
"I think it's really incredible, and important," echoed Hilal. "It's really cool to be featured [and] to feel like I am seen. I'm really honored to be a part of this."
In addition to its educational and commercial aspects, the third edition of MENART Fair also presents a tribute to Lebanese-American poet, essayist and artist Etel Adnan, based on her Olivea series of paintings. Produced by French ceramist Alexandra Catelain-Orange from Adnan's schematics, these eight pieces were originally planned to be Adnan's last works, but she passed away in November 2021 before they could be completed.
In addition to her literary output, Adnan created many other works in a variety of media, including oil paintings, films and tapestries, which have been exhibited at galleries across the world.
"It is her last work being exhibited here," said d'Hauteville. "It's really important for the people to see who she was [and] what she did. We are not only for the commercial world. We have a cultural narrative which is amazing."
Robert McKelvey is a British freelance journalist based in Beirut who covers art, culture and humanitarian issues across the Middle East. He can be followed on Twitter @RCMcKelvey.