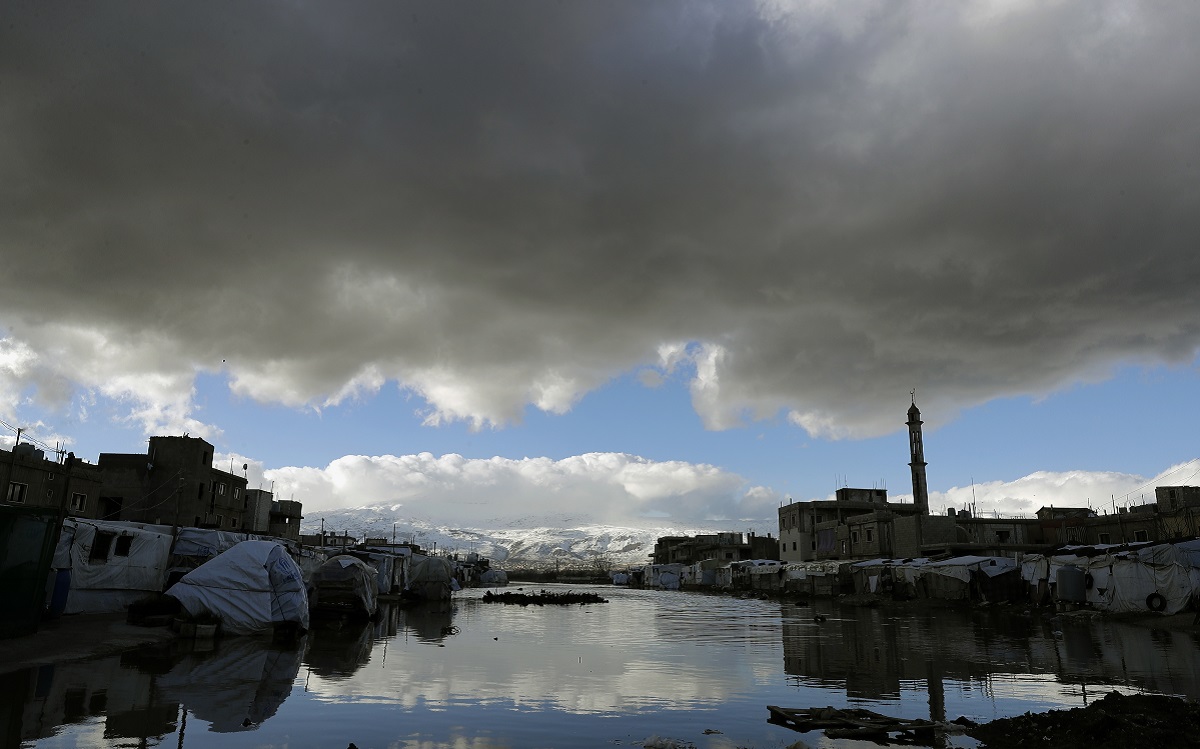 An aerial view shows an informal tent settlement housing Syrian refugees flooded by rain water in the area of Delhamiyeh, in the central Bekaa Valley on January 17, 2019. Photo: Joseph Eid, AFP.
Imagine you're a Syrian refugee in Lebanon.
Facing the worst economic crisis the world has seen in 150 years, the country's political elite took 13 months to negotiate the formation of a cabinet.

Not only has the government reached a deadlock due to disagreements over the Beirut blast investigation, but it also faces diplomatic isolation by the Gulf states due to controversial statements made by the cabinet spokesman.

Meanwhile, some political forces incite sectarian clashes. General rejection and violence against refugees has increased.

Fuel prices have skyrocketed because of the constant plunge of the local currency. It costs at least half the local average salary, which has dropped to about $200/month, to keep the lights on for most of the day. No Syrian refugee even earns that much to begin with.

Between October 2019 and June 2021, the cost of food increased by 404 percent, resulting in "worrisome food insecurity levels among Syrian refugee families," the UNHCR has said.

Thousands of Lebanese have emigrated in the past two years, many to the Gulf states and many to Europe. 
Hundreds of at risk and economically troubled Syrians have taken boats to Cyprus, many facing death, losing sons and daughters and being taken back to Lebanon.

They were aware of the risks when they made that decision. Some made it to the other side. Out of those who didn't, many are willing to try again. 
Pressure from Brussels
The European Commission said yesterday that it has reached out to Lebanon's government, among a number of other governments, to raise awareness over the migration crisis at the Belarus-Poland border and the risks of serious abuses many travelers have to face when taking that road to Europe. 
The EU said Tuesday it was pressing more than a dozen countries to prevent their nationals leaving for Belarus on a perilous attempt to get into the bloc, AFP reported. 
Brussels says the crisis at the border is an orchestrated campaign by Belarus President Alexander Lukashenko to destabilize the EU by encouraging migrants to its borders, especially Poland and Lithuania, where governments are not the most welcoming for immigrants. 
"This is part of the inhuman and really gangster style approach of the Lukashenko regime," a European Commission spokesman, Peter Stano, told journalists.
The EU already pressured Iraq into stopping flights from Baghdad to Minsk and has contacted another 13 countries, some states of origin, others of transit – Cameroon, the Democratic Republic of Congo, Congo, Egypt, Georgia, Guinea, Iraq, Jordan, Lebanon, Pakistan, Tajikistan, Turkey, and the United Arab Emirates. Another 20 countries, including Syria and Iran, are "monitored", as their governments are not necessarily cooperating. 
The three-way row between Belarus, Poland and Brussels has indeed taken the spotlight. Up to 4,000 people, reportedly mainly Iraqi Kurds, set up camp near the Polish border and made a collective attempt to push across on Monday. 
Polish officials said Wednesday that large groups, ranging from several dozen to two hundred people, crossed the border from Belarus in three places overnight, but "all were pushed back". Poland has deployed 15,000 troops on the border. People can't cross, but they also cannot return, as the Belarus authorities do not allow them to leave. 
It's not the route that matters
That is only one focal point of the tragedy. For over six years now, refuge seekers have been smuggled through the Balkans, families separated by traffickers, people left stranded to fend for themselves on the streets of Belgrade, some suffocating in lorries.
But it is always the novelty and the extreme that catches attention. Then people get used to the news, the spotlight fades and the file ends up blocked, then forgotten, as diplomats don't know how to solve it. Until another outrageously cruel abuse is exposed or another tragedy occurs. 
Conditions of living for refugees have worsened in all the host countries in the Middle East, and Lebanon, as seen above, tops that list.
The number of people entering the EU by crossing the Western Balkans has almost doubled this year, EU border agency Frontex said in August. An estimated 27 180 illegal border crossings occurred on the Western Balkan route between January and August, the majority of people coming from Syria and Afghanistan. The increase can be attributed to the resumption of migratory movements after the lifting of COVID-19 restrictions, Frontex said.

But the EU border agency was not at all painting the whole picture, because beyond COVID-19 it becomes political and no one wants to look at that.

Syrians in Syria, including those who dared to return to their home country, still face detention, torture, summary executions, and other abuses. Both Human Rights Watch and Amnesty International have stated it in reports released in the past two months.

Afghanistan has been taken over by the Taliban.

Conditions of living for refugees have worsened in all the host countries in the Middle East, and Lebanon, as seen above, tops that list. Beyond the subhuman conditions over 60 percent of refugees live in, some Lebanese towns have also imposed curfews on Syrians. Many resort to begging and working severely underpaid jobs to survive from day to day.

In Turkey, Syrian refugees have been increasingly facing violence. In August, protests erupted in Ankara after reports that a Syrian refugee had stabbed two Turkish men in a fight.
Treating the effect, not the cause
Since 2011, the EU has given Lebanon EUR 722 million in humanitarian funding to respond to urgent needs of Syrian refugees. 
In March 2021, the EU announced EUR 50 million for Lebanon during the Brussels V Conference as part of the Syria Crisis response. This is part of the regional funding to support the needs of the most vulnerable Syrian refugees across the region.
During the summer of 2021, the EU released EUR 5.5 million to strengthen the COVID-19 response in Lebanon. In 2021, the EU is contributing EUR 30 million to support around 660,000 Syrian refugees with multi-purpose cash assistance to meet their food and basic needs.
The question that comes to mind is: at what rate? A Reuters report said in June that Lebanese banks have swallowed some $250 million in two years, between 2019 and 2020, just by playing on the different exchange rates between the dollar and the Lebanese pound. 
They don't have much choice. Afghanistan is not safe, Syria is not safe, Iraq is not safe, Lebanon is not safe and neither is Turkey.
The EU is the most important humanitarian assistance provider to the Syrian refugees in Lebanon and probably the entire region too. But that money needs to be audited and it remains to be seen how much of it really reaches its intended beneficiaries. 
But all the money the EU has sent to Lebanon in the past decades has not and will not stop Syrian refugees from being at risk. It will also not stop them from trying again and again to reach Europe, because that is where they might have a chance at building a life. 
They are aware of the risks they are likely to face when they take the Belarus route or the Balkan route. They know they can end up in de facto prisons, that they can be beaten by right-wing groups, that they face hunger and cold in forests at the Polish border or on the Balkan fields, that they can die in lorries trying to cross into Hungary or Austria. 
It's not awareness campaigns that they need. They need the EU to get more involved at the political level, to help find solutions for both Lebanon and Syria. 
Everyone is very much aware around here. People may be very much aware in Afghanistan, Morocco, Iran, Iraq, Somalia, Cameroon what they risk if they pay smugglers to cross borders. 
But they don't have much choice. Afghanistan is not safe, Syria is not safe, Iraq is not safe, Lebanon is not safe and neither is Turkey.
Ana Maria Luca is the managing editor of @NOW_leb. She tweets @AnaMariaLuca79. 
The opinions expressed are those of the author only and do not necessarily reflect the views of NOW.