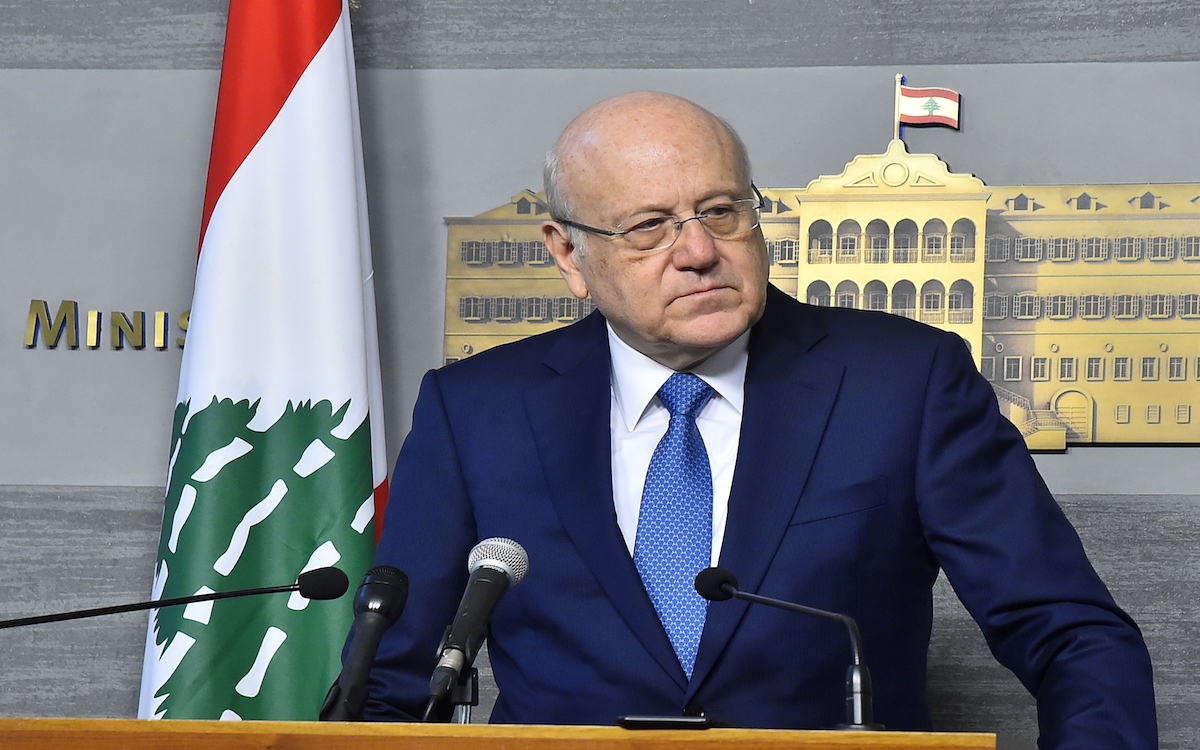 A handout picture provided by the Lebanese photo agency Dalati and Nohra on March 27, 2023 shows Lebanese caretaker Prime Minister Najib Mikati speaking during a presser following a cabinet meeting in Beirut. Photo: Dalati and Nohra/ AFP
On Tuesday, Parliament voted to approve the extension of the term of the municipal and mayoral councils for a maximum of one year in an attempt to avoid further administrative paralysis in the wake of President Michel Aoun's resignation six months ago.
The session – attended by just 66 MPs and lasting less than one hour – concluded with the decision to postpone Lebanon's municipal council and mayoral elections until next year. Staggered elections had originally been scheduled for throughout the month of May. However, funding has not yet been secured to hold these elections.
These same municipal elections were already previously delayed last year, as they would have otherwise taken place at the same time as the 2022 Parliamentary elections.
Lawmakers have approved a 'technical extension' until May 31, 2024, allowing for municipal councils – and particularly local officials responsible for issuing basic civil documents – to remain operational until elections can be held, rather than forcing a complete shutdown when their terms run out.
Caretaker Prime Minister Najib Mikati affirmed his commitment to holding timely municipal elections.
"We pledge to conduct the polls within the determined deadlines and as soon as possible," Mikati told the assembled Parliament.
"The cabinet… has a possible solution under which the polls' dates already announced by the interior minister would be changed," Mikati explained. "Instead of holding the elections on May 7 and May 14, we can conduct them on May 21 and May 27."
Lebanon's public services are in shambles as a result of the continuing economic crisis. Local government bodies are frequently unable to pay their employees a living wage, and resources are stretched thin across the country.
Some MPs have criticized the decision to delay the elections, citing that they are a constitutional right. Others have questioned Parliament's legitimacy to legislate, arguing that the constitution demands that a new head of state must be elected before any other business can take place.
All of this almost assures that there will be a challenge to Parliament's decision to postpone the municipal elections.
"If you truly did not want to postpone the municipal vote," Mikati asked lawmakers, "then why did you attend today's session and ensure the quorum?"
Both the Lebanese Forces and Kataeb parties, two prominent Christian groups, boycotted Tuesday's session entirely, as did MPs from the independent "Change" Movement.
"We will not sit in any legislative plenary session until a president is elected," said Lebanese Forces MP Georges Adwan. "Everything we have been trying to do for the last four months [was] promised by the government [but it] was all fake. They did not do anything serious to ensure that the [municipal] elections would be held."
"This session is unconstitutional," said "Change" Movement MP Melhem Khalaf. "It's one episode in a series of serious constitutional violations that… undermine democracy in Lebanon."
Following blowback against his previous decision to postpone daylight savings time until the end of Ramadan, Mikati is facing increased pressure from MPs and citizens alike questioning his leadership. Until a new president is elected, Lebanon's embattled caretaker prime minister will most likely continue to face criticism and resistance due to his limited powers.
Robert McKelvey is a multimedia journalist with @NOW_leb. He tweets @RCMcKelvey.