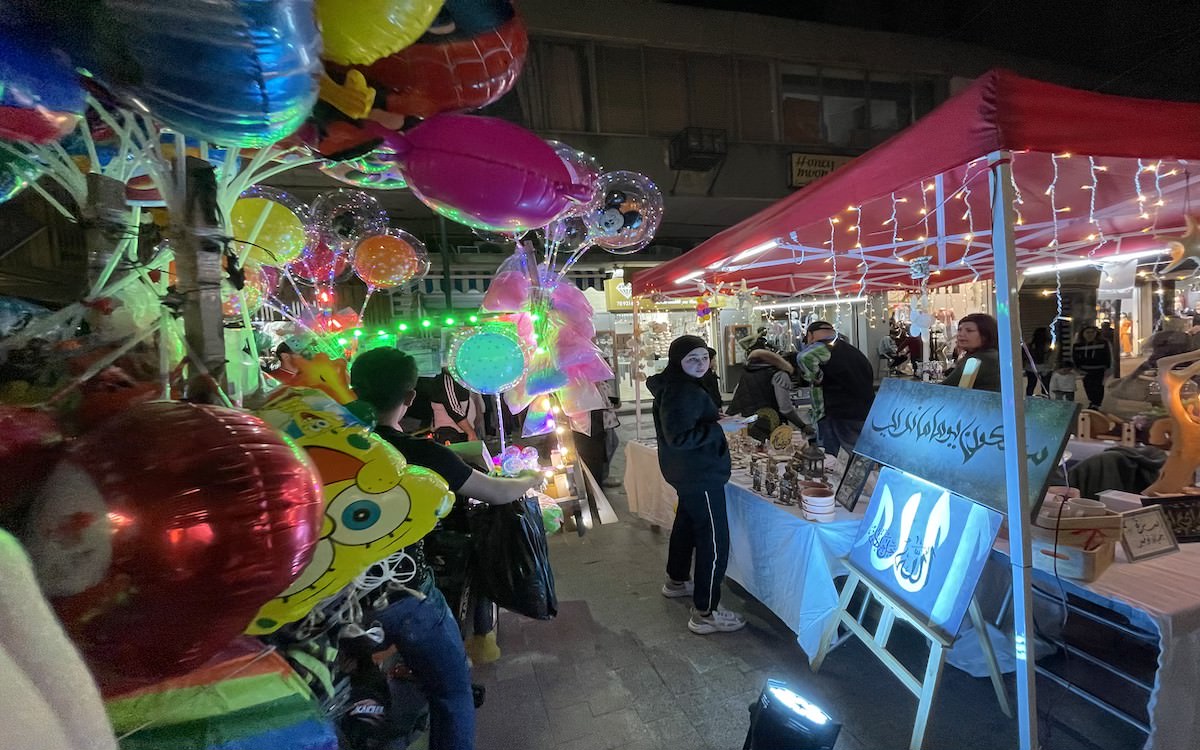 Muslims in Sidon prepare to celebrate Eid al-Fitr. Photo: Dana Hourany, NOW
In south Lebanon's coastal city of Sidon, one is mesmerized by the festive atmosphere prevailing over the street markets (souks).
The old Saida area is lined with lights, decorations, and street vendors celebrating Ramadan, the holy month of fasting for Muslims.
While the month proved difficult for some families due to the economic crisis that hit the country in 2019 and has since continued to worsen, people still flocked to the market streets and sellers were plentiful.
"Thankfully, we have kept the strength to carry on and so far, we have made some profit and people are coming in and buying, so this is a good sign," said Mariam*, a 32-year-old accessories shop owner.
This year, for Sunni Muslims, Eid Al Fitr falls on Friday, April 21. Usually a time for family gatherings, outings, and shopping, the economic crisis has drastically altered the lives of the Lebanese, and Eid celebrations have been dampened.
Nonetheless, people are doing their best to enjoy the little joys they are left within their crisis-ridden country.
Eid on a budget
Hoda Mallah, a mother of four, was strolling through the market when she spotted a candy vendor that her children enjoyed. After the breaking of the fast at Iftar and before Suhoor (the pre-dawn meal), the market is open from 9 p.m. to around 1 a.m.
Having stopped this tradition for some time due to economic conditions, Mallah said she came to purchase clothes for her children for Eid. Due to the fact that most of the children's days have been spent at home, they have been clamoring for new clothes and outings.
"Eid has not felt like Eid to us for a few years due to political and economic instability," Mallah told NOW. "However, I do my best to provide for the children and this year we were able to save up just a little."
In order to make ends meet, Mallah's husband has been working two jobs and the family has been cutting out many of the meat dishes and limiting dessert purchases during Ramadan.
She emphasizes, however, that happiness would not be realized if Eid celebrations were not properly conducted.
"We have enjoyed visiting the markets so far because of the lively atmosphere and business on the streets, which takes us out of the misery of the economic crisis, which always looms over our heads," she said before visiting a clothing store to try on dresses for her daughters.
Mallah notes that many stores cater to different budgets, and even though everything is priced in dollars, she was able to find decent dresses for her daughters for just 5 dollars, which she says will "definitely make the kids happy and drive them away from the daily stresses of adults and finances." 
Searching for joy
For Fatima Azzam, 24, a recent graduate studying in France who just came back for a quick vacation, spending Eid far from home would be too emotionally draining.
"It is too difficult to spend Eid alone. I have already spent most of Ramadan alone, and I would like to be with my family at this special time of the year," she told NOW.
According to Azzam, markets such as Saida and Tripoli, where Ramadan atmosphere prevails, make coming back to Lebanon worthwhile, as it overshadows the negative situation the country is facing.
"The sight of people gathering and shopping and eating out gives you a sense of hope for the future," she said, noting that Saida was always her preferred outing location during Ramadan and Eid.
"The prices are cheaper than Beirut, the people are generally nicer, and you can visit historical sites at the same time, so I anticipate that the atmosphere will be even more vibrant and busy during Eid," Azzam said.
As for Hiba Reda, 28, whose siblings will not be returning home for Eid, leaving her alone with her mother and father on a tight budget, she comments that this Eid is one of the "worst."
"I am not certain how I will be able to enjoy Eid without the large family gatherings I am used to, but I hope to be happy for my parents," she stated. Unlike previous years when we used to go out and buy new clothes, we have not planned anything special for Eid this year, but at least we still have each other."
The sixth wave of the Arab Barometer Survey from 2020 to 2021 revealed that out of all the countries surveyed, citizens of Lebanon were particularly pessimistic about their country's economic prospects. The cost of living being chief among these worries, it's not surprising that almost half the population was considering leaving for other places offering better opportunities. Interestingly though, when asked for the primary reason behind wanting to migrate, only 7 percent cited financial issues; considerably more (44 percent) pointed towards corruption as the main catalyst, with security and political concerns close on its heels at 29 and 22 percent respectively – mirroring the failure of their political system which has caused this fiscal crisis in the first place.  

However, it seems for those choosing to stay in Lebanon, a little Eid enjoyment is necessary for the drive to carry on.
Dana Hourany is a multimedia journalist with @NOW_leb. She is on Instagram @danahourany and Twitter @danahourany.