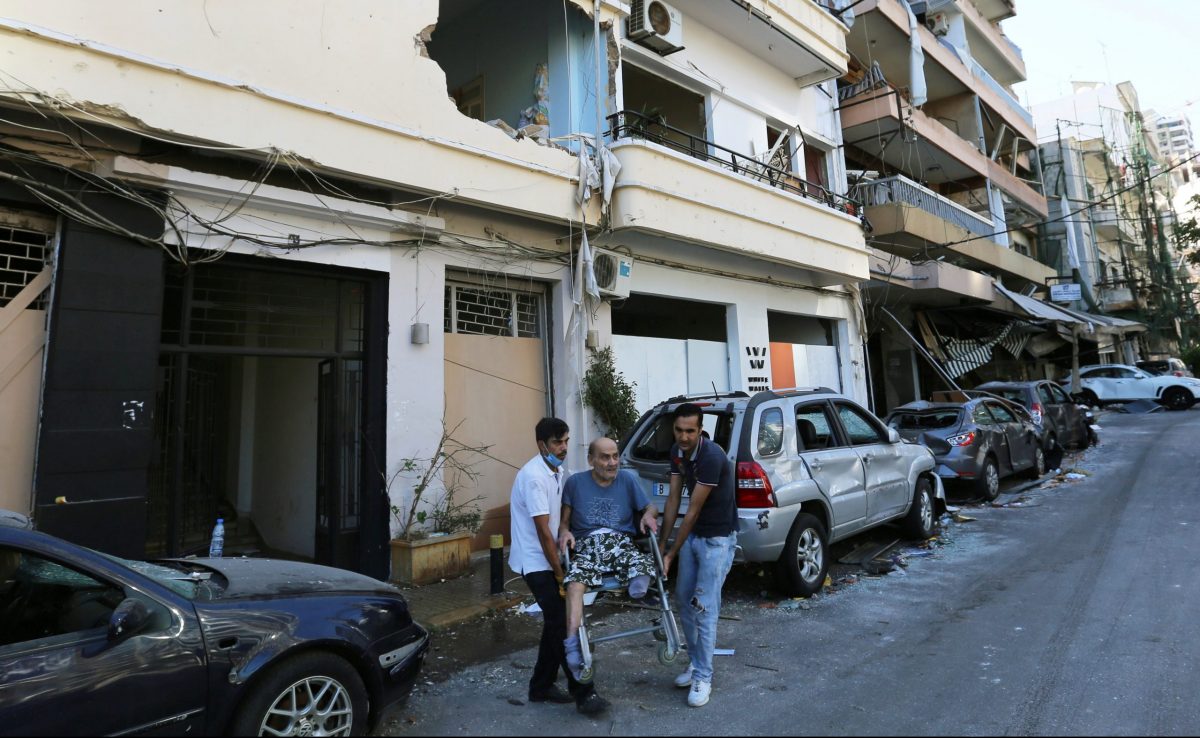 People assist a man on a wheelchair near damaged vehicles following the Beirut blast. PHOTO: Aziz Taher/REUTERS
Months after the Beirut blast, Lebanese who sustained long term injuries struggle to get proper treatment and make ends meet.
At least she is still alive.
Whenever she sees her mother crying, Maria repeats these words.
"We're all alive. That's what matters," she says.
But she is not fine.
On August 4, 2020, at about 6 pm, when 2700 tons of ammonium nitrate stored in improper conditions exploded in the Beirut port, the girl sat in front of a window together with her mother and brother. But the explosion that pulverized many buildings in Central Beirut also shattered that window, and Maria lost her left eye. It was the day after she had celebrated her 14th birthday.
"A lot of glass went into my eyes and my skin was badly injured," she recalls.
Maria's family rushed to the hospital as fast as they could. She went straight into surgery, but the doctors could not save her left eye.
"It will affect her future. I can't handle that and it always makes me cry. Our lives changed after the explosion. We aren't that happy family anymore."
Maria is no longer the happy middle school girl with big brown eyes who always received honors and made her parents proud with her good grades. Although she tells her parents that she is fine, it is obvious to them that she is not dealing well with missing an eye, her mother claims.
"Maria is really silent now," the mother, who wished to remain anonymous, explained.
"I still can't get over the fact that my daughter's life is ruined because of her eye," the 51-year-old woman told NOW. "It will affect her future. I can't handle that and it always makes me cry. Our lives changed after the explosion. We aren't that happy family anymore."
The explosion on August 4 left over 190 people dead and some 6,500 injured. While some victims' physical wounds have healed, others, like Maria, will have to live with their injuries for the rest of their lives.
Many of them will need long-term physical therapy, psychological counseling or several surgeries which will cost thousands and thousands of dollars that they don't have. Meanwhile, in a country that faces layers and layers of crises – including social unrest, widespread corruption that bankrupted the state and led to an economic collapse, and the COVID-19 pandemic – the Lebanese government, as well as international and local humanitarian organizations, have paid little attention to the plight of the people left with long term or permanent injuries after the Beirut port blast.
Recovering in an impoverished country
Since the fall of 2019, Lebanon has also been struggling with its worst economic crisis in decades, protests and political turmoil. The COVID-19 pandemic at the start of 2020 compounded the deteriorating situation – and then a major explosion tore through the capital.
These overlapping crises have exacerbated people's vulnerability and pushed thousands into poverty, in addition to a protracted situation for displaced people, with the small country hosting the largest number of refugees per capita in the world, read an assessment Doctors Without Borders released at the end of January.
"I take medicine for my head [injuries] so I can't take medicine for the leg. I basically have to prioritize [which medicine to take]."
Medical fees, in general, have become prohibitive for vulnerable groups, including people with disabilities or long-term injuries after the August 4 explosion. Doctors have been witnessing signs of deterioration in many people with long term conditions, the report stressed.
However, representatives of the organization told no that they did not have an official number of people left with long term injuries after the Beirut port blast.
Failed policies to care for disabilities
Before the economic crisis, people with long-term or chronic injuries could secure a document from their doctor that they would then submit to the government in order to receive a special card.
The card would provide them with certain limited benefits – cheaper or free medicine, access to specialized clinics for their medical treatment, as well as easier access to hospitals and surgeries.
However, according to Mansour Dib, a doctor specializing in physical recovery and rehabilitation at Beirut's Hotel Dieu Hospital, since the beginning of the economic crisis, very few people have applied for these cards, as hospitals no longer take them into consideration. Due to the financial crisis, the government has had trouble covering patients' treatments from state insurance sources, and private hospitals simply don't trust them.
"[People with long term injuries] don't have any hope to get help from that," he told NOW. "Especially since the ones that have had the card before the explosion have not been getting help because of all the financial issues with the government."
Dib has treated 80 to 90 people with long-term injuries after the Beirut port explosion, but he says that there could easily be hundreds of them.
He also explained that many feel like they are on their own since they have lost their homes, jobs and health. In addition, the injured are abandoned when it comes to covering the cost of their medical treatment, as most people in Lebanon do not have health insurance because they cannot afford private policies and, even if they do, it is often not enough.
"Only about 30 percent [of my patients] had insurance, and that would help them for a limited amount of time," Dib stressed.
He explained that patients with long-term injuries will need physical therapy and, potentially, further surgeries costing thousands of dollars that they do not have. Without therapy and surgeries, their conditions are almost guaranteed to never improve.
The absent government
Despite the political message of resilience and promises by the Ministry of Health to cover the costs of hospital fees, the Lebanese government has been largely absent when it comes to providing aid to those injured in the explosion, forcing people to rely on their savings and local aid groups for rebuilding their lives and covering expenses, victims and humanitarian NGOs told NOW.
A source at the Ministry of Health who wished to remain anonymous explained that "there is no one that needs to get into the hospital that isn't [admitted]. The government will help everyone with no exception. Immediately or later [on]."
But eight months after the explosion, victims said they received no helping hand from any Lebanese government institution and had to rely on donations for follow-up treatment and recovery therapy for their wounds. The government – especially the Ministry of Health did not have any procedure in place and no active legislation that allowed for, at the very least, reimbursement of medical fees for the wounded who needed follow-up medical treatment.
On September 4, 2020 the Minister of Health, Hamad Hasan signed an order allowing people with long term injuries to submit a file to the ministry to get clearance for free follow-up treatment, including surgery. But the order was never made public and victims with long term injuries were never properly informed that they can put together an application.
Moreover, the head of the Lebanese Army led High Relief Commission, Maj. Gen. Mohammed Khair, told Legal Agenda in mid-January that the Army only distributed aid to the families of the "martyrs" but not to those of the wounded.
Thrown into poverty
Many of those physically affected by the explosion are not only struggling to afford treatment, but are also having a hard time making ends meet.
Antoine el-Helou, 63, a former truck driver who lost his left eye in the explosion told NOW that one of the hardest things to accept after his injury is that he can no longer provide for his family and has to depend on donations.
"I used to help my family, but now I can't because I have to stay home and cannot work anymore," El Helou said. "I feel like I need people [to help me]. Before I didn't need anyone because I would get my own money."
"The recipients' problems don't disappear after one round of aid. We still need to assess how long we'll be able to sustain the campaign."
El-Helou had three different surgeries on his eye, but, in the end, the doctors were unable to restore his eyesight.
"I am able to get up and walk, but I have some pain in my muscles and in my leg," he said. "However, I take medicine for my head [injuries] so I can't take medicine for the leg. I basically have to prioritize [which medicine to take]."
Following the August 4 explosion, the World Health Organization issued a call for US$ 76 million in donations and put together an emergency strategic response plan to work with the Lebanese Ministry of Health in identifying major resources and gaps, including health infrastructure and supply needs.
The plan sets to assess the environmental impact of the port blast, to ensure maintenance of essential health services and service delivery, as well as the rapid resumption of disrupted essential services. It also addresses mental health and the psychosocial impact of the port blast.
But no document released by any international or local organization had a strategy in place for people with long term or permanent injuries after the explosion, especially those who lost their jobs and homes as well as those who were already in a disadvantaged category of the population.
A helping hand
Nael Ogden-Smith, 44, the Lebanese-British head of the partnership services of the International Paralympic Committee knew much about recovery after a major accident. He himself has been through recovery after a car accident in Lebanon 21 years ago that left him with a long-term injury.
After witnessing the Beirut blast and the numbers of wounded people, he thought immediately of relief for those with long-term injuries like himself.
Ogden-Smith knew that it would take some time for cases like Maria's and El Helou's to eventually surface after the initial hospitalization phase, because at first, it's the emergency wounds that are dealt with.
Anticipating problems with the system, a few days after the explosion he started a GoFundMe campaign.
The initial goal was set at $36,500 meant for long-term treatment, physical recovery sessions, as well as food, medicine and even rent for those who couldn't go back to work. A few weeks later, Ogden-Smith and his team started to look for people who needed help.
"A large number have eye injuries, for the simple reason that they were standing behind glass, or close to glass, or debris. And then the rest have spinal injuries, fractured bones," he explained.
On the one hand, they need reimbursement of the medical care they have already received, including follow-up surgeries.
However, he says only 18 people were identified for the first round and that the campaign needed more rounds of fundraising as cases continued to surface.
So far, donations have come from friends, relatives, and friends of friends, he says.
"The recipients' problems don't disappear after one round of aid," he pointed out. "We still need to assess how long we'll be able to sustain the campaign."
The struggle to accept a different future
Trauma psychologist Cosette Maalouf says that beyond physical therapy, recovery after a trauma like the Beirut explosion is hard even for people who had not been injured. Those who suffered long term injuries are even more vulnerable because they suddenly have to deal with a major change in their lives and bodies.
Therapy and psychological support are also necessary for their families who have to support them in the recovery process. However, mental health in Lebanon has never been covered by any type of medical insurance. People have to simply soothe themselves and "cope with it".
"I think telling people to cope with it in this particular situation is cruelty from the side of the government," she pointed out. "Putting out this message of resilience is very cruel. Recovery is not about buildings and reconstruction, it is about people," she pointed out.
With classes now online, Maria has to study from home, but occasionally has a hard time concentrating.
While Maria's mother is thankful that her daughter is alive, she continues to worry about her future.
"I'm so sad. I'm crushed," she confesses. "She is my only daughter. I am so worried about her future. Maria used to be so pretty, but [because of the explosion] her face changed. She's still pretty, but her face has changed. I cry every day and I just can't get over it."
Nicholas Frakes is a multimedia journalist with @NOW_leb. He tweets @nicfrakesjourno.
Tala Ramadan contributed reporting. She is a multimedia journalist and head of social media at NOW. She is on Twitter @TalaRamadan.