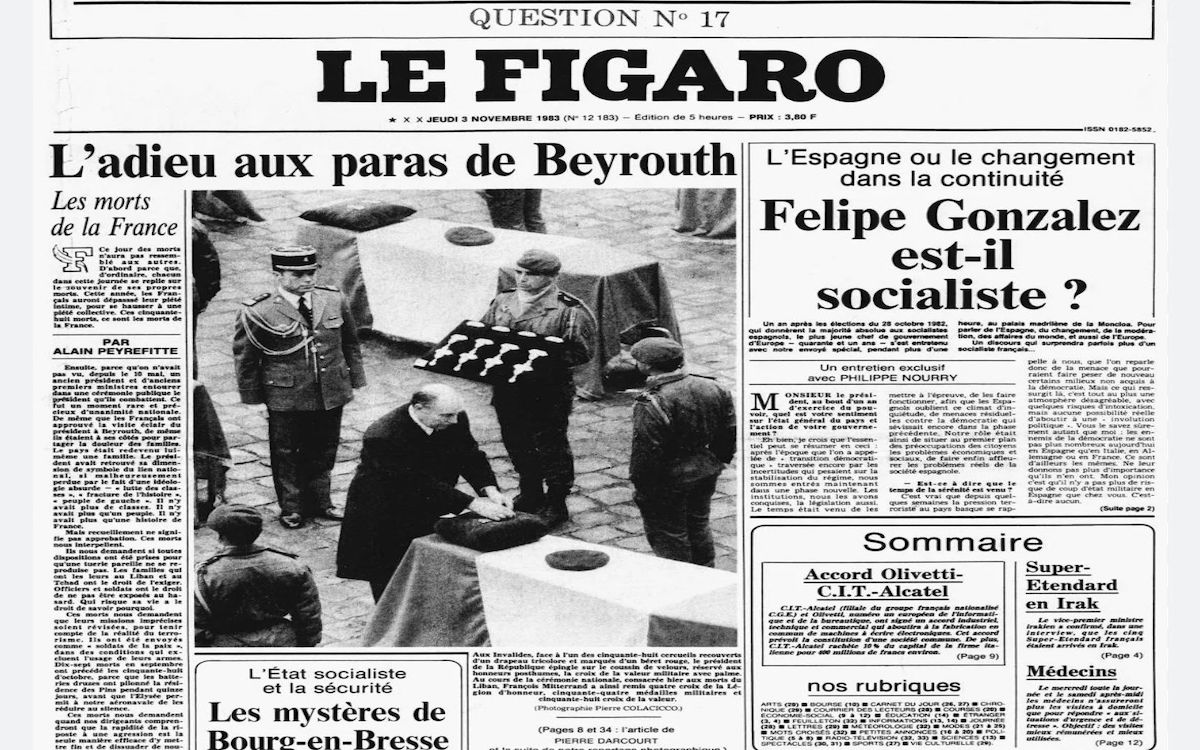 Dear Mr. Jean-Yves Le Drian
We are ecstatic and somewhat thankful that you are visiting our country to mediate the impasse we have reached. However, because of the refusal of Hezbollah and its assortment of allies to allow for democracy to normally operate, France, or perhaps President Macrons',  insistence to normalize factions who have turned violence into a way of life, is and will always remain an insult to the values we hold dear. These same values, which are enshrined in the constitution of the French Revolution, we will always hold supreme.
As you sit across those who are responsible for the killing of your countrymen, the 58 peacekeepers of the Drakar regiment in October of 1983, remember that their blood, and that of my good friends Lokman Slim and Samir Kassir, as well as tens of those who refused tyranny, have mixed as one and can never be tarnished by the what your administration calls politics.
Thank you again, and do come back – but when you get your values in order.
Justice Even if the Heavens Fall.
Cher Monsieur Jean-Yves Le Drian,
Bien que nous soyons ravis et quelque peu reconnaissants que vous visitiez notre pays pour médier l'impasse à laquelle nous sommes confrontés en raison du refus du Hezbollah et de ses alliés de permettre le fonctionnement normal de la démocratie, la persistance de la France, ou peut-être celle du président Macron, à normaliser des factions qui ont fait de la violence leur mode de vie, reste et restera toujours une insulte aux valeurs qui nous sont chères, les valeurs inscrites dans la constitution de la Révolution française et celles que nous tiendrons toujours pour suprêmes.
Alors que vous vous asseyez face à ceux responsables de la mort de vos compatriotes, les 58 casques bleus du régiment du Drakar en octobre 1983, rappelez-vous que leur sang et celui de mon cher ami Lokman Slim et de Samir Kassir, ainsi que celui de dizaines de personnes qui ont refusé la tyrannie, se sont unis et ne peuvent jamais être ternis par ce que votre administration appelle politique.
Merci encore. Revenez, mais seulement lorsque vous aurez rétabli vos valeurs.
La justice, même si les cieux s'effondrent.
Makram Rabah is the managing editor at Now Lebanon and a lecturer at the American University of Beirut, Department of History. His book Conflict on Mount Lebanon: The Druze, the Maronites and Collective Memory (Edinburgh University Press) cover collective identities and the Lebanese Civil War. He tweets at @makramrabah.
The opinions expressed are those of the author only and do not necessarily reflect the views of NOW.