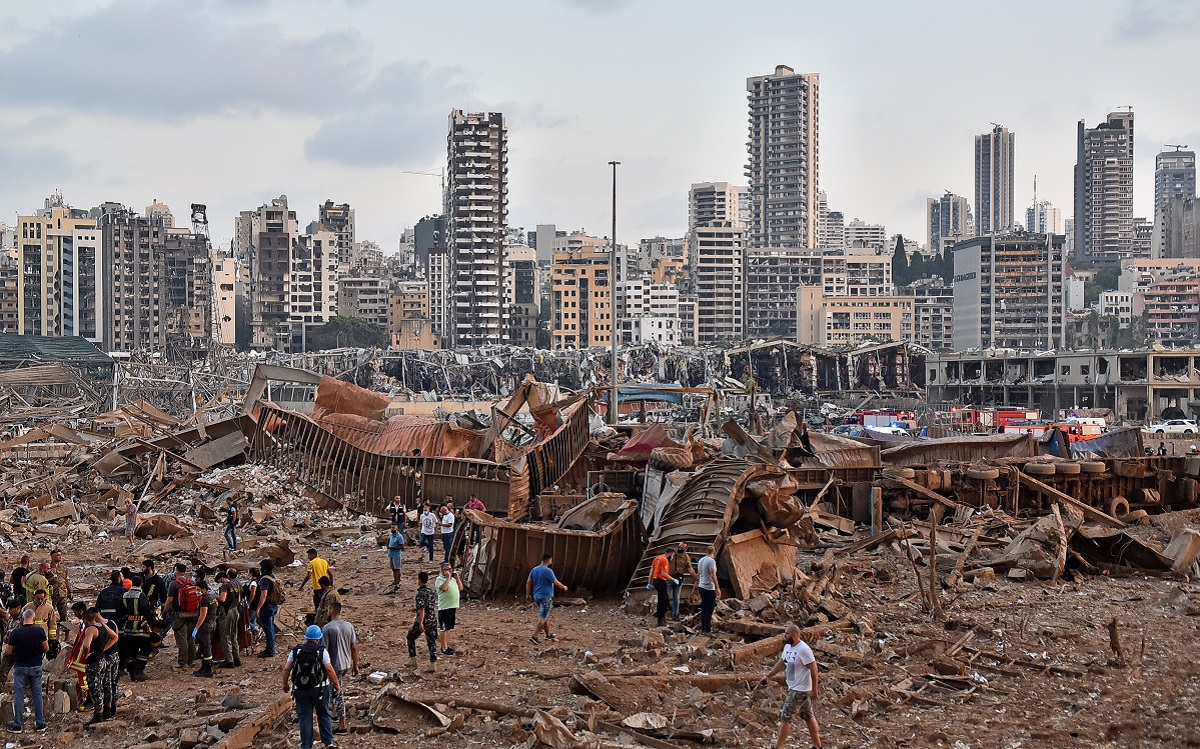 The scene of the Beirut port blast on August 4, 2021. Photo: STR, AFP.
On July 2, nearly 11 months after the Beirut blast, investigative judge Tarek al-Bitar gathered a few journalists he trusted and shared some news. 
He had sent letters to the Prime Minister's office, the Parliament, Ministry of Interior, Beirut Bar Association, Tripoli Bar Association. Every institution concerned with lifting immunities and issuing permissions that allow magistrates in Lebanon to question members of the Parliament, lawyers and security officials. Something that almost never happens in Lebanon. 
The news was on all agencies within the hour and spread to local and international media. Al Bitar, the head of the Beirut port blast probe, was requesting that the Lebanese Parliament lift immunities for three former ministers who were to be charged in the case. The judge was also requesting that the Minister of Interior allow the head of the General Directorate of the General Security, an agency in charge of foreigners in Lebanon, to be investigated in the case. 
Bitar wasn't going to make the mistake his fired predecessor Fadi Sawan had made when he summoned politicians without looking at immunities, permits, and requests. He was to follow the procedure by the book. Letters were not only sent to state institutions, but also to the Bar Associations of Beirut and Tripoli, as some of the politicians were active as lawyers. He asked the Prime Minister's office for permission to investigate security officials and the caretaker PM himself. 
His moves were hailed by families of the Beirut blast victims, who have been trying for a year to put pressure on the government to speed up the investigation. The next day after Bitar's announcement, they staged a sit-in in front of the justice palace in support of the judge. 
A television reporter compared Bitar to Italian anti-Mafia magistrate Rosario Livatino, who was assassinated for his bold probes and was later beatified. 
The judge's bold moves against government officials in the blast probe raise questions over the safety of magistrates and investigators' in Lebanon. 
The Judicial Independence Coalition, an NGO that promotes the independence of the legal system, released a statement on Friday slamming a continuous discrediting campaign against Bitar. The campaign has been questioning his decisions, as well as his independence and connections to high-ranking political figures, the release said. 
Bitar, the statement says, was accused of political targeting and was falsely accused of meeting with political leaders
"Therefore, as a coalition, we confirm that we have gathered around Judge Bitar in support of him in his efforts, calling on the living community forces and all those who want to find the truth, to support him in the face of all attempts of extortion and intimidation against him," the statement stressed. 
"I know from my own personal experience that fear always accompanies us no matter what we do, your own personal safety is on you."
Hassan Bazzi, lawyer
The safety of magistrates and investigators is, indeed, an old problem in the Lebanese justice system, and it is also largely undiscussed in mainstream media. Bitar risks at least his personal safety to push for indicting high-ranking politicians, some civil society organizations and legal experts warn. 
Investigators, be they security officers, magistrates or lawyers, leading high-profile probes or filing uncomfortable cases often risk their lives to find evidence and prosecute crimes.
In 1999, gunmen opened fire in a courtroom in Sidon, South Lebanon, killing three judges and the prosecutor. Five others were wounded. Twenty years later in 2019, six people from the Sidon-based Palestinian camp of Ain al-Hilweh camp were sentenced to death in the case. 
Internal Security Forces captain Wissam Eid, a telecommunications expert who revealed the network that had planned the assassination of former Lebanese Prime Minister Rafik Hariri by looking at cell phone usage patterns, was killed in a targeted bombing in Hazmieh region of Beirut on January 25, 2008. The investigation into his death reached nowhere. 
His superior officer Wissam al-Hassan was also murdered in October 2012 by a car bomb that rocked the Beirut neighborhood of Ashrafieh. The investigation also did not conclude. 
"I trust that [Bitar] understands the risks he's facing but I admit I'm worried about his safety," Hassan Bazzi, a Lebanese lawyer stated. "I know from my own personal experience that fear always accompanies us no matter what we do, your own personal safety is on you. So for me, I own a gun and that's how I protect myself," he added.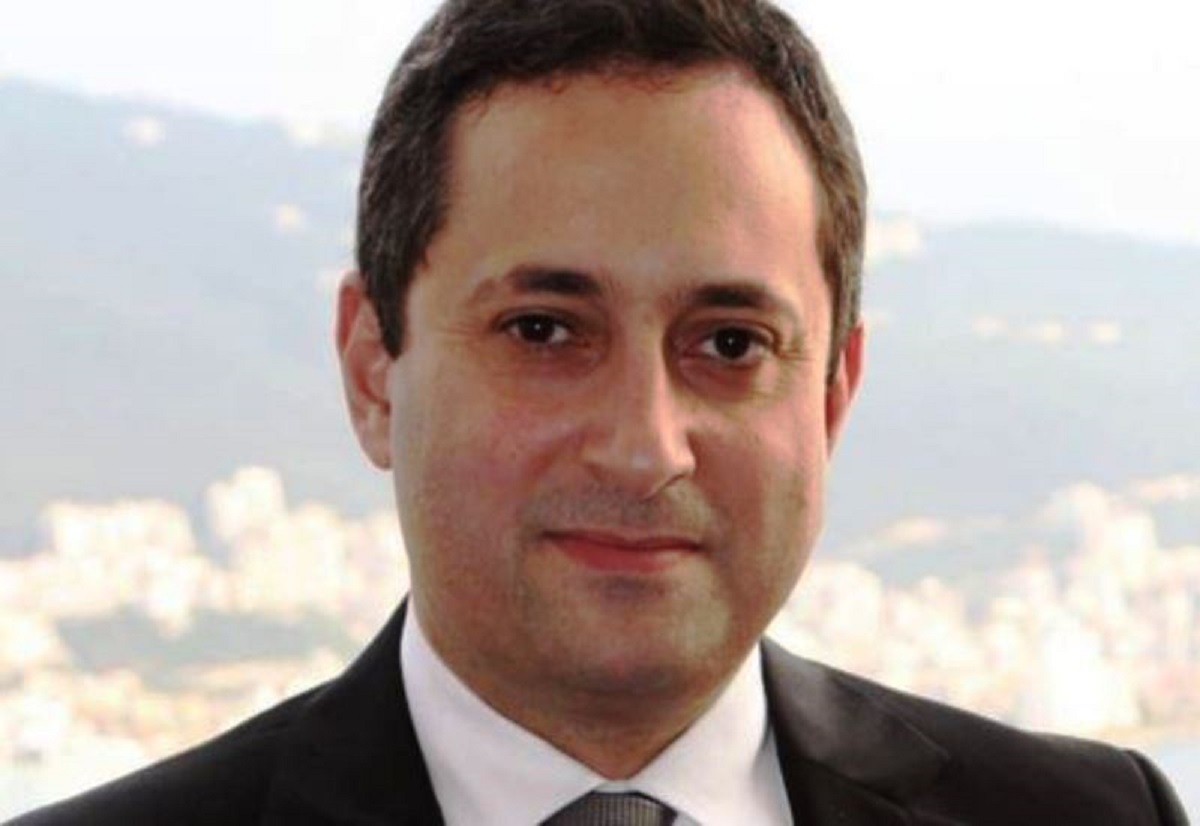 The second choice
Having earned his law degree from the Lebanese University, Bitar began his career as an attorney until he became the sole criminal judge of North Lebanon until 2010. He became the president of the criminal court in Beirut in 2017 and recently, the forensic investigator in the August 4 case file.
Throughout his career, he investigated and prosecuted the killers of Roy Hammouch, a 24-year-old engineering student that was shot after a traffic dispute on the Dora Highway. He also investigated the murder of George Al Rif, who was stabbed multiple times in broad daylight in Gemmayze, following a feud over a car collision. Both cases ended with the killers sentenced to death. 
He also investigated the case of Ella Tannous, an 8-month-old girl who lost her legs and arms due to a medical error in one of the very few cases of malpraxis that made it to court in Lebanon. The family received 10 billion Lebanese Lira in compensation from the physicians and the hospitals. The ruling issued in May triggered outrage in the medical industry, with several hospitals refusing to receive patients.  
Bitar was the first choice in leading the probe into the Beirut blast in August 2020, but he rejected the appointment without giving a clear explanation. 
Judge Fadi Sawan, 60, was then appointed to lead the case in August 2020. But after several months of procedural complaints from suspects and witnesses, Sawan was removed from the case in February by the Supreme Court.  Two former ministers, Ali Hassan Khalil and Ghazi Zaiter, whom he wanted to prosecute for criminal negligence, filed a complaint against Sawan accusing him of not following procedure and not requesting their immunity to be lifted. The court based its decision in part on damage to Judge Sawan's own home from the port explosion, which it said had raised questions about his impartiality.
Bitar then took the case.
"I took on the case because I felt like I had a responsibility as a judge, especially towards the people. I won't choose relaxation over the case. And I promise that I will reach the truth and I will reach results, I will reach everything. Even though 90 percent of the Lebanese might curse me, I will tell the truth," he said in a statement to the media. 
NOW has sent a request for an interview to judge Tarek al-Bitar, but received no answer until the time of publication. 
"I took on the case because I felt like I had a responsibility as a judge, especially towards the people. I won't choose relaxation over the case. And I promise that I will reach the truth and I will reach results, I will reach everything. Even though 90 percent of the Lebanese might curse me, I will tell the truth."
Tarek al-Bitar
Lawyers backed Bitar's appointment as an investigator, and the victims' families fully supported him, especially after his decision to request lifting the immunity of ex-finance Minister Ali Hasan Khalil, former public works minister Ghazi Zaiter and ex-interior minister Nohad Machnouk, currently all MPs. 
The lack of communication during Sawan's mandate had made matters difficult for the lawyers that were not hearing back about demands, in addition to sudden arrests of low-ranking clerks in the port administration. 
One of these lawyers was Mazen Hotteit, a representative of foreign workers from the port explosion victims group. 
"Why were the customs called for investigation a month after the explosion? Why not immediately? Plus, he [Sawan] could have hurried with the immunity file but he didn't. He even stayed at home for 30 days because of Covid and the whole case was brought to a halt," Hotteit said.
According to the lawyer, Bitar, on the other hand, took a month to study the file and organize its thousands of pages by numbering them. He also called witnesses in for hearings that would last up to 12 hours, hearing statements from 25 suspects. He was also more open with the press about the course of the investigation. 
Delays and decoys
When the port explosion happened, the government used the excuse of a sinking ship that was going from Georgia to Mozambique that had to empty its containers of ammonium nitrate at the Beirut Port. 
For Hotteit, this was a sort of decoy to divert the people's attention from the truth. 
The government also seemed to not take the explosion case seriously, hence why it never predicted the lead investigator to get this far.
"For a while, we forgot there was even a file," Hotteit said. "They gave us this scary image of reality, then the Public Prosecution Office completely ignored him and didn't get him the help he needed. He was not being taken seriously."
To their surprise, the judge turned out to be quite serious and intent on doing everything by the book. His requests to lift immunity made some noise within government ranks. The Parliament committees met at the house of Parliament Speaker Nabih Berri, leader of the Amal Movement. Two of the politicians indicted, Khalil and Zaiter, are also Amal Movement members. The committees requested Bitar to submit evidence against the three MPs. The parliament also signed a petition on July 21st asking to withdraw the request. 
According to Hotteit, government officials aimed to play it smart by creating a private court of eight members to prosecute the ministers themselves. 
"We don't know who these eight members will be and if they are worthy of such positions but they'll most likely be of one political party prosecuting members of their political party."
Deputy House Speaker Elie Ferzli also requested the documents and evidence compiled by the lead investigator before allowing the lifting of immunity of officials summoned in the probe. However, Hotteit mentioned, such a request is not mandatory by law. 
Bitar then asked for the head of the general security, Abbas Ibrahim, to be brought in for interrogation, but was told by the discriminatory attorney general that he should listen to him as a witness first and gather more evidence.
Facing political obstacles at every corner, Bitar's popularity grew among the Lebanese, who took to social media to slam the MPs who signed the petition against him. The hashtags #nitrate_deputies and #deputies_of_shame started trending on social media.
The victims' families and protesters who came from the October 2019 anti-establishment movement broke into the residence of Interior Minister Mohammad Fahmy on July 14 and clashed with his security after trying to place empty coffins in his yard for his refusal to allow Ibrahim's questioning.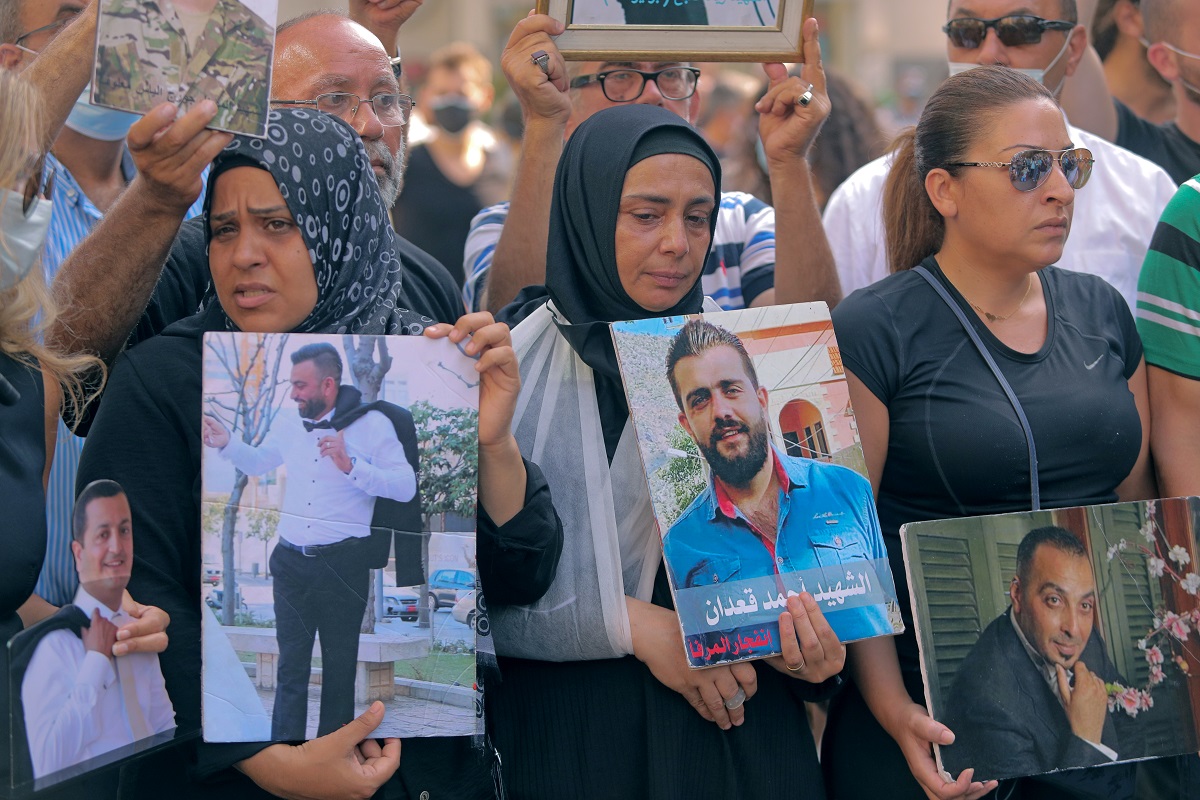 Stirring the waters
Threats against magistrates who do not comply with the norms of silence are common in Lebanon. According to sources from the legal system who spoke to NOW on condition of anonymity, judges who handle high-profile cases need protection and often receive death threats. 
Lebanese lawyer Majd Harb, who together with other young lawyers filed several lawsuits against high-profile politicians on corruption grounds, says that there are two ways magistrates are silenced in Lebanon: character assassinations through smear campaigns,s or by physical force such as attacks and assassinations.
One of the victims of physical assaults was the Lawyer Wassef Harake, who was attacked and beaten by four people on motorcycles on July 3, 2020.
"When you file lawsuits against popular parties, you get comments and messages on social media that are scary, but it's normal, it comes with the territory," Harb stated.
Harb said that character assassination as a way to obstruct a judge's work and make him lose credibility is also widely used. 
"When you file lawsuits against popular parties, you get comments and messages on social media that are scary, but it's normal, it comes with the territory."
Majd Harb, lawyer
"It's now being used against Bitar by saying he leaked information to the press which he did not."  
Bitar has just been more transparent than most magistrates, Harb explained. 
"Bitar is poking the hornet's nest," he said. "He's crossing lines that haven't been crossed before. The safest option would be for him to get a verdict before they get to him, otherwise, they might do anything to stop him." 
But he says a fast prosecution and verdict would be hard to achieve, given the political pressure and the strong hold the executive power has on the justice system in Lebanon. 
Shady Kardouhi, a Lebanese judge who, unlike many of his fellow magistrates, posts regularly on his Facebook page messages criticising the government, says he was bullied and threatened numerous times. 
"The battle is fierce and they will do anything to silence us or distract us… They will try to buy our silence but we won't deserve our title if we accept," he said. "My family and I have been bullied, I have lost several contacts ever since I started voicing my opinion but I won't stop because I firmly believe that justice will be served one day." 
According to Hotteit, who said he has himself received threats, ensuring the safety of magistrates and even lawyers assigned to important cases would be the first step to ensure a functioning legal system.
"Judges and lawyers are like any other civilian, you never know when the bullet will hit you."
Hassan Bazzi, lawyer

He says that the benefits of being affiliated with the political parties are many, from status, money, travel and houses, but beyond everything is the need to feel protected.  
"As for the judge Bitar, only the people will protect him," he explained. "That's what the government is afraid of, the people supporting the judge and the judge supporting the people and they will do their best to damage that bond."
But is that enough protection? Many lawyers and judges remain affiliated with political parties conducting cases against political adversaries of their patrons. Above all perks of political affiliation comes protection and personal safety ensured. 
Hotteit says that Bitar and his bold moves gave people hope that the probe into the Beirut blast might bring justice to the more than 200 victims of the port explosion. 
But many know that hope could be cut short at any time and most magistrates are aware of the risk. 
"Judges and lawyers are like any other civilian, you never know when the bullet will hit you," Bazzi stated. 
Dana Hourany is a multimedia journalist with @NOW_leb. She is on Instagram @danahourany.