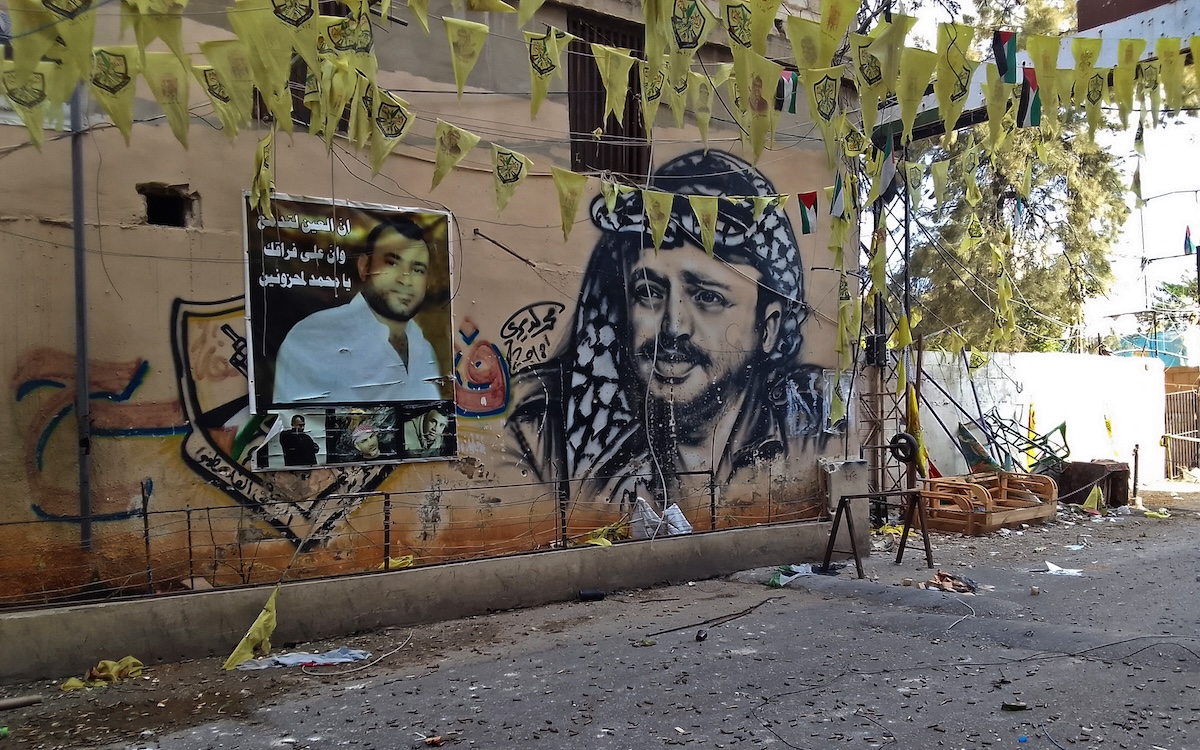 This picture shows empty casings on the ground in front of a mural painting of late Palestinian leader Yasser Arafat (R) following clashes between the Fatah movement and Islamists inside the Ain el-Helweh Palestinian refugee camp on the outskirts of the southern coastal city of Sidon on August 1, 2023. Photo: Mahmoud Zayyat, AFP
After Hamas, the militant Islamist group that governs Gaza, carried out Operation "al-Aqsa Flood" on October 7, which killed an estimated 1,400 Israelis when the group's soldiers crossed into southern Israel from Gaza, taking over 230 people hostage in the process, the Israeli government, headed by Prime Minister Benjamin Netanyahu, charted a war path with the goal to wipe Hamas off the of the face of the Earth.
"All the places that Hamas hides in, operates from, we will turn them into ruins," Netanyahu said the following day.
In the weeks since then, Israel has waged a relentless bombardment of the Palestinian enclave, killing over 8,000 people, mostly civilians, so far, and has started its ground incursion to root out Hamas.
As the fighting has gone on, there have been talks amongst the international community to negotiate the release of the hostages as well as what a post-war Gaza might look like.
One of these proposals for a post-war Gaza that was floated would see the Hamas leadership in Gaza leave the area to be relocated to the Ain el-Hilweh refugee camp in southern Lebanon.
Once the idea was leaked, the reaction in Lebanon was almost instantaneous, with Lebanese from across the political spectrum largely shooting down the proposal.
"This is an early proposal. What any broker would do is set forward scenarios for the next phase and float discussions and pass on proposals. Since the Israelis went into this operation stating really high objectives, they're trying to find a way out. Part of the brokering attempt is to see which ways everyone can save face," Mohanad Hage Ali, the deputy director for research at the Beirut-based Carnegie Middle East Center and who was the one to first make the proposal public, told NOW.
While the proposal appears to not have gone any further, for some, the fact that it was even brought up is indicative of how the international community views Lebanon.
"If it turns out to be true, the simple fact that people still think that Lebanon could host such groups when they are no longer wanted in any other country is an indication that the old patterns of thought have not yet changed vis-à-vis Lebanon," Karim Bitar, an associate professor for international relations at Lebanon's Saint Joseph University, told NOW.
The world's dumping ground
There is precedent for sending the Hamas leadership to Lebanon.
Yasser Arafat and Fatah largely worked out of Lebanon until they were forced out in 1982 after the Israeli invasion. This was because, in 1969, Arafat and the Lebanese government signed the Cairo Accord that allowed the Palestinian camps to act as sort of havens for the Palestinian militias in Lebanon outside of the authority of the Lebanese state.
During that time, Fatah and its splinter groups launched attacks on Israel and even played a role in Lebanon's civil war that started in 1975 after Christian and Palestinian militias began fighting.
Following the Israeli invasion, Arafat and Fatah relocated to Tunisia where they remained until the Oslo Accords were signed in 1993.
Although it was several decades ago, Fatah's presence in Lebanon remains a sore point for many Lebanese.
When Sinwar goes into the camp, it will definitely be a push against Fatah and, with Hezbollah's assistance, they can finish it. They can't destroy Fatah but they can limit Fatah's control of the camp even further.
So, when news spread that there was talk about moving the Hamas leadership to Lebanon, this did not sit well with many.
"For the Lebanese people it sends a very bad signal," Bitar explained. "It reawakens several Lebanese historical traumas related to our country in the past decades going all the way back to 1969."
While most Lebanese support the Palestinian cause, few in the country support the idea of the leadership of an armed group being based in their country – especially when it could have severe consequences.
"This should not be treated carelessly even if it was an essay balloon and they were just testing an idea. It is indicative of a state of mind in which regional and international powers still view Lebanon as the weakest link – the country where you can send all of those no one no longer wants to host," Bitar said.
One of the most immediate consequences would be in the Ain el-Hilweh camp which is currently under the control of Fatah.
A shift in power
Twice this year, fighting broke out in Ain el-Hilweh between Fatah and Islamist militants over control of the camp.
Dozens of people were killed and injured in the fighting, and hundreds more were displaced from their homes as they tried to escape.
A ceasefire was brokered between the warring sides, but tensions remain and fighting could reignite at any moment.
Fatah also remains unpopular amongst Palestinians and have had a hard time garnering and maintaining their support when compared to other groups that are actively fighting the Israeli occupation and have major figures residing in Lebanon. And, with Fatah sitting on the sidelines while groups like Hamas and Islamic Jihad are launching rockets at Israel, it puts even more pressure on Fatah in places like Ain el-Hilweh.
"Fatah doesn't have a super senior official in Lebanon. It doesn't have a charismatic leader. [Saleh] al-Arouri is a fighter who is under threat from the Israelis. He's really part of the resistance against Israeli occupation," Hage Ali explained.
"And for Palestinians living in the camp, they see Arouri, they see Ziyad al-Nakhaleh, the secretary-general of [Islamic] Jihad, they see all of these figures and they think 'okay, these are the resistance.' And you can imagine after October 7 that Fatah popularity is really under a lot of strain."
In the event that the Hamas leadership is moved to Ain el-Hilweh, it could push Fatah to the side as groups like Hamas and Islamic Jihad are closely supported by Hezbollah.
The Israelis, security-wise, will move into Lebanon and strike Hamas figures on Lebanese territory. There would be more preemptive Israeli strikes everywhere and that's something Hezbollah has to tolerate and not respond to.
Some of the names that were proposed to be moved to Ain el-Hilweh include Yahya Sinwar, the head of Hamas in Gaza, and Marwan Issa, the deputy head of Hamas's military wing, al-Qassam Brigades. For others in the leadership being relocated, the ones who are closer to the pro-Iran bloc within Hamas would also likely relocate to Lebanon while others, who are less aligned with Iran, might choose to go to countries like Qatar or Turkey.
"When Sinwar goes into the camp, it will definitely be a push against Fatah and, with Hezbollah's assistance, they can finish it. They can't destroy Fatah but they can limit Fatah's control of the camp even further," Hage Ali stated.
But even the local implications of bringing the Hamas leadership to Lebanon pales in comparison to what it could mean when it comes to how Israel would respond.
New escalations
In the aftermath of Operation al-Aqsa Flood, Israel said that it was going to completely wipe Hamas out. This would not be likely to change just because some of the most senior figures moved to Lebanon.
This would put Hezbollah in a tough position.
To start, the "resistance on all fronts" tactic that Iran was implementing, a plan that looked to have heavily armed and unified groups surrounding Israel on all sides, would have officially failed as Hamas would no longer be in Gaza.
Israel would also likely then seek to eliminate the Hamas leadership in Lebanon through assassinations. With the threat from Gaza neutralized, Israel could then focus all of its energy to its northern border with Lebanon.
"The Israelis, security-wise, will move into Lebanon and strike Hamas figures on Lebanese territory. There would be more preemptive Israeli strikes everywhere and that's something Hezbollah has to tolerate and not respond to," Hage Ali said.
This situation would be a significant loss for Hezbollah.
In the hopes of preventing Israel from taking these preemptive strikes, Hezbollah would have to essentially establish a new Gaza in Ain el-Hilweh, keep Hamas and Islamic Jihad from carrying out any operations in the South, and limit the Palestinian groups' activities to the camp.
Even this does not guarantee that Israel would not take action against Lebanon.
Hezbollah arguably poses an even bigger threat to Israel than Hamas and, with Hamas dismantled in Gaza, Israel could turn to Lebanon and decide that it is time to deal with Hezbollah.
Because of this, Hezbollah, while not looking for a war with Israel right now, will have to escalate its confrontation with Israel to help avoid Hamas's destruction. With Hassan Nasrallah, the secretary-general of Hezbollah, set to make his first public appearance since the war began on November 3, this progressive escalation will likely start following the afternoon speech.
However, internal factors in Israel could force Israel from following through completely on its military goals.
The families of the hostages in Gaza have been very vocal in demanding that the Israeli government shift its priority from a military campaign to the ongoing negotiations to release the hostages.
"The question is that if there is a release of civilian hostages in the Gaza Strip in return for civilians, women and children, that would create some momentum for negotiating the military personnel held by Hamas," Hage Ali stated. "With more of these negotiations, we will see some opening and time is not on Israel's side in that the internal dynamics in Israel could lead to toppling Netanyahu and going for an election."
If Israel ignores the pleas of the families and pushes forward with the ground invasion, Hezbollah would be compelled to steadily escalate the fight from Lebanon in which case Israel would use disproportionate force – leading to widespread death and destruction – but it would also "take some of the pressure off of Hamas as the squeeze from the Israeli side continues."
There are other more moderate proposals that could work to end the fighting all the while allowing the Hamas leadership to remain in Gaza
According to Hage Ali, one such proposal could be an Arab force mirroring that of the United Nations peacekeeping force in South Lebanon that would be tasked with maintaining peace between Gaza and Israel. 
"Hamas could accept this middle-ground reality, but it is still too early for all of these suggestions," Hage Ali said.
Netanyahu, along with the United States, has repeatedly refused calls for a ceasefire, with Israel in particular showing little interest in bringing an end to the fighting.
In the meantime, as Israel continues its air bombardment and ground invasion of Gaza, countless more people are going to die.
Nicholas Frakes is a journalist and photojournalist based in Lebanon reporting on the Middle East. You can follow him on Twitter @nicfrakesjourno.