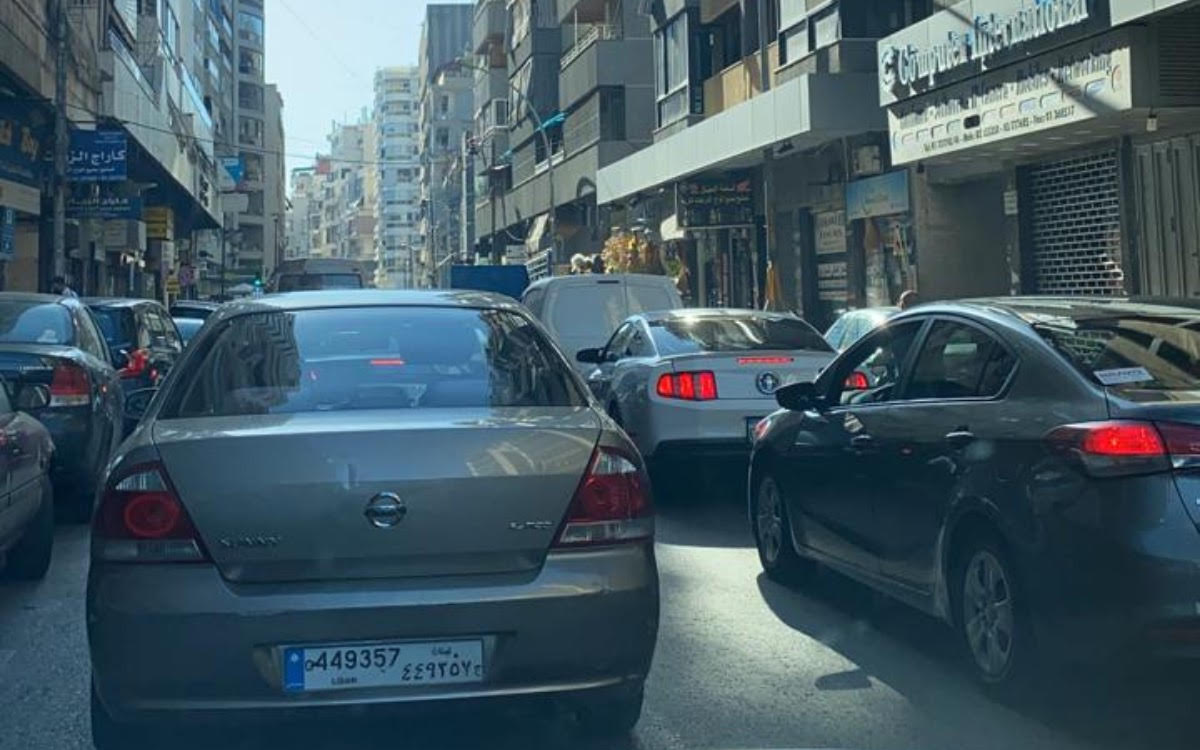 When the price of 20 liters of gasoline will jump to 70,000 LBP and, consequently, the cost of a service (shared cab) ride rise up to LBP 9,000. Inner-city taxi rides will cost a whopping LBP 45,000. Photo: Tala Ramadan, NOW.
Taxi driver Jawdat Charbatli, 46, would often begin his day in Beirut's Hamra Street, a once busy neighborhood with hotels full of foreigners, where he could easily catch $100 worth of fares to the airport daily. 
But not anymore. On a Wednesday morning, he was parking his car and he didn't plan to move it that day. No one would be waiting for a ride, as tourists in Beirut after a year of lockdowns triggered by the Coronavirus pandemic have become scarce. 
"There is no work for me for the past month," Charbatli told NOW. 
"Ever since the first [Coronavirus] lockdown was imposed, my vehicle has been parked most of the time. My family has run out of money and we are unable to meet our basic needs." 
Lebanon's public transportation relies largely on share-a-ride taxis and private minibuses.  But as a result of an economic crisis that has seen the local Lebanese pound crash, fuel has been rationed and petrol stations owners have been refusing to sell fuel to stranded drivers at the government-set price.
In March, Minister of Finance in Lebanon's caretaker government Ghazi Wazni announced that fuel subsidies would gradually be lifted. The minister stated that the easing of subsidies would go from 90 percent to 85 percent and that would continue to decrease as dollar reserves dwindle.
Moreover, the Ministry of Economy erected patrols to check that gas stations complied with the government imposed prices for fuel, especially after petrol stations in some regions in South Lebanon started to charge consumers more. 
But subsidies are slowly vanishing and fuel shortages have become more frequent at the beginning of 2021, with minister of Energy Raymond Ghajar saying that the cause is fuel smuggling to Syria. 
According to Gherbal Initiative, a Beirut-based research group, gasoline prices in Lebanon increased 66 percent, and diesel prices rose 77 percent in the last five months.
As far as cabs are concerned, sooner or later, Lebanese may have to either pay ten times the price for their usual ride or …walk.
Facing a double crisis
Marwan Fayad, head of the Public Transportation Drivers Union, told NOW that cab drivers in Lebanon relied on students and office employees who commuted daily across Beirut neighborhoods. But after the Coronavirus hit Lebanon, schools and universities were closed and most businesses shifted to working remotely.
"The situation is catastrophic," he said. "Almost 85 percent of taxi drivers have stopped working, and the rest of them who are still operating aren't able to make much money under the current economic circumstances, coupled with the pandemic," Fayad told NOW. 
In June 2020, Minister of Public Works and Transport Michel Najjar pinned the service price at 3,000 LBP and the minivan price at 1,500 LBP; previously, a service fee was 2,000 LBP and a van fee was 1,000 LBP.
Nine months later, In March 2021, after an agreement between the union and the Ministry of Transportation, Head of the Land Transport Union, Bassam Tleis announced a 30 percent increase in all transportation tariffs, resulting in 4,000 LL service rides. 
The national taxi association has asked the government for an emergency budget to keep the prices low, but has not received a response. 
Tlais sounded the alarm in April again and warned of the effects of lifting the fuel subsidy on the people of Lebanon.  
"We are heading towards a social explosion and an increase in living costs that Lebanon did not witness even during the war," Tlais said.
Tlais told NOW that the government has already started lifting fuel subsidies and the effects are dramatic: rationing fuel consumption to 12 liters per week. 
"When the subsidies are lifted, prices at gas stations will be based on the black market price of the US dollar – 10,000 LBP/dollar. Not only will citizens struggle with the high prices of refueling their cars, but they will also lose the "cheap" alternative that was once public transportation."
According to Tlais, the price of 20 liters of gasoline will jump to 70,000 LBP, and, consequently, the cost of a service (shared cab) ride rise up to LBP 9,000. Inner-city taxi rides will cost a whopping LBP 45,000.
Increased reliance on public transportation
Experts also say that, without a reliable alternative transportation system, with fuel shortages and no subsidies, Lebanon's car-reliant population will eventually have to return to public transportation and will have to pay more.
"Buying a car nowadays is impossible for average Lebanese citizens, which would push more people in non-coronavirus and dire economic times to use public transportation," Pierre Al-Khoury, a public affairs researcher and member of the Board of Directors of the Lebanese Economic Association, told NOW. "Unfortunately, people can't afford either of them."
"Lebanese citizens were able to buy cars through long-term loans that the banks funded; thus, the government allocated no funds to public transport, resulting in extensive traffic and air pollution."
The future seems uncertain to cab driver Charbatli, who says the pandemic combined with the severe economic crisis has reduced his main source of income to practically nothing. 
"I've been relying on my son who earns as little as 600,000 LBP (little over $150 a month at the bank rate and $60 at the unofficial market rate), for support since the beginning of the year because of the situation in Lebanon, and given the lockdown and the absence of passengers during the pandemic," he said.
Tala Ramadan is a multimedia journalist and head of social media with @NOW_leb. She tweets @TalaRamadan.