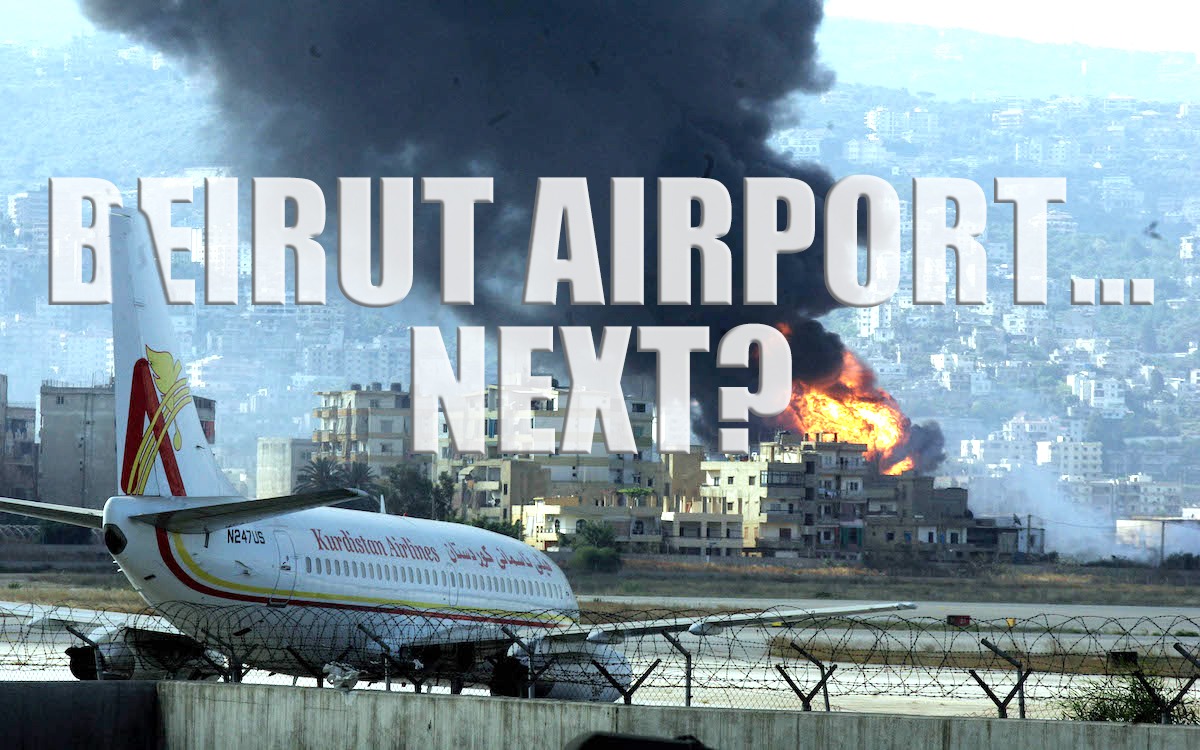 A Kurdistan Airlines plane sits July, 14 2006 on the tarmac while flames rise from the fuel tanks of the Beirut International Airport after an Israeli air strike late July 13, 2006 in Beirut. Photo: Ramzi Haidar, AFP
The public's safety at Beirut's only public airport has been called into question after a pre-audit report carried out by international aviation safety agencies found many glaring problems at the airport, as well as a recent news report detailing Hezbollah's personal use of the airport to bring in things such as dangerous and potentially explosive chemicals.
A pre-audit report carried out by the European Union Aviation Safety Agency (EASA) and the International Civil Aviation Organization (ICAO) has revealed serious failings at Beirut's Rafic Hariri International Airport, sending shockwaves across Lebanon.
First uncovered by The National, the report outlines 'systemic deficiencies' in air navigation services (ANS), including air-traffic control (ATC), communication, navigation, surveillance and meteorological services. A critical shortage of ATC staff is a particularly grievous safety issue, resulting in an overloaded workforce with a consummately higher risk of potentially deadly errors.
"[If] the Government does not take the necessary action regarding human resources, their method of work and maintenance procedures, in addition to appointing air traffic controllers capable of managing the movement, Lebanon will face an inevitable dilemma," MP Yassin Yassin told NOW.
"There is only one airport," he added. "You can imagine what would happen if it was blacklisted. There are hundreds of thousands of tourists, and businessmen whose business will be disrupted as a result of what international airlines will do to stop their flights to Lebanon."
As the global safety watchdog, ICAO regularly conducts audits of its member states to evaluate their risk assessment and oversight procedures. Lebanon's initial audit took place in 2008, and was followed by a further four missions, most recently in 2017, ahead of another approaching audit in 2024. Lebanon presently holds an overall score of 58.5, far below the global average of 69.8.
Should an immediate safety concern be identified, ICAO can 'red flag' a country for failing to comply with international aviation regulations. This would then appear alongside the results of flight safety audits, a move that would place Lebanon in the same category as countries like Bhutan, Russia, and the Democratic Republic of the Congo.
While there are technically no legal ramifications associated with such a red flag, they do inform how other nations independently make decisions related to international travel, including whether or not to suspend flights to Lebanon.
"Air traffic control is a critical thing that affects the safety of the airport," MP Ibrahim Mneimneh said. "It's important to obtain at least the minimum safety requirements. Otherwise, we become [isolated] from the region and the world. It's vital for us."
According to regulations, an airport like Rafic Hariri International Airport should have a complement of no fewer than 87 certified ATC personnel. However, the number of actual qualified staff may be as low as 15, according to an anonymous source within the Lebanese civil aviation authority, leaving the current staff dangerously overworked, with air-traffic controllers sometimes working as many as 96 hours per week.
This lack of crucial personnel is partially attributed to the country's economic crisis, which has forced pay cuts and an exodus of skilled workers who would rather take their chances abroad. This has left the airport facing serious difficulties when it comes to both retention and recruitment of ATC staff, but the report also highlights a lack of separation between regulatory bodies, the Directorate General of Civil Aviation (DGAC) and ANS service providers, resulting in compromised safety procedures, regulations, and training.
"[It is] very worrisome to see the condition of the air traffic controllers," Paul Salem, president of the Middle East Institute in Washington DC, told NOW "Beirut's airport is a lifeline for Lebanon, particularly in light of the blast that [destroyed] much of its port three years ago. There really is no alternative airport."
In spite of diminishing staff numbers and an aging workforce, local replacements have been turned away – often despite being fully qualified – on the grounds of confessional quotas designed to balance power between Lebanon's various religious sects becoming unbalanced. This has seen Muslim candidates' applications blocked, despite the clear need for additional staff.
"There were interviews and calls for applications for air-traffic controllers," Mneimneh stated, "but this was stopped at the last minute because there wasn't a balance between the Christian and Muslim proportions. Now, they're resorting to international experts, instead of appointing Lebanese air traffic controllers, and this will cost our treasury more money because they have to pay them in fresh dollars."
Air traffic controllers have attempted with successive governments and ministers to demand better recruitment, working conditions, and training to avert the situation they now find themselves in, but have been largely ignored.
For many Lebanese, this refusal by government figures to take action, despite known problems and potentially life-threatening risks, echoes the lack of accountability displayed by these same leaders in the wake of the deadly 2020 Beirut Port Explosion.
"I don't think it was that surprising, but we didn't expect it to be that bad," Mneimneh said. "This is alarming, and this needs to be addressed as soon as possible. We can [make] an improvement there if there is a political will to engage on that issue."
Concerns also remain about the amount of control the Lebanese government is actually able to assert over Rafic Hariri International Airport as – similarly to the Port of Beirut – Hezbollah maintains a strong hold over this essential point of entry. This has a direct effect on Lebanon's ability to maintain and police its own sovereignty, undermining an already struggling system.
According to a recent report, Hezbollah uses the airport as a key point of entry to bring in weapons components, such as communications equipment, parts for drones, and ammonium perchlorate which is used as a propellent in their missiles and rockets.
The US has previously raised the alarm about Hezbollah's use of the airport.
"The state does not really control the security of the airport [and it] is not considered secure internationally," Salem explained. "It's the main reason that there are no direct flights from Lebanon to the United States, which would be a big advantage for the country."
"The Lebanese state does not have control [of] all of its borders," he continued. "We have Hezbollah – an independent, armed group, answerable to a foreign country – that has a parallel sovereignty of its own. That is part of the reason Lebanon remains crippled."
With the caretaker government still paralyzed without a head of state or a mandate to execute, there are justifiable fears around the fate of the country if these systemic issues are not addressed quickly, whether due to political ramifications from outside, or another potential disaster brought about by negligence and corruption.