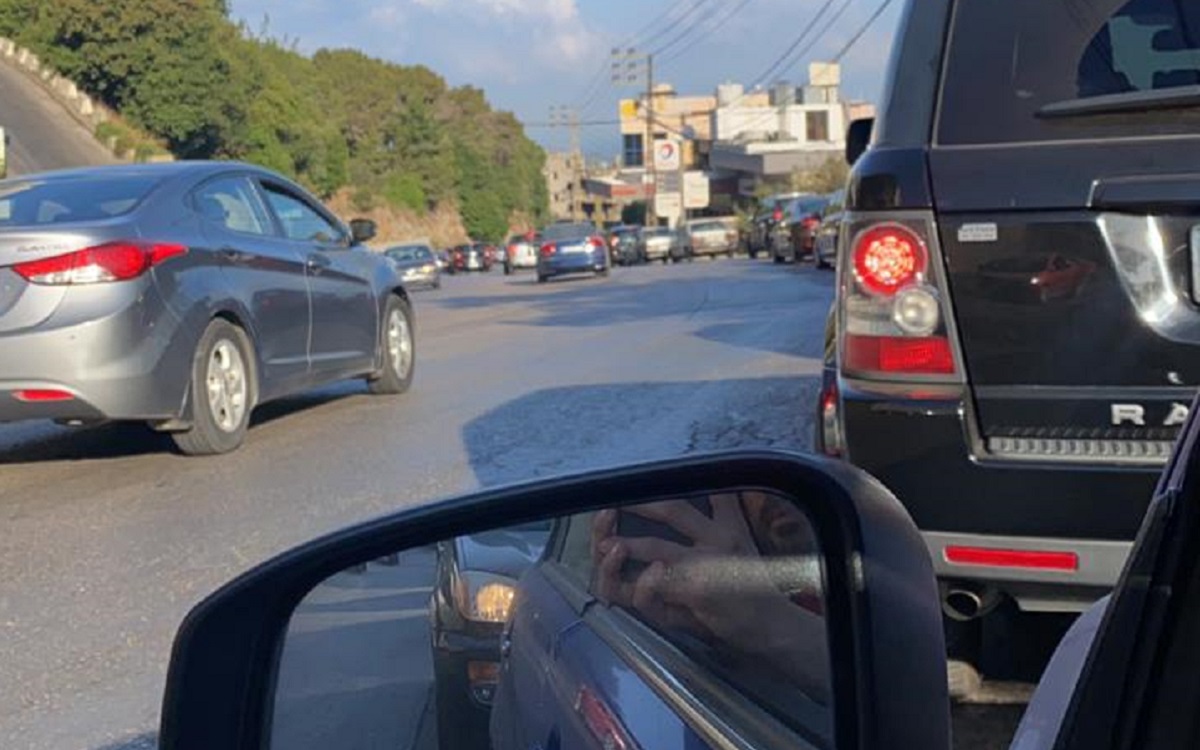 Lebanese driver lining up to get fuel at a gas station in Beirut. Photo: Courtesy of Elie Georges.
Motorists lined up for hours to fill their tanks at Lebanese gas stations on Friday and brawls and fights were reported in several locations in Beirut, as the cash-strapped Lebanese government blamed stockpiling and smuggling for the shortages.
In one instance, at a gas station in Beirut, several drivers clashed over priority in line and the quarrel ended with a fistfight and one motorist shooting in the air.
An old man pushing his car to make it to the pump drew outrage on social media. So did a video of a motorist trying to scare other drivers away by threatening them with snakes.
Filling the gas tanks has become a daily ordeal for the Lebanese, two years after a financial crash triggered a drastic devaluation of the local currency. While the Lebanese central bank has been pinning the US dollar to 1,500 Lebanese pounds (LBP) for over two decades to stabilize the currency, the commercial banks sell the dollar for 3.900 LBP, while the actual market exchange rate has reached 13,000 LBP and occasionally went even higher.
In this context, the government has used most of its foreign reserves to subsidize fuel, medicine and some foodstuffs. But as money runs out, releasing credit lines for acquiring fuel and honoring the promise has become difficult for the Bank of Lebanon (BDL).
View this post on Instagram
"Enough fuel for two weeks"
Lebanon's central bank on Thursday announced that Lebanon should have enough fuel to sustain daily life. The institution said in an official statement that, in fact, in the first six months of 2021, Lebanon imported over 10 percent more fuel than it did in the same period of 2019 when the crisis had not yet hit. 
Lebanon has stocks of 66 million liters of gas and 109 million liters of diesel fuel, in addition to the unspecified quantities available at the distribution stations, which should be enough for the Lebanese market for a period ranging from 10 days and two weeks, the bank stated.
Bank of Lebanon also announced that it will continue to grant permissions to banks to open fuel import credits. It stressed that Medco obtained the approval of BDL for the credits over two months ago in order to import two shipments of fuel with a total value of US$28 million and the quantities have not been emptied to date.
Medco replied on Friday that it indeed obtained permission from BDL to import two ships of about 24,000 tons each of gasoline and diesel, but hasn't yet received a dime of the money it had permission to use. The company said it unloaded the first ship on May 25, despite the fact that BDL did not give the green light for the payment yet. The second ship is still waiting to be unloaded, also because the central bank did not release the credit and Medco could not make the payment. 
"It is worth mentioning that, to date, none of the dues to these two ships have been paid," a representative from the company stressed.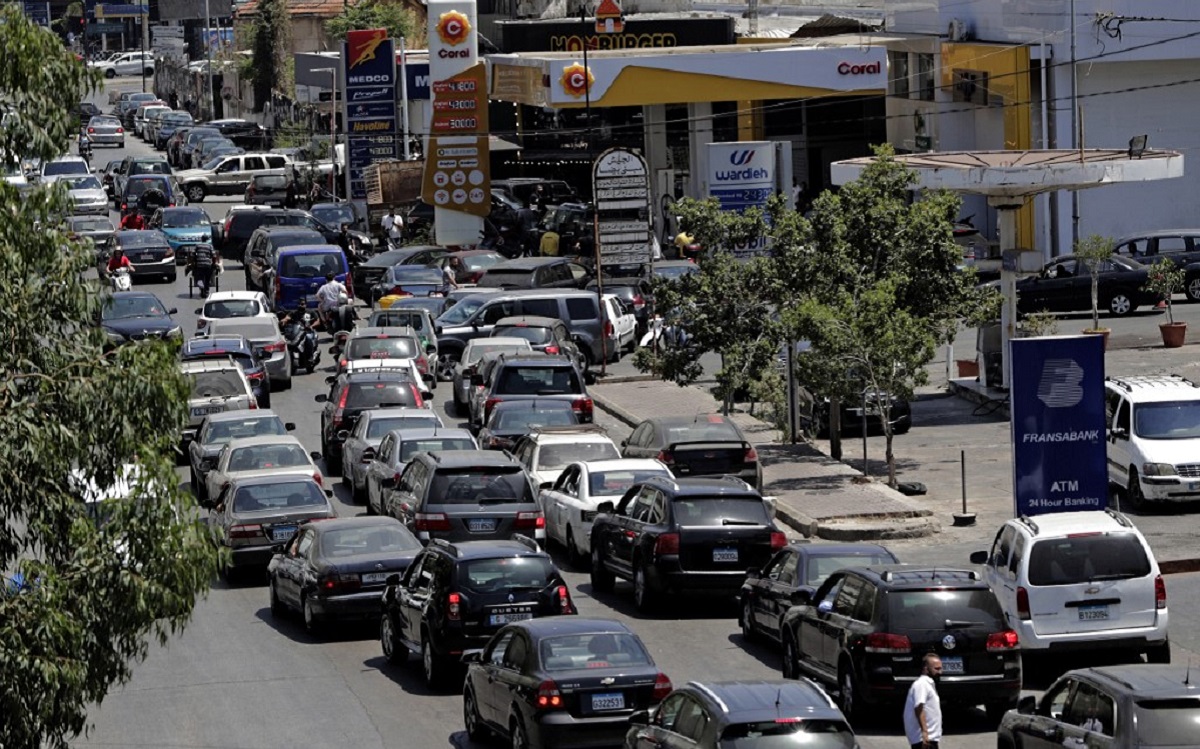 Patrolling the gas stations and arresting smugglers
For weeks, the Lebanese Ministry of Economy and Trade has been partnering with the Directorate of State Security to patrol and raid the country's gas stations in search for owners who had hoarded fuel and were refusing to sell, or sold fuel at higher prices than that set by the government. 
The State Security announced only this week that it sealed three gas stations in Western Bekaa valley because their owners stored fuel and manipulated prices. The agency also issued an arrest warrant against a gas station owner from Zahle, Central Bekaa Valley, for "selling a can of petrol at price higher than the official price and for tampering with the quantity".
Lebanon's energy minister Raymond Ghajar on April 14 blamed the country's chronic fuel shortages on smugglers exporting subsidized supplies into war-torn Syria.
Following his statement, the Lebanese Army has cracked down on fuel smuggling along the porous Lebanese-Syrian borders. During just the first 10 days of June, the Lebanese Army confiscated tons of subsidized gas and diesel as it was smuggled to Syria.

In the latest heist, the LAF announced on Thursday that it arrested six Lebanese and one Syrian in North Bekaa Valley and prevented them from smuggling almost 10,000 liters of gas and 450 liters of diesel, as well as 50 tons of flour, another subsidized product in Lebanon.

Four days earlier, on June 6, the LAF reported that it had seized 18,300 liters of gas and 4,200 of diesel on their way to Syria from North Bekaa Valley. Within three days, between June 3 and June 6, the Lebanese troops confiscated no less than 42.750 liters of diesel and 3,850 liters of gas before it was smuggled to Syria from the same region. In another heist, on June 2,  28,000 liters of diesel and 8,600 liters of gas were seized.
Generators turning off
The quest for fuel does not only mean motorists stranded in endless lines and brawls, but also, the lights going out. 
On June 3rd, Electricite du Liban, the country's battered state-owned power company, issued an official apology to citizens over the increased retaining of electricity, claiming it does not have the hard currency to purchase fuel for the country's electricity plants.
"Therefore, EDL will raise the capacity of the old Zouk thermal plant and reduce the capacity of all other plants in return due to the severe shortage of fuel oil (Grade B) and gas oil," the statement said.
Rationing electricity provided by EDL leads to an increased usage of neighborhood generators, which most Lebanese regions have been relying on for decades to supply electricity during power cuts. However, after running almost without stopping for several weeks, generator owners also announced rationing measures as they were unable to secure enough fuel. 
On Thursday, the head of generator owners' association in Sidon, Ali Buji, announced that "the generators will stop providing electricity to subscribers in Sidon starting on Tuesday because they are running out of diesel fuel."
"Don't panic"
Syndicate of Petrol Station Owners Georges Brax told the National News Agency on Friday that Lebanon indeed has enough fuel for drivers and called on Lebanese to "not to rush to the stations."

"There is no need to panic," he said. "Gas is available and distributed to the consumers, albeit in small quantities," he pointed out. 
"It is true that there is a crisis, but companies are distributing [fuel] to the local market, and with the bank's signature on the credits, the additional quantities of fuel will be available at importing companies and thus on the market".
But information from officials did not match the reality on the ground. Friday afternoon, many gas stations had closed their pumps for motorists, some because they were out of fuel, others going on strike to protest the "situation".