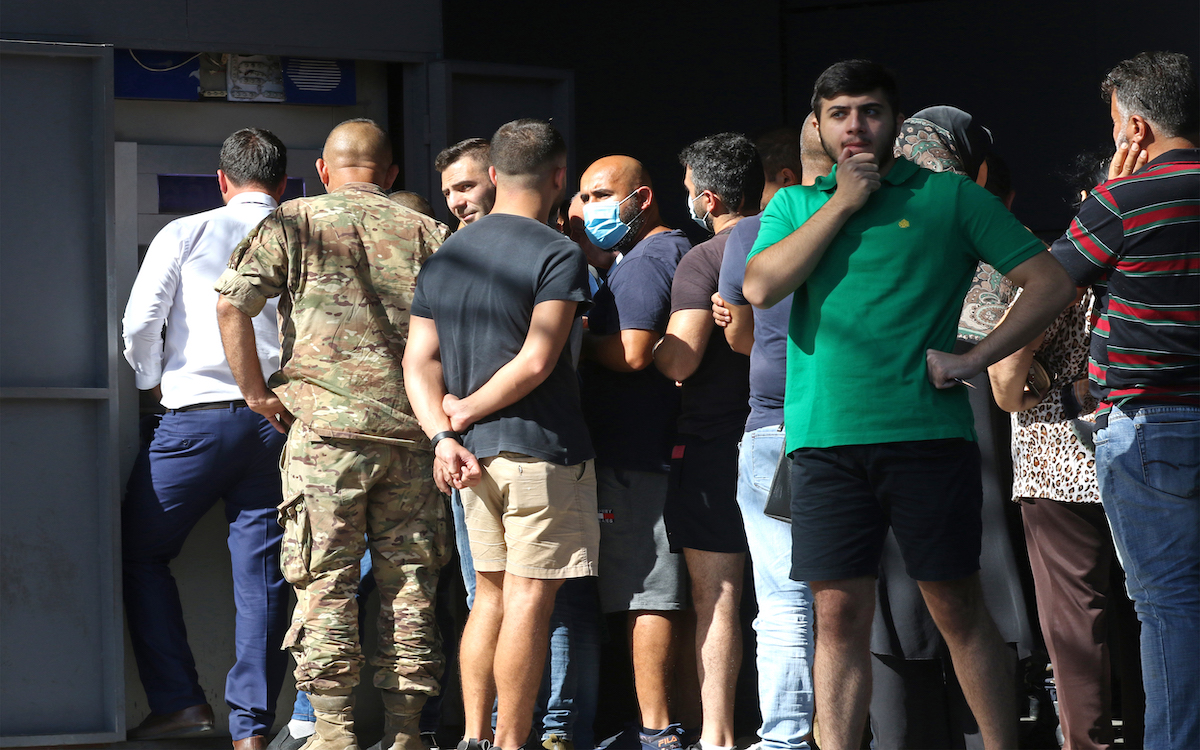 ​​Lebanese depositors queue to withdraw money from an ATM machine outside Fransabank in the Lebanese port city of Saida (Sidon) on September 26, 2022 as banks partially re-opened following a week of closure due to security concerns. Photo: Mahmoud Zayyat, AFP
29-year-old Adnan is new to Sayrafa. After the Sayrafa rate reached 38,000 per US dollar on the exchange platform last December, he changed his mind about using his bank account, which until now, lay dormant.
On December 23, the Sayrafa platform rate sat at 31,200, while the parallel market traded dollars at 47,000 pounds to one dollar.
Previously, BDL only offered a monthly withdrawal limit of $400. A new decision, however, allowed everyone to withdraw without limits.
However, this wasn't coordinated with the banks, causing further chaos for the citizens. With 100,000,000 lira in savings, Adnan was tempted to try Sayrafa for the first time in order to make an easy profit.
"I was lucky to have done it early in the month because I disliked having to wait in line and heard aggressive stories of conflicts happening at the bank," Adnan told NOW. "The least I can hope for is a profit of $500."
The Sayrafa platform is one of several exchange rates in Lebanon. The app updating on Sayrafa was launched last year to reduce the influence of black market exchanges. The platform offers an exchange rate that citizens can benefit from in specific banks and is only available to those with preexisting bank accounts.
Though Sayrafa offers a temporary alleviation from the crisis, it is also an unreliable and untrustworthy lifeline that neither citizens nor experts trust.
Dealing with Sayrafa
Due to the current economic crisis, banking deposits have been frozen since late 2019 and US dollars are hard to come by. Basic necessities like electricity and medicine have also either disappeared or are available only in dollars.
Therefore, accessing dollars became mandatory for everyday living. As an example, Adnan is paid in lira, which he planned to save up until the black market rate fell.
"I was shocked to see the rate reach almost 50,000 to one dollar," he said. The possibility of it exceeding 47,000 soon scared me, so I rushed to make a profit." 
Apart from the Lebanese Central Bank's (BDL) rules, banks are free to set their own ATM and employee opening hours and schedules.
As of right now, Sayrafa is our only option, but if the black market rate drops to around 40,000 lira, Sayrafa will no longer be useful.
In one bank, cash can be deposited for Sayrafa every day, but cannot be withdrawn outside of Tuesday and Thursday. Other banks conduct withdrawals and deposits daily within specific timeslots. 
The fact that no president has yet been elected means that there is no chance of putting into place the economic and financial reforms that are needed in order to unlock billions of dollars in International Monetary Fund assistance.
Furthermore, as there is no indication that a solution will be forthcoming, Sayrafa seems to be the only way to make small to large profits that could easily range from $100 to $700 depending on the black market rate.

"As of right now, Sayrafa is our only option, but if the black market rate drops to around 40,000 lira, Sayrafa will no longer be useful," Adnan said.
Not to be trusted 
Mahassen Morsel, an economic expert and journalist, explains that Sayrafa is becoming more challenging for people to benefit from.
"People have to wait in long lines, are at the mercy of the banks' schedules, and lack access to dollars at banks," Morsel told NOW.
The Sayrafa rate is used to price many services, including internet and phone bills. Consequently, an increase in platform prices would affect regular citizens' bills as well.
Due to the increase in phone bill prices, Adnan had to opt for a less expensive data bundle.
"I believe everyone is forced to make lifestyle changes, and reducing my mobile data consumption is one of them," he concluded.
While there was speculation at the start of Sayrafa's launch that it would unify exchange rates, Morsel believes this is not possible without adequate reforms.
"There appears to be a trend in the Sayrafa rate rising to reach that of the parallel market, not the other way around. Therefore, limiting losses for the people in this way is unsustainable," Morsel concluded.
It's hard to believe that people can make a profit, so I wonder if there's something behind it that might harm the people.
According to LBCI sources, the Central Bank's decision to raise the rate to 38,000 was designed to prevent the dollar from reaching 50,000 Liras before the end of the year, as well as to prevent it from being smuggled out of the country.
For Morsel, however, BDL's claim to limiting the smuggling would be counterproductive and misleading, as it has already been occurring for years and is difficult to control at this point.
According to Ali*, a bank employee who spoke to NOW on the condition of anonymity, Sayrafa and what may follow cause suspicion. 
"It's hard to believe that people can make a profit, so I wonder if there's something behind it that might harm the people," Ali said.
As a result, most people come in with 250,000,000 to deposit and make around $600 in profit, increasing their volume of work. Nevertheless, bank employees are paid commissions.
Moreover, banks have been experiencing many altercations due to long lines to deposit and withdraw money through Sayrafa. Whether this exchange rate will remain beneficial in the long run remains to be seen. Prior experience, however, has shown that the Lebanese banks in general, and the Central Bank in particular, cannot be trusted. 
Dana Hourany is a multimedia journalist with @NOW_leb. She is on Instagram @danahourany and Twitter @danahourany.