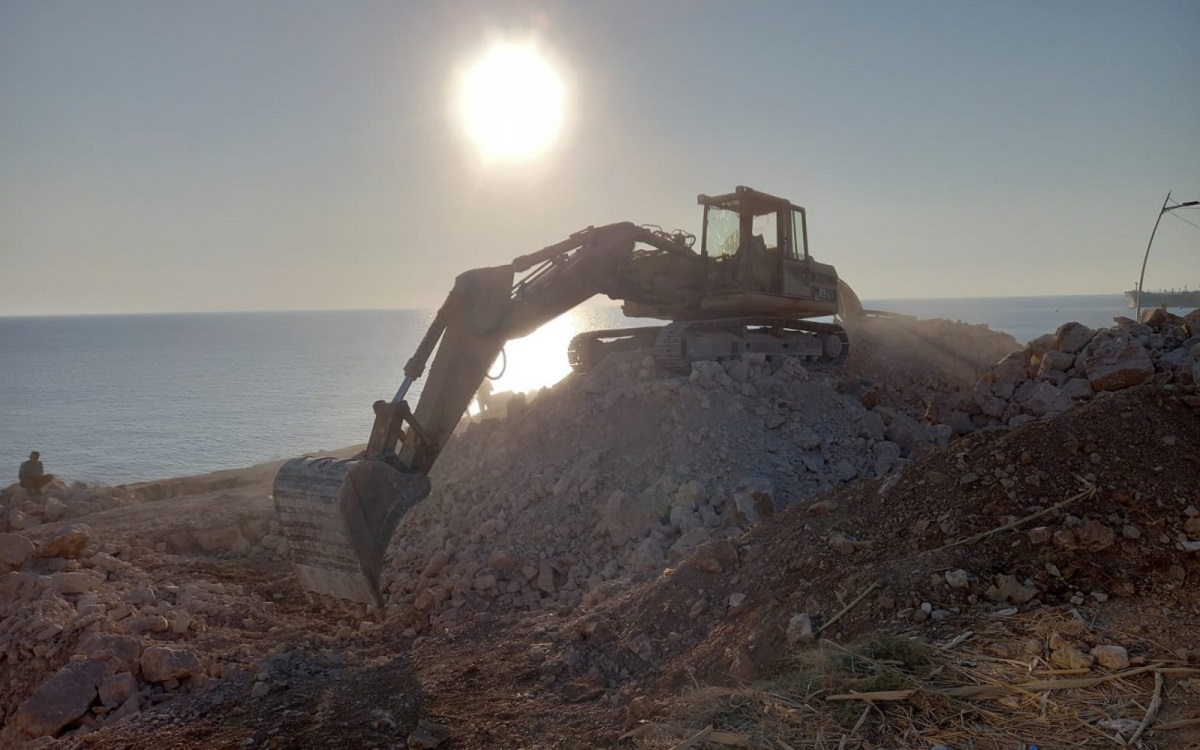 Excavators are seen at a construction site on Amchit's marine rocky outcrop which is considered public property by Lebanese law and is encroached upon by a private establishment on November 14, 2021. Photo courtesy of Farid Abi Younes.
When Fifi Kallab, an environmental science professor, returned to Lebanon in 1980, six  Mediterranean monk seals thrived in Amchit's waters. In 1982, two of them were hunted down.
Being one of the world's most at-risk marine mammals, with fewer than 700 left worldwide, the species is on the International Union for Conservation of Nature (IUCN)'s Red List of Threatened Species and is rendered "extinct" in Lebanon's waters. Their habitat degradation is a primary factor driving the Mediterranean monk seal (Monachus monachus)'s population decline. 
Less than five seals remain in Lebanon's sea, said Jina Talj, founder and director of Diaries of the Ocean, a women-led non-profit organization focused on raising awareness about marine life and mobilizing marine conservation actions. 
"Two of these seals forage and rest in one of the two caves in Amchit," added Talj. Should the caves be destroyed, the seals would also die, she said.
But at the beginning of November, heavy construction equipment started drilling into the town's rocky outcrop atop two littoral caves, threatening the natural habitat of the world's rarest seal. The town's residents believe the development project is set to build yet another private villa adjacent to Amchit's notable seaside boulevard, but nothing has been confirmed. They also say they don't yet know who is behind the project.
Amchit's residents called for a spontaneous demonstration on November 14 to protest the new development project, which they claim is illegal. 
Lebanon's shoreline has been teeming with thorny public property violations and exploitation as private, well-connected investors habitually skirt regulations and encroach upon the country's public beaches and coastal strands discounting the adverse environmental, social and economic impacts.
A group of organizations, experts and activists established the "Coast for All" campaign to preserve the scant remaining maritime public land and call for the amendment of budget law 2017/64 aiming to limit public property occupancy rights to the state only and block private developers and individuals from investing on the seashore.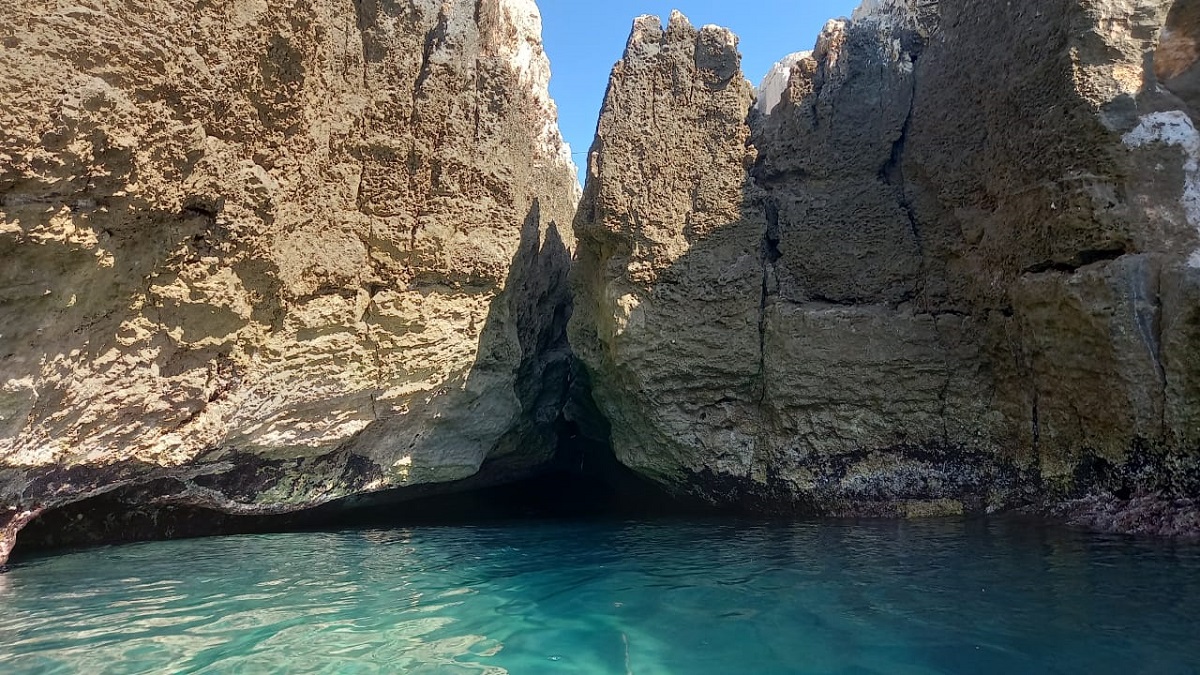 Less than five seals remaining
The monk seals have low annual reproductive rates and poor early survival rates, which makes it an arduous task to help this marine animal reproduce and proliferate.
Countries bordering the eastern Mediterranean Sea, namely Greece and Turkey, have galvanized conservation activists and scientists to protect the monk seal and enlarge its population. But Lebanon hasn't done much at the state level to protect the endangered species.
"The monk seal is what we call a keystone species; it is not replaceable by another species that can take its place or its niche in the food chain," Talj explained.
She said there need to be more conservation efforts by the government, local organizations, and citizens, to provide sanctuary to the remaining seals and allow them to reproduce and proliferate. "The conservation starts with protecting their habitat."
The authority is the investor
Rising construction on the sea abounds with detrimental consequences. 
Any construction project close to the waters cannot be connected to the wastewater treatment network, and, instead, violators have to construct a separate wastewater treatment plant which entails deeper digging and further prompts the caves' collapse, explained Kallab.
"Where there are executives giving out permits to their connections, the seafront is destroyed; where there are no executives, the seafront is all right and you can see the water," Kallab asserted.
Founder of sister organizations Byblos Ecologia and Green Square, Kallab is devising several free educational projects in Amchit to spread ocean literacy and teach children and adults fishing skills.
Kallab and her team are also looking at involving maritime stakeholders in conservation and ecological tourist activities, including monk seal cave tours. 
"All of these projects cannot happen if the cave is destroyed," Kallab said. "[Violators] have wiped out everything, can they just leave our sea alone for us to enjoy?"
"In any country in the world, beaches remain public because they are considered a national resource and thus they are usually open and accessible, not obscured," said Mohammad Ayoub, the executive director of NAHNOO, a civil society group focused on public space, cultural heritage and good governance. 
The judiciary is assigned by the authority and legislates for their own gain, so it would be unavailing to report to it, Ayoub said. He added these law infringements are not practiced only by those in parliament or the government, but that they extend to security and army officials. 
"How are we going to stop [them] when the authority is the investor himself?"
A study conducted by NAHNOO examining the footprint public beaches leave on the national economy compared to private resorts reported that visitors to free and open beaches in two locations, the southern city of Tyre and Kfarabida (in the vicinity of Batroun, North Lebanon), generate more profit for the city than visitors to private resorts, as the latter can pick up their needs and wants at the resort. 
"When a public beach is turned into a private resort, any profit generated will return only to the resort owner, the rest of the city doesn't benefit," Ayoub said.
In a country staggering from one crisis to another, namely historic economic and financial crises, which annihilated the middle class and battered the poor, beach resorts are reserved for the most affluent.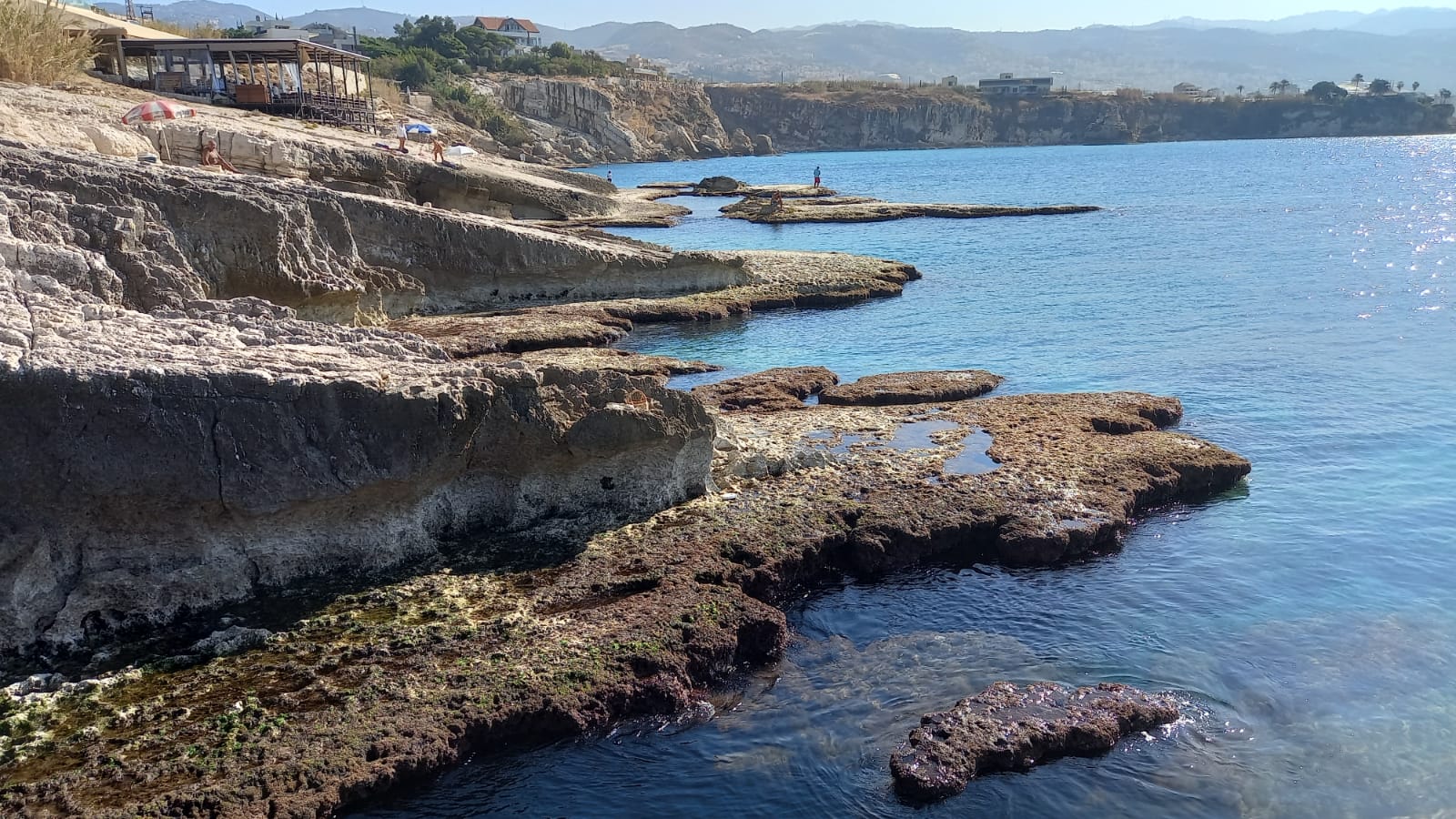 Cultural heritage and collective memory
Ayoub added that private seafront projects quash a city's traditions and culture.
The historic district of Saida's "Bahr El Eid", which translates to "The Holiday Sea," a holiday makeshift amusement park once stretched to the city's sandy beaches and is now molded into the city's collective memory.
Another example is "Orba'at Ayoub", or "Job's Wednesday", a Beiruti tradition that honored prophet Ayoub on the last Wednesday of April at Ramlet El Baida, the last public sandy beach in the bustling capital. But a high-rise five-star hotel, Lancaster Eden Bay, was banked right on the shore, stripping the land from beachgoers and blocking the sea view.
Newroz, the arrival of spring and the new year observance by Lebanon's Kurds is another waterside folklore from the past which is no longer celebrated the same way. 
"Where are all of these celebrations today?" Ayoub asked rhetorically. "They're all gone."
The maritime public property borders are enshrined in a law issued in 1925, which defines maritime public domain within the legal article no.144/S and states, "it is the seashore extending to the outermost point that waves reach during winter, as well as sand and gravel beaches."
Article 1 of the law states that maritime public domain can neither be sold nor acquired over time. The 1925 law only permits occupancy on the shoreline; putting the public land in use and generating profit. 
However, there's a difference between occupancy and investment; occupancy is limited to a temporary project without any individuals owning or renting the piece of land or building on it using concrete, Ayoub said.
At least 80 percent of Lebanon's shoreline is privatized, and public access is denied with more than a thousand transgressions recorded, according to a 2012 Ministry of Public Works and Transport study.
"Public property equals public money and therefore public money is placed in the hands of one individual," Ayoub said. "This is against the law and very dangerous."
Farid Abi Younesm an architect who was born and grew up in Amchit, spends most of his time on the town's public beach and is keen on safeguarding its ecological treasures which contribute to its rich history and touristic features. He said he was fast to file charges against the new construction project to concerned ministries, including the ministry of tourism which sprang into action and halted all construction work until a site environmental impact report is released.
"I did not file a complaint against the people behind the project, individually, but rather against the construction project itself," Abi Younes said.
Some of Amchit's diaspora called home reminiscing about their time spent in their hometown and worrying over the seafront construction project, Abi Younes said. Amchit's locals fear more violations and further privatization and investment of public beach to become the norm, he added.
"Every time there's a project, whether private or public, whether it is a governmental or an individual initiative threatening the public interest, we will stand against it," Abi Younes said. "We want to turn the caves into a nature reserve and we demand our beach to remain open for everyone."
Sally Abou AlJoud is a multimedia journalist with @NOW_Leb. She is on Twitter @JoudSally.