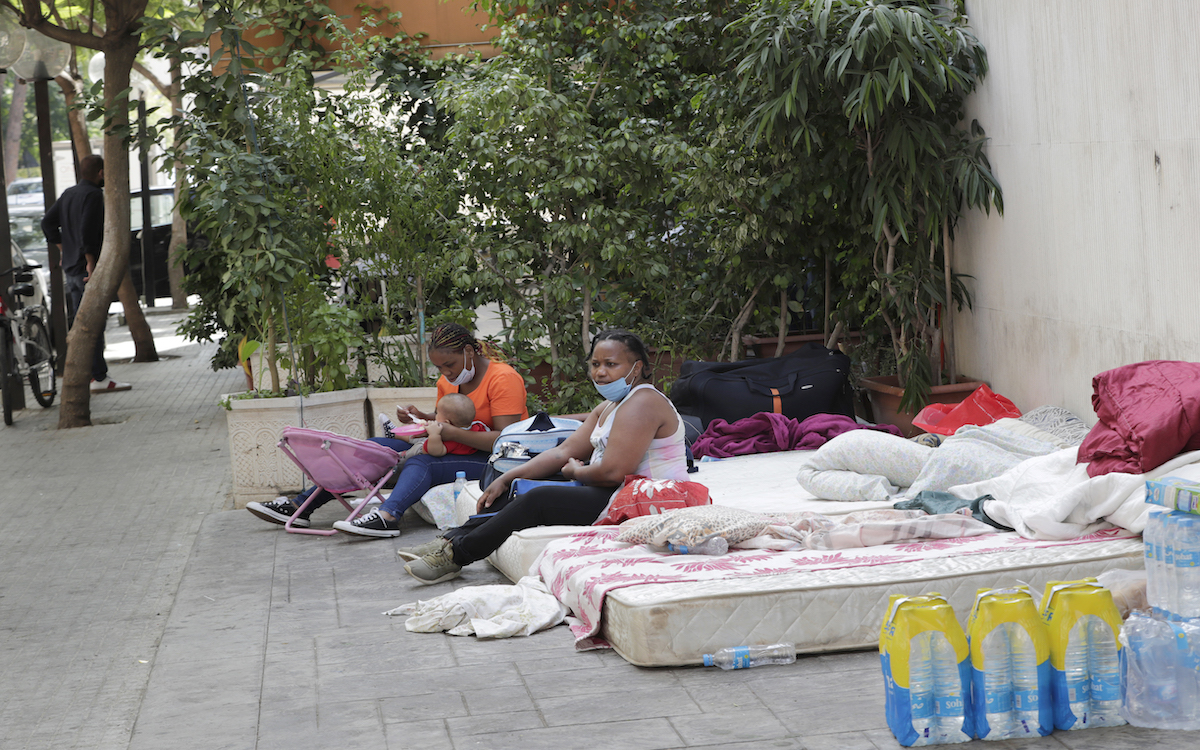 Kenyan domestic workers camp on August 20, 2020 outside the Kenyan consulate in Beirut after losing their jobs due to the economic crisis to demand repatriation back home. An estimated 250,000 domestic workers -- mostly from Ethiopia, the Philippines and Sri Lanka -- live in Lebanon, many in conditions condemned by rights groups. Those conditions have worsened in recent months as Lebanon is grappling with its worst economic crisis in decades, as well as a coronavirus lockdown. Photo: Anwar Amro, AFP
Tortured, physically ill, emotionally and mentally distressed, NM's situation is rapidly deteriorating, expressed her friend Maria, whose name has been changed.

NM is a Kenyan activist who had a prominent role in staging the January protests in front of the Kenyan consulate, demanding the repatriation of dozens of migrant workers.

She is currently detained by Lebanon's General Security Directorate (GSO), where she had already spent four months.

Although accusations held against NM during her first arrest in April were later dismissed and charges were dropped, she remains in custody and faces deportation due to expired residency papers. When her attorney tried to request an allocated time to find her a sponsor – quickly ratifying the situation, the GSO declined.

"They [GSO] were suspicious the sponsorship would be fake," Farah Baba, advocacy and communications officer at the Anti-Racism Movement NGO (ARM), told NOW. "We know they will carry on with the deportation but there are people who will kill her if she returns, she is in absolute danger."

On August 4, the memorial day of the Beirut blast explosion, the GSO attempted to deport the activist when an ARM social worker showed up at the scene and caused a public fuss, successfully halting the deportation, Baba recounts.

"We tried to involve UNHCR so she can apply for asylum – which is completely within her legal rights – but GSO denied their visits," Baba said.
How did we get here?
According to ARM, NM is being punished for her activism in the migrant workers' community, where she would continually expose the abuses of the Kenyan Consulate.
"NM did not only help organize protests, she was also very outspoken in the media," Baba said. "We don't have physical evidence to who could want her out of the picture but if you look at circumstantial evidence, things add up."

Prior to her April arrest, Maria, who is also a Kenyan activist, says that NM was receiving threats for her work in front of the Kenyan consulate in January.

In March, the consular staff disappeared and were nowhere to be seen, Baba says. NOW tried to contact the consulate but received no answer at the time of writing.

"Maybe they're trying to teach other Kenyan women a lesson that this is what will happen if you follow suit in NM's steps," Baba said.

ARM alleges that the activist had been tortured and beaten in detention, leaving her with a broken leg, which a doctor from the International Committee of the Red Cross confirmed once she was allowed medical care.

"She also suffers from a genetic disease called Alpha-1 that can increase the risk of developing lung and liver diseases. She's really unstable at the moment and keeps crying herself to sleep," Maria said. 
"She sometimes asks me 'should I end my life? What have I done to these people for them to punish me like this?" Maria added.
Lebanon and the Kafala system
There are around 250,000 domestic workers in Lebanon who are usually employed under the Kafala system, a set of rules and regulations put in place in the 50s. Based on outdated principles, Kafala grants full power to the employer over the worker; legal documents and passports, for instance, can be withheld from the worker – enabling the Kafeel (or employer) full faculty over their worker's mobility. This allows for dangerous leverage in case of abuse or unjust working conditions.

Lebanon is also characterized by a discriminating racial hierarchy that correlates the value of a worker with their nationality and skin color.

Filipinas are placed at the top of the list, earning the highest wages, Bangladeshi and Ethiopian women come second, and women from various other African states rank last. Kenyan women are among those placed at the bottom, often earning less than $200 a month.

The cost of bringing workers from African countries amounts to around $2,700 – an exorbitant price in cash-strapped Lebanon. This triggers a sense of entitlement in some employers that mandate the workers to 'behave well' to ensure they get their money's worth.

Due to the economic crisis, which worsened living conditions for residents of the country, some employers refrain from paying the workers' wages or completely abandoned them on the streets or in front of their embassies.

Without a functioning judiciary and with flaring racial tensions, migrant domestic workers are left to fend for themselves, with the help of a few activists.
Less-talked about activism
Migrant workers have been active on the streets since the early 2010s. With the help of migrant communities and human rights organizations such as ARM, protests were often organized to call for the abolishing of the Kafala system and to demand basic human rights. 
To cope with Lebanon's stressful circumstances, migrant workers find solace within each other. Egna Legna is a Beirut-based Ethiopian migrant collective that has provided direct support for migrant domestic workers in need and has even helped repatriate some. 
Oftentimes I'd find myself following up with one case, only to end up finding migrant workers who have been locked up for months without anyone's knowledge. Once I met girls who have been imprisoned for nine months and no one knew about them.
But for Kenyan women at the moment, fear rules over their everyday life.

Maria stresses that there are only three activists in charge of providing assistance to Kenyan workers, and one of them has already been imprisoned.

"This sets a dangerous precedent and sends a chilling message to all of us Kenyans out there. Activists or not, women are being forced into silence as to avoid the same fate as NM," she said.

The activist claims that migrant domestic workers are often framed for theft when employers are unable to fulfill their financial responsibility or refuse to send the workers back home. Without legal protection – and a lack of legal knowledge of their rights – the workers end up in jail. Some of these cases go unnoticed for months.

"Oftentimes I'd find myself following up with one case, only to end up finding migrant workers who have been locked up for months without anyone's knowledge. Once I met girls who have been imprisoned for nine months and no one knew about them," Maria said.

She then billed them out and helped them leave the country.
Sticking together

The role of activists within the migrant domestic worker's communities is to connect the workers in need with the right NGOs. However, Maria contends that cooperation and networking should improve between activists and NGOs, as the latter could use the communal expertise of the former.

Although organizations such as KAFA, This is Lebanon, and ARM are able to provide tickets for migrant workers looking to return home, Maria believes Kenyan girls and women are still landing in Lebanon under the false pretense of good living conditions and an attractive salary.
The timing in Lebanon is not in our favor. There's a large portion of the public that is pushing for all migrant workers to leave Lebanon and return to their countries, be it Syrian refugees or others.
"Recruiting agents lie to these girls and promise them false compensation.  They bring more girls into the country than the ones being repatriated. What happens when the truth comes out? They either run away or their employers dump them like disposal objects," she added.
The non-profit organization and popular advocacy page This is Lebanon is one of the main platforms for spreading awareness on the cases of abuse against migrant domestic workers. 
"We don't have a big budget but one of our main negotiating tools is offering to pay for the plane ticket if the employers would pay the money owed to the worker," lead case worker Patricia Pradhan told NOW.

"However the economic crisis diminished our ability to negotiate with the employers. Some don't feel shame about enslaving someone anymore. They view their actions as justified by the economic crisis, 'at least we didn't throw her out' they say."
Online activism and rising racial tensions
Pradhan asserts that online activism is one of the few remaining solutions to saving these women's lives. Right now, Lebanon is battling its ongoing crisis and the issue of migrant domestic workers is put on the back burner of political priorities.

"What other alternative is there? Even General Security is struggling to operate like before due to ongoing strikes. We're waiting on many cases in need of clearance but it's taking months to do so. Lebanon has become a literal prison to these workers," she said.

This is Lebanon confronts employers by exposing their abuses on social media. Operating since 2017, Pradhan says they're still scoring some successes when negotiating with employers as "some people still care about their reputation, thank god."
However, she adds that social media interactions on the posts were vital to amass concrete results by intimidating abusers through public humiliation.

On the other hand, ARM advocacy and communication manager Salma Sakr told NOW that the Lebanese public is facing a critical division.

"The timing in Lebanon is not in our favor. There's a large portion of the public that is pushing for all migrant workers to leave Lebanon and return to their countries, be it Syrian refugees or others," Sakr said.
"This type of rhetoric takes the attention away from the dire need to abolish the Kafala system to make way for new labor laws that protect the rights of migrant domestic workers. This also signals the General Security's complete liberty in acting out as they wish against migrant workers," the communication manager added.

With a strange and unfamiliar case such as this one, solutions are scarce but one thing is certain: NM continues to suffer in prison.
Dana Hourany is a multimedia journalist with @NOW_leb. She is on Instagram @danahourany and Twitter @danahourany.