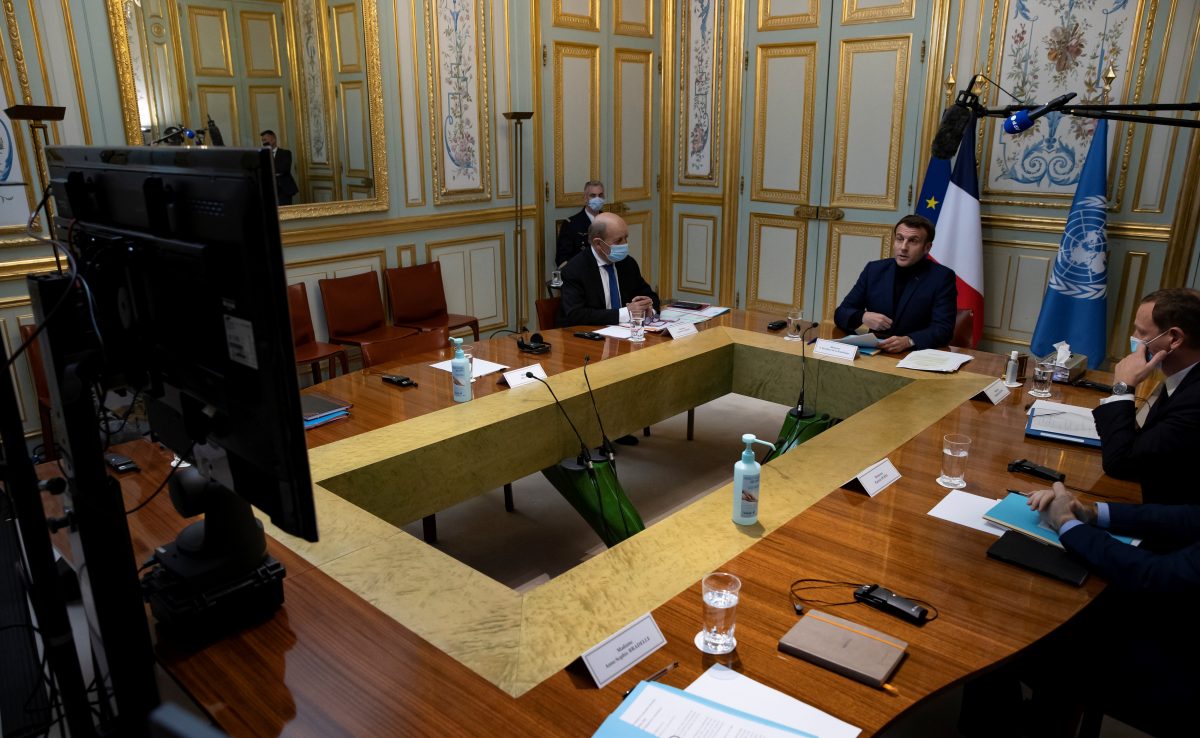 French President Emmanuel Macron speaks during a video conference with international partners to discuss humanitarian aid for financially-strapped Lebanon, at the Elysee Palace in Paris, France December 2, 2020. PHOTO: Ian Langsdon/REUTERS
French Foreign Minister Jean-Yves Le Drian removed his mask and told reporters that Europe cannot remain idle at Lebanon's misfortune. 
"Lebanon is falling apart," he pointed out as he was addressing reporters upon arrival at the EU Foreign Affairs Council on March 22. "Europe cannot remain uninterested in this." 
French President Emmanuel Macron and Le Drian have been on a mission for many months already: to garner international consensus for their plan to save Lebanon. Paris organized two humanitarian conferences to raise aid for recovery after the Beirut port blast. The first took place on August 20, 2020 and the second, co-hosted by France and the United Nations, on December 2. 
While pushing for a spot for Lebanon on the EU's foreign policy agenda, Le Drian has also reached out to Washington. At the meeting with US Secretary of State Anthony Blinken, on February 21, Lebanon was also the main topic of conversation and the two foreign policy chiefs released a common statement asking the Lebanese political class to form a government. 
In a most recent move, French diplomats have leaked information about Paris pushing for possible sanctions on Lebanese political stakeholders at the EU level to enhance pressure to form a government in Beirut. 
But analysts in Beirut say that the answer Paris seeks may be more obvious than expected. In the battle of wills between whoever in the international community may take interest to save Lebanon and the Lebanese politicians who have no interest in taking responsibility for the economic disaster, it may all simply come down to who blinks first.

In this battle of wills, everything, including France's colonial past, may serve as arguments to delay a solution.
The French way out
After Beirut had been rocked by an enormous blast, Macron stood behind his podium with a stern look on his face as he chastised the Lebanese political class for their lack of action on fixing the country's economy.
A "collective treason" he called it during a press conference in Paris especially dedicated to Lebanon's fate. 
"I see that the Lebanese authorities and political forces chose to favor their partisan and individual interests to the detriment of the general interest of the country," the French president stated sharply.
It was September 27, 2020 and Macron was one of the few – if any – foreign leaders to criticize the Lebanese political establishment so harshly.  In the past, most leaders had been very selective in their criticisms or, more often than not, would remain silent. 
After the August 4, 2020 explosion that destroyed large areas of Beirut, the French president was also the first foreign leader to visit Lebanon and propose a political plan to confront the country's economic crisis and political deadlock – the so-called French Initiative. 
The initiative would see France organize a fund for Lebanon through which governments would donate money to help the country rebuild following the August 4 explosion. It would also help Lebanon to combat the economic crisis that has progressively worsened for over a year.
In order for Lebanon to receive the aid, the country needs to form a government of experts, pass and implement serious administrative and financial reforms as well as restart negotiations with the International Monetary Fund (IMF).
It wouldn't be a first for the Lebanese political elites to follow a plan forged in a foreign chancery. In fact, according to analysts, many of the country's political deadlocks have been solved by applying foreign political pressure. In the past, solutions have been conjured with help from various regional and world powers that have interfered to solve political crises.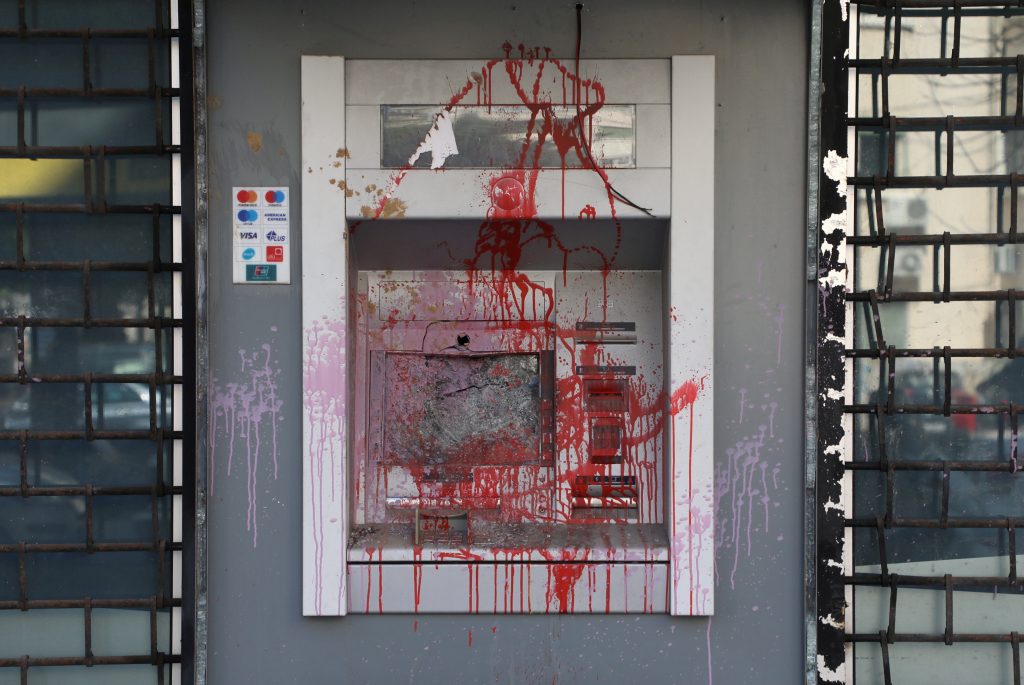 A series of foreign-brokered compromises
At the beginning of the 1990s, the American and Saudi-brokered Taif Agreement brought an end to the civil war. The agreement saw all militias, except for Hezbollah which was deemed a resistance force, disarmed. It also gave more powers to the prime minister and the power-sharing ratio between Christians and Muslims was made 50/50. However, since Lebanon was occupied by Syria at the time, the agreement went through the Syrian government rather than the Lebanese.
In 2005, following the assassination of former PM Rafik Hariri, the French and American governments, with the consultation of Saudi Arabia and Iran, were able to agree on the end of the Syrian occupation. UN Resolution 1559 called for a sovereign Lebanon and the complete withdrawal of Syrian forces and influence from the country. Eventually, this came to fruition with the help of massive demonstrations and international pressure, ultimately leading to the formation of a political system with two major factions: the pro-Syrian, Hezbollah-led March 8 and pro-Western March 14 Alliances.
In 2008, after Hezbollah and Saad Hariri's Future Movement clashed in the streets of Beirut for several days over allegations that Hezbollah had set up a parallel telecommunications network in the Bekaa Valley, it was Qatar, with the help of other powers like the US and Iran, who brokered a peace agreement – the Doha Deal. This agreement sought to stop the clashes and to prevent further ones by calling on the political factions to not turn to weapons in disputes.
Even with foreign intervention, the current quagmire seems particularly impossible to solve as it involves cracking down on corruption and investigating some politically exposed persons.
Political bickering as a smokescreen
For over a year, Lebanese politicians have been entrenched in negotiations over who should handle what portfolio in the Lebanese cabinets, but have made little progress in dealing with the economic crisis. Nothing changed after the August 4 explosion, despite French pressure and the numerous delegations visiting Beirut. 
Not only have the sectarian political elite failed to form a government by the September 15 deadline, as well as every subsequent deadline that Macron set in the French Initiative to help Lebanon following the Aug. 4 explosion, but the prime minister-designate Mustapha Adib resigned on September 26.
Saad Hariri was chosen to form a government nearly a month after Adib resigned, but negotiations have been in a constant deadlock since. On March 17, 2021, President Michel Aoun, in a televised address, told Hariri that if he could not form a government quickly, then he should resign from his position. However, Hariri continues to push back against Aoun, maintaining that the President is the one holding up government formation. Meetings between the two political leaders have led to little progress. 
But according to Lebanese historian Amin Elias, the political deadlock is nothing but a smokescreen meant to hide the fact that few politicians in the country are willing or able to eradicate corruption and put the economy back on its feet. They are trained to find political solutions to all deadlocks and rely on foreign aid to keep the economy afloat, he said. 
It's like pouring water into a broken cup. Whatever is injected into the economy without proper economic reforms and, more importantly, proper governance, the money will go to waste.
Makram Rabah, history lecturer at the American University of Beirut
When the foreign aid stopped coming, the economy also crumbled. 
During the Paris I conference in 2000, Paris II conference in 2002 and Paris III conference in 2007, Lebanon saw some success in acquiring foreign aid, with the country receiving commitments for $4.4bn during Paris II and a pledge of $7.6bn in 2007. 
But with April 2018 Paris IV, more commonly known as Cedre, that changed.
"It [Cedre] has the same nature as the other conferences," Elias said.  "To give Lebanon some loans. But, this time, it was harder to get those loans because the main condition behind it was that they had to be honest in the economic and financial reforms in Lebanon. And because Lebanese leaders are unable to carry out those reforms, we still can't get those loans."
Nearly three years later, Lebanon still has not been able to access the nearly $11bn that was promised to the country since none of the reforms that were required for the funds to be released were implemented.
According to Makram Rabah, a history lecturer at the American University of Beirut, even if the government were to receive the promised funds from international donors or loans from financial institutions, it would not solve the problems that the country is facing. 
The economic crisis was caused by decades of corruption and financial mismanagement which are hard to uproot. The amount of financial aid the Lebanese government requires at this moment, $5bn, can't bail Lebanon out, Rabbah explained. 
"It's like pouring water into a broken cup. Whatever is injected into the economy without proper economic reforms and, more importantly, proper governance, the money will go to waste," he said.
Where France may have gone wrong
Imad Salamey, an associate professor in political science and international affairs at the Lebanese American University (LAU), argues that Macron's plan is essentially flawed because, he says, it is impossible to create a long-term economic solution for Lebanon if "the presence of an armed group overpowering the state institutions" is not first addressed.
According to Salamey, as Hezbollah has increased its role in the government, it has steadily been able to overpower state institutions. It also has been able to change policies at times, despite these changes not necessarily being in the interest of the country.
"That's bringing the country into a stalemate: the current president is so empowered by Hezbollah on one side, a majority in the parliament backs him up while running an agenda counter to international interests, Arab interests, and Lebanese interests," Salamey told NOW.
Rabah agrees that the issue of Hezbollah's weapons needs to be scrapped first if Lebanon wants to receive more international aid. Ignoring the issue drastically limits any potential aid that would come from the Gulf countries, whose cooperation is needed to solve the crisis in Lebanon.
"The main challenge that Macron purposely tried to sidestep is Hezbollah and the arms of Iran," he said. "If this is resolved, then any future talks about economic reforms as well as financial aid to Lebanon can be implemented. You cannot have an international initiative without regional support and, here, the main challenge is trying to get the Gulf states to come in and financially bail out Lebanon."
For months the French plan was on hold. Macron and Le Drian waited for the results of the 2020 presidential election in Washington, hoping that a new Biden administration would help push the Lebanese decision-makers in the right direction. 
"Certainly, [Macron] was given a good beating by Hezbollah and the Amal Movement when they imploded the initiative because they wanted to see who was going to be the next person running the Oval Office," Rabah explained.
But turning a blind eye to the issue of Hezbollah's weapons is not the French Initiative's only shortcoming. 
Many see Macron's plan as also tinged with colonial underpinnings, with the initiative focusing more on how the French president believes Lebanon should operate rather than the Lebanese people making this decision for themselves.

Salamey argues that while Macron may be trying to help Lebanon and its people, partly due to Lebanon and France's history together, his plan is more reminiscent of a parent taking away a child's toy until it starts behaving properly again.
Rabah sees the root cause of the deadlock beyond conversations about post-colonialism. He believes the Lebanese political elites cannot survive outside the political system that has allowed them to access state resources by controlling government institutions. The compromise would be to promote experts with sectarian ties to a possible cabinet. 
"Lebanese politicians have always sought to preserve the status quo and this is what they are still doing, despite street protests and all the international pressure," he explained. 
"They just want the government to go back to its normal operating system in order for them to get what remains of Lebanon's resources. [Lebanese politicians] don't care and this is why they are willing to use trojan horses under the pretext that 'these people [technocrats] are experts," he pointed out.
Nicholas Frakes is a multimedia journalist with @NOW_leb. He tweets @nicfrakesjourno.