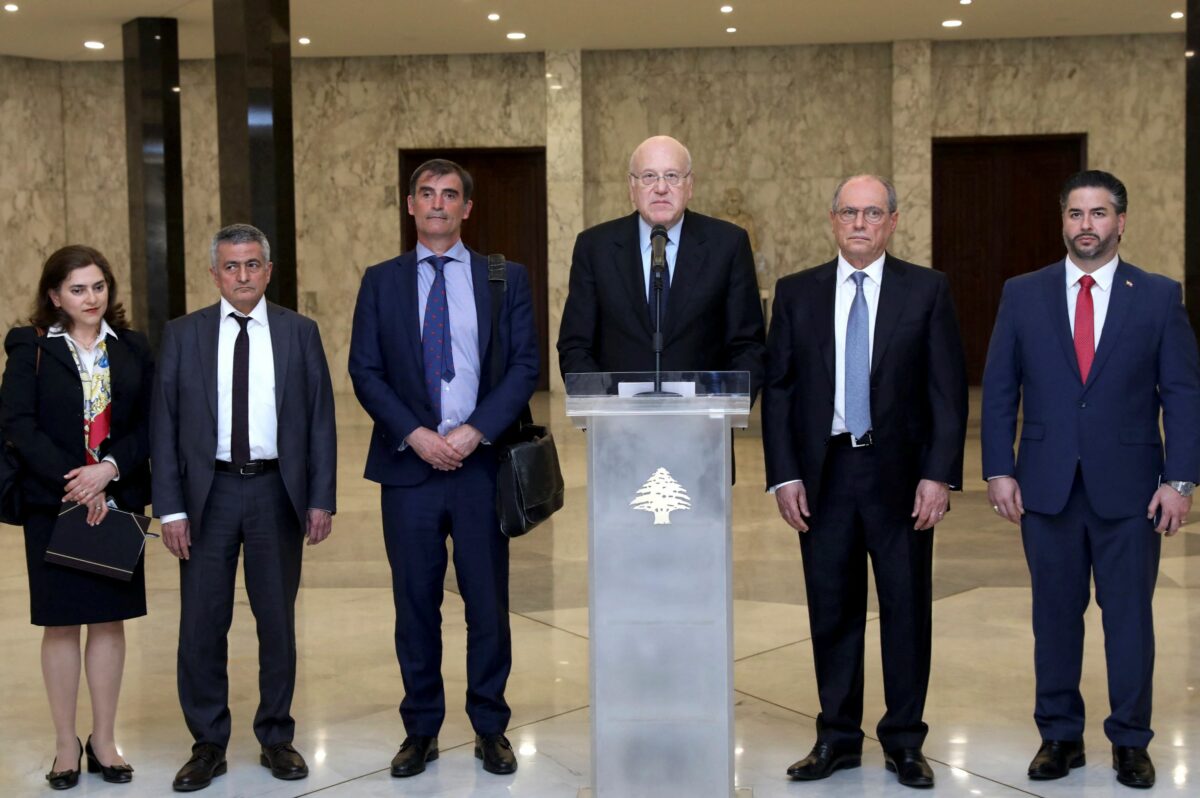 Lebanon's Prime Minister Najib Mikati (3rd R) holding a press conference alongside an International Monetary Fund (IMF) delegation headed by Ernesto Ramirez-Rigo (3rd L) at the presidential palace in Baabda, east of the capital. The reforms demanded under a deal struck by Lebanon and the International Monetary Fund will revive donor funding for the bankrupt country, Prime Minister Najib Mikati said. (Photo by DALATI AND NOHRA / AFP) /
PM accuses government of squandering USD 860 million in SDR funds on subsidies, calling for audit commission
By Maan Barazy
The Parliamentary Finance and Budget Committee called for an audit investigation into the International Montary Fund (IMF) Special Drawing Rights (SDRs) spending by the government in the absence of any legal documentation for the transfer of the funds. An SDR is an international reserve asset created by the IMF to supplement the official reserves of its member countries. Reportedly, those operations were executed through memos from the Prime Minister to the Ministry of Finance. The SDRs were also reported to have been  approved by the former governor of the Central Bank of Lebanon (BDL), Riad Salame, who wielded decision-making power regardless of established procedures.
When SDRs were allocated to Lebanon, many raised doubts about the authorities' ability to use the funds "wisely."  It is worth mentioning that one SDR is equivalent to USD1.42 million. Accordingly, Lebanon's total amount is considered to be the largest allocation of SDRs in its monetary history. Unlike other Arab countries that have effectively utilized IMF allocations to achieve debt sustainability, increase their investment expenditures, and improve their financial situation, Lebanon has squandered these funds on subsidies and expenses that contribute zero percent to improving Lebanon's financial situation.
On August 2, the IMF's Board of Governors approved a general allocation of SDRs of USD 650 billion, which will be made available to all 190 member countries according to their quota share. According to a statement by the IMF, Lebanon will receive approximately USD 860 million of SDRs at this critical moment to strengthen the country's depleted reserves and to help with the many urgent needs of the Lebanese people.
In September 2021, Lebanon received USD 1.139 billion in its special drawing rights (SDRs) allocation from the International Monetary Fund (IMF). Two years later, it became clear through the Ministry of Finance 's numbers that USD 1.63 billion had been spent, leaving only USD 76 million in the account. Sources in the market say a total of USD 746.638 million had already been spent by the end of January, following decisions by the government executed by Banque du Liban (BDL).
According to the Ministry of Finance , the total amount spent was allocated as follows:
– USD 478.314 million for purchasing medications.
– USD 163.518 million was used to repay loans to Arab and international financial institutions.
– USD 162.174 million was allocated to Electricité du Liban (EDL) and maintenance companies.
– USD 134.152 million was earmarked for wheat support.
– USD 69.406 million was spent on fuel.
– USD 34.946 million went towards paying interest on SDRs.
– USD 13.249 million was allocated for passport expenses.
– USD 7 million covered public works and other expenses, with the approval of Banque du Liban (BDL) and the Ministry of Finance .
– USD 683,000 was used for legal expenses, as per the Justice Ministry.
By the end of August 2023, over three-quarters of the funds drawn through SDRs had been utilized, with only USD 260 million remaining. The disbursement of SDRs to Lebanon, which is not linked to the financial assistance program that the country has requested from the IMF, began in September 2021, following the formation of the caretaker Prime Minister Najib Mikati's government.
However, these funds did not improve Lebanon's foreign position as Liquid FX reserve liabilities amounted to USD 1.279 billion by August 2023, up from USD 1.270 billion in July 2023, with the SDR balance available for use dropping from USD 125 million to USD 76 million by the end of August 2023. Meanwhile, banks' deposits in fresh dollars increased to USD 14 million, and public sector deposits in fresh dollars expanded from USD 275 million to USD 328 million by the end of August 2023.
The IMF's purpose of transferring SDRs to countries, as published on its site, is to "help replenish depleted central bank reserves, and any use should be done in a transparent and responsible manner that supports needed macroeconomic adjustment and reforms." The Fund's policy recommendations for Lebanon include reforms to enhance transparency, centered on strengthening the anti-corruption framework and improving the performance of state-owned enterprises, particularly in the energy sector. This should include audits of the central bank and the electricity provider.
The IMF also wants to see the implementation of a fiscal strategy, combining deep debt restructuring and reforms to restore credibility, predictability, and transparency of the fiscal framework while expanding the social safety net, which is essential to protect the most vulnerable. Pursuing a comprehensive restructuring of the financial sector is crucial, recognizing upfront the losses at private banks and the central bank, but doing so in a way that protects smaller depositors. This should be accompanied temporarily by formal capital controls. Certainly, SDRs allocation were not geared toward this purpose.
On the positive side, there has been a steep increase of USD 4.268 billion in balance of payment figures in August 2023 on a year-to-year basis, shifting from a deficit of USD -3.917 billion to a positive of USD 1.071 billion, as shown in figures released by the central bank of Lebanon.
On the negative side, according to the balance sheet of Banque du Liban (BDL), the central bank's total assets fell by 38.20% compared to last year, reaching USD 104.69 billion by mid-September 2023. This fall was mainly due to a 90.44% year-on-year (YOY) drop in other assets, accounting for 6.63% of BDL's total assets and reaching USD 6 billion by mid-September 2023. Furthermore, the gold account, representing 16.90% of BDL's total assets, increased by 13.61% yearly to reach USD 17.68 billion by mid-September 2023.
It is interesting to note that a statement issued on 18/9/2023 by Acting BDL Governor, Dr. Wassim Mansouri, claimed that BDL's liquid FX reserve assets stood at USD 8.498 billion at the end of August 2023, down from USD 8.573 billion declared previously in July 2023, with current accounts standing at USD 3.238 billion, up from USD 3.114 billion on 31/07/2023. Time accounts reached USD 3.490 billion, while financial securities added 10.09% to USD 240 million by the end of August 2023. Furthermore, BDL stated that the Eurobonds at market value were USD 413 million in August 2023, up from USD 387 million in July 2023.
Maan Barazy is an economist and founder and president of the National Council of Entrepreneurship and Innovation. He tweets @maanbarazy.
The views in this story reflect those of the author alone and do not necessarily reflect the beliefs of NOW.