"Silence, maybe resignation. But not submission. Sunday yields to another Monday defined by tension and turf. The nation's tipping point is fast approaching, in days and weeks to come." Photo: Jo Kassis, Pexels.
A quarter-tank of gas gets me to Batroun.
For a one-way trip, at least, until the lines start forming at the gas stations the following morning.
A break from a routine that makes the blood boil. Before the start of summer heat. 
Six days earlier, on Monday morning, I was waiting hours on end for enough gas to run limited errands. And hit the 20,000 LBP limit. I offer the gas station attendant an added note when the tank needle – and my patience – falls too low. That's just Monday. 
Tuesday. I go up and down the stairwell in my building without electricity. Flipping the apartment's ishtirak [generator subscription] switch when it disconnects from dawle [state-provided electricity]. Whatever the dawle offers these days. Cutting power on the hour, often every hour and sometimes minutes in-between. A workout no one asks for, especially for heavier neighbors above me.
Wednesday. I bet on the bank to deliver my fresh dollars from abroad. A phone call in advance, some twenty tries to get through. Patience in the shape of a clenched fist and blocked throat in anticipation of 'erj3 bokra eza feek' [come back tomorrow if you can]. 'Lollars' abound in my dollar bank account once deemed safe, as the exchange rate passes 15,000 LBP.
Thursday. Two Christian ministers cannot be named, or reasons without shame. The survivability of once-respected movements and leaders now far astray. Leadership lacking remote luster. Existential crises, personalities tarnished and an ungovernable national unity by proxy brought our economy to collapse. Hanging on to power against public rage.
Friday. What does justice mean to a failed state? A public announcement that August 4 will turn into a national holiday. Without trial or accountability. Impunity for a country unable to determine its fate. The battlefield we remain. Over three decades following a peace deal in Taef that stitched the state back together without agency or sovereignty. Rather, a proxy's playground with tons of ammonium nitrate.
Saturday. In bed, unable to move. My home in Mar Mikhael, the new port's orange-blue cranes in direct view, and below, the bus cemetery. Better described as a public transport warehouse and dump, its tin roof blown apart since August 4, 2020 
The old train station's rooftop is visible and derelict. The rail network has been defunct for decades, yet receives an annual budget concocted by corruption. 
My bedroom windows that were replaced after the port blast, are open to allow for a mid-June breeze carrying the rotting scent from the Karantina trash mountain. I'm staring at my walls damaged from the blast. In the kitchen, my fridge rumbles with shards of glass absorbed into its door. These are scars visible during the day, in a neighborhood once again alive at night.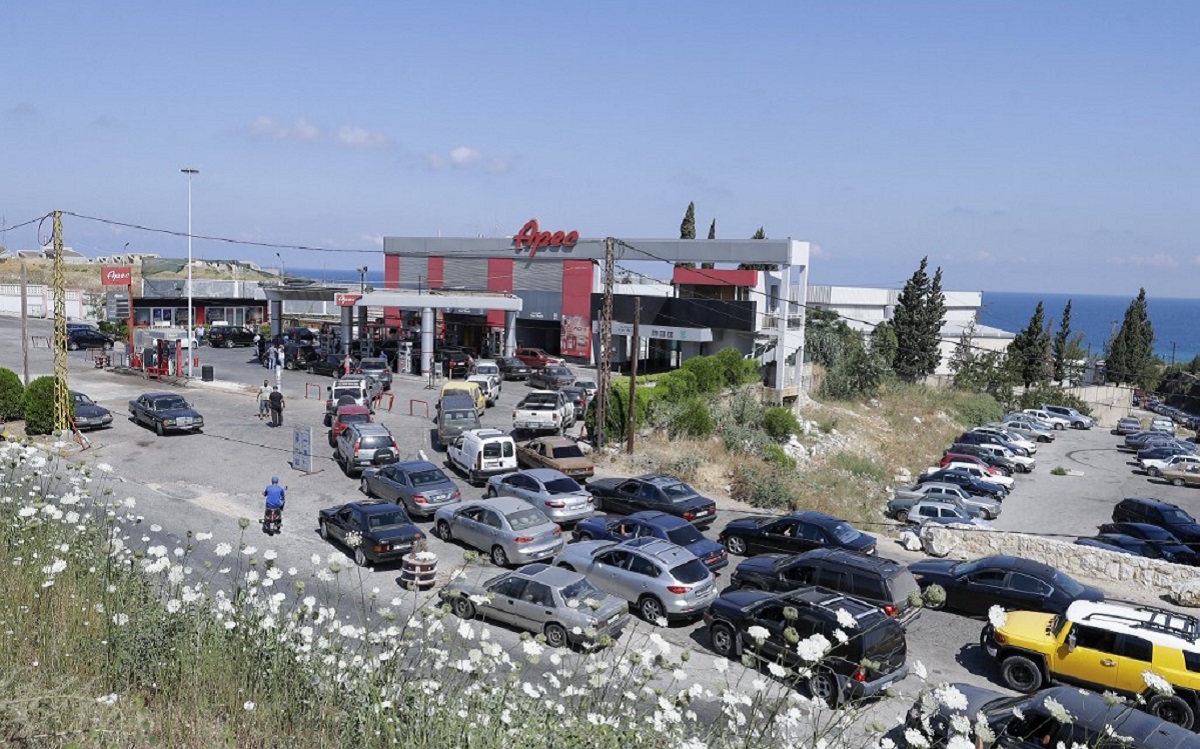 Sunday
I have an invitation from my aunt to spend the day (and night if needed), in Batroun. Her summer escape. A pastime for Tripoli's residents, her childhood memories of a smaller and quaint family destination. Joined by many Beirutis that recently fled the capital – but not Lebanon – following the blast. A booming northern town many newcomers consider their own. 
I don't want to impose. "I'll find gas on the way," I tell myself.
The journey begins with a losing streak. From Dora to Antelias, no gas station is open. Beyond Nahr El Kalb into Zouk and Kaslik, stations closed with marked ribbons and metal barricades better designed for police and security.
I can make it to Jbeil and still return with nearly empty fuel… 
And right before a final intersection, I find a lone IPT open with what looks like a fantastically short 15-minute cue. I line up with a stupefied smile against the despair of refugee children walking in the heat, selling bottled water, tissue boxes, and face masks, tapping on car windows at times with an almost rhythmic thump. A security guard is monitoring the fairly well-behaved line, crowbar in hand. And by the pump, the gas station's owner is monitoring both attendants and customers. No bribing – only friendly tipping – this time.
Just above a quarter-tank. I park minutes later at the tip of Old Batroun to save fuel and enter a city-state meant to be enjoyed by foot. Cars are technically prevented from driving through the old souk. 
Upon entrance, I'm immediately surrounded by appearances at ease and families in line for fresh lemonade and ice cream. Adolescents teasing each other through cobblestone alleyways. Twenty-somethings through forty-somethings seated in outdoor cafes and pubs, and older residents in terraces and balconies eating, drinking, and observing from above. Approaching the sea, swimming trunks, and bikinis wrapped by a towel or in hand. A public beach just ahead. That rare treat in Lebanon, with clean and accessible water… and free.
I find my aunt in Mandaloun's newly opened Mykonos branch. Bustling with Ibiza-themed music, cocktails mixing and flowing from the bar. We sit in the middle of the tiniest bubble of whatever this is called. Not 'normal'…just not the norm. Tranquility in the air with mezza, calamari and fresh fish served anywhere across the Mediterranean. Aware of our false reality and actively taking part in denial. Mykonos vs Misery. A superficial and temporary break from all that comes from a failed state.
And behind us, at the corner of the restaurant's patio, towards the end of a long table…what can easily turn a delighted tourist into a reluctant trespasser. 
Surrounded by armed protection, seated alongside local loyalty. The music still blaring, commotion continuing uninterrupted, several heads bobbing, one of them belonging to a particularly unpopular figure. A career riding on the coattails of marriage and close proximity to proxy, surfing a tremendously reckless wave that crashed alongside a thrice-dethroned former prime surfer. Awaiting Gulf waters to retreat and ride once more.
The city-state. His home. Or fiefdom for investment. Relatives with restaurants and contacts through commerce. Lebanon's current escape is packed in his own backyard. Black-tinted SUV's on the seaside promenade, a feeling of intimidation whenever politicians move in Lebanon. Blocking pedestrian movement by parking on sidewalks against old residential stones, facing Phoenicia's withered yet majestic wall, for centuries protecting Batroun from uninvited intruders.
His meal finished. Pontifications are done. Baseball cap and sunglasses on, he leaves with an entourage guarding his path. And before he disappears, a young woman stands up and shouts the gentlest of insults his way:
'Tfeh 3leik'! [shame on you!]
Friction explodes into a fight. A verbal punch with security turns into arm-slamming. The woman is following and yelling accusations of cowardice and thuggery. A guard turns and marches towards her, knocking her recording phone out of her hand. The video gets released within minutes and spreads across national media. A viral video that captures confidence and glory, through shared emotion, our story of citizens challenging a corrupt regime. And the expression – however unpleasant – against a party leader condoning reprisal.

Days later, despite her father's inner fears and accompanying mafia-like photos, she rejects any apology issued on her behalf. A society applauding her statements against diminished influence and insecurity.
Her friends and nearby tables make sure she is fine. And by the time we leave, Mandaloun returns to Mykonos, patrons turning a blind eye to that sudden burst of clarity.
Sunset magic defines the end to Sunday's temporary respite. I return to Beirut with a tank near empty, streets pitch-black, urban shadows outlining the night sky. I walk up my stairwell with my phone flashlight, as the building generator is switched off, in need of its own backup plan. Back in my bed, without any fan, the windows open to a distant sound of highway traffic in the night. Along with the gradual pitch of a mosquito that I miss despite my swipes.
Silence, maybe resignation. But not submission. Sunday yields to another Monday defined by tension and turf. The nation's tipping point is fast approaching, in days and weeks to come.
Ronnie Chatah hosts The Beirut Banyan podcast, a series of storytelling episodes and long-form conversations that reflect on all that is modern Lebanese history. He also leads the WalkBeirut tour, a four-hour narration of Beirut's rich and troubled past. He is on Facebook, Instagram, and Twitter @thebeirutbanyan. 
The opinions expressed are those of the author only and do not necessarily reflect the views of NOW.