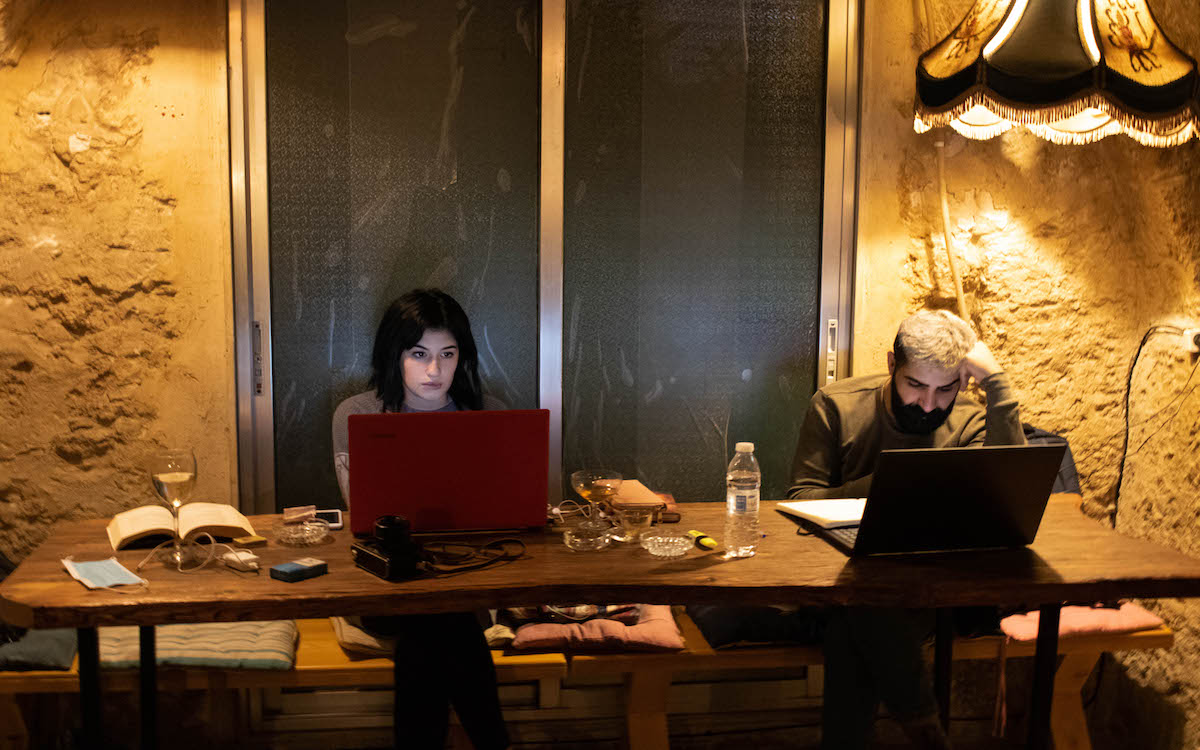 Nadine Ali Dib, founder of Warche 13 in Tripoli, says she felt the need for a cafe that also plays the role of a cultural hub in her hometown.. Photo: Nicholas Frakes, NOW.
The room was heavy with the smell of smoke. The audience in the lightly packed room at Warche 13 listened intently as the band played their set, the music echoing throughout Monot Street in Mina, the municipality neighboring Tripoli.
Every week there was an event like this in one of the bars or cultural centers in the area. The music ranges from jazz to classical Lebanese songs to even rock on occasion.
Warche was never meant for one specific audience, but for anyone who appreciates music, founder Nadine Ali Dib, 36, says.
The walls of the establishment are filled with photographs of Tripoli and artwork. She even put together a small library. 
"I founded Warche because I am from Tripoli and Tripoli always lacks this vibe of cultural events," she told NOW.
Since the end of Lebanon's civil war in 1990, Tripoli has seen little attention from the country's governments, with little to no development projects or investment reaching the northern Lebanese port city. 
It has often been deemed the poorest city in Lebanon, has been linked to Islamism due to the number of clerics adhering to political Salafism, it has been the scene of numerous rounds of sectarian clashes between the Sunni gunmen in Bab al Tabbaneh and the Syria-backed Alawite militiamen in Jabal Mohsen. It has seen terror cells allegiant to the Islamic State uncovered, gunmen being hunted down by the Lebanese Army. It has been shaken by bombings and hosted jihadist organizations. 
But a handful of Tripolitan bohemians are trying to revive the city's cultural soul, despite a crippling economic crisis and a pandemic that has closed down venues for almost a year.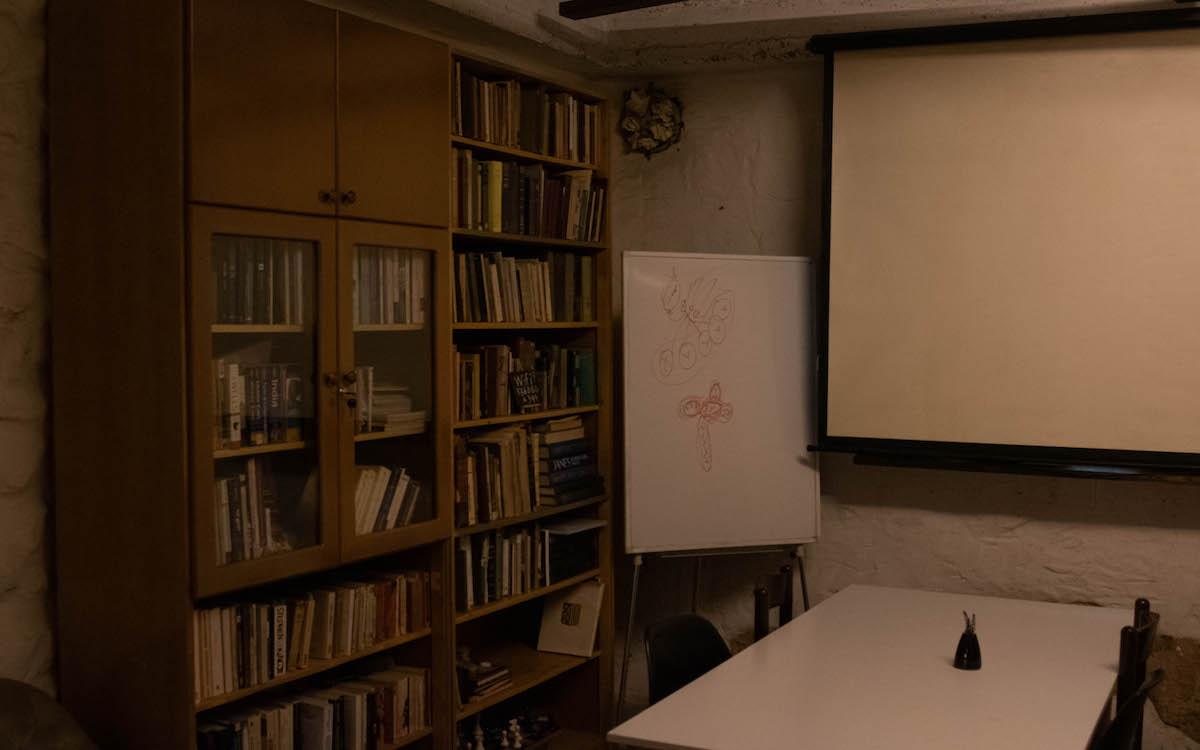 More than meets the eye
For Elias Khlat, the 56-year-old founder of the Tripoli Film Festival, an annual event running since 2014, this image of a city in tatters is not wholly accurate. It overlooks aspects of the city such as its cultural heritage, he says.
"It has this image but this image is not built by the city. It is not built by the people of the city. It's built by people who don't know the city, as simple as that. We are angry when we read articles in the press concerning these [negative] things," Khlat explained.
He noted how Tripoli has given Lebanon some of its greatest film directors, including George Nasser who is often credited as being the director that brought Lebanese cinema to an international audience.
"Cinema was very present in Tripoli not only in theaters but also with personalities from the cinema like George Nasser and Randa Chahal," Khlat told NOW. "And, still, we have young filmmakers over the years graduating and they are very talented, having award-winning films all around the world."
Just like Khlat, Saadeh Katouh, a 31-year-old musician, chose to stay in his home city. He remembers growing up in a city bursting with life. 
"There was everything when I was young in the 90s," he stated. "There were playgrounds and video games, many [sports] clubs, more sports. There were a lot of clubs in Lebanon to go and learn football and be in a tournament. Now, it's not like before. It's getting less and less. We had several theaters. Now there is nothing."
Katouh tried to revive a corner of that old Tripoli. He co-founded Rumman (Arabic for pomegranate), a music center, also on Monot Street. He opened it in the summer of 2021, despite the economic crisis and the pandemic. Rumman hosts music nights, language exchanges and a movie night. Musicians from Tripoli and the surrounding areas go there to jam.
The main courtyard, which boasts a pomegranate tree in the middle, giving the place its name, is small but is able to host a little over a dozen people when they hold a film screening. It also has a small, soundproof room next to it for music. 
"We wanted to function as a music scene in Tripoli," Katouh told NOW. "Try to connect the musicians together. It was more about culture than about business. It's a cultural, musical place. This is the point. To connect them all together and to do something to make it come alive again."
The two small establishments, Warche 13 and Rumman, remain among the few cultural spaces in Tripoli that still gather the city's youth. 
The more established cultural institutions have fallen victim to the pandemic lockdowns and the fuel crisis. The Safadi Cultural Center, for example, has been closed since the beginning of the popular uprising that began on October 17, 2019 and Beit al-Fan, the House of Art in Arabic, is only open for specific events like the Tripoli Film Festival. Even the city's cinemas have closed down due to the rising cost of fuel and the increased power cuts.
The music shops that helped Katouh pursue his love of music have also long closed down because of the economic crisis. 
"Before, there were musical places and shops," Katouh said. "There were a lot in Tripoli. Like four or five when I started learning guitar. Now, they disappeared. Some of the owners left. Most of them left. Some got busy and it's not a priority anymore. Now, there is just Rumman."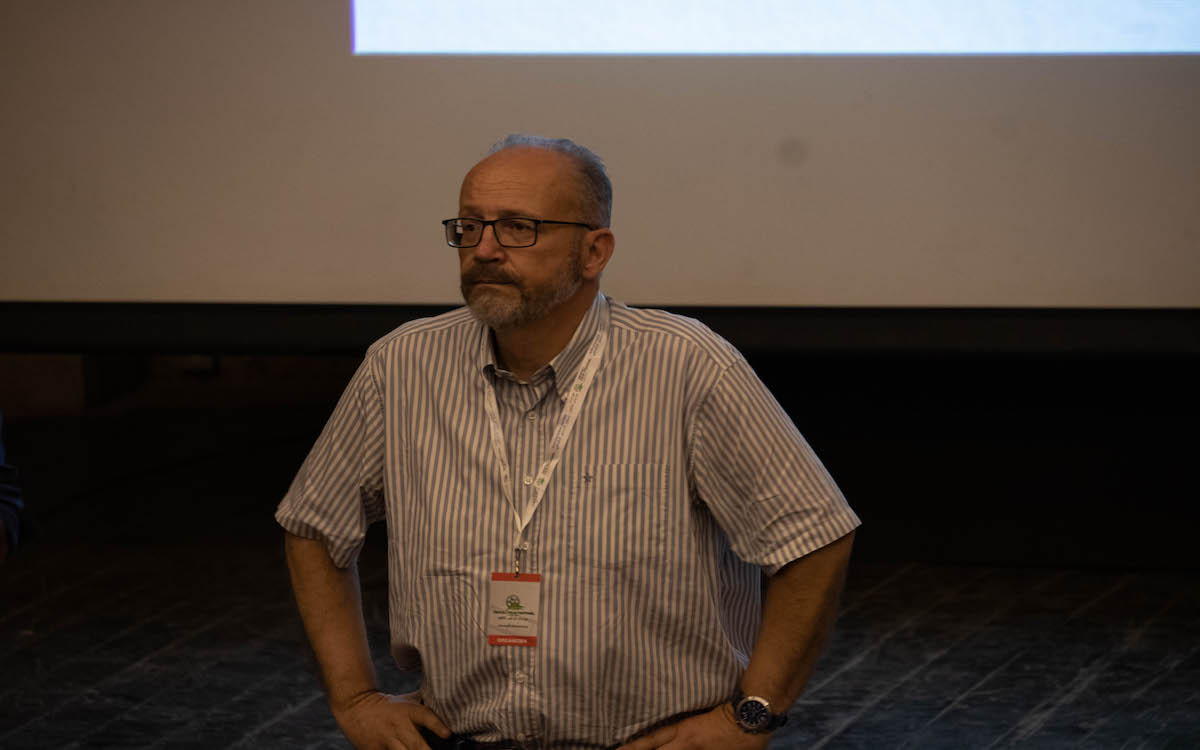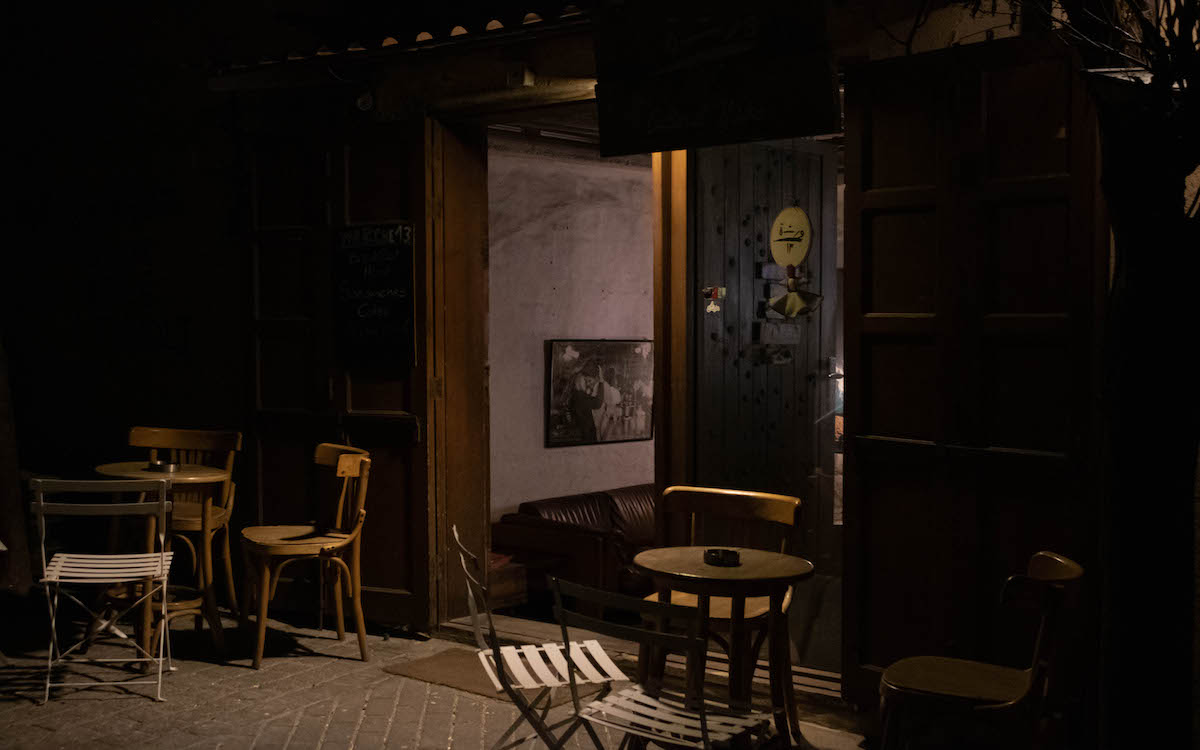 Fighting for the soul of the city
The Tripoli Film Festival is one of the few larger-scale events that have been able to continue despite the economic crisis. After a break in 2020, the festival wrapped up its seventh edition on October 12. Khlat said that being able to put the festival together, even with the pandemic restrictions, was a breath of fresh air. 
"It has an impact on the cultural life of the city," Khlat explained. "This is the most important thing because this festival, through the few years it has been going on, has made it possible to bring people to the city just for the love of the seventh art. By bringing people, I mean from the surrounding areas, from Beirut and other nationalities from abroad."
Guests from abroad coming to Tripoli for a cultural event is a rare occasion, especially with the capital Beirut taking all the spotlight. But Tripoli has its own enthusiasts, who keep track of local cultural events by word of mouth or, rarely, on social media-based groups. 
"The cultural scene here is interesting in how it communicates," Anna Zolotareva, a 36-year-old teacher from Germany told NOW. She moved to Lebanon in 2019 and says she noticed it was hard to find any cultural event in Tripoli.
"[The cultural scene] communicates with a very small circle of friends and if you are not a friend of someone, then you will not know about the events. Even if you are potentially interested, you will not know about it because you are not connected. And no one will tell you because you don't follow his page and you don't have mutual friends."
So, in the summer of 2021, she founded Socialize LB, a growing WhatsApp chain, meant to update members about Tripoli's cultural scene. It grew fast to 80-100 members.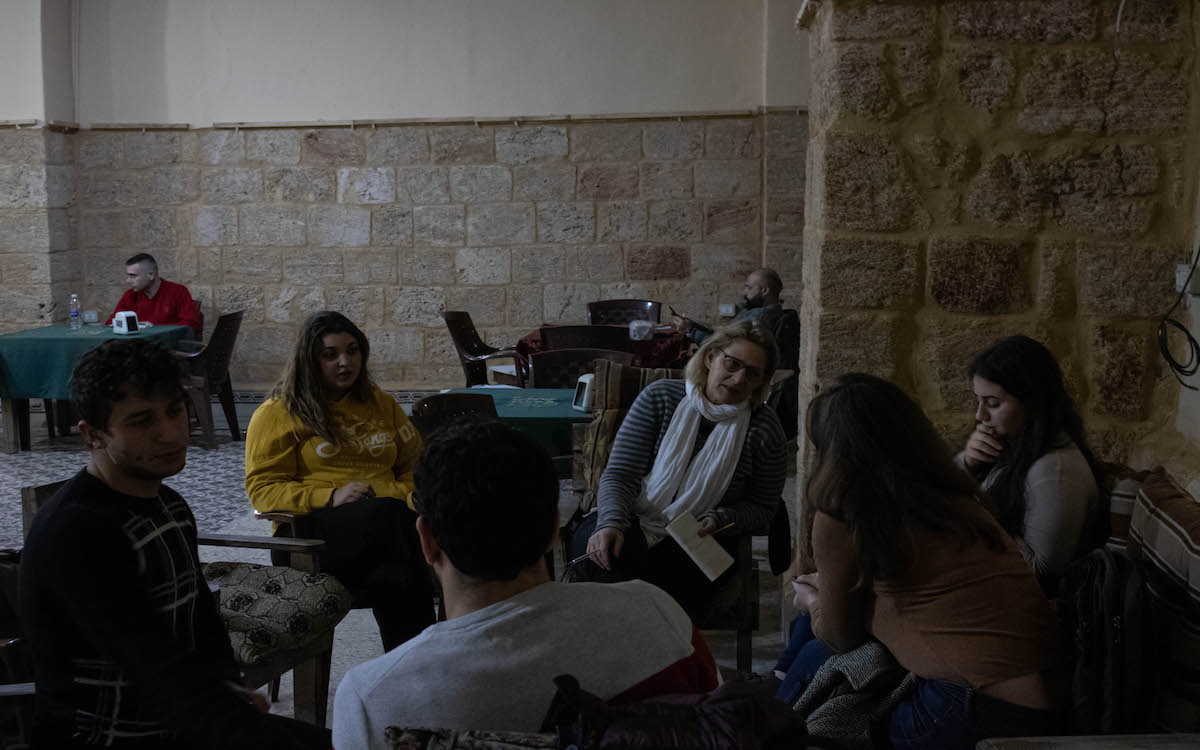 Culture for everyone
Katouh and Ali Dib say that the solution to reviving Tripoli's cultural scene is to create a safe and personal space that anyone can easily access. Bringing culture to the people rather than keeping restricted to big, elitist events. 
"Society without art is dead. It's nothing," Katouh stated. "Without music, theatre, painting, any art. Without it, there is no healthy society. Society will be sick without this."
"Museums, theater, pedestrian downtown," Ali Dib said, listing things that she believed that Tripoli is in dire need of. "That's very broad but imagine this city it lacks a lot. But we need more, not just consuming cafes with shisha."
Ali Dib has previously tried to expand Warche by establishing a civic center near the cafe. However, these plans fell through over disagreements with the landlord over rental fees.
But this has not deterred Ali Dib who wants to use Warche as an example of what the city could be.
"I see Warche as a movement. And this movement should be expanding," she said. "Warche will expand in the future and I hope many people will accept that Tripoli is a city and not just a city that when the sun is down, you can't walk in the city because everything is closed and only shisha cafes stay open."
Any hopes for a cultural revival in Tripoli are likely limited to small events, like those held at Rumman, Warche and other establishments on Monot Street, until Lebanon's economic situation starts to improve.
"Because of the economic crisis and because of the political instability, things just got canceled and stopped," Zolotareva stated. "Many people got desperate and stopped their projects. Unfortunately, that's why many initiatives just never came back. We've seen some revival but on a very, very small scale. People try, but they don't dare to dream big because you never know what will happen tomorrow."
Nicholas Frakes is a multimedia journalist with @NOW_leb. He tweets @nicfrakesjourno.