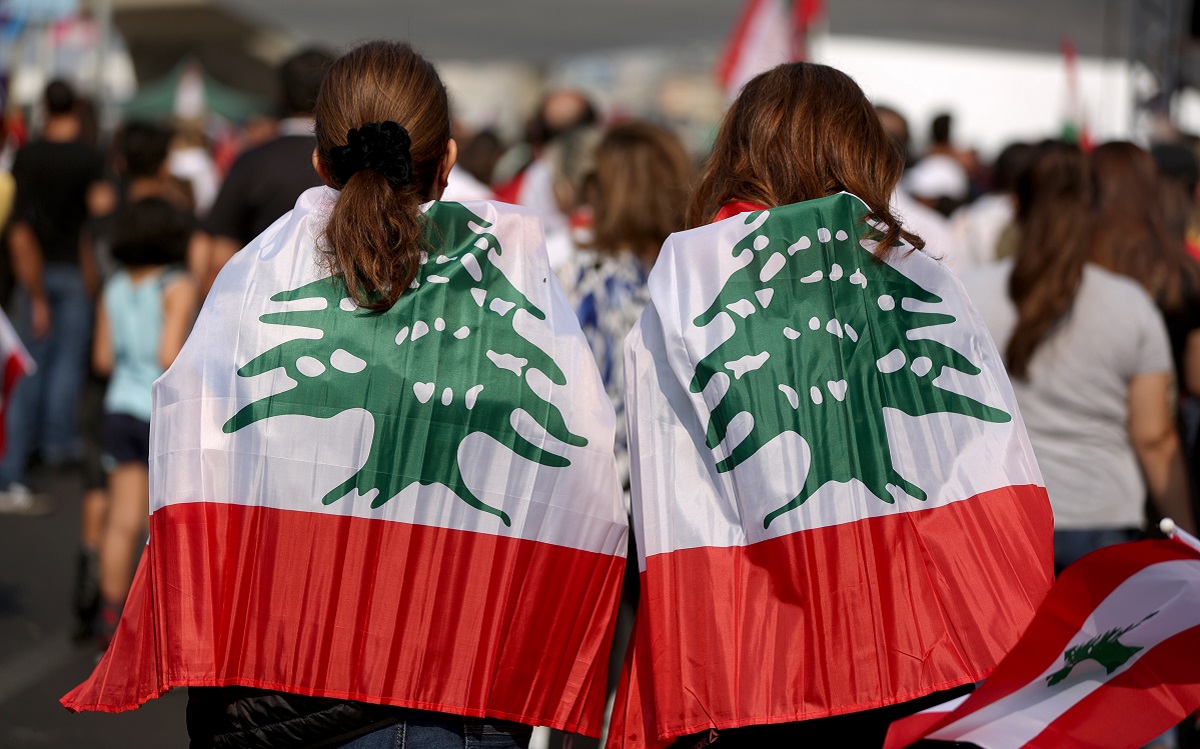 Lebanese protesters wrapped in their national flag take part in a human chain along the coast from north to south as a symbol of unity during ongoing anti-government demonstrations in the area of Jal al-Dib in the northern outskirts of the Lebanese capital Beirut. Photo: Patrick Baz, AFP.
Minteshreen. In Arabic, the word holds two meanings: "spread out" and "from October".

The Lebanese secular group that has recently launched a website and a list of candidates for the upcoming general elections to be held in Spring 2022, wants to stand for both – spread the October 17, 2019 protest movement ideas to the larger Lebanese society. 
Like Minteshreen, several alternative political groups that sprung out of the October 17 protests, as well as others that had run on independent lists in the 2018 elections, and some that are rebranding themselves as opposition, are aiming at scoring at least some parliament seats. 
However, experts say, positioning themselves as seculars and anti-establishment may not be enough for the new wave of politicians to be successful in elections. They need to make themselves more visible and offer some concrete solutions for the country's economic and political deadlocks. 
"Electorally, the opposition has a chance to win but they need a clear vision and a clear political program," Fadia Kiwan, political science professor at Beirut's Universite Saint Joseph told NOW.
"The number of party supporters dropped significantly due to their incompetence, but the alternatives need to unite and provide a unified plan that they will all follow to increase their chances of winning," Kiwan said.
Starting or re-starting from scratch
The problem is that all non-sectarian groups don't have much to build on. Some lack visibility, especially outside the cities, and are up against traditional sectarian parties with clear hierarchies, sustained by decades-long cohesive patron-client relations. Others have been active for longer, but have been marginal to the Lebanese political scene. 
The National Bloc, for example, is a secular, social liberal party formed in the 1940s by former Lebanese president Emile Edde. It was one of the main political forces in Lebanon during the end of the 1940s and 1950s. However, the party did not participate in the civil war and also refused to adhere to the Taif Agreement, losing ground in favor of sectarian factions that rose to power. In February 2019 it relaunched with a progressive agenda.  The National Bloc comprehensive political program focuses on recovery from the economic crisis: limit the budget deficit to 4 percent within 3 years, cut the electricity deficit to zero within 2 years, and rationalize the public sector's employment policy; it wants to overhaul and enumerate the losses of "Banque du Liban", redirect its focus back to its core mission of maintaining currency stability and financial soundness in the banking sector, and gradually adopt a floating exchange rate; It also wants to reform the banking sector by encouraging consolidation, protecting small depositors, and ensuring the financial needs of citizens and the economy are met.
"Priorities right now are creating social safety nets and the stimulation of the economy", Rim Haidar, a policy analyst at the National Bloc told NOW. 
Another secular group, Beirut Madinati, has the experience of the 2016 municipal elections. The movement started during 2015-2016 you stink protests – triggered by a trash crisis in the Beirut capital in addition to power cuts and lack of infrastructure – and it ran with independent lists in the municipal elections in 2016, when it managed to win one of the three Beirut districts, but lost against the list supported by the sectarian factions. Its list ran in 2016 on a 10 point program advancing policies on mobility, public spaces, housing, waste management, community services, environment, health and municipal governance. 
Minteshreen, however, is new to the political scene. The group born out of the 2019 protests launched its website last week, where it published a detailed political program that focuses on economic recovery, sustainable environmental policies, as well as energy policies based on scrapping outdated and costly equipment and practices. In terms of foreign policy, Minteshreen favors sovereignty by establishing a civil state and a defense policy based on strengthening the Lebanese army. The new group has a four-member executive council as well as a steering committee made of the heads of several specialized committees focusing on labor unions, environment, communications, social policy, recruitment, external relations, civil rights, as well as youth. 
For Samer Makarem, a member of Minteshreen's executive council and the party's recording secretary, the upcoming electoral battle is about building a proper functioning state and redefining what it means to be a citizen and the rights and responsibilities that come alongside it. 
Two other movements that are new to the political scene, Kulluna Irada, an advocacy group for political reform, and Nahwal Watan, an organization for political change, announced on October 28 that they joined forces therefore to create a united platform for political transformation in Lebanon. The newly elected board of directors equally representing both organizations, elected Albert Kostanian, strategy expert and political journalist, as chairman of the alliance.
However, Nahwal Watan announced on November 2 that it was discontinuing the merger with Kulluna Irada due to "disagreements on strategy".
The Kataeb party has joined the revolutionary groups in their opposition against the current political class after it completely resigned from the government in 2016 and from the Parliament in 2020. The Christian party joined forces with 8 opposition groups – Taqaddom, Rebels, Haraket Al Estiklal, Khat Ahmar, Liqaa Teshreen, Nabed Al Janoub Al Montafed, Etihad Thouwar Alshamal and Third Republic – and set up an opposition front, announced on April 15.  
They focused on the country's sovereignty with one of its main priorities being disarming Hezbollah and building a neutral Lebanese state with an emphasis on the Lebanese Army as the only defense institution. 
Mark Daou, a member of the Taqqadom movement, told NOW that the front prioritized three major points, holding the corrupted politicians accountable, state sovereignty, and constitutional work.
"We believe that the people want a strong opposition front that shows them that change is possible. We're trying to reach out to several groups that share the same vision in order to put a proper political program," he said.
Daou also explained that Taqaddom was aware of Kataeb's past as a civil war militia and sectarian party. He said that the old party gained their trust since they were no longer a main political player and participated in many civil society movements. 
"We're not going by people's opinions of them. As long as we get along politically and share the same principles then there's no issue," Daou said.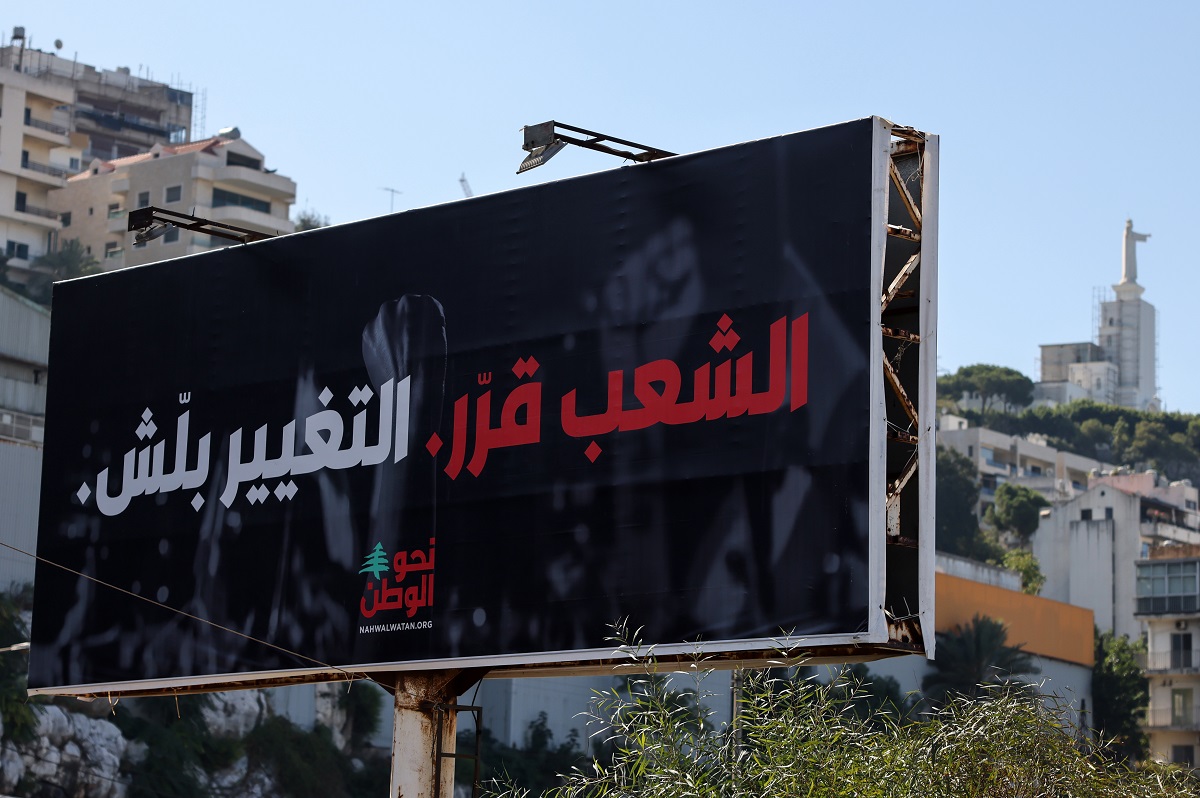 Making themselves known
A united opposition front for the 2022 elections is on everyone's mind.
"The country needs a united strong force that can put an immediate rescue plan to save the country rather than to have individual groups that would merely replace their precedents on the parliamentary seats," Kiwan pointed out. 
The political groups' members agree that they need to stand together in order to break through a rather hostile electoral legislation. 
"On April 13, we invited several opposition parties to our headquarters with the intention to collaborate and work on unifying our powers as we all share the same goal," the National Bloc's Haidar explained. The opposition alliance that resulted was named "the April 13 Call" and brought together the National Bloc, Beirut Madinati and Minteshreen. 
Beirut Madinati's citizen council member Tarek Ammar said that unity needed to be based on shared political principles. 
"We work with whoever shares the principles that the 2019 revolution inspired. We're not going to work with sectarian people when we're aiming for a non-sectarian system," Ammar said. 
With solid plans in place, members of the political groups say they are aware that they need to reach out to voters, being that they are all rather new and many voters, especially in rural areas, don't really have any information about them. 
They need a stronger media presence, particularly on billboards and television, the main channels of political advertising in Lebanon. Social media presence is not enough, as it only reaches a small part of the population and some diaspora. 
Minteshreen's Makarem explained that it was imperative for voters to know the candidates, not just vote for a given list just because "they were running against the traditional parties". He also said that the lesson learned from the 2018 general election failure is that politicians need to talk to voters, make themselves and their skills known. Also, even when they fail to get elected, they should not simply vanish from the public sphere. 
"But if [independents] kept working after the elections, we would have credible figures that the people already trusted," Makarem added.
Beirut Madinati, which has been through municipal elections and various civil movements since 2015, is willing to put those lessons into practice, Ammar said. 
"People need to get to know us and hear our action plan. We even go to areas where we might not win electorally but it's important to show up and speak to people," he pointed out. "People are upset from the ruling class and they hold them accountable for everything we've been through, but they're not familiar with the alternative options so this is why we plan to tour around Lebanon to make sure we're seen and heard."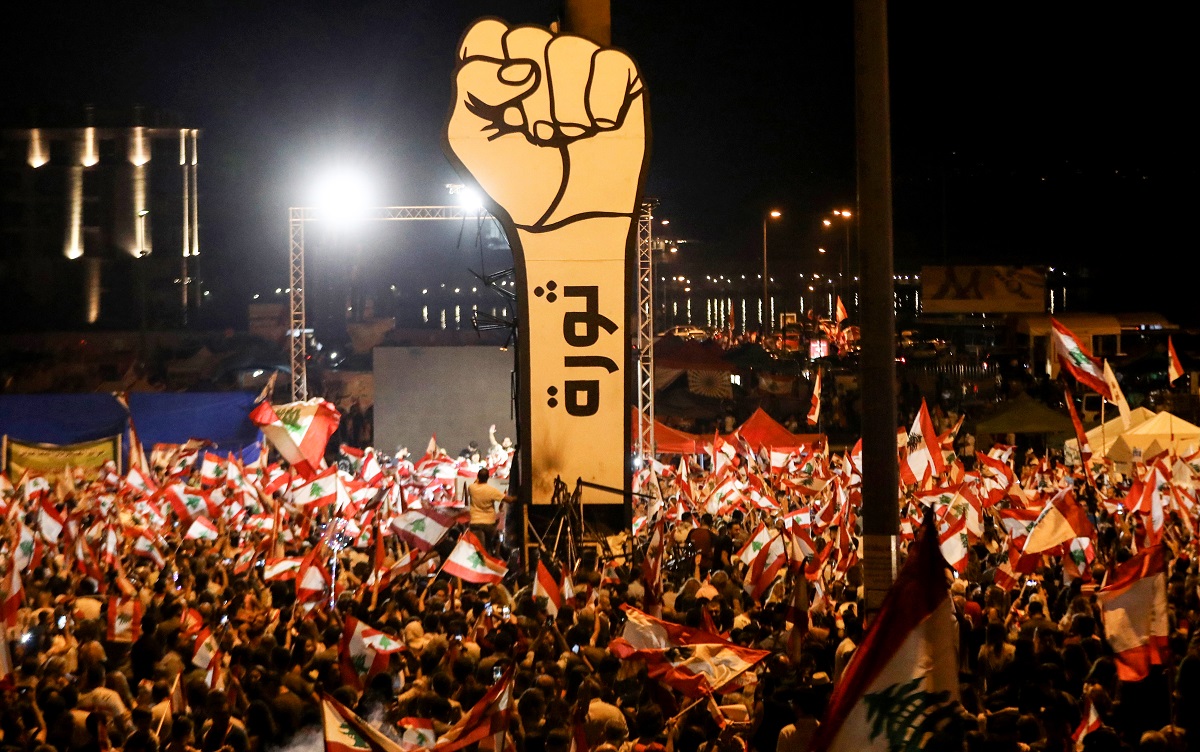 The battlefield
Kiwan explained that fear seems to be the biggest challenge to overcome in regards to  sectarian rifts, especially in light of recent clashes and the fact that sectarian parties seem to thrive on fear of the other. 
"People are scared of each other because each sect wants to protect itself and is scared of being annihilated by the other," Kiwan said.
The opposition parties' central and unifying principle is to abolish sectarianism in Lebanon, which, Kiwan says, is the traditional parties' strength. The fight against sectarianism means dismantling a system that many people continue to rely on and benefit from.
Despite the fact that the crises have reached virtually every house in the country, some find it hard to let go of their support for the traditional parties. Two main reasons are fear of the unknown and losing the social benefits such as jobs, food, and money that the sectarian factions offered in return for support.
Makarem pointed out that Minteshreen expected the political class to use every tool it had in this battle, from fear tactics and smear campaigns, to physical threats. 
Protestors in 2019 have already been through the mill. Some politicians raised conspiracy theories regarding funding for the protesting groups claiming that foreign parties were involved. Amal and Hezbollah supporters also attacked demonstrators on multiple occasions.
"They're going to say we're funded by foreign embassies or unequipped for the roles. Basically, everything they blamed us on in 2019," he said.
"We can't be scared. Change is going to happen and that's inevitable. But they'll definitely say we are funded by certain foreign groups or that we are inexperienced in order to belittle us and we know that 2022 is just the beginning and that the real work is on the long term," he added. 
The traditional parties are still a force to be reckoned with within the society, but by creating a coalition, Kiwan expected the opposition to amass around 25 of the 128 parliamentary seats. 
"These 25 from various sects could have a big influence on the government and then they would be able to take over various ministries such as social affairs, environment and energy and leave out the ministry of defense and foreign affairs, the ruling class favorites," the professor explained. 
Ammar said that Beirut Madinati members held a clean record of consistent action like participating in protests, syndicate and municipality elections, that people could refer back to as proof of credibility.
Haidar explained that the National Bloc was open about finances as they made all information about their funds accessible. They also provided annual reports and detailed information about their program.
Makarem said that Minteshreen currently focuses on minimizing the effects of the economic collapse by working with partner NGOs to provide support for those in need. 
Another big hurdle is overcoming differences between different opposition groups and creating that united front. Some prioritize economic reforms before sovereignty, others insist that sovereignty comes before reforms. Some want to include reformed sectarian parties in their political projects, others are more radical and refuse to cooperate with any reformed faction. But segmentation of the opposition is a story the Lebanese electorate has been seeing very frequently during the past 15 years, since Syria has left Lebanon. 
"The people can't take any more political disappointments and the opposition should understand the urgency of the matter," Kiwan said.
"We shouldn't be afraid of trying. We have to try these new faces, watch their performance closely and hold them accountable for their actions. The lack of accountability was the reason behind the state collapse."
Dana Hourany is a multimedia journalist with @NOW_leb. She is on Instagram @danahourany