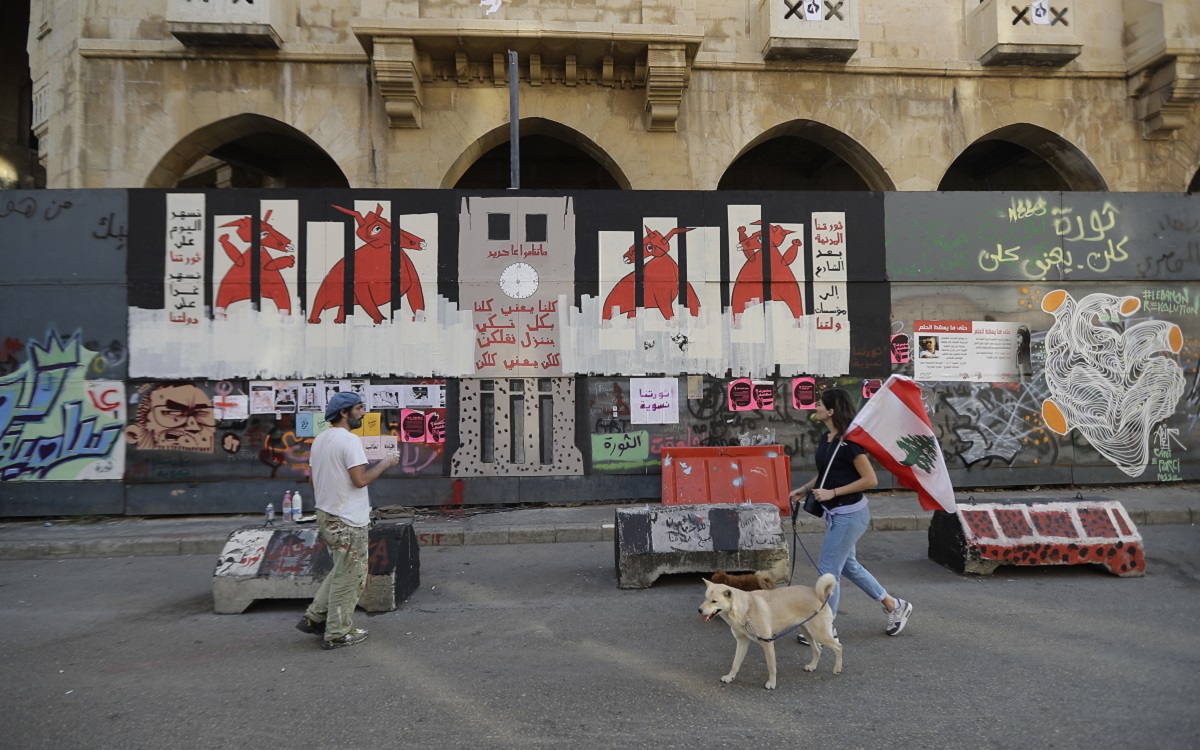 Lebanese artist and rights activist Selim Mawad finishes his mural of stylised bulls in central Beirut on November 6, 2019, les than a month after the October 17 protests against the Lebanese political establishment started.Photo: Joseph Eid, AFP.
For many Lebanese, the upcoming parliamentary elections are a moment of hope. The promise of radical change seems to have finally materialized, as the number of independent candidates standing against established parties has more than doubled since the last elections in 2018. Almost half of all candidates are independents, 15 percent are women, and their faces are definitely younger than ever before.
It may sound surprising, then, that human rights have been marginalized during the electoral campaign, according to observers and activists. "It is quite discouraging to see how topics such as LGBTQ+, disability, or economic rights were completely ignored in the media and political speeches," criticized Aya Majzoub, Lebanon researcher at Human Rights Watch.
In April, she sent out a questionnaire to all political parties and candidates, asking them which human right reforms they envisaged to implement and how. Only one party – Taqqadom – and nine independent candidates answered. "This lack of response is unsurprising, considering how the campaign has unfolded," she deplored.
Absence of minority rights
As an example, she cites the rights of the LGBTQ+ community: "they are not part of the conversation in Lebanon."
Article 534 of the Lebanese penal code condemns sexual acts which are "against nature," and queer people face repression from state and religious institutions. Gay Pride events were repeatedly banned, homophobic beatings and insults are common occurrences, and discrimination against homosexual and transgender people is prevalent.
"We need to repeal article 534 and introduce strong anti-discrimination laws. Some candidates made commitments in this direction, but there has hardly been any debate on this topic," Majzoub said. Queer organizations refused to comment for fear of reprecussions, as the elections are a time of polarization.
Migrant workers, including female domestic workers, also face similar negligence. To NOW Lebanon's knowledge, only one candidate included ending the Kafala system in her program. "Many candidates will say, 'this is not urgent, it is not the right time', which enables them to ignore these topics," Majzoub said.
Disability rights: totally ignored
According to Majzoub, persons with disabilities constitute the largest minority in Lebanon – up to 15 percent of the population, however their right to vote may not be guaranteed. "Neither the polling stations nor the programs are made accessible for those with disabilities", Majzoub said.
The elderly, also a large minority, are similarly neglected. "Lebanon is the country with the oldest population in the region. Yet, there has been no talk about their rights", she deplores. 
She also pointed out the absence of public health and safety measures in the debates. "Although some independent parties propose universal health care and proper investments for the public health sector, they have not been able to put this vital issue in the center," she said.
Economic crisis and social rights
Lebanon's descent into one of the world's worst economic crises understandingly preoccupied most media and partisan attention, Majzoub explained. "Most news outlets and candidates acted as if human rights were a totally separate issue from the crisis. But economic and social rights are also human rights," she argued, calling out this "common misconception".
Dignity, access to electricity and education, food security, transportation, and fair wages, were central demands of the 2019 uprisings, and are still the main concern of the majority of the population, two years into Lebanons descent into hell. Yet, campaigns mainly focused on diverting blame to other parties, accusations of corruption, and incompetence from all sides.
"Although the crisis was the major topic of these elections, almost no candidates had credible plans to stop it, other than vague formulations," she criticized.
Moreover, she believes that the crisis will restrict the right to vote, as the electoral law forces voters to travel back to their family's ancestral hometown. "Many, if not most people, cannot afford the cost for such a trip," she commented.
"This favors established and rich parties, which will bus their electors to their polling station in exchange for their voice".
Populist campaign
Human rights were sidelined during the electoral campaigns also due to the focus on security and geopolitical issues. "Almost all parties, including the independent ones, lead a quite populist campaign on the issue of Hezbollah's weapons," explained Wadih el-Asmar, director of the Lebanese Center for Human Rights and EuroMedRights. For him, the cleavage between the "sovereignists" and the "Resistance" monopolized the energy and discourse of most parties.
If the Lebanese Forces and Kataeb are notoriously known for their opposition to Hezbollah and its allies, most independent parties aligned on this line. 
"Many parties are not at ease with human rights, so they deflected the attention to another, more salient topic. Doing so, they gave even more power to Hezbollah, which is once again at the center of attention," el-Asmar argued. For him, such a polarized campaign was unable to give rise to healthy debates on concrete issues, such as human rights.
The battle for female representation
This tense atmosphere led to many occurrences of physical and verbal abuse against candidates. The Maharat Association documented a number of violent acts committed against women on television and on social media platforms in April. Of the 39,371 comments responding to 2,710 posts by the 102 candidates, a total of 831 comments are characterized as gender-based violence.
"Attacks against women candidates tend to get very personal and concern their privacy, morality, and family life, instead of concrete proposals and political stances," said Aya Majzoub.
For her, TV and radio show hosts played an aggravating role in this trend. Maharat found that, in April, women had accounted for only 22% of talk show and 4% of news bulletin appearances.
And women still only represent 15% of all candidates – "it's better than 2018, but not enough, especially since most independent lists didn't bother to reach parity within their own ranks," she criticized.
Attacks against candidates
Homosexuality has also been an excuse for personal attacks against certain candidates. "This occurred even on independent lists!" exclaims el-Asmar. As an example, he quotes the case of a candidate who resigned from her list after her lesbian daughter had been trashed by fellow candidates.
In other cases, independents were intimidated and even physically assaulted. In April, members of the unified independent list were blocked and assaulted by Amal militiamen in Nabatieh, who shot live rounds in the air, and forced them to cancel their meeting.
"This phenomenon is particularly worrying, because it will discourage independent candidates from running for office and scare potential voters from giving them their voice,"  el-Asmar said. Numerous cases of voters being intimidated and bribed up to 800$ have been documented, according to external sources.
Hate speech
Next to attacking the rights of their rivals, many candidates also "fanned the flames of hatred against minorities" according to el-Asmar. Syrians in particular, of which 1,5 million live and work in Lebanon, have been a recurrent target for establishment and independent parties alike.
"It is well known that the Lebanese Forces, Kataeb and FPM use racism to deflect their own responsibility in the crisis by scapegoating Syrians," he explained.
"But independent candidates have been no exception. They either had no realistic plans to end the refugee crisis or accused them of being an economic burden for the country".
This trend has been confirmed by the Lebanese Association for Democratic Elections (LADE). "The majority of political parties and newly emerging political groups are practicing hate speech. And most of the electoral speeches during this period resorted to incitement and populism," reported its spokesperson, Cendrella Azar.
Alternative but not progressive
Wadih el-Asmar blamed the lack of focus on human rights and concrete measures to address the crisis on the conservatism of many independent parties. "It's not because they claim to represent change that they back human rights and real reforms," he said.
"These groups were relatively small during the Thawra, but they gained weight during the elections – they call themselves antisystem, but are very opportunist," he criticized.
In many independent lists, human-rights-friendly candidates would fall prey to self-censorship in order to find compromises with more conservative elements. It is the format of the elections themselves which favors conservative and neoliberal power politics, as well as domestic quarrels between parties, says Wadih el-Asmar.
"The progressive and independent parties were unable to refuse the dictatorship of what is perceived as the majority opinion," he asserted.
The mainstream media outlets reinforced this trend, since participation in popular talk shows can cost up to 500,000$, el-Asmar said. "Small and progressive parties cannot pay these sums, so they remain silenced," he deplored.
El-Asmar underlined the irony of the situation, as a rise in independent parties and programs did not translate into the campaign. "Honestly, I feel that the issue of human rights was in decline this year, compared to the 2018 elections," he said.
Philippe Pernot is a French-German freelance journalist and photographer currently based in Tripoli, Lebanon. He studied political science in France and Germany, and he focuses his work on social movements such as feminism, ecology and anarchism, as well as on minority rights and discrimination. Follow him on Instagram.