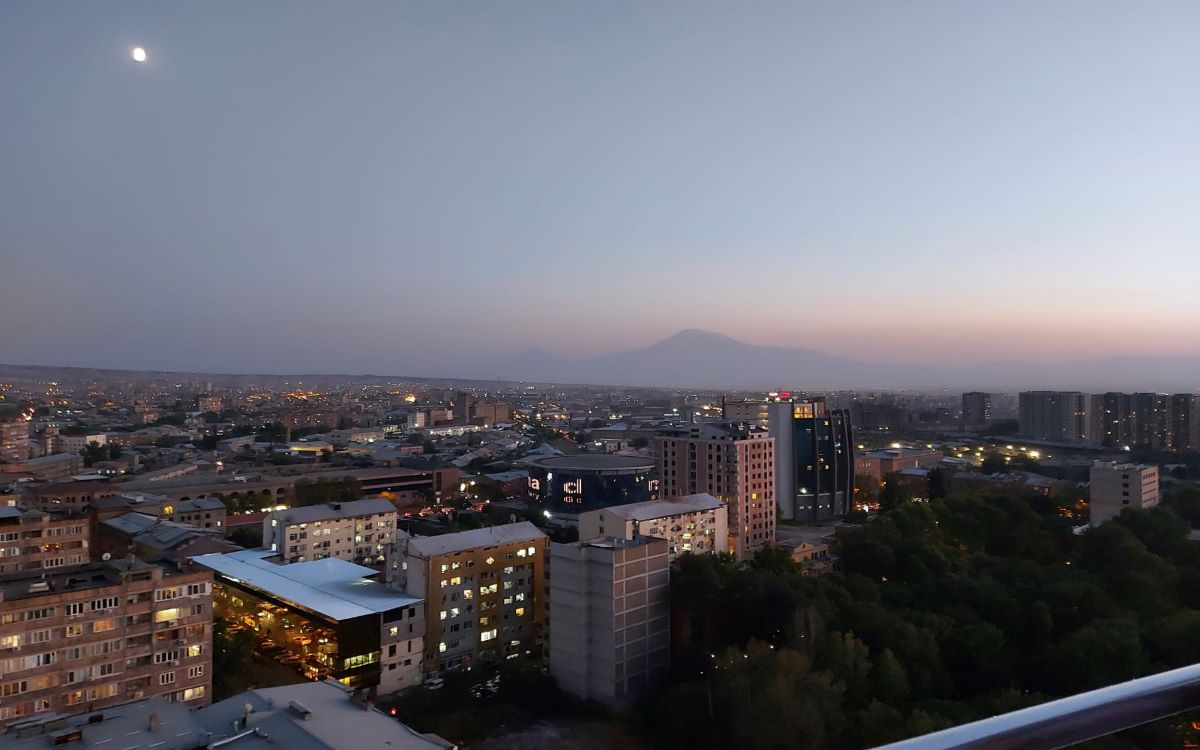 Aerial view of Yerevan with Mount Ararat in the background. Photo: Avedis Sarafian.
Avedis Sarafian, 36-year-old web developer, moved to Armenia after the August 4, 2020 explosion that blew up his office in Armenia Street, Beirut, one of the areas most devastated by the blast. 
"I've been through the Lebanese civil war and I thought that things couldn't get worse after that but everything became traumatizing after the explosion," Sarafian told NOW.
Thousands of Lebanese families have left Lebanon after the August 4, 2020, Beirut port blast, which killed over 200, wounded some 7000 people and affected several neighborhoods in the Lebanese capital. Lebanese Armenians were not spared, as some of the neighborhoods the community is concentrated in are located in the area affected by the disaster. 
Lebanon has been home to hundreds of thousands of Armenians who took refuge in the country after 1915 after they were subjected to deportations and massacres in their native Cilicia during the genocide committed by the Ottoman Empire. If in the 1950 and 1960s the community had grown to an estimated 200,000, in recent years, due to emigration, it dropped to some 40,000- 60,000. 
In 2021, two years after the Lebanese economy plunged and a year after the Beirut port blast, some Lebanese Armenians, faced with worsening living conditions in the country, are emigrating to nowadays Armenia – a land they can't call their original homeland, but they are willing to call home. 
"I felt as if I broke free"
Aram, a 31-year-old artist and graphic designer, felt as if his life was stuck in a motionless loop and left for Armenia last week in search of a fresh start.
"I was unemployed and it was like I was paused by a TV remote controller, it was as if I was stuck in a pond not sure what exactly was happening," Aram told NOW.
The feeling of uncertainty coupled with the fear of a bleak future made the decision to leave easy to make. 
Upon arriving in Armenia, I felt as if I broke free after being locked in and kind of punished by being cut off from my basic rights like electricity, internet and a normal healthy happy daily routine.
With inflation rampaging, Aram found it hard to maintain a creative vision as prices of paint bottles and canvases skyrocketed in the last year. 
"I lost all motivation because of the prices and even venues and galleries don't operate the way they used to," he said. 
With his creative projects on hold, the graphic designer decided that there was not much to lose either way and headed to Armenia, without securing a job first.
"Upon arriving in Armenia, I felt as if I broke free after being locked and kind of punished by being cut off from my basic rights like electricity, internet and a normal healthy happy daily routine," Aram stated.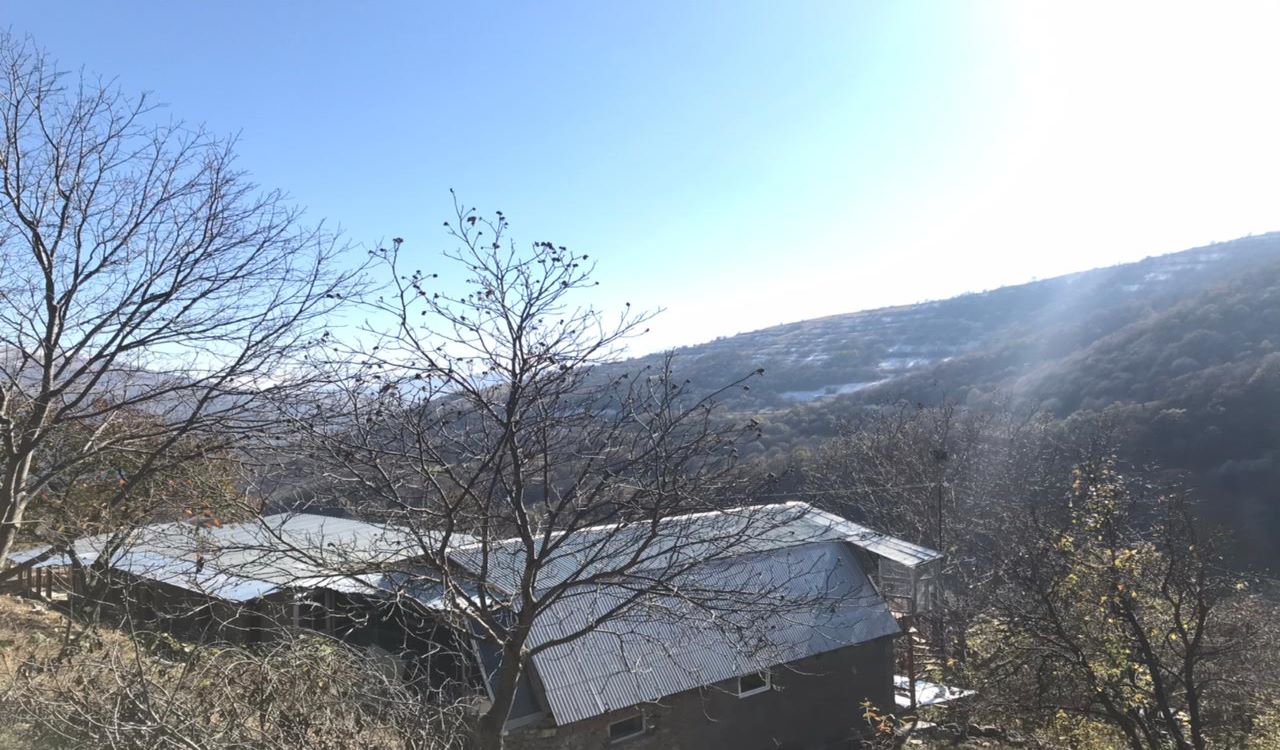 "People manage"
Sarafian said that the IT business in Armenia was booming and that it offered many expats good opportunities to grow. However, salaries are often lower than what the Lebanese market used to offer before the crisis. 
"The minimum wage here is 200$. But people manage. Married couples can share a home with their families and that's normal here," he said.
The rents are also affordable, with the costs ranging between $200 to $300 at the lowest for a one-bedroom apartment. 
Although he used to earn much more in Lebanon as a tech entrepreneur, Sarafian was able to get a good job as a senior web developer. The monthly wage covers his expenses and he can also save some. 
"I used to work 20 hours thinking this was the norm in order to satisfy the clients and the extra hours weren't paid. Here everything is paid for and appreciated," he explained. 
Utilities only amount to $20 a month and Armenia's nuclear plant provides electricity 24/7, something Lebanon has never seen.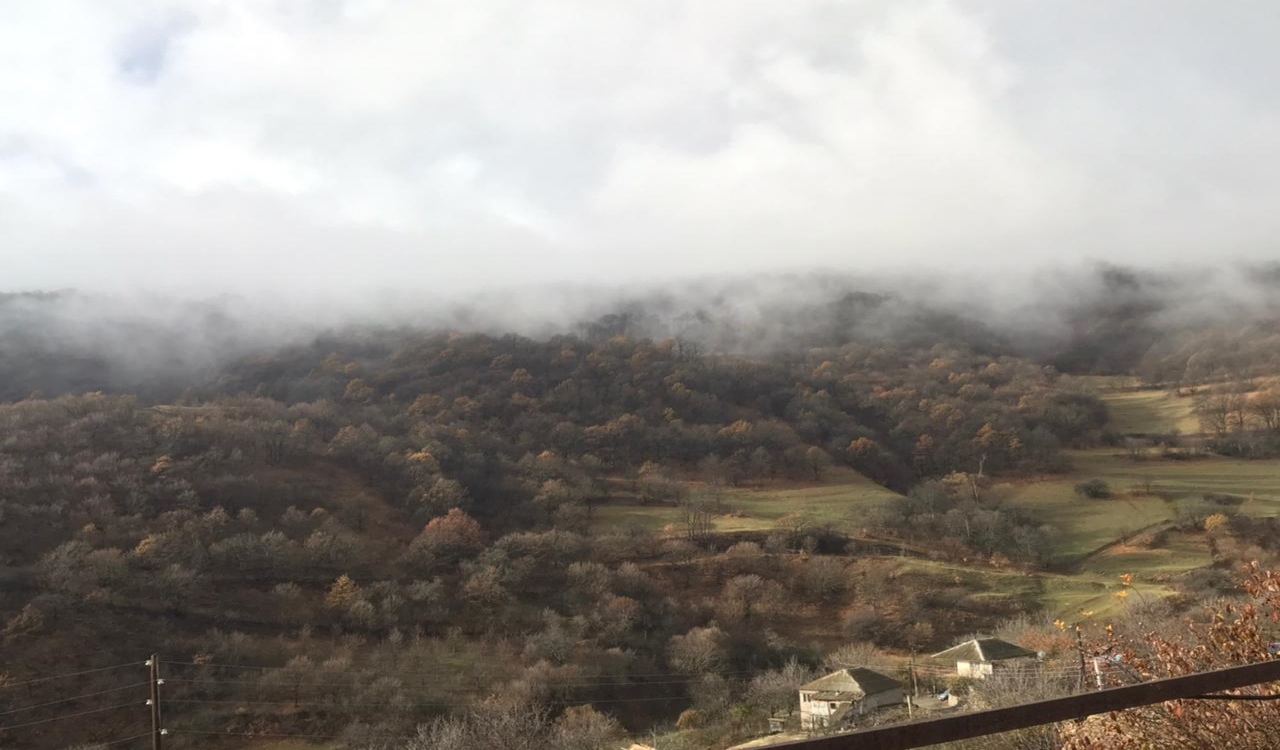 A new home for old dreams
Harout, 23, who introduces himself as a nature lover and bartender, left Lebanon in 2018, before the crisis hit. He felt the collapse was imminent.
"Even back then it felt like a warzone. There were tons of checkpoints, garbage was everywhere and we barely had government electricity," Harout said. 
Originally from Anjar, a historical town in the Bekaa Valley Zahle district, Harout had a dream to set up an eco-village in his hometown. But he says he had to give up his dream, at least for a few years. 
He left for Armenia with no money and no real plan. 
"I started working as a bartender making 6$ per day vs the 250$ I used to make in Lebanon so I was sad in the beginning, but things are cheap there, " he explained. "Then Covid hit and I was unemployed."
He found himself back in survival mode when the first lockdowns occurred. When war broke down in Artsakh in the summer of 2020, he decided to volunteer. 
"When I was volunteering to help out some families in Artsakh, bombs would drop next to us and I wouldn't flinch because we're used to these things in Lebanon. But it's not normal," he said.
He came back to Lebanon for a visit, but he says it took him two days before he felt compelled to return to Armenia. In Armenia's growing economy, Harout said he realized he could make the dream he had for Anjar come true. 
"I live in a village called Karaberd and I love it. I get to be as creative as I want to be, and I have environmental projects with NGOs happening soon."
Aram, on the other hand, says he found inspiration in Armenia. He visited cultural and heritage spaces such as the Museum Of Armenia, Sergei Paradjanov Museum, Matenadaran depository of ancient manuscripts. He says he feels he has a chance as an artist. 
A week after he landed in Yerevan, he said he was looking for a job in graphic design, but he also wanted to continue his music and visual arts career. He had already had exhibitions in Lebanon and had performed with an Armenian folklore band on stage. 
Sarafian, who called himself a workaholic, also agreed that the atmosphere in Armenia was more relaxed and allowed him to focus on his career.
"My wife and I were planning to move to Canada but that is on hold because life is so relaxing here. No need to leave just yet," he explained.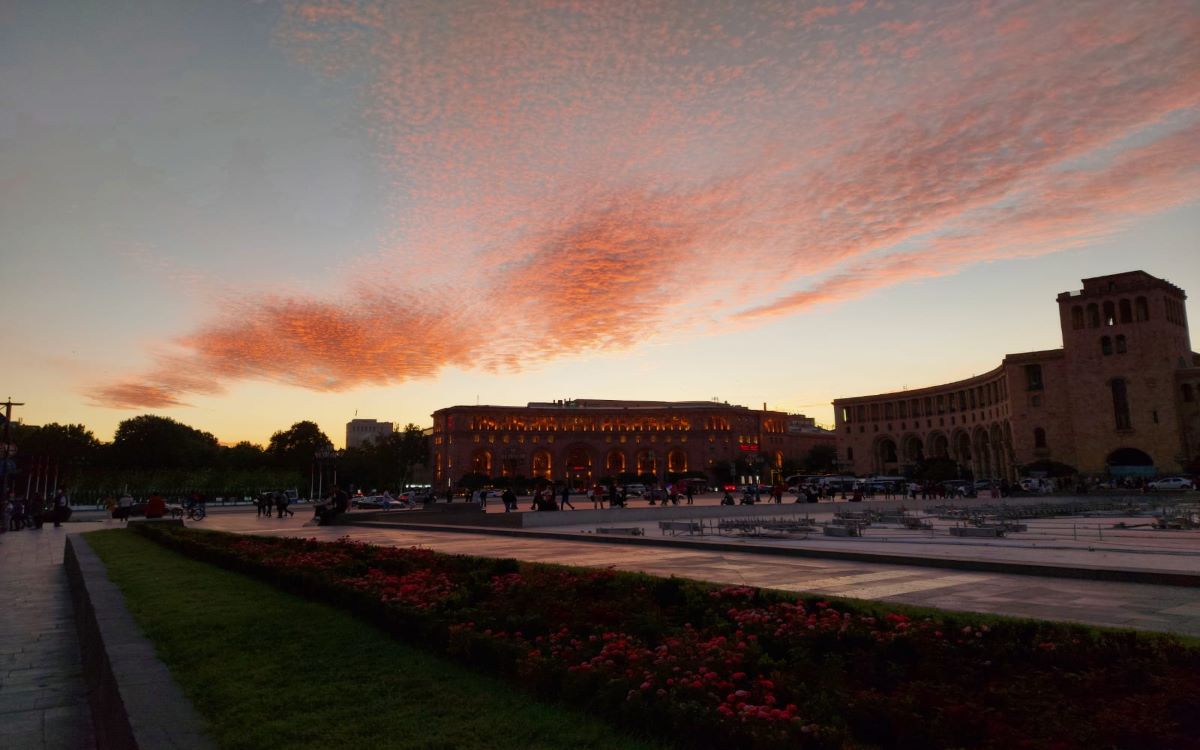 Yerevan vs. Beirut
Yerevan is where most of the diaspora coming from Lebanon is relocating to. Many Armenian Lebanese have opened shops, restaurants, coffee houses, clubs, and bars. 
Sarafian explained that this might be a double-edged sword because residents started to feel invaded by diaspora Armenians and some feared they would lose jobs. But the general outcome was noticeably positive, he said. 
"There's a certain finesse and quality that you find in these new places that is very striking. The diaspora brought with them the Lebanese service style and etiquette which enhanced local businesses," he stated.
Hospitality, IT, and real estate are three booming industries that the Lebanese Armenians played a big role in developing in Yerevan. 
"When I first came to Armenia, I had no friends. Now all my close friends and cousins have moved here. The country is still growing," Harout stated. 
Neither Harout nor Sarafian ever anticipated that they would move to Armenia a few years back when the Lebanese economy was still functioning. 
"Lebanon is also home for me but this is my motherland and I like to motivate other Armenians to move here. So that we can all have a future in Armenia, that's how I envision the future," Harout said.
For Sarafian, the country had changed drastically. On his yearly visits to Armenia,  communication with residents was hard as accents would vary and some still spoke Russian. But the country seemed to be keeping up with the times, so he explained that cultural differences were adjustable. Armenians in Lebanon have always had community schools and they all taught classes about Armenian culture and the country in general. 
"I have nothing to give Lebanon anymore. It took a lot from me and it's not even an efficient lifestyle, you give 80 percent and receive 20 percent. I was 35 and I owned nothing, I only had a car that they stole."
"That's not progress, I'm a hard worker. I love my work and after seeing the economic crash and all the money saved up being turned to mere numbers… I had one last breath that I saved in order to start over here in Armenia", Sarafian added.
Dana Hourany is a multimedia journalist with @NOW_leb. She is on Instagram @danahourany.