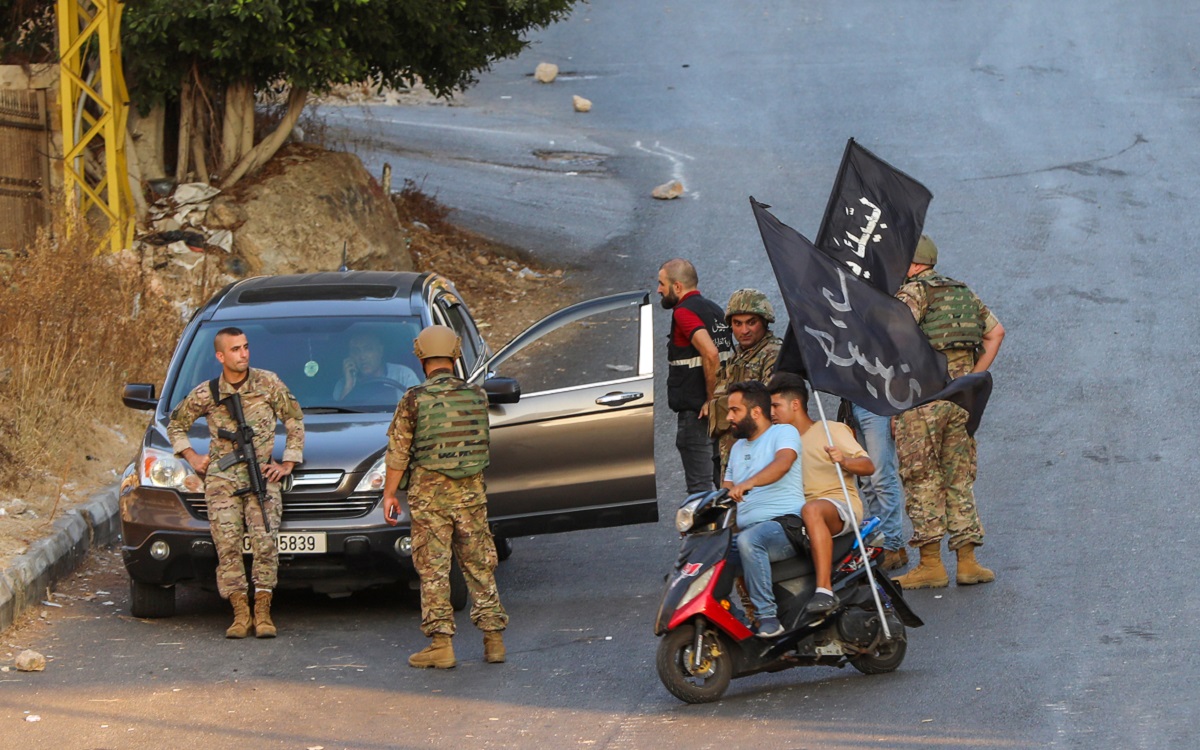 Hezbollah supporters carrying flags on motorbikes drive past Lebanese soldiers as the army deploys amid clashes in the Khalde area. Photo: Anwar Amro, AFP.
At least five people including three Hezbollah members were killed south of Beirut Sunday when a funeral procession for a party member was ambushed, a Lebanese security source told AFP.
Several people were wounded in the exchange of fire in the Khalde area between members of the Lebanese Shiite group and Sunni residents, the source said.
The funeral was for a Hezbollah man killed the night before, the source added.
Hezbollah in a statement appealed to the army and security forces to arrest those behind the "ambush", which it said killed two people among the funeral procession. Amal Movement also issued a statement on Sunday night condemning the incident and requesting the intervention of the Lebanese army and security institutions.
A military source told AFP the army had deployed in force to the area and sent reinforcements.
The army said in a statement that soldiers would "open fire on all armed men on the streets of Khalde" and in response to any other shootings.
Hezbollah member Ali Shebli was killed at point-blank range at a wedding on Saturday night in Khalde, in an apparent revenge killing for the deaths of two people last year in the same area.
The NNA reported that the Lebanese army evacuated Ali Shibli's body and rescued 15 members of his family who were taking refuge in Shibli's house in Khaldeh.
Prime minister-designate Najib Mikati appealed for "restraint" and warned against confessional "discord".
A large number of Sunni nomad tribe members gathered in Abdel Hamid Karami Square in Tripoli, in solidarity with what they called the "Arabs of Khaldeh" – members of former nomad Sunni tribes who settled in the area, the NNA reported. They stressed their support for their families in the southern suburb of Beirut and calling on the army to intervene "before things deteriorate and turn into strife that affects everyone."
The violence comes as Lebanon faces an economic crisis branded by the World Bank as one of the world's worst since the mid-19th century.
The country is grappling with soaring poverty, a plummeting currency and shortages of basic items from medicines to fuel.
It has been without a government for almost a year after the cabinet resigned in the wake of a catastrophic explosion at Beirut's port last August 4.
Lebanon has been mired in political instability since a nationwide protest movement broke out in late 2019, demanding an end to the system of confessional power-sharing that it said rewarded corruption and incompetence.
Photos: Anwar Amro, AFP.