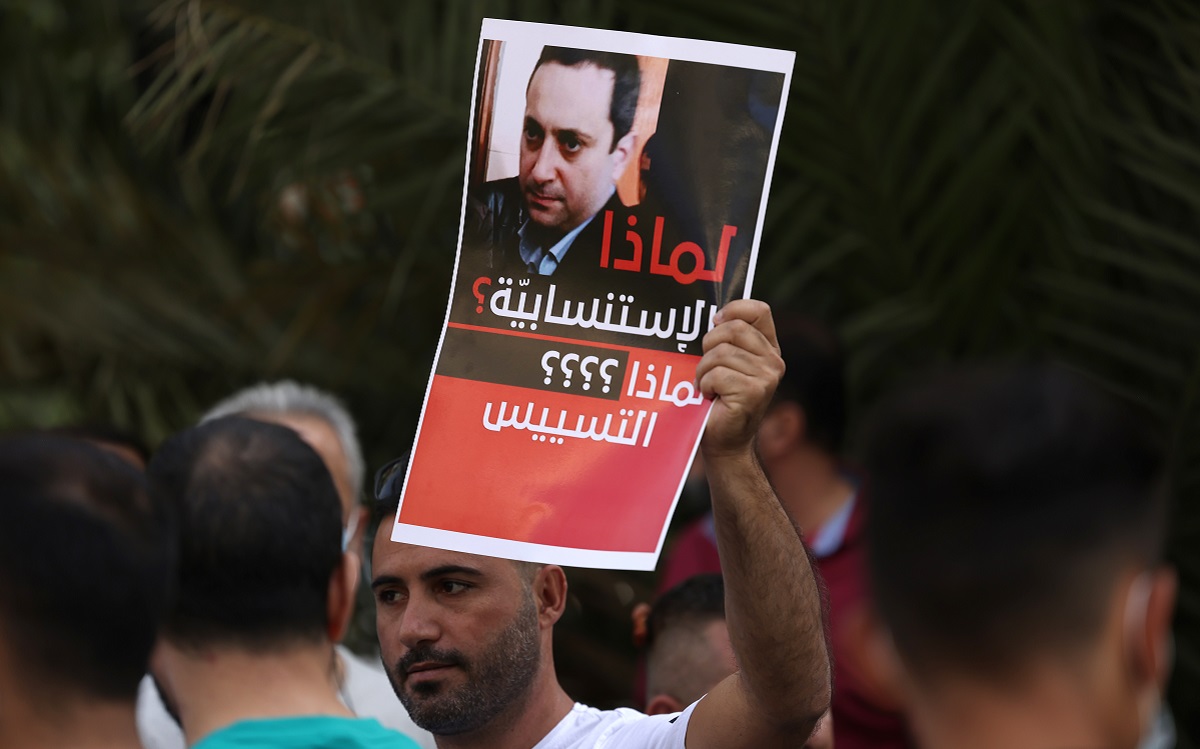 A supporter of Hezbollah and the Amal movements carries a portrait of Judge Tarek Bitar, the Beirut blast lead investigator, near the Justice Palace in the capital Beirut on October 14, 2021, during a gathering to demand his dismissal. Photo: Joseph Eid, AFP.
Religion is nothing special, but it's central. British anthropologist Maurice Bloch says that we, humans, often choose to live in a double social sphere – one that is transactional, the worldly, the mortal and ephemeral, and one that is transcendent. 
In his article on the double character of the human social, Bloch looks at how a Malagasy tribe treats an elder. On the one hand, old, physically weak, and spends his time in the fetal position, wrapped in a blanket. Yet, he is treated with respect, and even fear. He blesses the community at rituals. In the transactional social sphere, he has become insignificant. In the transcendental social sphere, he is the Ancestor.
The head of the Beirut blast probe, Tarek Bitar, has transcended already. Sure, he exists here, in our daily transactional as a simple prosecutor. He may even insist in his close circle that he has been and continues to be just a prosecutor who carries a briefcase and has a desk full of paperwork and files. He may even admit that he fears for his life. 
But he also exists in the minds of thousands of Lebanese who have never seen any probe in the country advancing so much, as the Prosecutor – the magistrate who has at least triggered a crack in the formerly impenetrable wall of the political brotherhood that has run the country for so many decades. 
Unfortunately for Hezbollah and its allies, the process of transcendence is almost never reversible. 
Omar Tamo, Forbes MENA's Excel wiz, has a daily appreciation tweet for Bitar. He uses memes inspired by the famed prosecutor. When that happens to a person, it's already too late to bring them back to the worldly transactional, ephemeral world. 
Every night pic.twitter.com/g2lDLfsg4W

— Omar Tamo (@OmarTamo19) October 23, 2021
Many others are expressing, organically, their daily support for the transcendental Prosecutor, including more than 20,000 fake accounts. 
Basically, in Lebanon, at the moment, one can see two super-political actors that are dividing the political scene: Hezbollah and prosecutor Tarek Bitar.
Hezbollah is again at war, politically speaking
Although Bitar never actually targeted any of its politicians, Hezbollah lashed out at him and his investigation in the summer of 2021 and continues to do so, using every means in the Party's arsenal, but especially its digital disinformation units. Hezbollah has been doing what it does best: warring with whoever it can. 
The war of summons:  Following the October 14 clashes, the head of the Lebanese Forces Christian group, Samir Geagea, has been summoned for questioning over deadly violence that erupted at a Shiite rally last week, a judicial official told AFP on Thursday.
Fadi Akiki, a representative of the military court, had "instructed the army intelligence to summon Geagea and take his statement based on information provided by arrested LF members", the judicial official said.
It's not really clear what is actually happening in regards to that summons – the system is really not the most transparent and citizen-friendly in the world -but State Prosecutor Ghassan Oueidat said that he has not suspended State Commissioner to the Military Court Judge Fadi Akiki's decision to summon Lebanese Forces leader Samir Geagea in the Tayyouneh incidents case, 
On Thursday, Geagea told Lebanon's MTV channel he was not aware of the summons but that he was ready to appear before the judge if Nasrallah appears before him. 
Obviously, an absurd request:  Nasrallah has been in hiding since the war between Hezbollah and Israel in 2006.
The war of numbers: Hezbollah chief Hassan Nasrallah said last Monday night that his Iran-backed movement had 100,000 armed fighters at its disposal, and warned it is against sparking any "civil war".
Geagea also said that his party, the Lebanese Forces has 35,000 people, but they are members, not fighters. Badaboom, tshhh!
The war of words: Hezbollah chief Sayyed Hassan Nasrallah on Friday vowed to follow up on the investigations into the deadly Tayyouneh incidents, as he described the probe as "serious, accurate and brave."
"Things are judged by their outcomes and the political, popular and journalistic condemnation of those who killed, aggressed and almost dragged the country into strife and civil war must continue," Nasrallah said in a televised speech marking the Prophet's Birthday. It was his second appearance within 5 days, a rare occurrence for the Hezbollah leader. I reckon it must be important at the moment to put himself and his message out there as much as possible. 
Deputy leader and known ideologist and strategist Naim Qassem said on Saturday that Bitar "has become a real problem in Lebanon."
He accused Bitar of "flagrantly politicizing the probe", alleging that the relatives of the victims have grown suspicious of him and that he had almost caused strife in the Tayyouneh area in Beirut.

Also on Saturday, the Amal Movement released a statement accusing President Michel Aoun's advisor, ex-minister Salim Jreissati, of ordering Bitar around. Jreissati on Sunday snapped back at the Amal Movement: 
"It is silly, unjust, shameful and criminal to accuse the investigative judge into the port blast of acting at the dictations of a 'black room' run and overseen by me," the ex-minister said.
The war of sermons: This is the most interesting one, given the loss of human lives during the October 14 clashes. 
Since the October 14 clashes, Amal and Hezbollah affiliated clerics have slammed the Beirut blast investigation in their Friday sermons. Most notably, the Grand Jaafari Mufti Ahmad Kabalan, close to Hezbollah, has called in his sermons for dismissing Bitar in order to avoid sectarian strife. He also accused Bitar of targeting only officials close to Hezbollah, more Muslims than Chiristians. 
The Maronite patriarch took the side of Christian Leader Samir Geagea during his Sunday sermon and expressed his support for the Ain el-Remmaneh residents 
Greek Orthodox Metropolitan of Beirut Elias Aude on Sunday lashed out at Hezbpllah and Amal Movement. He said that "those possessed by the demons of corruption tried to evade testimony (in the port blast case) by storming civilian areas, terrorizing residents and school students, and accusing those who defended themselves of being the aggressors and killers."
The online war: L'Orient le Jour's Marie Jo Sader looked at the social media campaign meant to assassinate Tarek Bitar's character "through a systematically manipulated operation with clever disinformation orchestrated by Hezbollah".
The war of billboards: 
A billboard depicting #LebaneseForces leader Samir Geagea wearing a Nazi uniform was taken down on Wednesday by the municipality in Jiyeh, after receiving complaints from motorists. https://t.co/4LmjU0SNkD…st-turns-violent/ pic.twitter.com/5dvOalOJi8

— NOW Lebanon (@NOW_leb) October 20, 2021
Tabled border talks
If it takes this long, it's not happening: US envoy Amos Hochstein arrived last Tuesday in Beirut in a bid to rekindle moribund talks over a maritime border dispute between Lebanon and Israel that is holding up oil and gas explorations. He met with several Lebanese officials and then left for Israel and Egypt.
It was more of a courtesy visit, meant to reassure both sides of the US commitment to solving the problem. The thing is, though, that Lebanon may have more stringent problems to solve and Beirut needs Washington's help to start importing gas and electricity from Egypt, respectively Jordan, through Syria. 
Also at the border:  The Israeli Army claims to have foiled a weapon smuggling operation at the border with Lebanon. 
Elections
President Michel Aoun has rejected an amended draft law to hold early parliamentary elections on March 27 instead of May because it would pose logistical issues, shorten the timeframe for Lebanese expats to register, and prevent young people who would reach the voting age of 21 by May 8 from voting. 
RIP subsidies
Lebanon raised fuel prices on Wednesday in a de facto end to state subsidies, pushing the cost of filling a vehicle's tank to more than the monthly minimum wage in the poverty-stricken nation.
Subsidies were gradually phased out over the past few months to shore up diminishing foreign currency reserves at the central bank, which could no longer fund fuel imports.
A revised price list published by the energy ministry set the cost of 20 literslitres (5.3 gallons) of 95-octane petroleum at 302,700 Lebanese pounds, or around $15 at the black market rate.
This is around five times the price of 61,100 pounds set at the end of June, adding to the economic pain in a country where power cuts are common and basic goods, including medicine, have become scarce.
The Lebanese tuk-tuk: One of the by-products of Lebanon's historic shortages and currency crisis is the first meaningful dent in decades in the reign of the private automobile, AFP reported. 
Tuk-tuks, bicycles, carpooling and affordable buses — which were once out of the question for many — have since become more popular amid changing public attitudes and skyrocketing transport costs, including higher taxi fares.
The audit: New York-based Alvarez & Marsal (A&M) auditing firm, contracted by the Lebanese government, is to resume its audit of the central bank in line with creditors' demands, the Lebanese presidency announced last Thursday. 
Finance ministry official Georges Maarawi told AFP that the firm "will have 12 weeks to collect information and draft a report," under the terms of its contract with the Lebanese government.
Lebanon+
If street fighting and political bickering over the Beirut port blast investigation has caught most of the mainstream media attention last week, for the average Lebanese it is hard to forget about the daily shortages: electricity, fuel and skyrocketing inflation. 
"Lebanon to get six hours of electricity a day…" was the most depressing headline of the week (despite the fact that 6 hours is better than the current supply of 1-4 hours a day).

— Halim Shebaya (@halimshebaya) October 22, 2021
Megaphone news, Lebanon's biggest independent platform that brings the news on social media, has launched a fund raiser. It is hard to keep going in Lebanon during the current chaos, so give them a hand. 
Podcasts: 
Do not miss Jad Ghosn's talk with Lebanese thinker and writer Georges Corm.
Ronnie Chatah asks Minteshreen's Hussein el-Achi the hard questions on this week's episode of The Beirut Banyan podcast, as they also discuss Lebanon's past and how it should be dealt with. The episode was recorded as the political group launched its beta version website.
Agenda: 
On Monday, Lebanese PM Najib Mikati will be in Baghdad. Iraq is one of the main sources of fuel for Lebanon, as the country vowed to barter for medical services. 
On Thursday, October 28, Former PM Hassan Diab is set to testify in the Beirut port blast inquiry.

Until next week, subscribe to our newsletter, follow us on Twitter, Instagram, Facebook, or LinkedIn and try to stay safe.