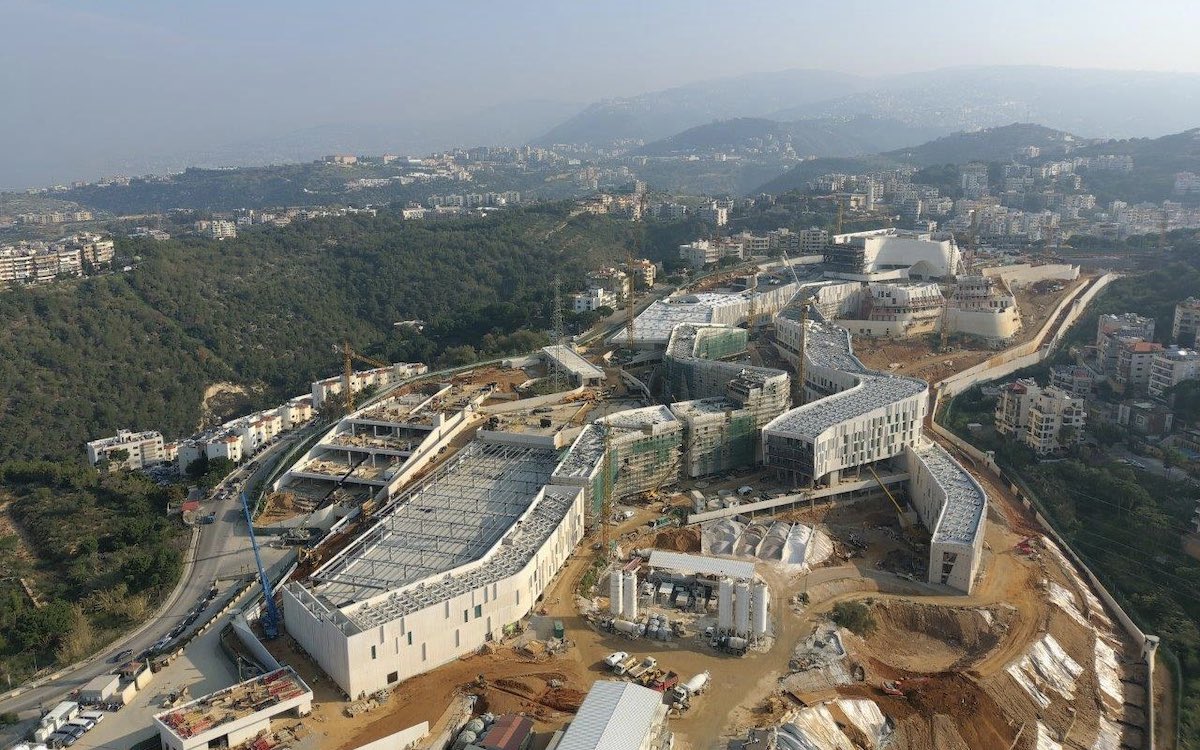 An arial view of the new US Embassy compound under construction. Photo: US Embassy in Beirut via Twitter
Wednesday night saw a shocking act in Lebanon when an individual who remains unidentified began shooting outside the US Embassy in the Beirut suburb of Awkar.
According to Jake Nelson, a spokesperson of the embassy, the gunshots were reported near the heavily guarded perimeter gates of their premises.
Fortunately, there have been no reports of harm and the embassy has stated that they are cooperating with law enforcement to discover what happened. They remain in close contact with the police as they conduct their investigation.
Five distinct bullet marks were visible on the exterior wall of the embassy, pointed out by Lebanon's military police. Strict security protocols had been implemented to protect the building, yet access to the vicinity was not blocked off completely.
American ambassador to Lebanon, Dorothy Shea met with caretaker PM Najib Mikati who condemned the attack. 
It is important to note that an attack had previously happened on September 20, 1984. However, in recent years, no further attacks have been reported.
Why this is important, the recent surge in violence in Lebanon is a matter of grave concern, reflecting a broader breakdown of law and order in the country and highlighting the various social, political, and security challenges it faces. 
Domestic violence has been on the rise, with incidents such as spousal killings, poisonings, and burnings, which not only result in the loss of lives but also have a devastating impact on communities and individuals. Alongside this, acts of sexual misconduct against children, exemplified by the tragic case of Lynn Taleb, are deeply distressing and underscore a severe child protection issue. 
Meanwhile, conflicts within the Palestinian refugee camp in Sidon have the potential to spill over into the broader Lebanese population, exacerbating tensions and creating security concerns both within and outside the camp.

Illegal arms proliferation continues to be a pressing issue in Lebanon, fueling violence and crime. The easy availability of illegal weapons aggravates the situation, making it even more imperative to control their circulation. 
In conclusion, the recent attack on the US embassy in Lebanon is alarming. Lebanon's history of political instability makes such incidents especially worrisome, as they can lead to internal security issues and strain international relations. 
All these issues are further compounded by Lebanon's protracted political deadlock and economic crisis, which contribute to the deteriorating security situation. The lack of effective governance and political solutions exacerbates the challenges the country faces. 
Dana Hourany is a multimedia journalist with @NOW_leb. She is on Instagram @danahourany and Twitter @danahourany.