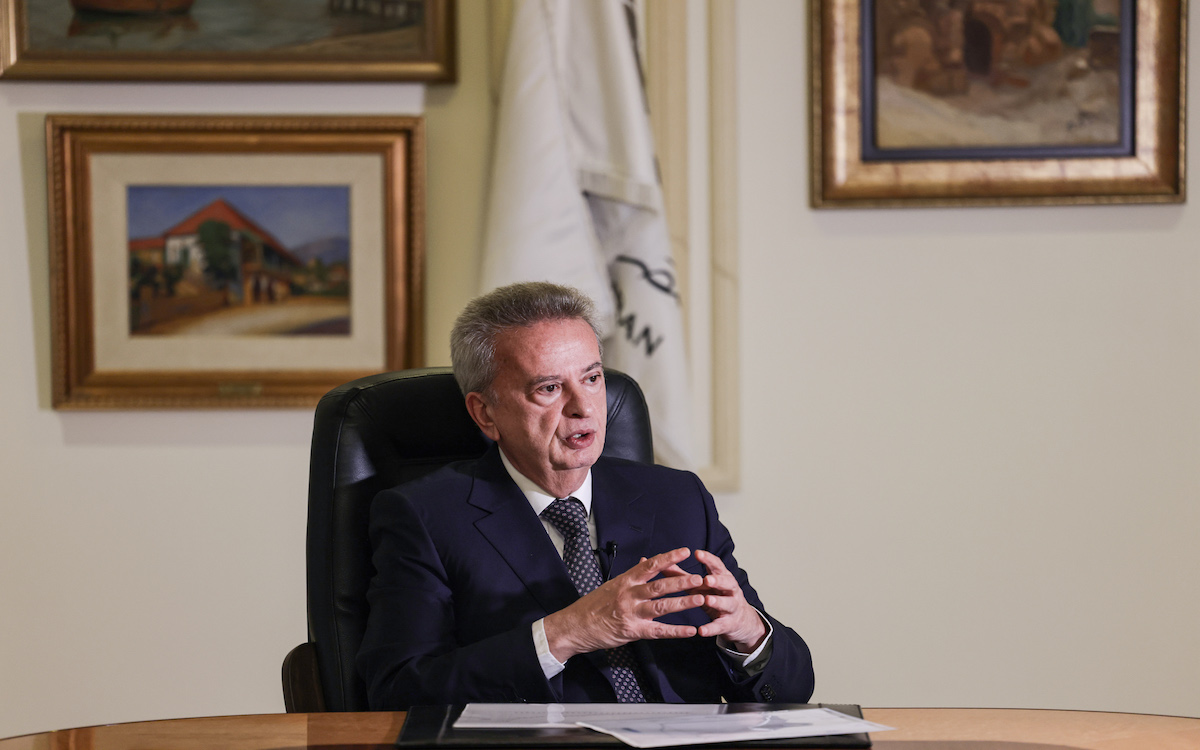 Lebanon's Central Bank Governor Riad Salameh gives an interview with AFP at his office in the capital Beirut on December 20, 2021. Photo: Joseph Eid, AFP
A group of European judges descended on Beirut last week to investigate Lebanese Central Bank (BDL) governor Riad Salameh, his brother Raja Salameh, and their entourage for suspicion of corruption and aggravated money laundering.  Criminal complaints regarding the brothers' "Forry Affair" were submitted in Switzerland, France, and the United Kingdom in March 2020 by the Swiss NGO accountability firm NOW (not related to this publication).
Thank you for reading this post, don't forget to subscribe!
The judges are meeting with individuals believed to have links to the money laundering trail that the Forry Affair, as the Salameh brothers' investigation has come to be known, has created in Europe, from facilitating the trail of money to being part of the money laundering trail. Forry is one of many elements being investigated.
A closer look at the NOW case shows a complex web, almost like a maze, of money venturing into European real estate via the Salamehs' close family and friends.
153 million dollars of treasury bonds were transferred by Riad Salameh to an account at  Julius Baer and Bank Audi Switzerland. This transaction was so opaque that a representative at wealth management firm Julius Baer described it as being "difficult to track from an accounting and auditing perspective" before denouncing this operation to the Swiss public prosecutor.
Over 310 transfers were carried out by the Central Bank of Lebanon in favor of Raja Salameh, to the account of Forry Associated Ltd in Switzerland. From Forry, the money made its way to Weslake Commercial Inc, a company in the Bahamas owned by the Salameh brothers.  From that money, Riad Salameh purchased shares in Crossbridge, a UK-based company owned by his best friend and special advisor, Nabil Aoun. This company is a shelter for many Lebanese politicians and counts among its shareholders Riad Salame and Nabil Aoun, as well as the brother of former State Minister Nicolas Fattouch Pierre Fattouch, and the son of late President Elias Hrawi, Roland Hrawi.
According to the 2009 – 2018 consolidated Crossbridge Capital annual accounts, Crossbridge Capital generated approximately $130 million in turnover, almost exclusively based on retrocession fees received. During that period, over $72.5 million were distributed as "retrocession fees paid to key management personnel," of which Riad Salameh's son Nady Salameh was likely one, in his capacity as Vice President of Crossbridge Capital.
Nabil Aoun was summoned last week by the European investigators visiting Lebanon. 
A closer look at the file also shows payments of $14 million made to Riad Salameh's account in Switzerland just after the financial engineering program rolled out to banks in Lebanon.
One transaction of particular interest to the European investigators relates to a 14 million dollar payment made by an entity owned by current caretaker Prime Minister  Najib Mikati and his brother Taha Mikati, in favor of an account of Riad Salameh in Switzerland.
This specific transaction took place in August 2016, at the height of the financial engineering project orchestrated by Riad Salameh which allowed Bank Audi to make several billion dollars of profits during the same period. Najib Mikati was one of the fortunate shareholders of Bank Audi at the time. Were the $14 million paid to Riad Salameh a kickback from shareholders to Salameh for a return of favor?
Luxembourg has announced the opening of an investigation to understand the justification of this payment and clarify why a Lebanese politician would have paid the central bank governor such a significant amount. The Liechtenstein authorities are also investigating this suspicious transfer between the two prominent Lebanese officials.
Monaco has also requested the cooperation of the Lebanese authorities in a case that they opened against Najib, Taha, and Maher Mikati.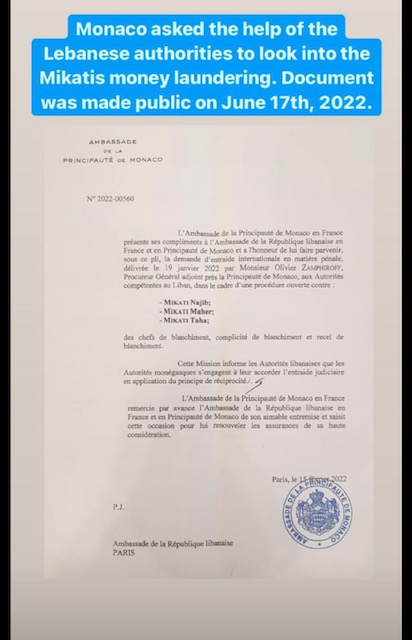 The Riad Salameh case is becoming extremely dangerous to Najib Mikati, who certainly did not expect it to come back at him so rapidly.
The latest trick for Mikati is to become party to the European proceedings and influence them from within. In a letter dated May 2022, shortly after the European judges requested their visit to Lebanon, Mikati's government requested that  Justice Minister Henri Khoury appoint a lawyer to represent the state of Lebanon in order to reclaim the frozen money related to the Riad and Raja Salameh cases.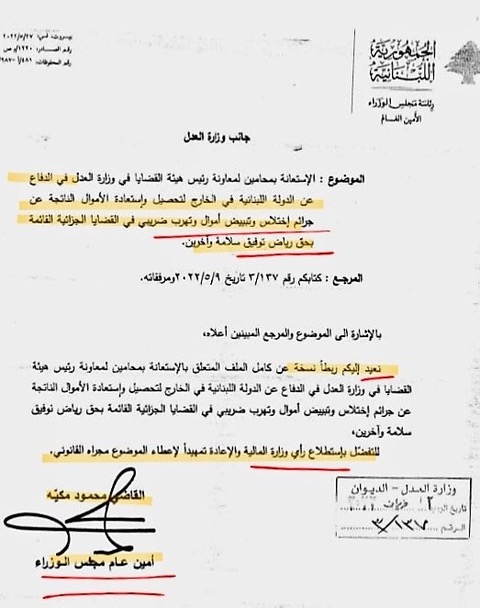 At first glance, the step is commended by prominent Lebanese lawyers as a patriotic step in the right direction for Lebanon to reclaim the money frozen in European banks. Media tied to Hezbollah, such as Al-Akhbar newspaper also ran a campaign in support of Mikati's government, ultimately protecting Salameh and denouncing the visit of the foreign judges under the pretext of interference in "Lebanese sovereignty".
If the Lebanese state becomes party to the proceedings in Europe it will indeed be entitled to request the restitution of Salameh's funds. Knowing that the European magistrates only have jurisdiction because the funds are located on their territories, any restitution to Lebanon will de facto lead to the proceedings being closed. Hence, Mikati would have saved himself and his friend Riad Salameh, from any potential indictments.
Here we are again! What is being touted by civil society and prominent lawyers as a win for the Lebanese government is, in effect, a deliberate attempt by Prime Minister Mikati to use his position in power to block the Salameh investigation in order to protect both his friend and himself. Should the Lebanese state appoint a lawyer, this would ultimately derail the investigation into Forry and stop the Mikati brothers from being questioned as suspects over the Riad Salameh money laundering affairs.
Yet again, the Lebanese ruling class jumps to protect each other from accountability. What hope does Lebanon have for any accountability if the world allows for this abuse of power by the political elite.  the real abuse of power by the political elite.
Samara Azzi is a Lebanese investment banker based in Geneva. She can be reached on Twitter.
The opinions expressed are those of the author only and do not necessarily reflect the views of NOW.