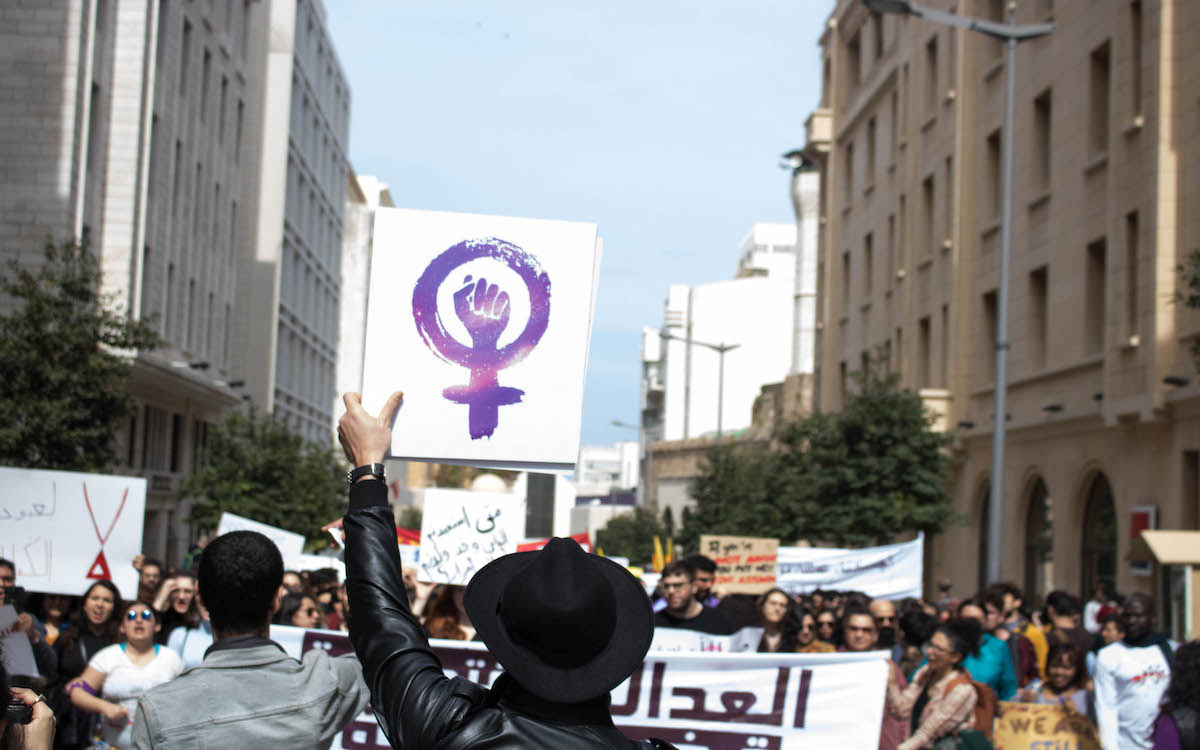 People from all backgrounds take part in the Women's March in Beirut on International Women's Day 2019. Photo: Nicholas Frakes, NOW
2022 has been a bleak year for everyone in Lebanon, but especially for women. While the dramatic economic crisis continues to affect women disproportionately, there have been no widespread protests, movements or laws enacted to compensate for their sufferings. 
NGOs like the A-Project, Abaad, and Kafa have continued their work of advocacy and aid directed towards women in Lebanon. But even the international day for women's struggle on March 8 saw only very limited forms of engagement.
One exception has been the mobile exhibition "My Story" (Qusati), launched by the French Institute on March 8, and which has been touring Lebanon ever since. Ten artists represent the lives of 40 Lebanese women from all walks of life as chosen by 300 high-school students. Workshops, conferences, and events have accompanied the exhibition from Beirut to Saida to Baalbek, together with an awareness campaign in schools.
The exhibition is now entering its final phase in Zgharta, where a roundtable will discuss the plights and rights of single women in Lebanon. The whole process will start again next year with the selection of 40 new portraits. While it is not explicitly feminist, "My Story" does seem to push for rights and recognition in times when they have become more necessary than ever.
Different feminisms for one goal
To this occasion, NOW interviewed three young feminists from Tripoli and Sidon about the effect of the crisis on women, and how different streams of feminism can answer the systemic assaults they face. 
They all belong to the "fourth wave" of feminism, which started in the 2010s and became widely discussed with the onset of the MeToo movement. It claims concrete acts of justice, inclusion, and reparation for all persons recognizing themselves as women and queer, but also comes in numerous variations.
In Lebanon, three forms of feminism seem to be predominant. Radical, secular, and politically active feminists argue for a complete overhaul of the Lebanese confessional, patriarchal state. 
At the same time, many aid workers face very real challenges in a humanitarian context, which forces them to adapt how they help women on the field – be they refugees, marginalized, or impoverished. 
And because of Lebanon's confessional system and the deep-rootedness of its 18 different sects, many feminists demand a new reading of the sacred scriptures to argue for equality within the religious courts and societies.
These three streams cohabitate, sometimes quarrel, and often work together. Through three interview transcripts, NOW seeks to highlight their similarities and their common struggle to end patriarchy in all of its forms.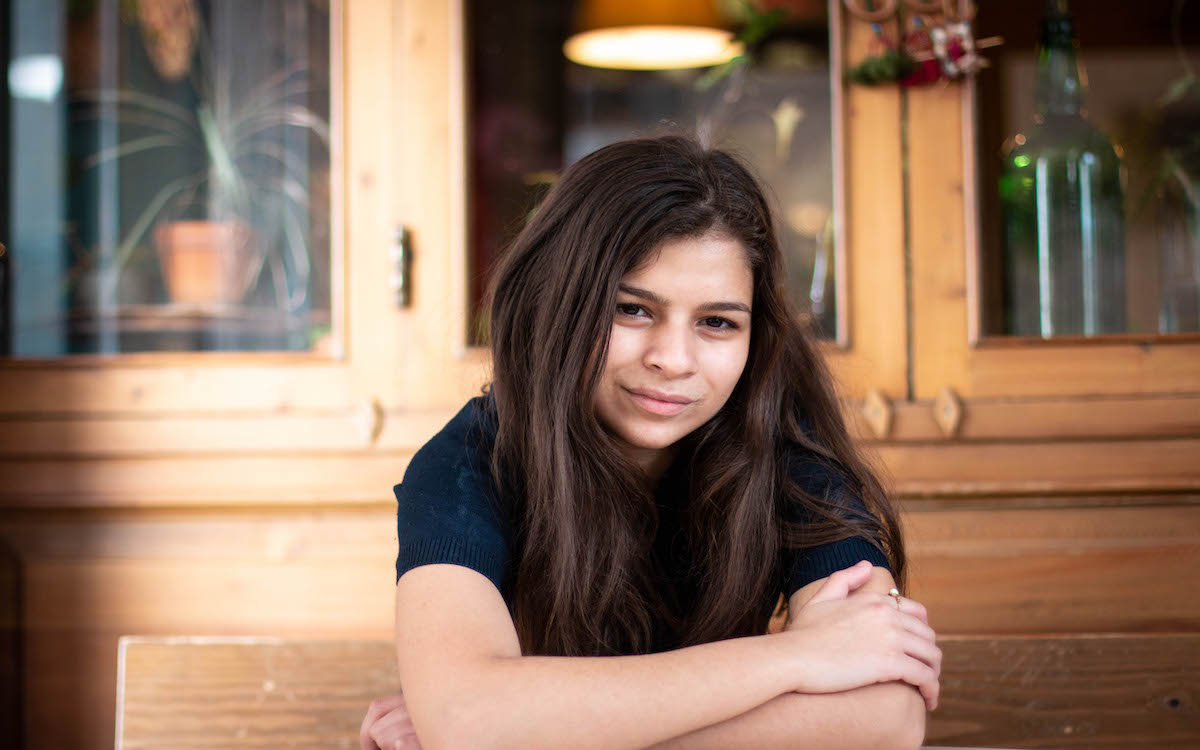 A struggle on many fronts
Sarah Kabbout is 20 years old and studied political science at the Lebanese University in Tripoli, before moving to Qatar this summer. In addition to her studies, she worked various jobs and became involved with the left-wing movement Citizens in a State, which advocates a secular and social state in place of the current confessional and neoliberal system. She claims a radical, intersectional, and anti-capitalist feminism, encouraged by the protests that shook the country in 2019.
From the thawra to the crisis
"The thawra changed things in Tripoli a lot. Before that, I'd go to Beirut to meet like-minded women. But when the protests started on October 17, 2019, I launched a WhatsApp group where we could talk about a lot of topics that were still taboo.
Then, everything happened very fast, between demonstrations and sit-ins: it was the first time I met feminists here! Social networks allowed us to connect and make ourselves visible.
Two years later, the economic crisis and the explosion of the port of Beirut [on August 4, 2020] have dealt a blow to the movement and its capacity to mobilize."
How the crisis disproportionately affects women
"We all must work double shifts to survive, and no longer have the privilege of free time. But there is no question of saying that feminism takes second place to other commitments – on the contrary, we are now practicing a feminism of survival.
There is a great solidarity, especially around the distribution of tampons, which have become unaffordable and hard to find. Many women now have to choose between buying tampons and eating a meal!
We are the first ones to be fired from our job, to stay at home, to suffer from insecurity, and to deal with rising prices. 
The causes of the crisis are very clear. This is a real economic war waged by our political and economical elites against the people, which particularly affects women, workers, and migrants." 
Intersectionality
"Some women are impacted even more because of their origin, their social class, and their skin color: Kenyan or Ethiopian domestic workers, for example, are denied their rights and are currently demonstrating for the end of the Kafala system that keeps them in servitude. There are intersectional discriminations, and only a radical feminism can answer them.
In Lebanon as elsewhere, liberal feminists preach a double language: they demand rights and power for wealthy Lebanese women, but they are part of the "modern" elite that takes advantage of the crisis and monopolizes power.
I could quote judges, musicians, actresses, journalists, lawyers, female MPs of the traditional parties, wives of rich businessmen who head NGOs to "empower women" … They only criticize certain aspects of sexism, but not the whole system.
These women call themselves feminists, but they take advantage of the class war and of the crisis, they deny the right to speak to migrant and refugee women, to veiled women, to working women. Discriminating against other women is not feminist!"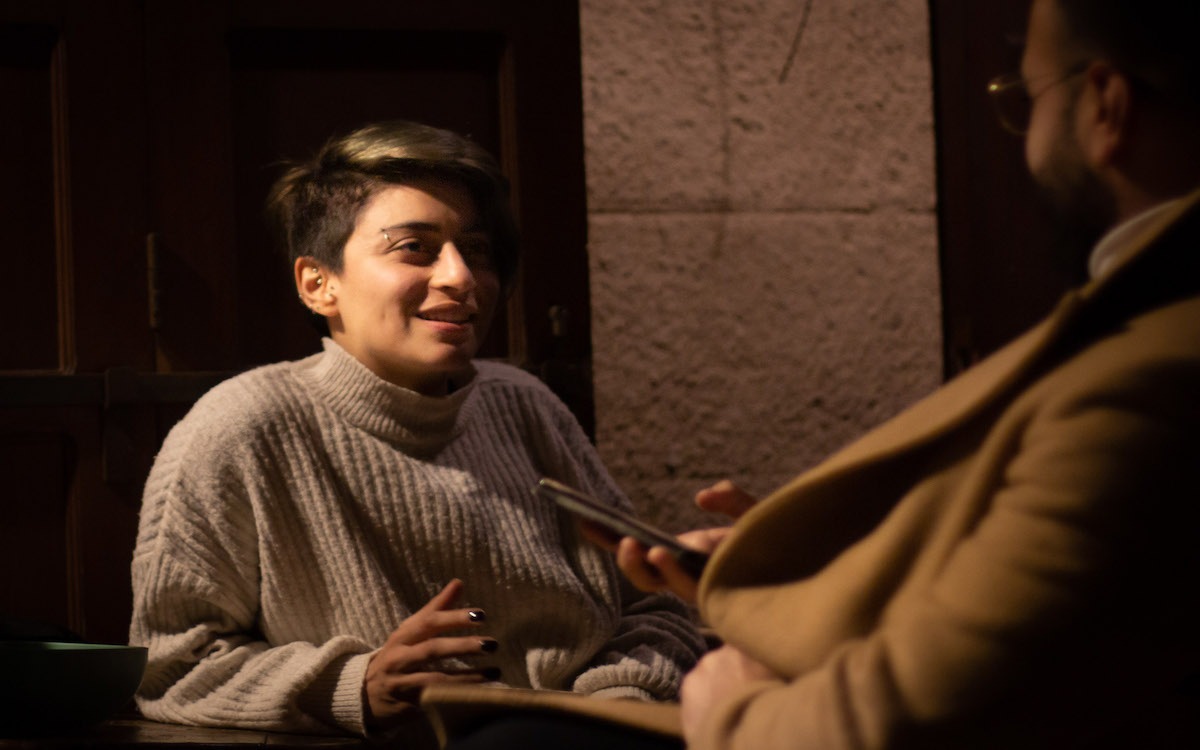 Women's rights in a humanitarian context
Iman Ibrahim, 27, has adopted a humanitarian approach through the many NGOs she has worked for. And for good reason: she lived through the 2008-2014 armed conflict between Bab el Tebbaneh and Jabal Mohsen in Tripoli. As a social worker, she is now involved with the populations most affected by the economic crisis that is devastating the country, especially the 1.5 million Syrian refugees present in Lebanon.
From war to lockdown to crisis
"I come from a community where sexism, racism and homophobia are the norm: of course I was like that too! I lived through armed conflict from the age of 14 to 20, which shaped a worldview that was closed to other communities. I started to change when I came into contact with social and humanitarian work: it made me realize that all sides of the conflict had the same traumas and the same need to talk. This is especially true for women, who experience increased domestic violence during times of crisis.
The Covid-19 lockdown has, of course, increased violence against women and children, but it is the economic crisis that is most devastating. For women who have lost their jobs and must stay at home, the loss of financial independence is dramatic: it increases the power imbalance. They no longer have the resources to leave their homes to seek refuge or report abusive men.
The same is true for LGBTQIA+ people: there is a large queer community in Tripoli, but most live in low-income neighborhoods and have no safe space. Many come to me to talk because I offer them a tolerant listening ear, same for some NGOs, cafes and bars."
Applying feminism in international aid
"And because of the dramatic socio-economic situation in Tripoli, we have to adapt our approach to feminism. There are huge inequalities: in rural villages or refugee camps, many women are not even aware of their basic rights, while at the same time there are women judges, company directors, millionaires! It's extremely toxic and makes everything more difficult.
To approach communities like mine or like the Syrian refugees, we avoid using words like "patriarchy" too much, because many people think we are blaming men, and that creates even more conflicts. Instead, we focus on a pragmatic approach, where we explain the concrete effects of patriarchy.
For example, in times of crisis, early marriages increase in the most precarious populations, because they represent a way to provide for the basic needs of young girls and their families, thanks to the dowry. But we try to point out the trauma suffered by these girls and to underline the economic importance of letting them go to school, to university. Sometimes it just shifts the age of marriage from 12 to 15-16 years old, but sometimes the family gives it up entirely, especially if you help them financially."
Legal change
"At the same time, religion is an aggravating factor, the confessional system multiplies patriarchy. There is a mixture of religious and secular law. For example, with regard to marriage, divorce, child custody, it is the religious law that prevails, among Christians as well as Muslims. And women are systematically disadvantaged! 
But in civil law too, for example, Lebanese women cannot pass their nationality to their children.
As a feminist, I therefore mainly call for the advent of a civil law, secular, tolerant and equitable. For me, this would be the first step towards a concrete alternative to patriarchy."
Equality in religion
Shaza Bakhour lives in Sidon and is currently finishing her fourth year of pharmacy studies at Lebanese University. Having participated in the uprisings, she seeks to question religious justifications to sexism. In particular, she advocates for women's rights to be respected in Lebanon's religious courts.
Re-interpreting the Quran
"Before experiencing rape, I was very religious in a literal way. Now, I read the Quran differently, in a new way, to see which parts are in favor of women and which are against us-  and why. A lot of women like me have many questions about the Quran and the other holy scriptures, they ask themselves why certain passages are so violent against women. But not all of us have the courage to question the holy books.
I met many feminist women in Lebanon, who were really helpful in my quest. Sure there are athiest feminists in the South, but they have to move to Beirut or other countries. You cannot really criticize religion and sexism so openly here. All political parties of all confessions hide behind the holy scriptures to discriminate against women. They protect the status quo and their own power.
Religion is being used to impose things on girls, even going against the scriptures! Here I see four-year-old girls wearing a hijab, although they have no idea of what it really is. This is not what Islam says!"
Religious laws
"One of the biggest problems are the religious courts, where women have very limited rights. I heard cases where some were insulted as being "bitches" by the jury. We lose the custody of our children automatically after a divorce, in all religions – only the age changes. If we are beaten or raped we have no rights, no protection.
We did a protest to change the custody law at the beginning of the year. Not so many women were able to show up and the political class didn't care, but the social media impact was huge, we sparked a lot of discussions. It felt good to finally talk about our rights together.
Also, we recently launched a social media campaign to help a mother who lost custody of her children and was wounded in the Beirut port explosion, yet her husband blocked her from seeing her children." 
A peak of violence
"The crisis affects us dramatically. Tampons got overly expensive, but the government continues to sponsor only razors and hygiene products for men, as if shaving was more essential than menstrual protection! Many women cannot afford them anymore because of this. Since women don't have priority on the job market, many were fired or left their jobs because it was too hard to continue working.
Also, violence against women is on the rise – although it was normalized before the crisis, for sure. A man shot a woman in the head the other day and no one blinked. Men don't face charges for violence as they claim love, passion, or honor. The pandemic made things a lot worse too, so many women were beaten by their husbands, it was a real tragedy."
RESOURCES
Feminist Organizations
Statistics* 
– Gender-based violence:
Even before the crisis,

31 percent of women

reported having experienced intimate partner violence and

60 percent reporting

having experienced sexual harassment at one point in their lives

The Internal Security Forces reported a

184 percent increase

in reported cases of sexual assault and harassment during the lockdown

65 percent of Syrian women survivors of violence reported they do not access justice because they fear consequences.
Participation in public and political life:

Women represent 2 percent of all mokhtars, 4 percent of minister, 6 percent of MPs, 15 percent of parliament candidates

79 percent of female candidates reported being victims of violence during the 2018 elections
*Unless stated otherwise, statistics were found in Lebanon's 2022 Gender statistical profile by the Gender Working Group
Philippe Pernot is a journalist and photographer with NOW Lebanon. He studied political science in France and Germany, and he focuses his work on social movements such as feminism, ecology and anarchism, as well as on minority rights and discrimination. Follow him on Instagram.