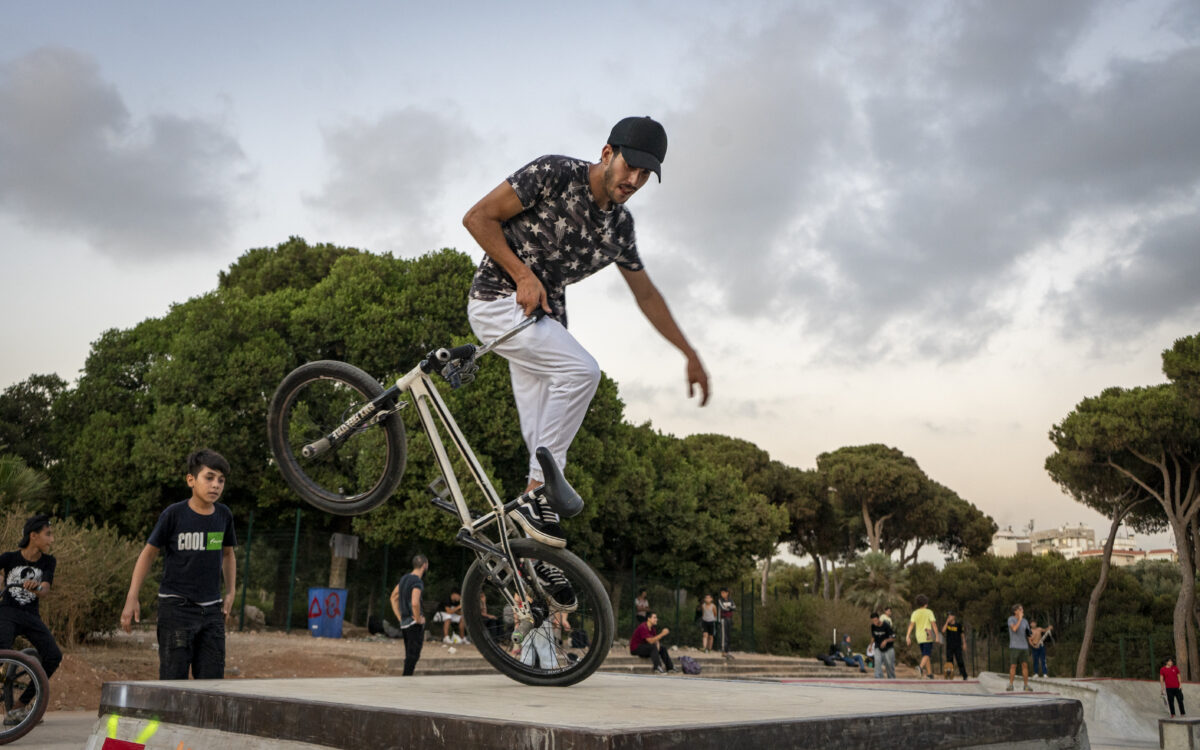 A BMX freestyler shows off his skills on top of a platform near the entrance of the Snoubar Skate Park in Horsh. Photo: Matt Kynaston, NOW.
"Get those kids to move out of the way!"
Karim shouts ahead to his friend Chris, as they set up their run.
Chris is about to attempt a series of tricks, known as a line, at the new Snoubar Skatepark in central Beirut. It's the first skatepark of its kind in the capital, and having only recently opened to the public, it is packed with young people, proving to be slightly frustrating to the more experienced skaters.
With the way ahead somewhat cleared, Chris, 26, begins to make his line, with Karim following closely on inline skates, smartphone recording in hand.
It's a seamless run, he jumps into a backside boardslide along a railing, dismounts followed by a 50-50 down the hubba. Chris narrowly weaves between a child and a photographer and drops down into the bowl. 
He builds up some speed, just brushing past another skater as he attacks the edge, up the coping to perform another 50-50 as someone stumbles off their board a couple of feet away. Chris wobbles but holds it together, finishing with a neat 'rock to fakie' on the opposite side of the bowl.
He seems happy with it, as Karim tails off. They both head back to where they started for another run on the edge of the skatepark.
Despite the near misses with younger and more inexperienced skaters, Chris doesn't seem to mind so much.
"Everyone is playing. Like teenagers are playing, getting better, the scene is growing," he says, excitedly.
Up until just a few weeks ago, doing a series of tricks like this in Beirut would have been a pipe dream. That was until several charities and organisations banded together to raise funds and build the new park, with permission from the municipality.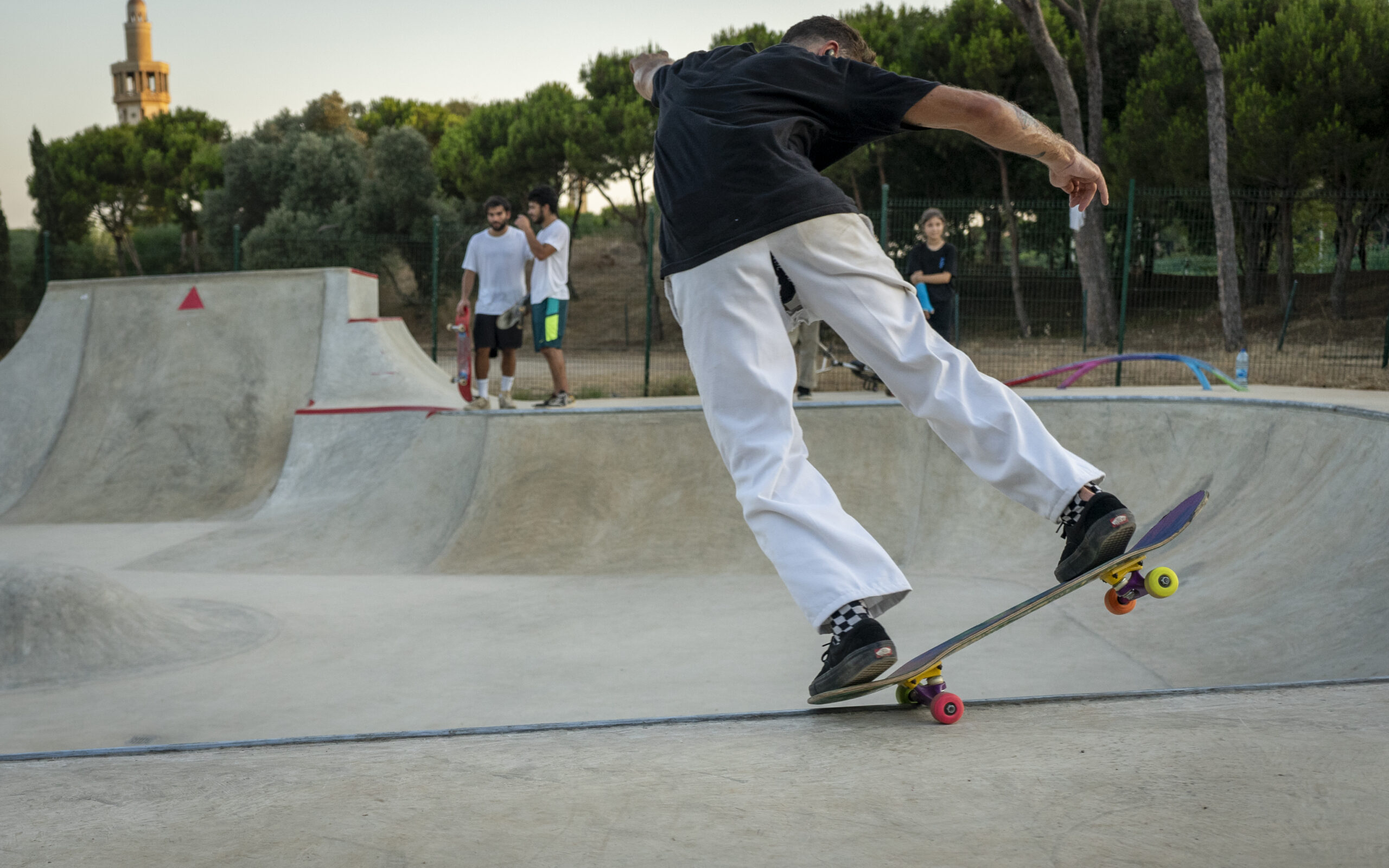 Prohibited spaces
Until the skatepark opened, the options for skaters in Beirut were limited. The only other park that existed before had closed in Dbayeh several years ago and had cost $10 to enter. It has since been turned into a private pool.
The struggle of skateboarders in Beirut, and the celebration of the opening of Lebanon's first-ever free community skatepark highlights a much deeper issue: the historic lack of regard for the protection of public space.
Ever since the reconstruction of Beirut following the civil war, public spaces in the city have been transformed into 'prohibited spaces', i.e. areas that were once open to the public have been closed off or privatised, excluding a majority of the population.
Ironically, it is public spaces that play a valuable role in unifying fragmented neighborhoods, by "providing established spaces that produce interaction and communal understanding in a city that needs healing across sectarian divides," according to Nadia Karizat, author of The Story of Public Space in Beirut's Geography of Power. 
While the World Health Organization recommends a minimum of 9 square meters of green space per capita, Beirut had in 2015 only 0.8 square meters per capita.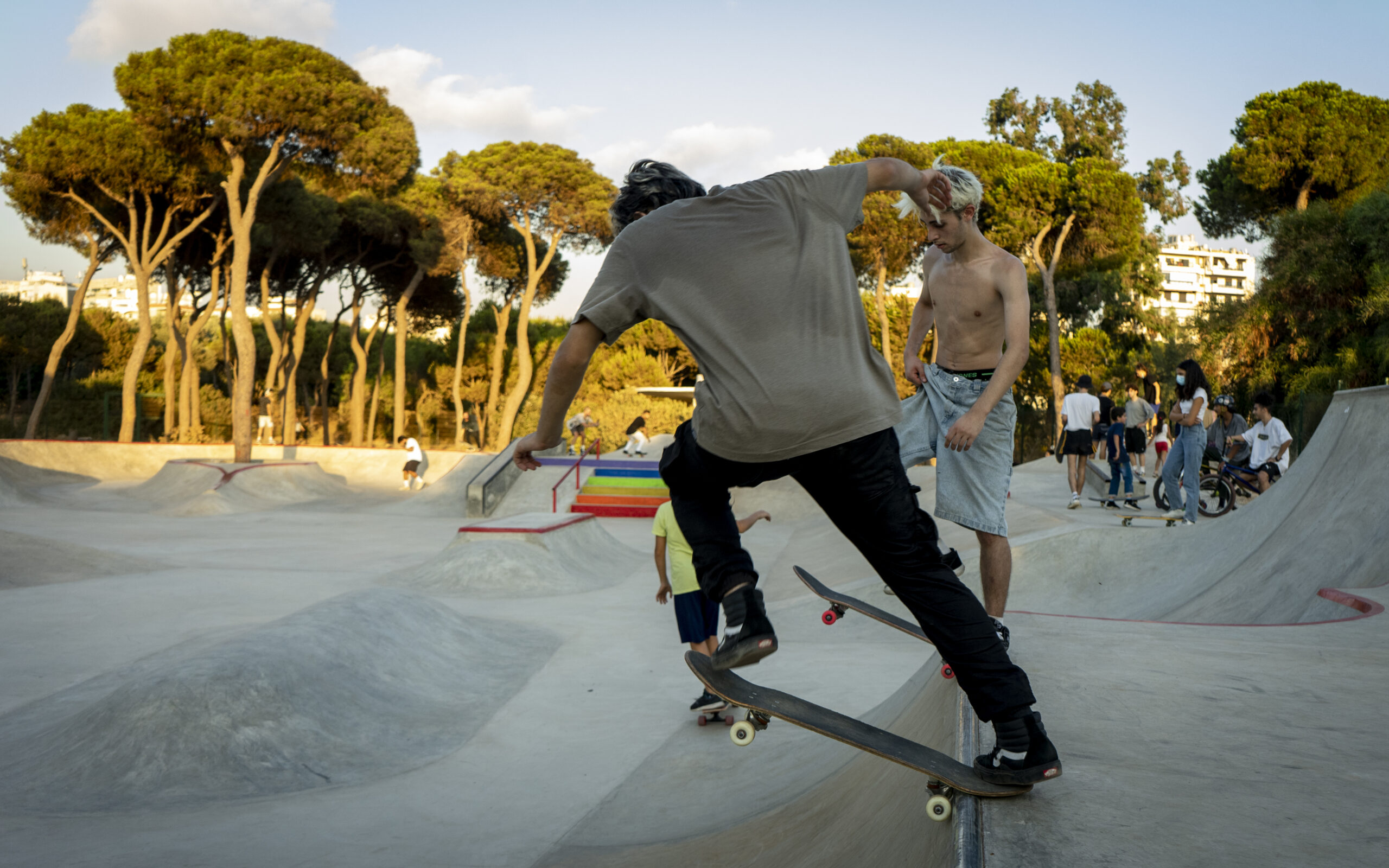 Since the end of the civil war, many of these spaces, from Beirut Souks to the stretch of coastline between Daliyeh and Ramlet al-Bayda, have been privatised and commercialised in the interest of real estate developers, and have become off-limits to the public.
Beirut has seen, over time, many development projects demolish the city's surviving green spaces. In 2019, a parking lot was set to replace one of the capital's historic gardens, Mufti Hassan Khaled Park, which triggered outrage from the community. 
Protests also erupted in 2013 and 2017 over attempts at demolishing the Jesuit Gardens in Ashrafieh. 
The Snoubar Skatepark's setting, Horsh Beirut, the capital's only large park covering an area of 400,000 square meters, is another good example. Having been a "protected" area since the 1950s, the only sizable green space in the capital is rarely open to the public and has often been under threat from private developers. In 2016, after sustained campaigning by a group of 20 Lebanese NGOs, the municipality agreed to open parts of the park to the public. However, it was later closed again.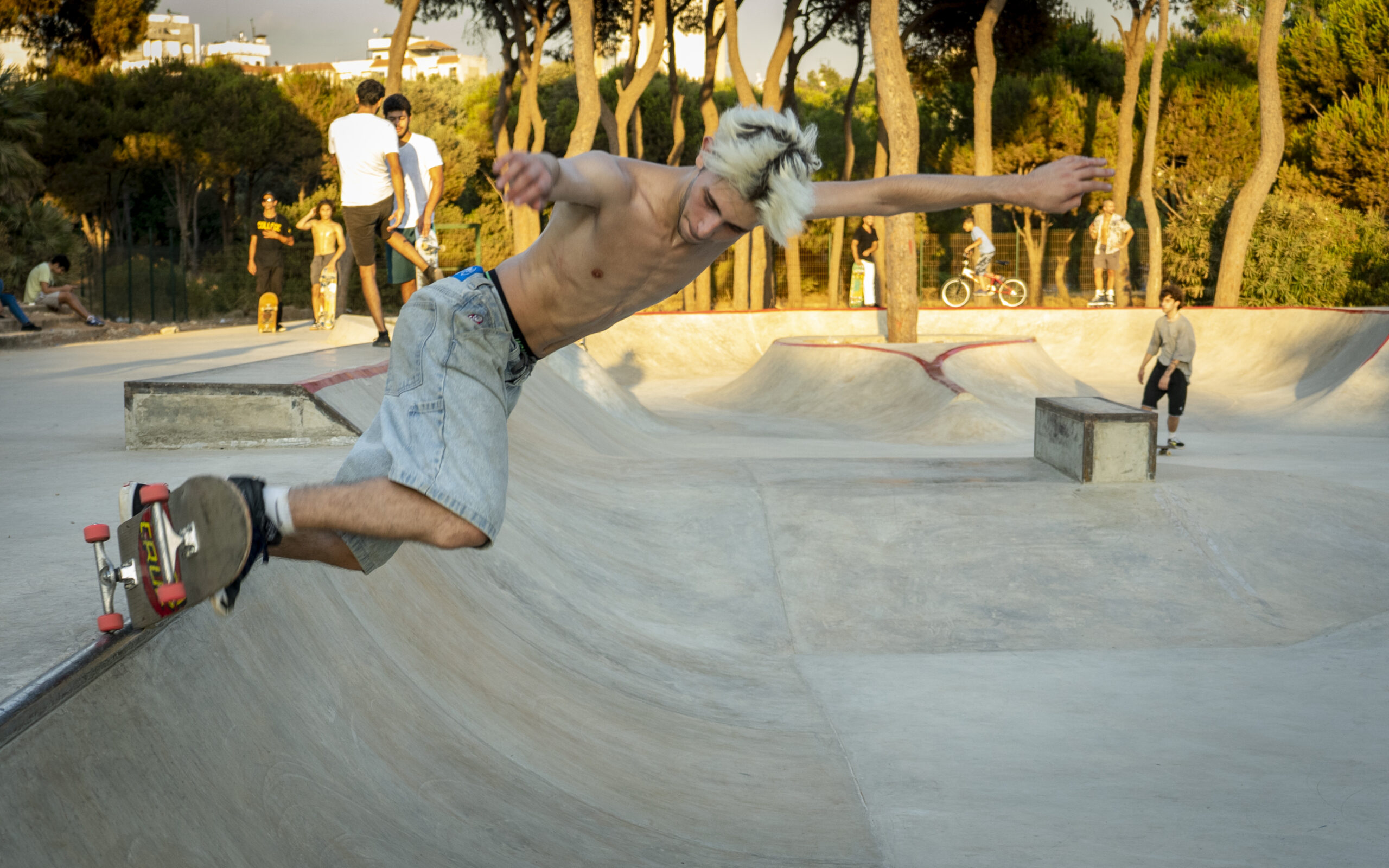 Misplaced values
Some see the municipality's involvement in the skatepark as a rare act in the interest of public space.
"The Municipality of Beirut in the 2010s made the argument that the Lebanese were unable to use public spaces well, that there would be fights if they opened spaces in [Horsh], an area at the intersection of East and West Beirut," says Mona Fawaz Professor in Urban Studies and Planning at the American University of Beirut and co-founder of the Beirut Urban Lab.
Fawaz says that the Municipality had made attempts to sell off the edges of the park and allocate them to other uses. This was repeatedly prevented by activists and advocacy groups who fought back against plans for development.
"The truth is that the Municipality in Beirut doesn't actually act as a 'custodian of the common good', its members are businessmen," she pointed out.
"The Mayor of Beirut came from [post-war private-public real estate developer] Solidere to head the city council. They distrust any public space that is not a background that can raise property values behind it. It is a combination of conflict of interest, incompetence, and values in the wrong place."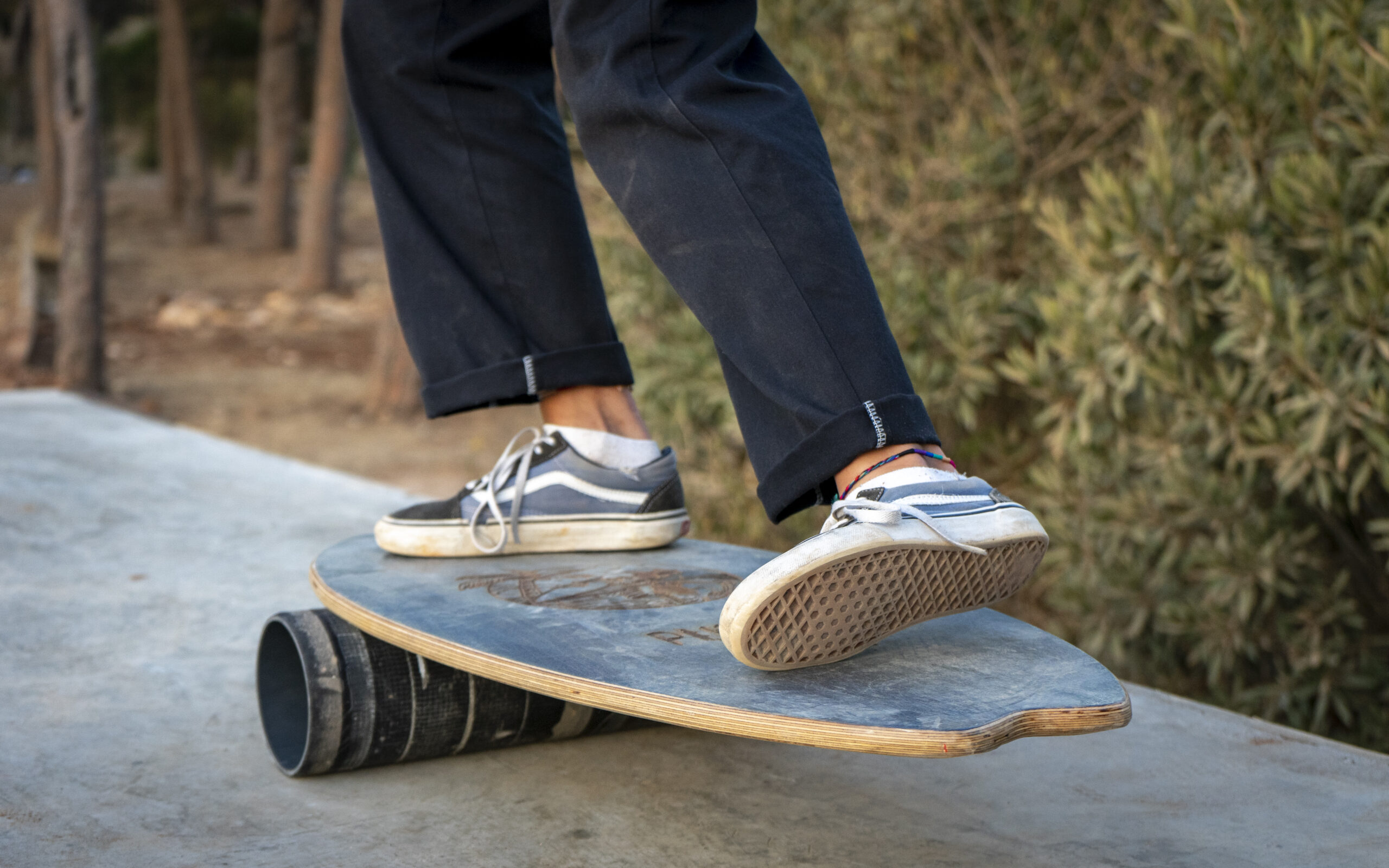 It is arguably a surprise then to see the successful completion of the skatepark. Philippe Dagher, the BYCS Bicycle Mayor of Beirut, has had projects approved in the past that were never realized, including a 12km cycle lane. Having secured permission for the skatepark he was pleased to see it to completion.
"After the blast, and with a recent appointment of a new Governor, we thought it was the opportunity to attempt a new initiative for changing public space in Beirut and making it better. We proposed it to judge Marwan Abboud, and he accepted it, provided we have projects to put in place."
Dagher is excited by the prospect of more projects in the future. "We have a sign of trust today from the new Governor of Beirut and believe that we can do more prosperous projects." 
"We are doing our job," says Haytham Sayyad, advisor to the Governor of Beirut. "But right now, with the lira and dollar, we don't have the way to do all our duties. So we are trying to find new places, new activities for free of course, for citizens of Beirut. Just to at least do something."
When asked about the history of privatization Sayyad said, "It's not my job to comment on that, but we are making those facilities directly for people. Because citizens of Beirut or Lebanon don't have money to go out. So we are doing our best to help."
Sayyad mentions that as well as permitting the construction of the skatepark, the governorate has recently rejuvenated four other gardens in the city – Karantina, Basta, Sanaye, Saint Nicholas – for access to all Beirutis and that more will be developed in the future.
As for the reopening of Horsh, "it will remain temporarily closed due to the measures taken to battle Covid-19, however, the necessary actions are being taken to re-open the premises in due time," Sayyad says.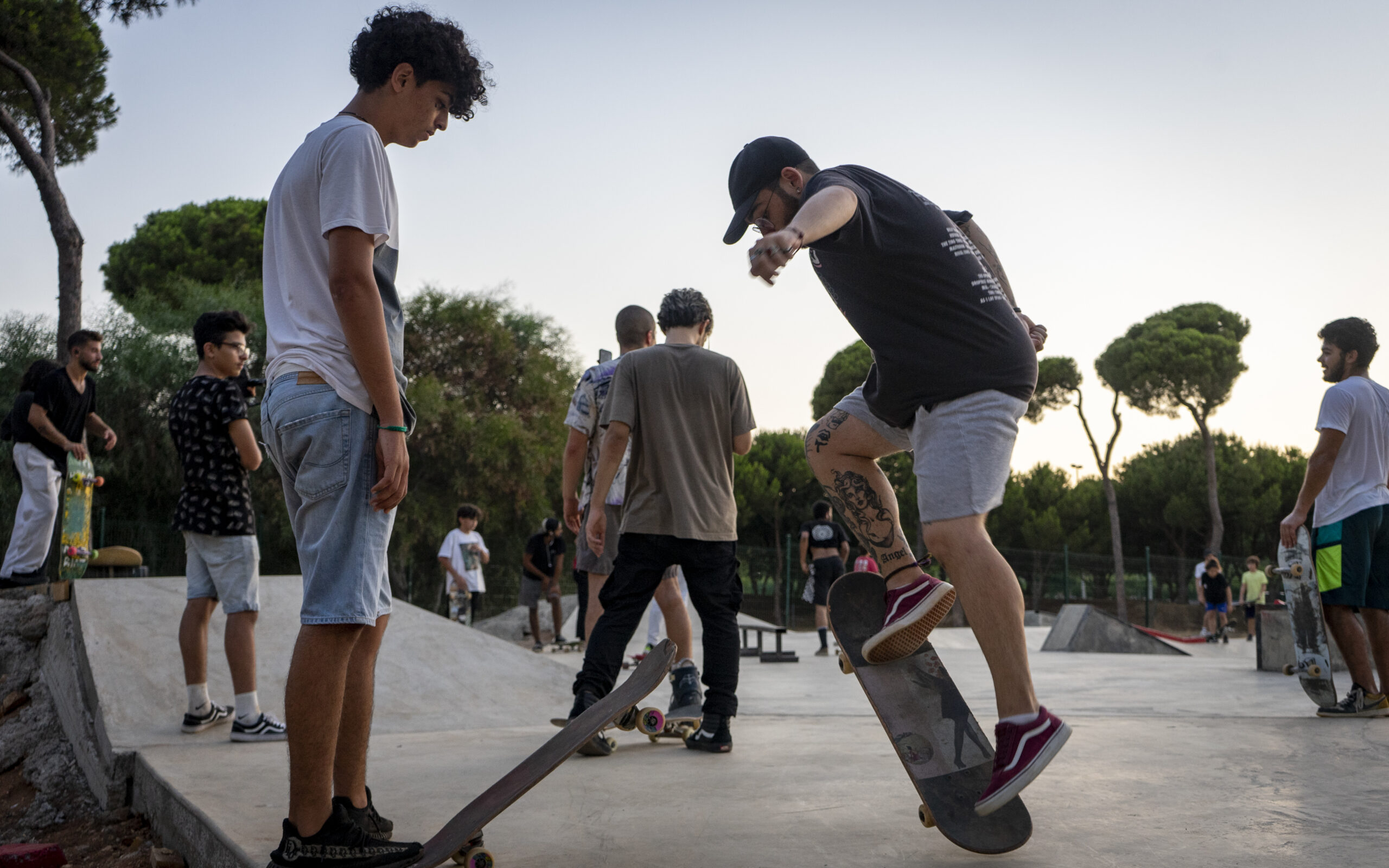 Demand for public space
The October 17 uprising in 2019 showed a glimpse of the potential of public space to bring people together. Whole areas of downtown, sterilised by Solidere, turned into a vibrant street festival. Citizens from all backgrounds came together to share ideas on how they could build a better future for the country.
It is clear that there is still a demand for public space in the city, as citizens find themselves occupying throughways and carparks for their recreational activities.
From the early morning joggers and late evening families strolling along Beirut's waterfront, to the young professionals who take beers to sit on the steps of Mar Mikhael and Gemmayze, Beirutis flock to these areas, day in and day out.
These spaces, reclaimed by citizens, are improvised. Dagher believes that with a little willpower and initiative, so much more can be done to improve everyday life in the capital, through planned and designated public spaces.
"The skatepark is a simple example, a few efforts can lead to such a magical world and the same can be done at a bigger level. There is a lot we can do for Beirut today to make it better for its citizens."
"You put your art into skateboarding and it shows. Every single person has his own style, this creates a lot of freedom, we need that in Lebanon. We are all stressed out. We need somewhere to release the stress."
Now with a state-of-the-art skate park, youngsters have somewhere they can call their own, to develop their hobbies whilst sharing the space with other enthusiasts from different neighborhoods in Beirut.
Although the crowds of newcomers may frustrate Karim and Chris, they know how important it is to be accommodating in Snoubar.
"You put your art into skateboarding and it shows. Every single person has his own style, this creates a lot of freedom, we need that in Lebanon. We are all stressed out. We need somewhere to release the stress," says Chris.