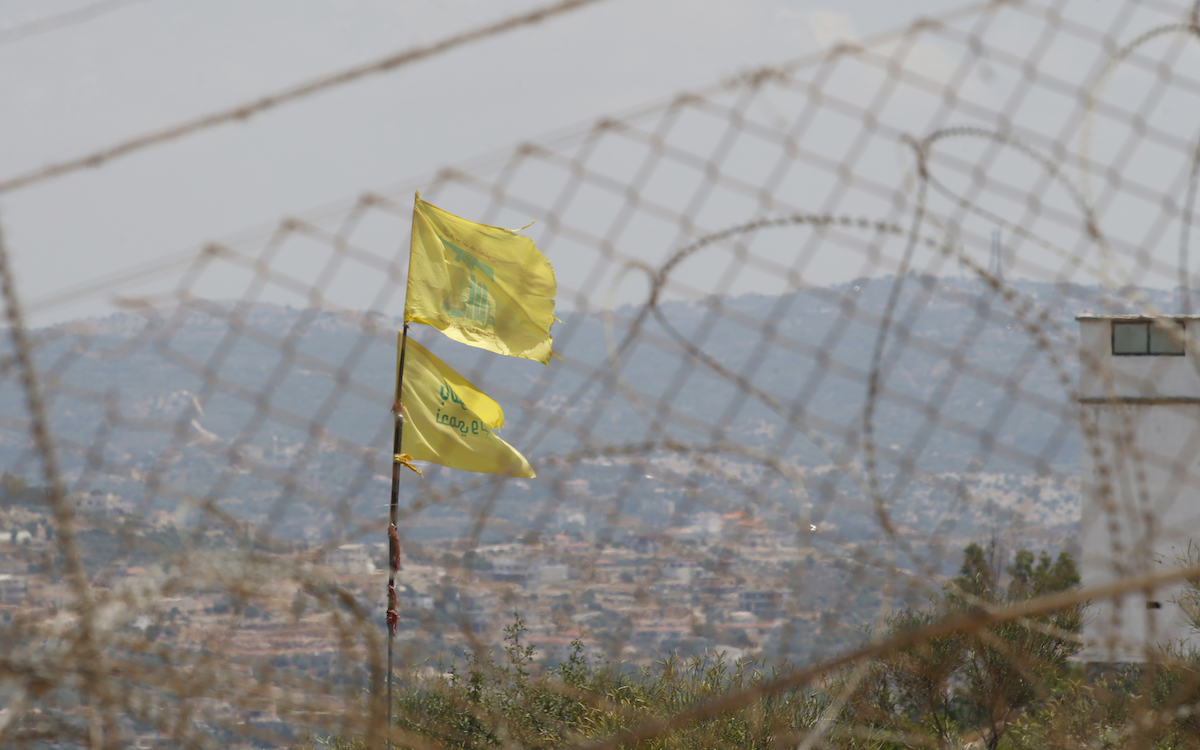 A picture taken on July 3, 2022, shows a Hezbollah flag on the Lebanese side of the border with Israel near the Israeli Kibbutz of Shtula. The Israeli army said on July 2, that it had intercepted three drones launched by Hezbollah that were headed toward an offshore gas field in the Mediterranean, amid rising tension between Israel and Lebanon. Lebanon's Iran-backed Hezbollah movement in a statement confirmed it had launched drones towards the offshore area. Photo: Jalaa Marey, AFP
Israeli Defense Minister Yoav Gallant's claims of an Iranian-sponsored airport only 20 kilometers from Israel's northern border, located in the forested hills close to the Lebanese village of Birket Jabbour and the city of Jezzine, has sent shockwaves throughout Lebanon. Gallant also claimed that Iran was "planning to act against the citizens of Israel" using the airport as a base and showed alleged satellite images of the site – taken at an unspecified time – where the Iranian national flag and the flag of Hezbollah were visible together.
Gallant's accusations are also supported by images from Planet Labs PBC taken in July of this year, later obtained by the Associated Press, that showed a 1.2-kilometer runway with hangars, as well as images from January that showed the runway in the early stages of construction.
"This is not the first airstrip that Hezbollah has constructed in Lebanon," Nicholas Blanford, a non-resident fellow at the Rafik Hariri Center, told NOW. "The Iranians have been cooperating [with Hezbollah] for decades when it comes to the confrontation with Israel; this is just the latest development, [but] it is certainly by far the most advanced."
"The way it has been configured suggests that it could be [for] larger aircraft, beyond the fleet of drones that Hezbollah possesses," he continued. "It may simply be that aircraft will fly in, unload material and then take off again, rather than stay there."
Free range
This is the latest example of the lack of state control that the Lebanese state holds over the territory of Lebanon, allowing Hezbollah to pursue its own separate agenda. Weapons and other materials from Iran have been consistently brought into Lebanon across the highly porous Lebanese-Syrian border, but Hezbollah also has significant control of the country's ports and Beirut's Rafic Hariri International Airport through its ministers and MPs.
Despite being designated as a terrorist organization in multiple international jurisdictions – including Australia, Canada, Egypt, Japan, Saudi Arabia, the United Arab Emirates, the United Kingdom, and the United States – there is little political will for the Lebanese government to act against Hezbollah.
"The UN will cite this as another example of Hezbollah breaching Security Council Resolution 1701, under which it was supposed to disarm, [but this is] the reality of Lebanon today and the power that Hezbollah has," said Blanford. "They will try to brush it under the carpet and move along as normal."
"Even if they did or didn't know, the Lebanese Government is not going to do anything [because they will] not go after Hezbollah," Hanin Ghaddar, the Friedmann senior fellow at the Washington Institute, agreed. "My question is: Why hasn't UNIFIL done anything about this? [Their] job is to monitor these things, knowing that the Lebanese Government is not, so this is the real issue. They should be on top of this."
This is not the first time that Hezbollah has partaken in a massive secret construction project in the south. Following the end of the Israeli occupation in South Lebanon in May 2000, Hezbollah closed off pockets of the south from the outside world so that it could construct an elaborate bunker system. The idea, supposedly conjured by their top military commander at the time, Imad Mughniyeh, was that it could be utilized as bases of operation where its soldiers could stay and even plan to launch attacks from.
These areas were restricted from public access, with even the Lebanese military and the United Nations Interim Force in Lebanon (UNIFIL) being unable to enter the sites. These bunkers were so secretive that Israel did not even know about them until the July 2006 war.
Hezbollah has also constructed a tunnel system that passes beneath the Lebanon-Israel border in order to allow troops and supplies to, in theory, cross the border undetected. However, many of these tunnels have been uncovered by Israel over the years.
Hezbollah's unchecked activities in the south have drawn the ire of many, as they could have devastating consequences for Lebanon and, more specifically, the people in the south. The starkest example is in July 2006 when Hezbollah, in an operation on the Lebanese-Israeli border, captured and killed several Israeli soldiers in the hopes of using them as bargaining chips to free their allies locked up in Israeli prisons.
However, rather than having the desired effect of leading to talks, Israel responded with force, heavily bombing Lebanon. This ultimately led to the month-long war between Hezbollah and Israel, in which nearly 2,000 people were killed in Lebanon and well over 4,000 more injured as a result of the fighting.
Since the 2006 war, Hezbollah has mostly avoided taking any actions that could provoke Israel into another war. However, that has slowly been changing recently, and there are many who fear that this latest enhancement of Hezbollah's capabilities could be used not only against their Israeli enemy but also their opponents at home as well.
The last straw?
In recent months, Hezbollah has been steadily escalating its activities against Israel on the country's border with Lebanon, taking advantage of Israel's ongoing internal difficulties – rising from widespread opposition to the current far-right government, led by Prime Minister Benjamin Netanyahu, highly contentious judicial reform proposals, as well as increasing international sympathy for Israeli-occupied Palestine – to limit Israel's capacity to respond forcefully to Hezbollah's actions.
This has allowed Hezbollah to perpetuate its narrative that they are actively fighting against Israel. This remains the cornerstone of their political platform in Lebanon, despite many recent events – including the 2008 Lebanon conflict, the Syrian Civil War, the October Revolution, the Israeli-Lebanese maritime border agreement, and the Beirut blast, among others – eroding their relevance and public support.
Nonetheless, Hezbollah remains a useful tool for Iran to antagonize and intimidate their Israeli enemies by proxy, using Iranian-supplied assets placed in neighboring Lebanon to limit opportunities for direct retaliation. Meanwhile, Israel maintains that they are prepared to use deadly force against their attackers, insisting that both Hezbollah and Lebanon will 'pay a heavy price' for Hezbollah's aggression.
The current climate of heightened tensions between Israel, Iran, and Lebanon is also severely exacerbated by conditions within these countries at home. Both Israel and Iran's ruling regimes are facing widespread condemnation and political protests at home, while Lebanon continues to suffer under a crushing economic crisis and a lack of an effective government following the abdication of President Michel Aoun last year.
"Israelis do not want war, Iranians also do not want war, and Hezbollah is not ready for war," Ghaddar explained. "They do not have the budget for a war, [or for] reconstruction after a war. They are not ready."
"Everyone is overestimating Iran and Hezbollah's capabilities," she added. "There have been examples in the past with Iran and the US or the West doing something more bold, and the Iranians and their militias' responses were small, [such as the] assassination of Qasem Soleimani. He was one of the most important men in Iran, and nothing really happened."
In general, the appetite for international – particularly Western – interventions in the Middle East has sharply declined in recent times, both within and outside of the region. With both Europe and the US currently preoccupied with the Russian invasion of Ukraine, it remains to be seen what Israel's response to this latest action by Hezbollah will be.
Robert McKelvey is a multimedia journalist with @NOW_leb. He tweets @RCMcKelvey.